Michelle Obama in Balenciaga is the Coolest Moment the Brand Has Ever Had
The former First Lady's taxicab-yellow gown and sparkling thigh-high boots send a very clear message: she's not toeing the presidential line anymore.
Michelle Obama took some time out from her book tour to visit with Sarah Jessica Parker at Brooklyn's Barclays Center on Wednesday, and she brought the requisite shoe game to the occasion, taking the stage in a pair of $4,000 glittery Balenciaga thigh-high boots and a yellow dress from the Spring 2019 3D collection.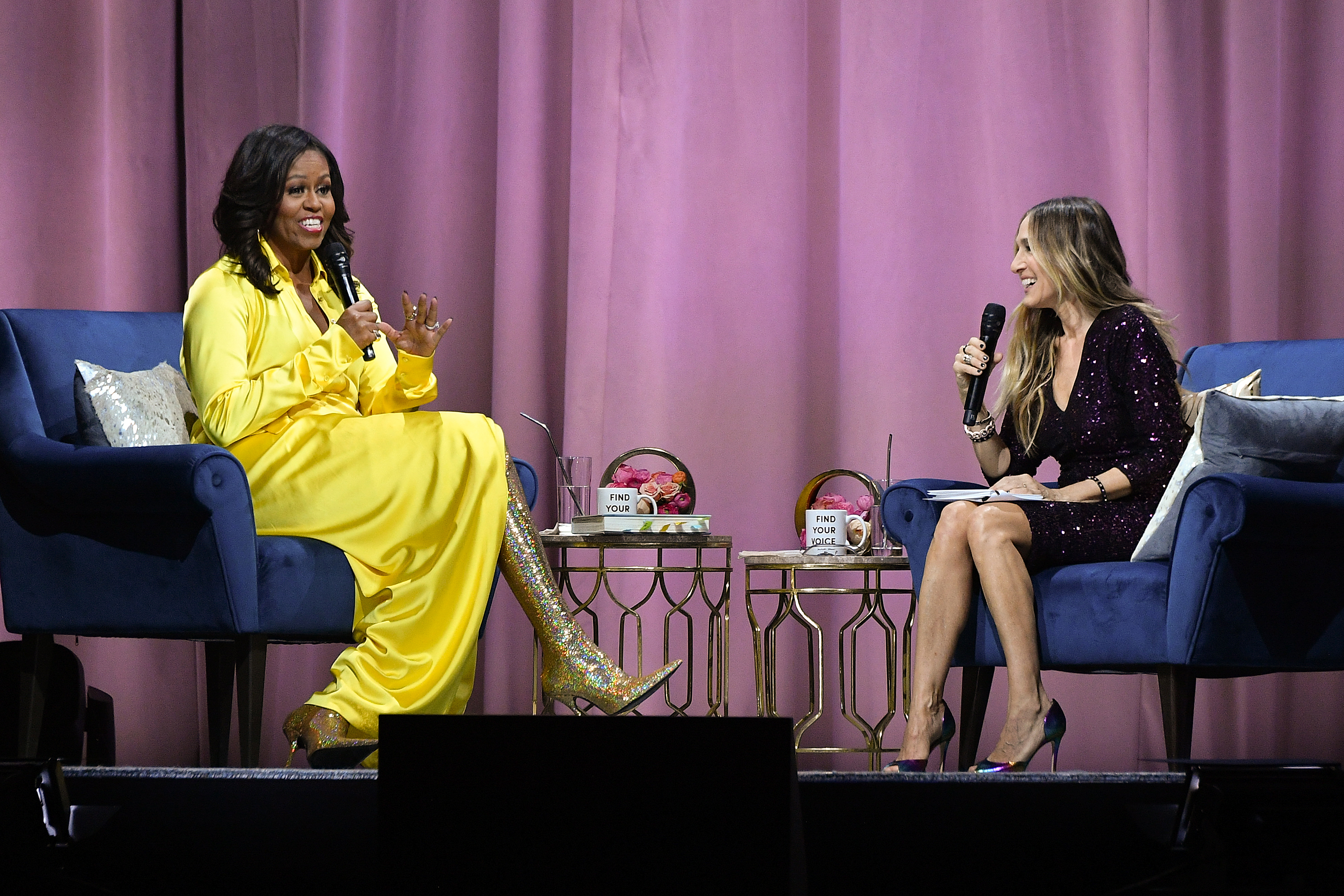 Obama has always been a fashion maven, fostering relationships with designers from Thakoon to Rodarte to Joseph Altuzarra, but during her White House days, her style was a somewhat more reserved—she touted the virtues of J. Crew and White House Black Market, favoring tailored, self-financed ensembles that only occasionally showed off her dynamite arms, and it's not hard to understand why. "As a black woman, too, I knew I'd be criticized if I was perceived as being showy and high-end, and I'd also be criticized if I was too casual," Obama wrote of her time in the White House in her memoir Becoming.
In an increasingly technology-addicted society, the sartorial choices of the First Family will always be double-clicked and zoomed in on, and never was that more true than during the Obama administration. "Not everyone listened to all of the speeches or read the analysis or considered the context. But everyone paused for a moment to assess the visual," wrote New York Times fashion critic Vanessa Friedman of the Obamas' fashion legacy, and it's true that every seemingly minute fashion decision the Obama family made was under a microscope (remember the tan suit controversy, or Michelle getting off a plane in shorts?)
Now, though, we're two years into the Trump presidency—with all its attendant First Family fashion woes—and Michelle is no longer obliged to stand by, smiling, in a #relatable cardigan. Now, she's free to appear in Pyer Moss, one of the few black-owned businesses in fashion, which sends models down the runway in shirts reading "See us now?" and keeps anti-Colin Kaepernick boycotters at bay with a simple, elegant "No, we're good."
Balenciaga has enjoyed some killer moments of late, from Cardi B's plaid "BALENCIAGA MAMA!" photo op to commissioning digital artist Jon Rafman to mount a trippy video background at Paris Fashion Week, but Obama's glittery yellow showstopper of a look is a watershed moment for the brand. Really, is there anything better for Demna Gvasalia than getting to dress a former First Lady, finally freed of fusty obligation?