Artist Yayoi Kusama in the Orez Gallery in the Hague, Netherlands (1965) in KUSAMA - INFINITY. Photo credit: © Harrie Verstappen. Photo courtesy of Magnolia Pictures.
A Cinematic Portrait of Yayoi Kusama's Triumphs and Travails Is Coming to a Theater Near You
Gather 'round and hear the tale of how one woman endured sexism, momma's boys, plagiarizers, mental illness, and total social exile to become one of the most successful artists in the world.
Artist Yayoi Kusama in the Orez Gallery in the Hague, Netherlands (1965) in KUSAMA - INFINITY. Photo credit: © Harrie Verstappen. Photo courtesy of Magnolia Pictures.
There's no escaping the dotty reach of Yayoi Kusama now, whether it's her towering pumpkins or her mirrored "infinity room" installations that turn people into dizzying statistics and nudge art just that much closer towards the realm of spectator sport. It seems appropriate: she's been making work since before she moved from her native Japan to New York in 1958; she was the only woman included in what's considered one of the first group exhibitions of Pop art (in 1962 at Richard Bellamy's Green Gallery); and she has been exhibited all over the world since. But consider that as recently as this 1999 interview in BOMB, she was being introduced as "generally unknown."
Her meticulous, meditative paintings from the 1950s could match the spare beauty of her contemporary Agnes Martin. A sculpture from 1962 included in the aforementioned landmark exhibition possibly prompted a much-hailed development in Claes Oldenburg's work that same year—his wife even apologized to Kusama after he busted out pieces that brought him credit as the originator of soft sculpture, a reputation from which his work benefits to this day. Then there was her prominent involvement in the Happenings of the 1950s-1960s, as codified by Allan Kaprow, but did he officiate the first "homosexual wedding" in 1968 at the Church of Self-Obliteration (a.k.a her loft)? I think not! Somehow, in all this, Yayoi Kusama fell off the radar.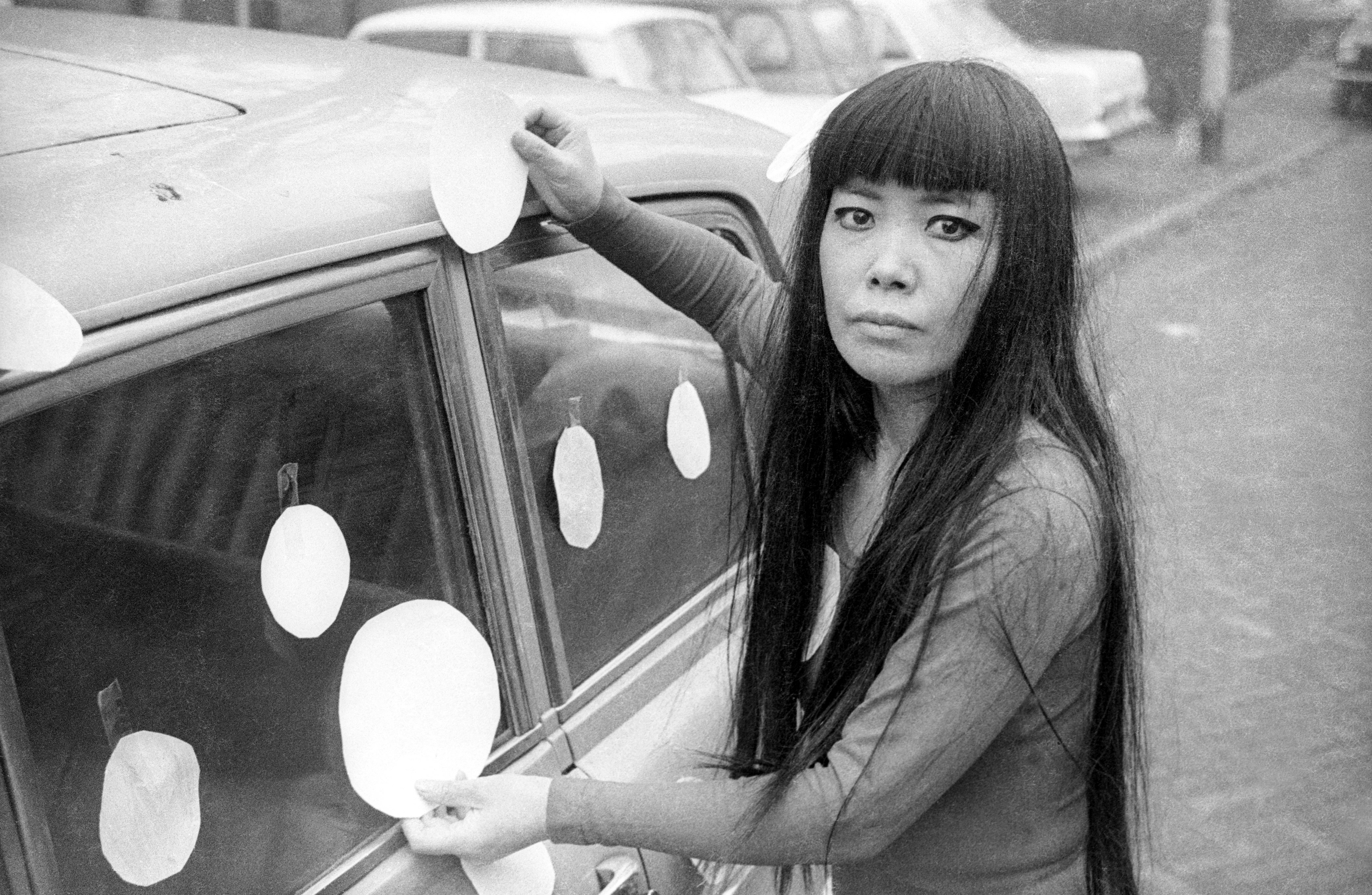 The new film Kusama: Infinity, directed by Heather Lenz, sketches a picture of how that happened, along with her achievements, and through interviews with dealers or curators such as Laura Hoptman we get a sense of just how driven she was to make her work, and be accepted and recognized as an artist by the New York cognoscenti. This, despite being dogged by disappointments, getting overlooked as a novelty in the scene, and her struggles with mental illness—which were surely aggravated by her career ambitions towards an atavistic blood sport. With apparently only some words of encouragement from Georgia O'Keefe, to whom Kusama wrote and sent paintings from Japan, she headed to America with a million yen (almost $9,000 at today's exchange rate) from her furious mother and wasted no time hustling at her dream. Carolee Schneemann (the real Jackson Pollock) recounts how Kusama was a heat-seeking missile for any man of capital—cultural or otherwise, presumably—in the room at an opening.
In another display of The Audacity (but in a good way), she once sent some of her paintings, unsolicited, to Sidney Janis, one of the biggest galleries at the time; even as they prepared to send them back to her, she had already informed a potential collector to go see her work there. That, my friends, is a terrific example of BDE. Joseph Cornell, the only real love interest introduced in the film for Kusama, emphatically did not possess such interpersonal élan, even if his work was gorgeous, and Kusama dishes in the film about how he couldn't even stand up for her when his mother dumped a bucket of water on her. What's more, he'd call her up on the telephone, and when she had to get on with her own fabulousness for the day, he'd wait on the line for her to come back. Imagine that phone bill!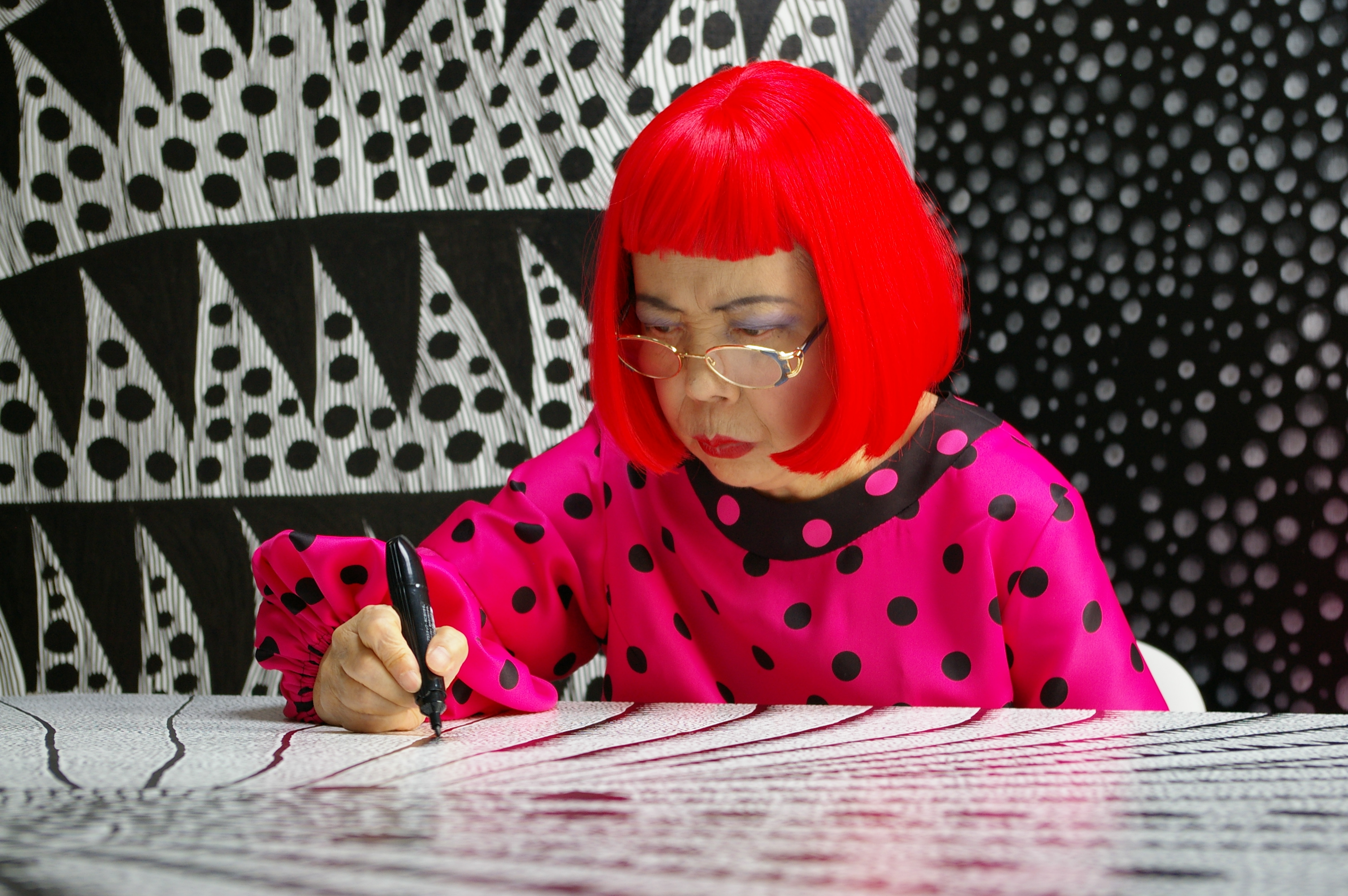 The film then takes us to the 1970s. After covering the windows in her loft's studio—to prevent anyone from stealing her ideas—and a couple suicide attempts, the artist returns to Japan and finds that a bad reputation has followed her back home, where she is an outcast for her progressively outré performances and installations, but also as a now-middle-aged, childless female artist who never made a suitable match despite her prominent family stock. Her work slowly gets rediscovered, but in the interim she voluntarily commits herself to a psychiatric institution in 1977. Except for the efforts of Akira Tatehata—the director of the new Yayoi Kusama Museum in Tokyo, who was also instrumental in arranging the first solo show in the Japanese pavilion at the Venice Biennale for her in 1993—it's somewhat vague as to how his involvement, along with a retrospective of her work in painting and sculpture from the 1950s and 1960s at the esteemed Paula Cooper Gallery in 1996, leads us to the present day with lines around the block at David Zwirner for her shows. Maybe I just don't know how public, or any relations, work!
The film implies that the narrative here should be of rags to riches, and seems most eager to get to its final emphasis on how much her work sells for these days, which is a lot. Ending on numbers and figures, while also quoting her poetry, feels like trying to have it both ways in terms of what this movie wants to say about value and what her work should mean to us, but nevertheless there's much here for Kusama fans and neophytes alike.
Kusama: Infinity opens in LA and New York at the Nuart Theatre and Film Forum on September 7 before its wider release.