Installation view of Yves Klein at Blenheim Palace, 2018. Image courtesy of the Blenheim Art Foundation.
The Joy of Redecorating Your Palace With Yves Klein!
A majordomo of modernism gets slotted into servicing a Baroque household. What could go wrong?
Installation view of Yves Klein at Blenheim Palace, 2018. Image courtesy of the Blenheim Art Foundation.
Sometimes unexpected narratives interweave, for better or worse, as is the case with an exhibition of mid-twentieth century icon Yves Klein's work at the Blenheim Palace in Oxfordshire, UK. One little girl milling around the show exclaimed to her mother, "Mummy, look behind you: blue!" Alas, Mum was staring transfixed at a van Dyck portrait (or was it an adjacent Joshua Reynolds?), having altogether missed Klein's Untitled Blue Monochrome (IKB 68) (1961) along the way, a canvas coated with his signature, and patented, hue. Similar to lapis lazuli, the color's formula was officially registered by the French artist in 1960 under the name International Klein Blue, or "IKB" for short.
In this show, over fifty works by the artist have been installed throughout the Baroque palace, a designated UNESCO World Heritage Site. Over 300 years old, it's brimming with antique furniture, towering Corinthian columns, bone china, historical paintings, sculptures, antiquarian books, and lustrous fabrics. Amid this grand opulence, Klein's paintings, sculptures, and installations feel akin to little blue commas or full stops that are clearly important, but have been employed incorrectly—indeed, it's almost as if they've turned up in the wrong story entirely.
Take, for example, Untitled Blue Sponge Sculpture (SE 89) (1960), which was saturated with paint, dried, and then mounted on a stone base. Klein preferred using sponges over paintbrushes, to avoid the appearance of individual strokes on his surfaces, but he also often transformed his chosen implements into artworks. Installed upon a marble mantelpiece, the hardened form, reminiscent of coral, is overshadowed not least by the giant wall tapestries behind it, which depict the Battle of Blenheim fought and won in 1704, during the War of the Spanish Succession, by the first Duke of Marlborough, for which he was given Blenheim Palace by Queen Anne. The subtle presence of Klein's monochromes is inevitably overwhelmed amid a whirlwind of grandeur and the drama of history. "It's not too bad or in your face," commented a guard on the abstraction to one visitor, who retorted, "It gets lost." And so it does.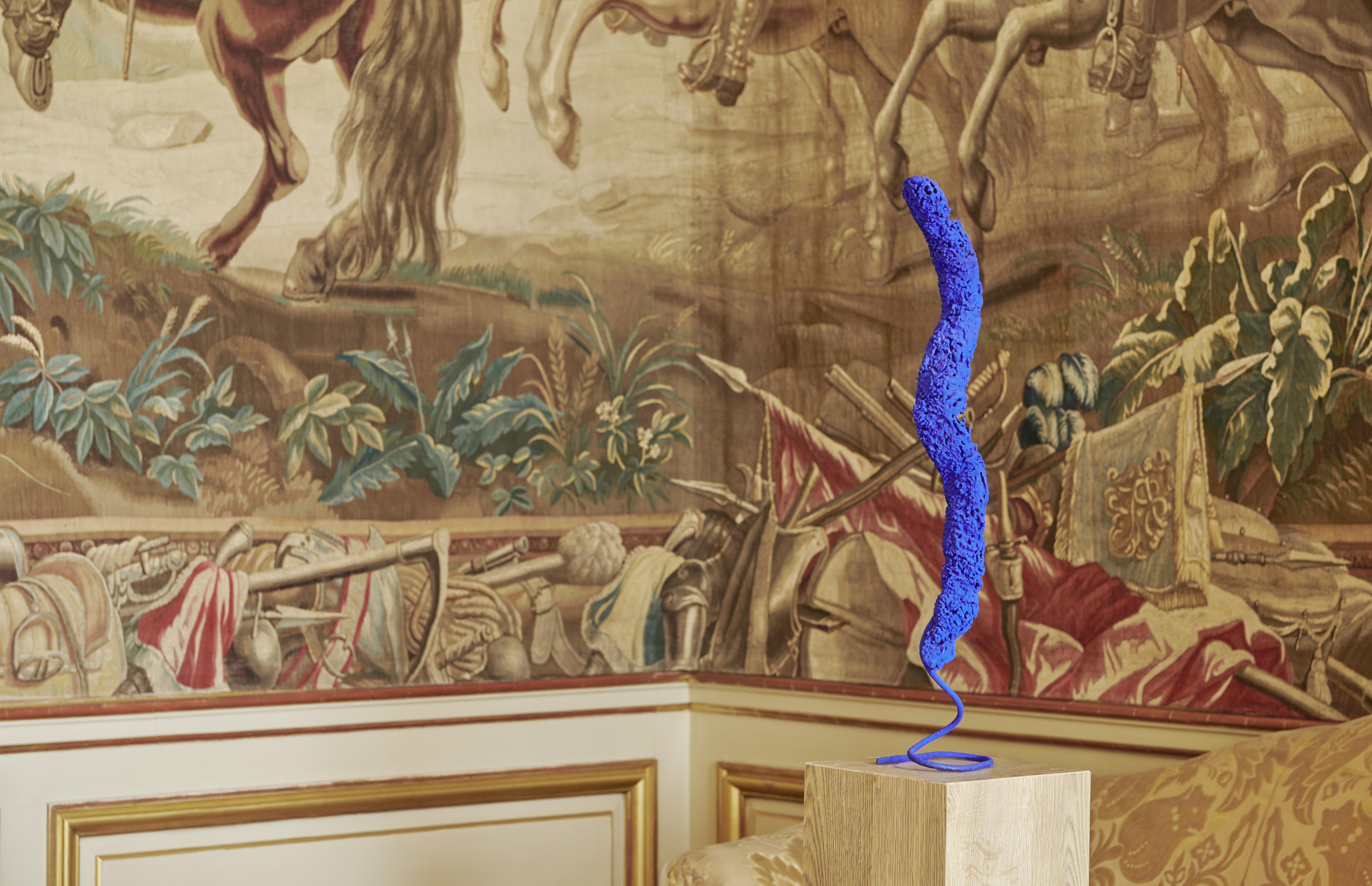 The exception, perhaps, is a painting from Klein's Anthropométries series, "Jonathan Swift" (ANT 125) (1960). For this body of work, the artist famously used women's nude bodies as "living paintbrushes" in performances where, wearing a suit and bowtie, he conducted them to press their IKB-coated selves against canvas or hauled them around the floor in galleries himself to create corporeal silhouettes or abstract smears and swipes. He stayed clean, and of this clear power imbalance critic Jonathan Jones noted in a 2016 Guardian review of the artist's retrospective at the Tate Liverpool that "it does sound a bit sexist, but this was 1960" (note this writer raising more than merely an eyebrow at his casual critique).
Part and parcel with Klein's innovative mark making was his aesthetic augmentation of the status quo of male command and female obedience in society. Reinforcing this dynamic at play in both his work and much of art history is the fact that the aforementioned painting is installed next to a family portrait of Consuelo Vanderbilt with the ninth Duke of Marlborough, painted by John Singer Sargent in 1905. Vanderbilt was a wealthy American railroad heiress whose marriage to Blenheim Palace's heir was arranged by her mother. The miserable union lasted a decade, after which she ended up joining the suffragette movement. The pairing of works here speaks of voiceless women dragged into the history books, though it's unlikely that the meaning of such juxtaposition was intentional, given that this show cites a will to "explore concepts of beauty" as its curatorial modus operandi, rather than gender issues per se. Even with the recent progress towards female empowerment in Western societies following the #MeToo movement, with Klein so firmly rooted in the art canon of great (mainly male) artists, a reappraisal of his use of women as tools has yet to be fully articulated. The context of Bleinheim Palace, a conservative institution with a primarily patriarchal lineage of ownership, would have been a great place to start.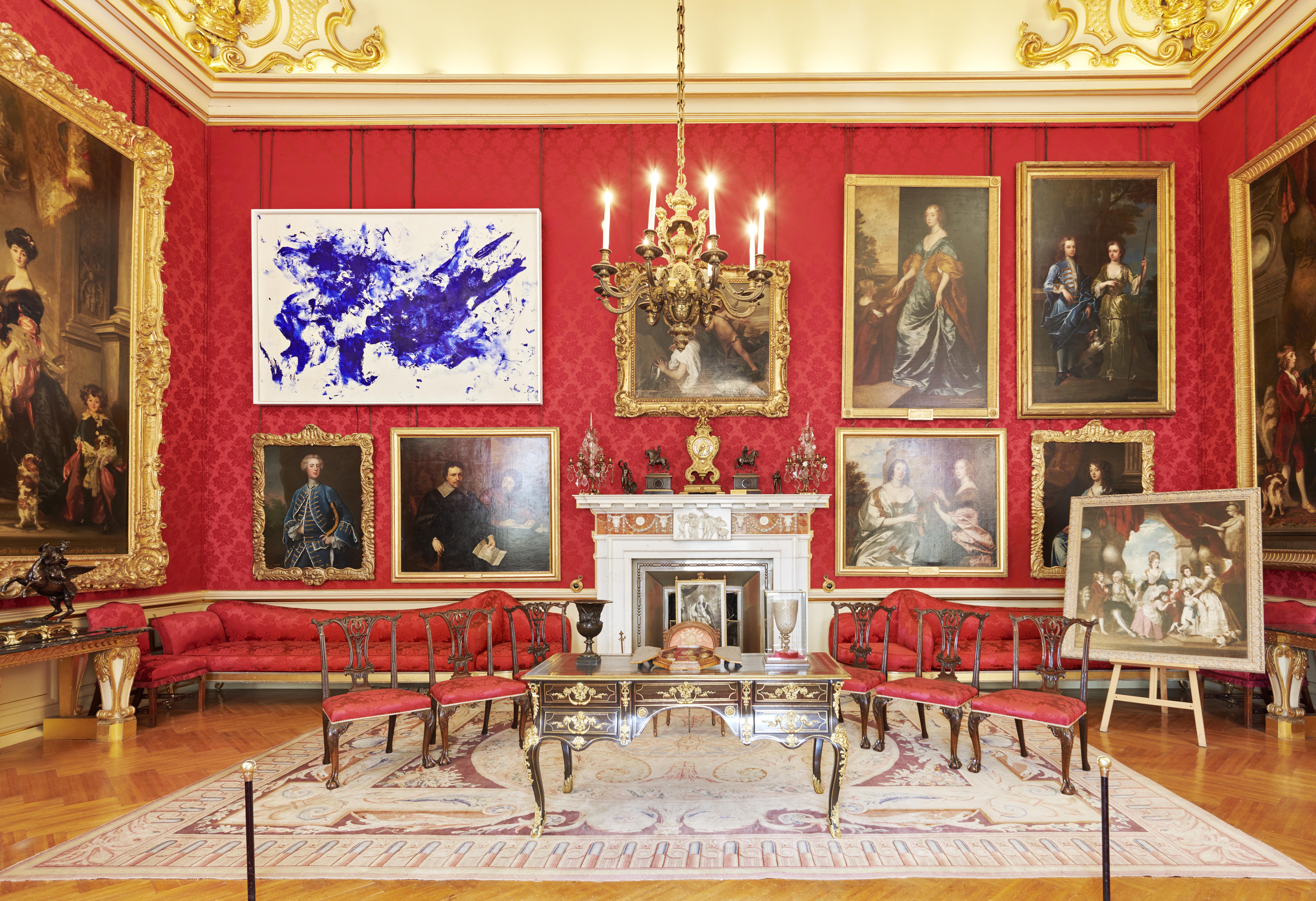 Yves Klein at Blenheim Palace is on view through October 7, 2018.