Acid-Free book fair. Photo by Justin Guthrie.
Los Angeles: The City of Dreams and Sprawling Art Book Fairs
A recent boom in the City of Angel's art book fair scene shows the enthusiasm and heterogeneity of its creative community.
Acid-Free book fair. Photo by Justin Guthrie.
From late winter to spring of 2018, Los Angeles saw an unprecedented bumper crop of new art book fairs. After Printed Matter cancelled the 6th annual Los Angeles Art Book Fair (LAABF) in 2018, due to the death of its longtime director Shannon Michael Cane, in addition to losing their customary space at the Museum of Contemporary Art's Geffen Contemporary, galleries and artists eagerly picked up where LAABF left off. (LAABF is slated to return in 2019.)

True to its original spirit—giving a platform to lesser known artists and self-published works—organizers enabled a boom in small-scale independent art book fairs: the new Acid-Free and LA Pages, in addition the Independent Art Book Fair (IABF), who hosted their first west coast fair this year, and a ton of zine fests including LA Zine Fest, the Long Beach Zine Fest, and San Fernando Valley Zine Fest. LAABF had been the nexus of the art book scene in LA for the last five years, rivaled only the upstart LA Zine Fest and events hosted by local bookshops such as Ooga Booga.

This year, at least eight art book fairs have taken place; many of them are brand new or extensions of projects from the east coast, ranging from DIY zine fests to carefully curated and programmed book markets sprawling across the city; fairs in Culver City, San Fernando Valley, Boyle Heights, Downtown, Long Beach, La Brea, and South Central.

LAABF had become notoriously dense and labyrinthine in recent years, so much so that it was overwhelming to navigate. "The community grew and expanded so quickly, there's only so much that one organization can do to exhibit it all," says Karen Schaupeter of IABF and Ed. Varie gallery. "Publishers have very loyal followings but even in a tightly packed room, it's hard for people to find them. Even just the sheer number of people may have been off-putting for newcomers."

LAABF had become a bit of a scene, the enthusiasm of its visitors making it ironically difficult look at, buy, and talk about books. Plus, longtime vendors complained that renting a table at LAABF had become too expensive, and others noted that it had become yet another high gloss art fair, hijacked by bigger, blue chip galleries selling pricey monographs and prints. In an interview with i-D, Paige Silveria, the co-organizer of LA book fair Community Service, explains, "The bigger that a fair or space gets, the further it's taken from the younger generation."
In comparison, collective-driven art book fairs like Acid-Free, LA Pages, and the variety of zine fests focus less on financial resources than social and creative ones. At Acid-Free, tables are built from leftover wood found in studios, and the fair started as an email chain after news of LAABF's cancellation spread. "Twenty or so local publishers, editors, writers, and artists organically started adding each other onto this email chain where we were having a conversation about what we could do in the meantime to keep the momentum going," says Nicoletta Beyer, Director of Communications and Publications at Blum & Poe, the gallery where the book fair was held for its inaugural run in 2018. Lowering booth costs also allows for a wider and weirder range of book sellers—Tan & Loose Press, Unity Zines, and Hesse Press.

"I'm trying to make a place for newcomers or anyone who just wants a change of pace," says Schaupeter, who helmed the first West Coast iteration of the Independent Art Book Fair (IABF) which took place on a sweltering April weekend at an unmarked downtown building. One had to weave through fabric shops and hot dog stands, slip through a doorway festooned with backpacks for sale, and jog up a flight of aging factory stairs to find a sea of books, some 85 vendors, and hordes of sweating kids strolling its creaky wood floors. (Devendra Banhart was there, of course.)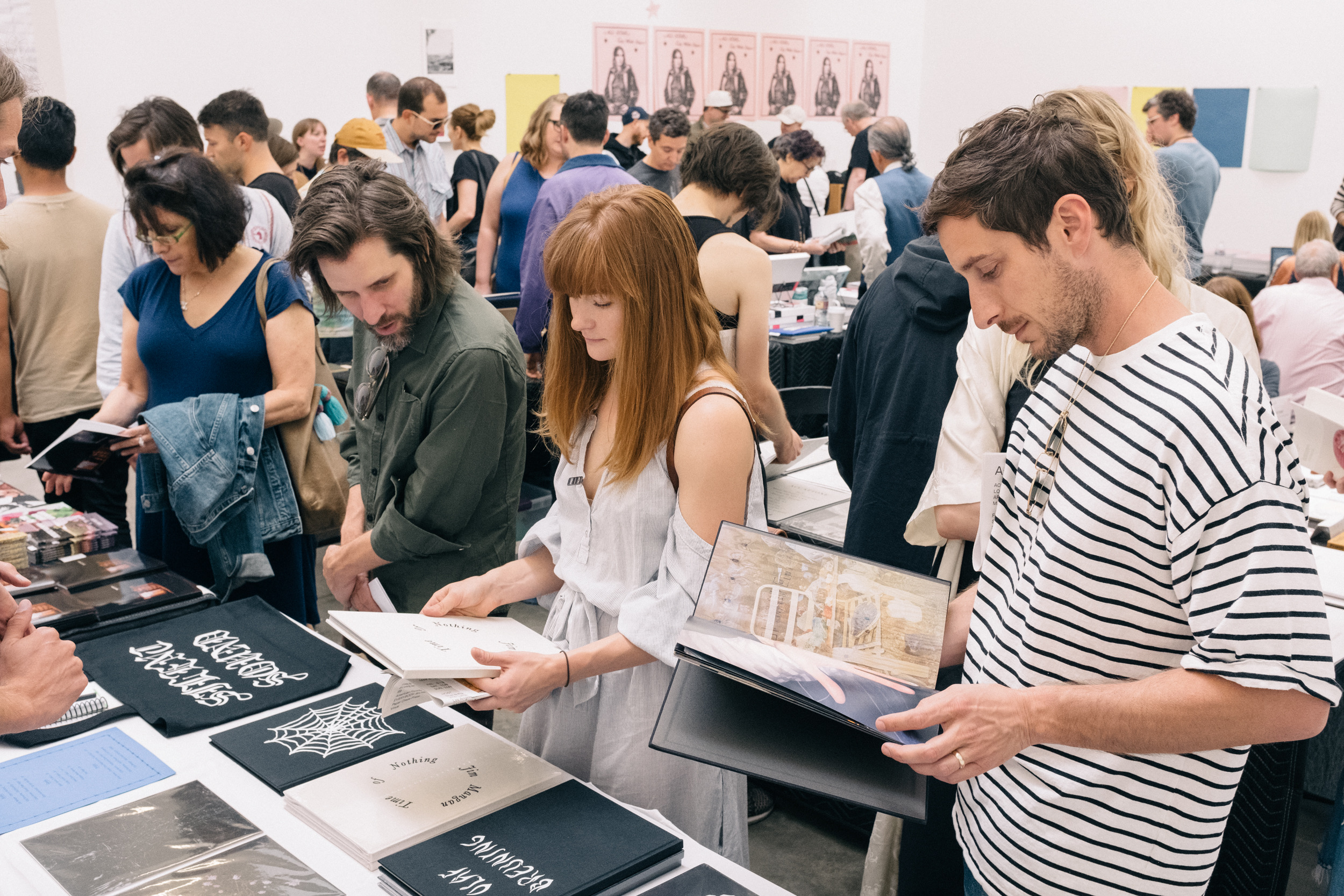 There's a tote bag by the LA-based Deadbeat Club that reads: "There is no money in books" that I saw slung on the shoulders of every other art nerd who orbits book fairs. And it's true. "The fair economy proliferates at different levels for different galleries and artists," says Jeff Khonsary of publishing platforms New Documents and Fillip, and who helped organize Acid-Free. "I think there are probably a number of artists who don't look at the fairs as an economic factor—it's more to break even."
Being an independent artist is a financially risky profession, and in recent years, art book fairs have served as a small, accessible market where artists can circulate their work without waiting on a big institution to sponsor them. Fairs are also a means to cultivate community: it's here that authors are able to meet readers face-to-face. "There's still a potential for art books to reach new people beyond the ability of art to relate materially. It's still affordable to ship books, you can still interact with 10,000 people at a book fair and relay new ideas through conversations and through a single book," says Khonsary. "That's something to be excited about."
Another all-inclusive and non-commercial fair, LA Pages, was held at a Mexican banquet hall in South Central in late spring and focused exclusively on independent publishers on the West Coast. Organized by Printed Matter in collaboration with a roundhouse of organizations including zine collective 8 Ball community, Wendy Yao of Ooga Booga bookshop, and indie music label Bunny Jr. Tapes, LA Pages was as much a way to keep the LAABF community together as it was partly an homage to Cane, its late organizer.
Smaller zine fairs tend to be DIY and inclusive in spirit. Los Angeles Zine and Art Book Bazaar (LAZAABB) focused on queer artists and lesser-known publications, accompanied by witchy and occult-themed programming like psychic readings, astrology charting, and talks on toxic masculinity. LA Zine Fest, SFV Zine Fest, and Long Beach Zine Fest will all take place this upcoming September.
Despite their heterogeneity, each book fair advanced more or less the same principles: to build a community, to help artists support their practice, and, as Khonsary says, to "relay new ideas through…a single book." With the organizers' ingenuity, the vacuum left by LAABF's cancellation became a way to break ground. Without doubt, Los Angeles will welcome back LAABF in 2019—but now accompanied by a scattering of satellite fairs throughout the city.