Why Riccardo Tisci Killed Bambi for Burberry
Riccardo Tisci finally made his debut at Burberry, with references to all things British and a shirt that read, "WHY DID THEY KILL BAMBI."
The English are a very self-conscious people. That is to say that they are self-aware, and even self-deprecating about their "eccentricities." (It's kept Tatler alive since 1709!) But they are also very nationalist. They love their tea and their Queen and their Union Jack print. Things that should be embarrassing are suddenly something worth trumpeting, like rain.

Anyway: in the weeks leading up to Riccardo Tisci's debut at Burberry, a few sources close to the brand told me that Tisci was digging deep through the brand's 162-year archive for inspo. While that was evident in multiple scarf and check looks, as well as the revival of a unicorn who appears to have been on the scene far before the horse became the Burberry house animal, there was also a heavy dose of pure Britishness, thick as clotted cream. The soundtrack was the work of superslick and melancholy British band Massive Attack, and the clothing included lots of references to British culture and life, including country life (cow-print pieces, as well as T-shirts for the more obtuse, printed with "COW"), quotes from Shakespeare, umbrellas literally chained to models' backs, and portraits of what the average geezer at a pub might call "old girls" in ruff collars and I-got-me-to-a-nunnery hairdos.
Much ado has been made about how Tisci, an Italian of the most baroque order, who employs embellishment and texture and richness like he's being underwritten by the Medici family, might interpret the brand's staunch British character. The interpretation is a decidedly pop one, though his most British flourish, to my eye, was a slate of deer-print pieces, including a short-sleeved pullover that read, "WHY DID THEY KILL BAMBI."

First, the question is likely a message to the members of the fashion world who continue to wear fur; the brand announced earlier this month that it would be fur-free under Tisci's tenure.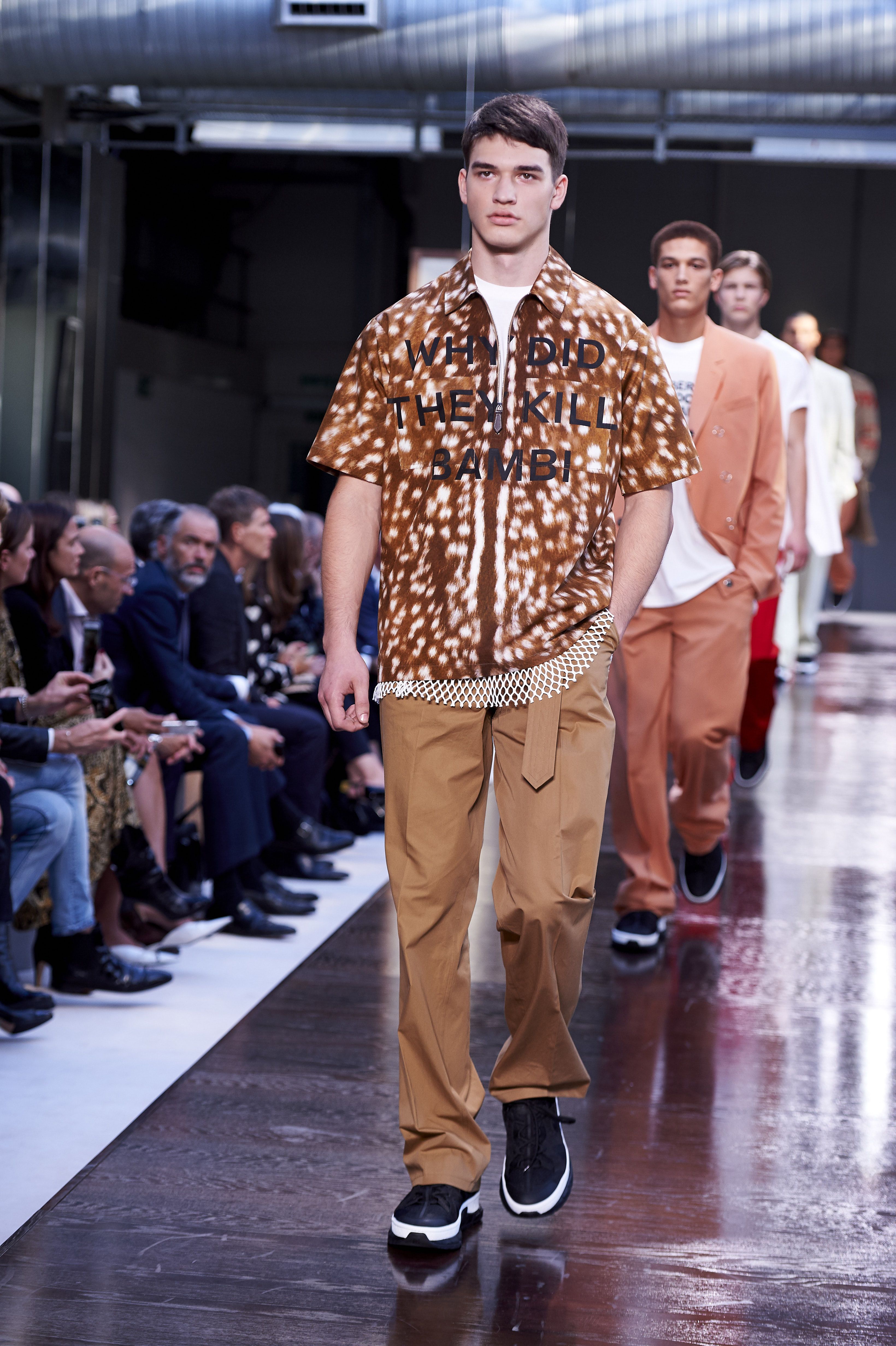 But perhaps it's also a Britishism: a reference to the almighty Brit band the Sex Pistols, who recorded a barely-available song called "Who Killed Bambi" for an aborted eponymous film meant to be the punk answer to A Hard Day's Night, and which sounds like a chintzy parody of Sgt. Pepper's-era Beatles meets…I don't know, My Fair Lady, and features lyrics like, "Who shot little Bambi? / Never trust a hippie / 'Cause I love punky Bambi"—all sung in what seems to be a send-up of Mick Jagger.
All those layers are a testament to how deep the British fetish for self-mockery goes (see also: Hugh Grant, anywhere, any time), something else Tisci may be picking up on. In addition to the Sex Pistols, the designer has his own special connection with Bambi: at Givenchy, of course, one of his most iconic pieces (and one that helped usher in the age of fashion hype in pop culture) was a Fall 2013 neoprene sweatshirt printed with Bambi. Tisci is ready not merely to say goodbye to his past, but to slay it. A gentle addio to Bambi, and a big 'ello to the unicorns.