Satellite image of the gap in the 710 freeway, Pasadena, California. Map data ©2018 Google. Photo courtesy of Before Present.
Relishing the Madness of a Museum Blocking a Freeway in L.A.
An exhibition in L.A. examining the brouhaha around a planned freeway extension is smack dab in the middle of its path.
Satellite image of the gap in the 710 freeway, Pasadena, California. Map data ©2018 Google. Photo courtesy of Before Present.
Viewed from above, the freeways serving Pasadena, California resemble a pair of open jaws: the 210 up top, the 10 below, and the 110—L.A.'s original parkway—angling northeast into the maw. There are also two impacted teeth: the beginning stubs of a final, five-mile northernmost stretch of the 710 that has been imminent for over fifty years. The freeway runs freely from Long Beach to Alhambra, until its path reaches South Pasadena and hundreds of grand old houses, inhabited by a range of folks (many verging on their golden years) with no intention of moving. The homes are among some 460 properties, including vacant lots, which have been managed by the California Department of Transportation since a big eminent-domain buyout in 1964.
Now it's 2018 and I'm here in a splendid 1920s gatehouse of an even more splendid estate at 955 S. Pasadena Avenue, which has been marked for destruction for decades, making rent reasonable enough for four or so artists to call it home. When your landlord is the California Department of Transportation (Caltrans), the shutters don't get repainted too often. But Julia Tcharfas and her husband Tim Ivison (whose grandmother was the last tenant) also feel able to operate a museum in their living room—called Before Present. Past shows have chronicled Y2K hysteria and futuristic social-dwelling experiments, and with their current exhibit, outlining the project that threatens to pave their domicile, Before Present eats its own tail.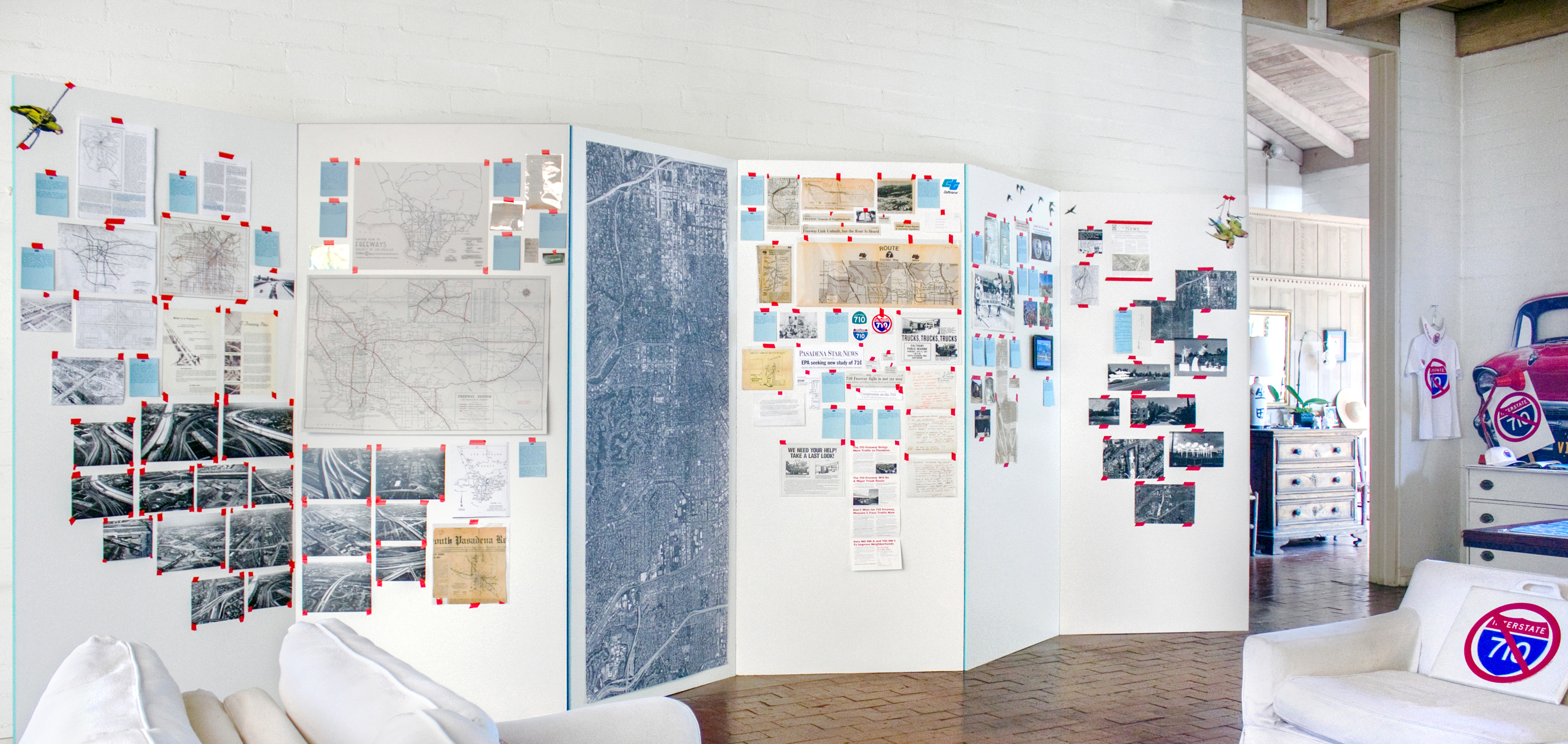 Tcharfas flips open an old spiral-bound set of maps to a marked page showing South Pasadena; sometime around 1959, a Caltrans employee penciled in the future 710 freeway with a many-dashed line. Along one wall of her hardwood and tile parlor is a folding screen of plywood, pinned with decades of news clippings covering both sides of struggle and division over the issue. Some are quaint—"What is a freeway?"—others bitter—"How would smoke from vehicle fires be cleared to prevent death or injury . . . ?" Here, the sturdy reassurance of Caltrans's and the L.A. MTA's own publications on the matter meet the rhetorical refusal of their neighbors in the threatened 710 corridor. There's also evidence of more actionable tactics for voicing concerns: One enterprising holdout installed a public sculpture of a giant, defiant dinner fork. Since the curators moved in, however, there's been good news. With last year's cancellation of a below-grade tunnel connector—a double-barreled two-tiered five-mile marvel worthy of Elon Musk's Boring dreams—the freeway has again stalled for the foreseeable future.
It's a weird setback for twenty-first century ingenuity still fighting the battles of the twentieth, but still a boon for South Pasadena, where dozens of exemplary Craftsman- and Queen Anne-style residences, plus a Schindler house, would be euphemistically "removed" if the state got their way. On a table with the book of maps, an iPod plays a soliloquy by Norman Klein, what he calls an anti-tour of the unbuilt 710: "It's clear that when the road was invented," he says, meaning the 710, "it was the peak of the American imperium. And now, it's not." He describes the flux of populations and class along what he calls the most expensive road never built: dockers near San Pedro harbor, Asians in San Gabriel, old money in South Pass. It's the perfect gig for this media and urban historian, for whom most of Los Angeles is imagined but never built, and who relishes the madness. "It truly is living," says Klein, "in the subjunctive tense."
An exhibition about the history of and politics around the 710 freeway runs through July 4 at Before Present in Los Angeles.