A Furniture Collection as Purple as Fenty Lipstick and Marina Abramović's Sofas
In a new collaboration between Crosby Studios and Opening Ceremony, the dominant shade is "selfish, powerful, and eccentric, but also kind and fair."
When we spoke to designer Harry Nuriev, the founder of Crosby Studios, this February, he said that he was done working in electric blue. The next hue to saturate his single-color interiors would be purple, a shade he compared to a lilac Fenty lipstick and Marina Abramović's sofas. Next week, the violet lands at Opening Ceremony's Howard Street store as a collection of furniture, home goods and clothing, with a related presentation for Collective Concept at New York's International Contemporary Furniture Fair on May 20.

The collection includes a freeform purple rug, with rounded gaps like flowing, spilled paint; a hand-shaped clothing hanger; ceramic vases and t-shirts slashed with thick brushstrokes of tomato red, fuchsia, yellow and cerulean blue. Nuriev's "Libraries," tall carousel bookcases, recall Russian Constructivism, particularly Vladamir Tatlin's Tatlin Tower.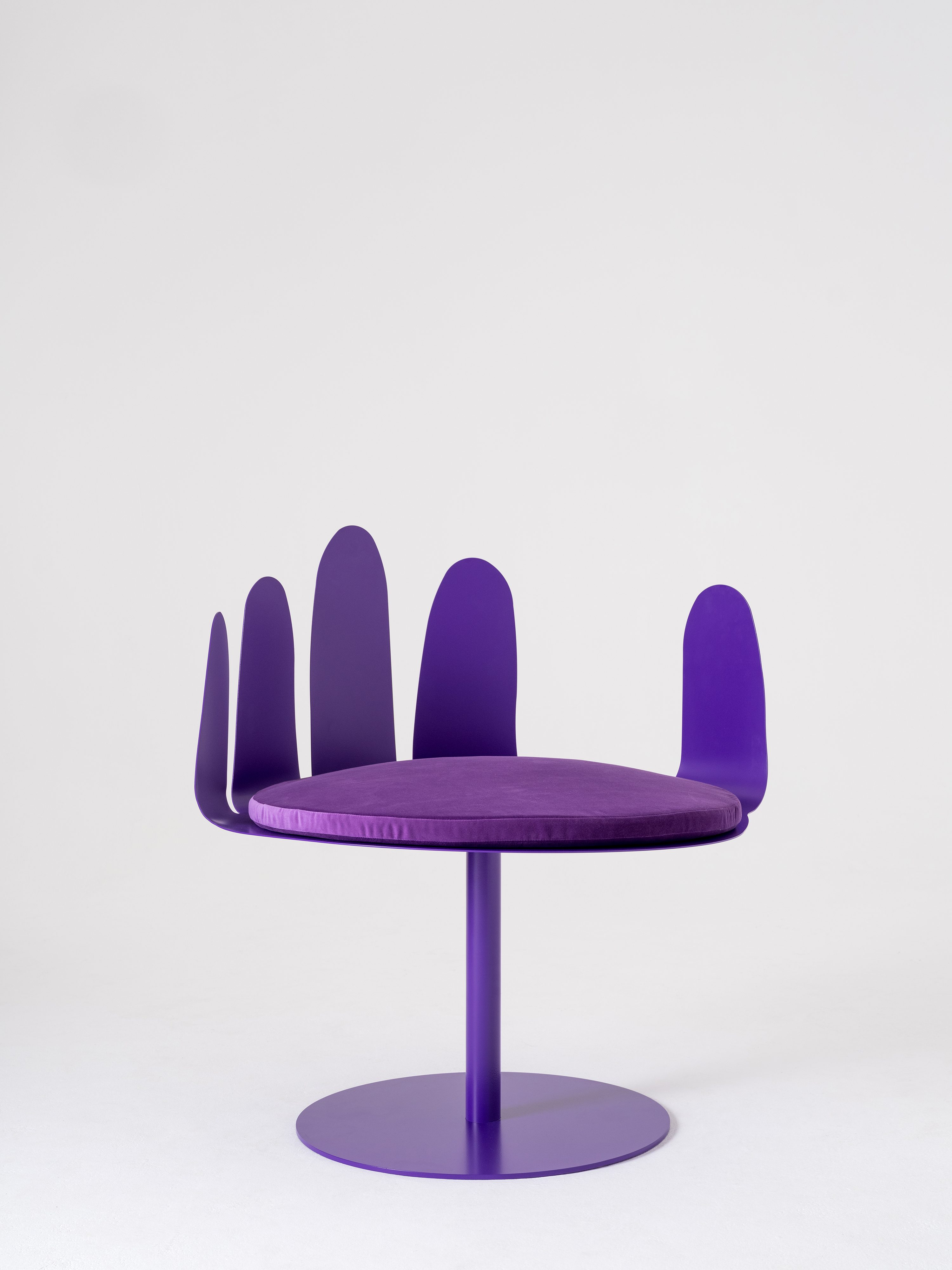 There's a also a purple chair with flat, stubby fingers as its back—a reference to Mexican artist Pedro Friedeberg's "Hand Chair," which holds the sitter in its flattened palm. The inspiration came to Nuriev via a plastic replica of Friedeberg's design he found left on the street in Williamsburg. "I've always been obsessed with Friedberg's chair," Nuriev wrote in an email. "I think it's ingenious to support the body by a giant hand—it gives you a sense of security, as if some giant being is protecting you. The play in scale is also ridiculous, which is what inherently drew me to the chair."
Why devote the collection to this shade of purple? "Violet is a very royal color, but is extremely complex," Nuriev wrote. "It can be selfish, powerful, and eccentric, but also kind and fair." Kind, judicious furniture mavericks: here's your purple throne.