Courtesy of Getty Images.
Tomo Koizumi's Debut Show Is Already the Best Thing That Happened at NYFW
With an assist from some of the biggest names in fashion—including Katie Grand and Marc Jacobs—Koizumi delivered big.
Courtesy of Getty Images.
The power of Katie Grand. A mere three weeks after being discovered by the Love editor-in-chief via Instagram, Tokyo-based designer Tomo Koizumi made his New York Fashion Week debut with an assist from models including Bella Hadid, Emily Ratajkowski, Joan Smalls, Susie Bubble, Rowan Blanchard and Gwendoline Christie, who closed the show in a gown comprised of 200 meters of Japanese polyester organza on Friday night at Marc Jacob's Madison Avenue store.
"It's a really surreal moment for me because no one knows me, I think," Koizumi remarked just minutes after a show that ended in literal screams of ecstasy from attendees blown away by the ornate pageantry. All the models, clad in rainbow-hued tulle creations, formed a breathtaking tableau on the staircase of the store for a perfect photo finish.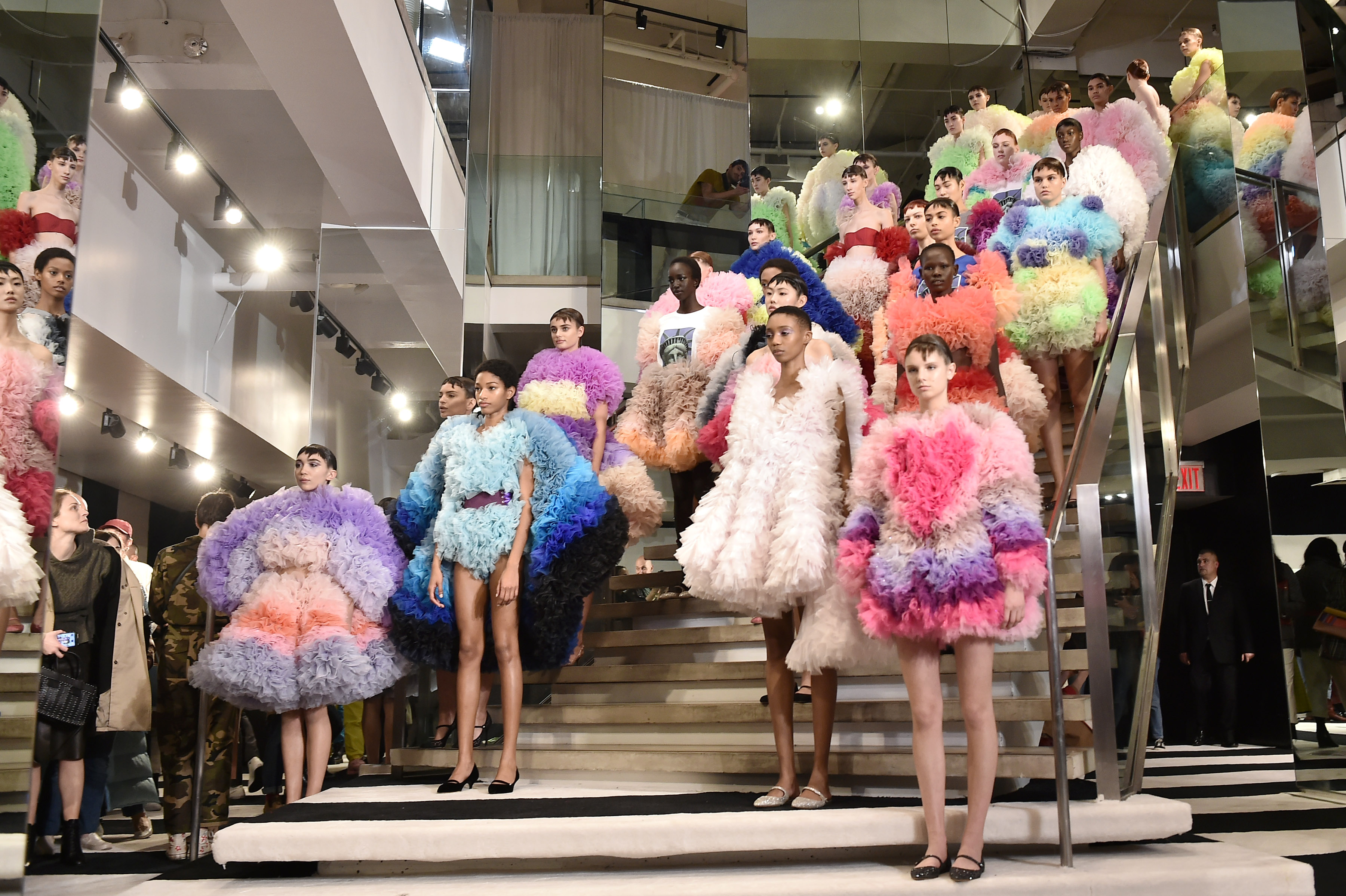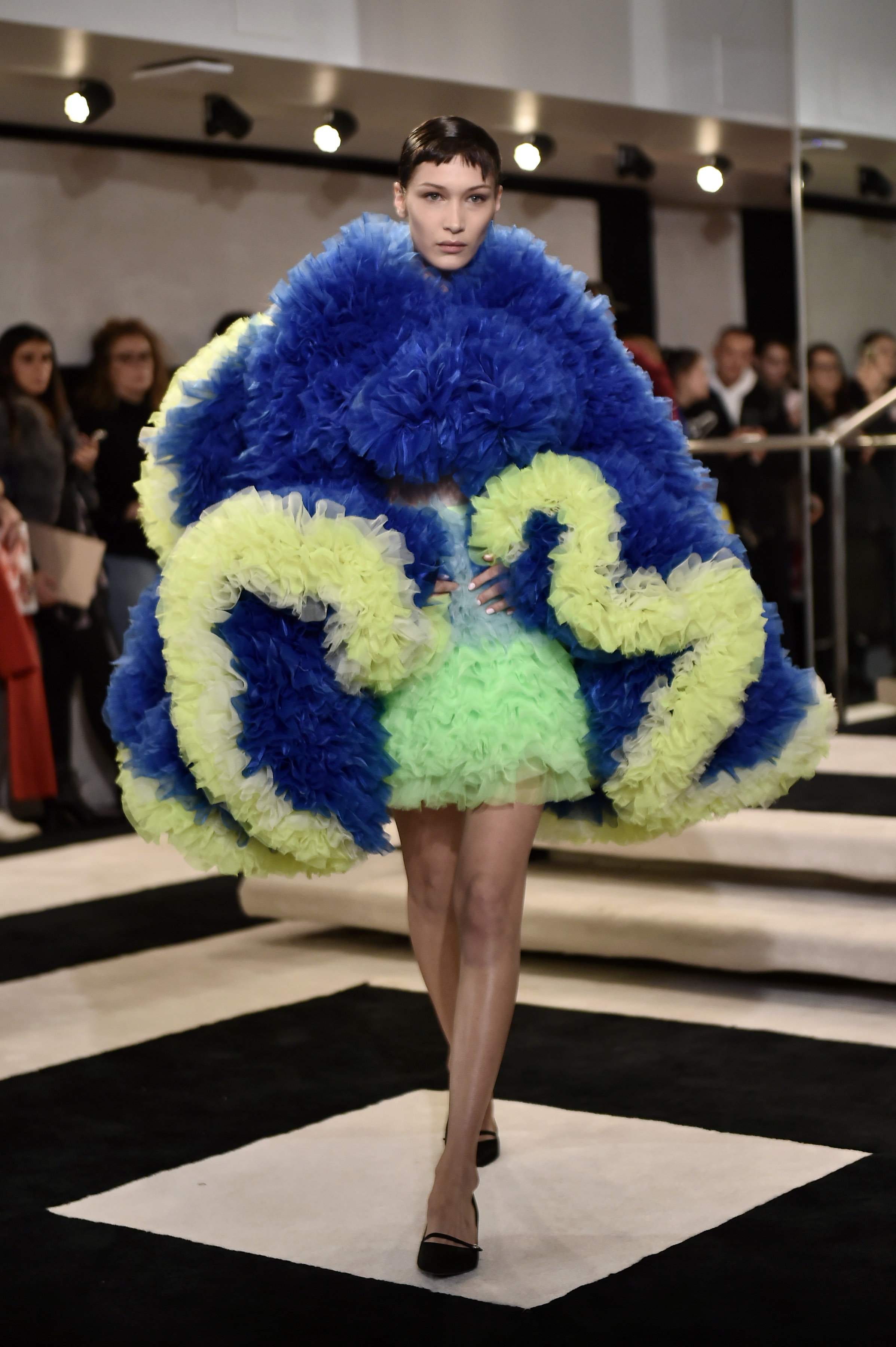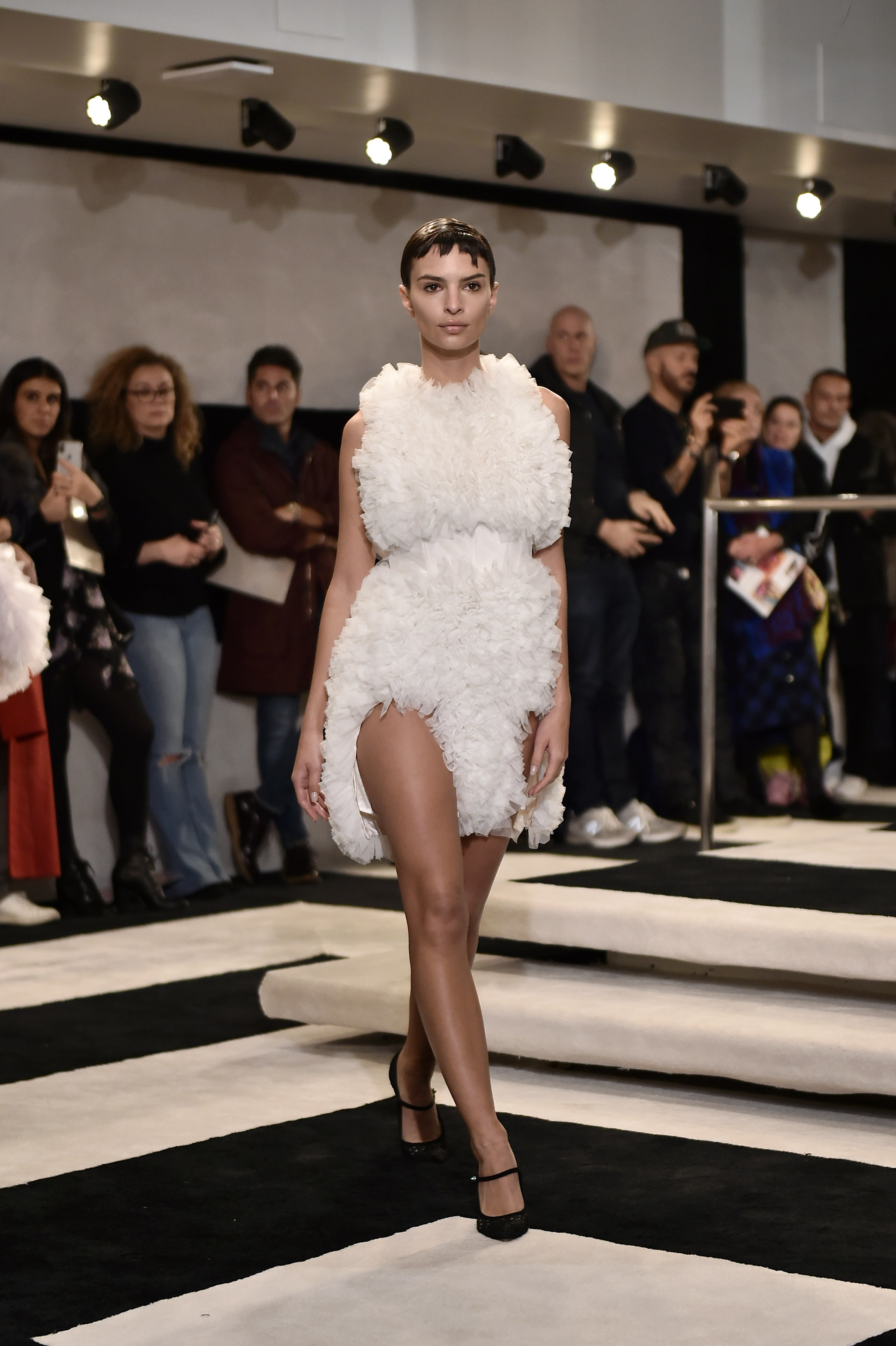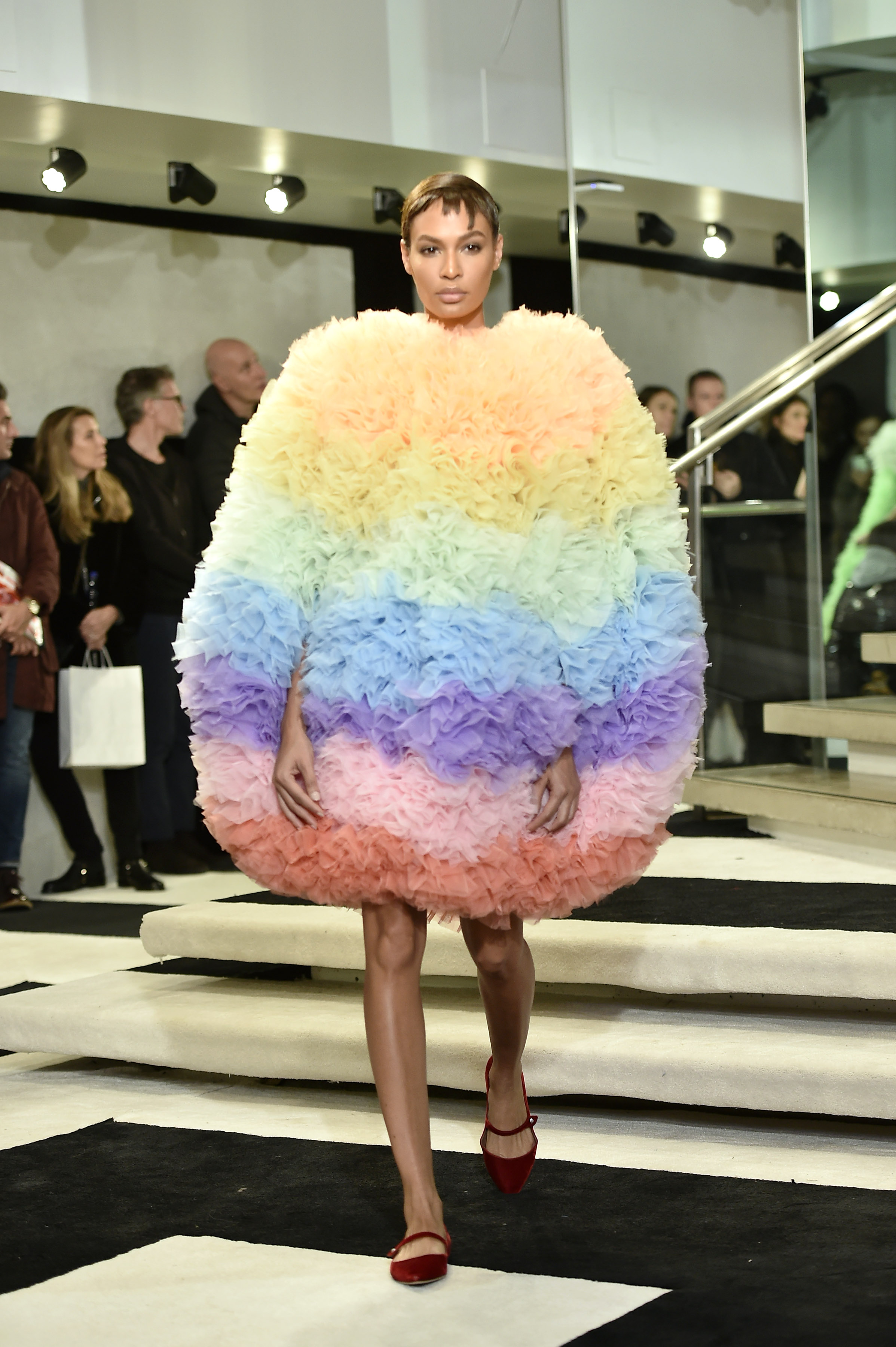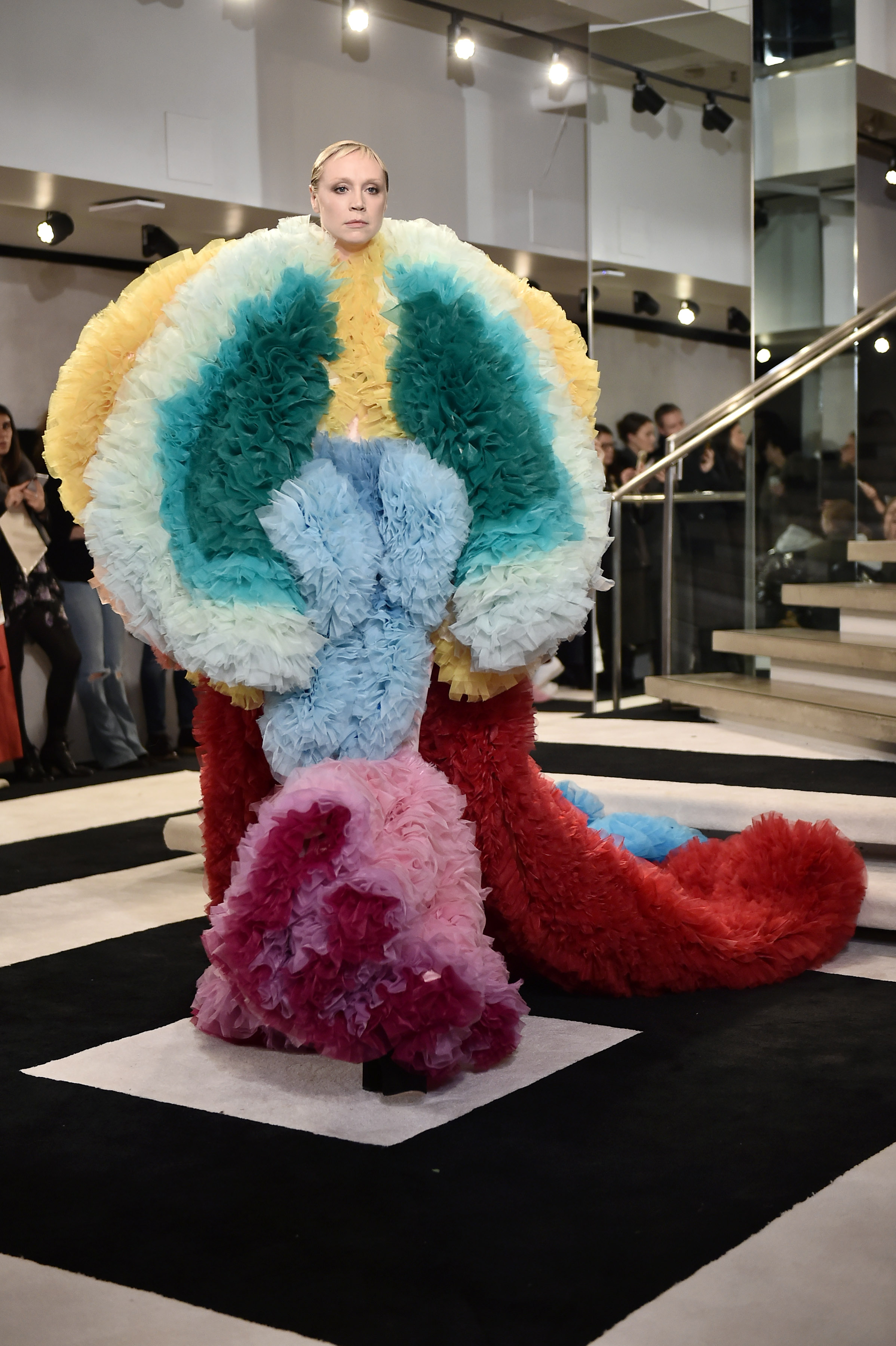 Grand originally DM'd Koizumi after being tipped off by Giles Deacon, Gwendoline Christie's partner, because he knew it would be "big and colorful and very me," as Grand put it last night. Today, that DM ("Literally the best thing I've seen in years") is the background of his iPhone. Koizumi had around 4k followers as of 6pm Friday; as of publication he has 13.7k. "I'm so surprised by the power of social media," Koizumi remarked last night, beaming with the pride.
Grand recruited her friends, some of the highest profile names in fashion, to help assist on the show in varying capacities: Marc Jacobs, Pat McGrath, Guido Palau, Victoria Hunter, Jin Soon and Tabitha Simmons, among others, helped create a real sense of community in an industry known to be overly-competitive. "I love how everyone really pulled together in fashion," Simmons, who lent her shoes for the show, said in an interview. "Katie brought all of these great people together to help support and I think that's what fashion should be: helping each other. What a welcome to New York!"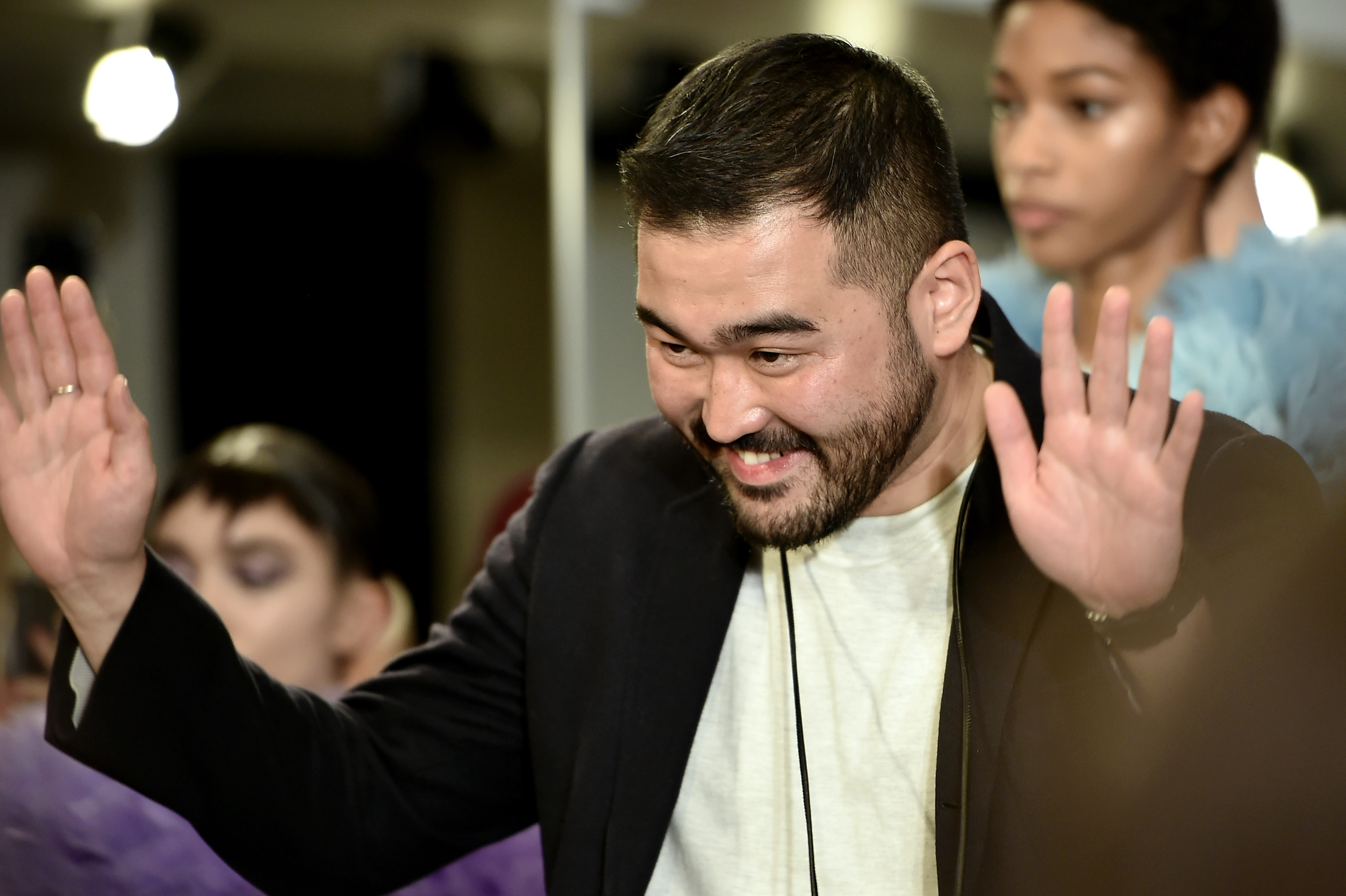 Koizumo, 30, first began his career at thirteen years old in the Chiba prefecture of Japan as an assistant costume designer. After graduating college in 2012, he began his namesake label, which he now hopes, after today, to grow into an international brand. Next up, Koizumi says he'd like to make dresses for red carpets or the Met Gala. Asked the star he'd most like to dress: Julianne Moore.
Leslie Fremar, here's looking at you!