What Will Rihanna's Luxury Line Look Like?
Rihanna's new LVMH fashion line could be the by-women-for-women brand we've been waiting for.
The High Priestess Rihanna was photographed this week in a pair of Fenty-emblazoned shield glasses, signifying to her loyal fans that something big was coming. Sure enough, WWD reported today that Rihanna is rumored to be partnering with the world's largest luxury group, LVMH, to launch a luxury fashion house. LVMH has tapped Louis Vuitton and Celine employees to work on Rihanna's brand, which will be the luxury group's first launch since Christian Lacroix debuted over 30 years ago.
Rihanna has already handily conquered the worlds of lingerie and cosmetics, so the news that she's working on an honest-to-God fashion line—one that "will span ready-to-wear, leather goods and accessories," according to WWD—raises a thousand questions, chief among them being, What will it look like???
A foray into clothing isn't exactly uncharted territory for Rihanna; she served as the creative director of Puma from 2014 to 2018, debuting her first clothing line with the brand at New York Fashion Week in 2016. At the time, Vogue writer Chioma Nnadi praised the collection for "hitting that gender-neutral sweet spot with convincing streetwise attitude—think: a do-rag fashioned from lilac lace and jumbo pearl necklaces in place of traditional gold dookie chains."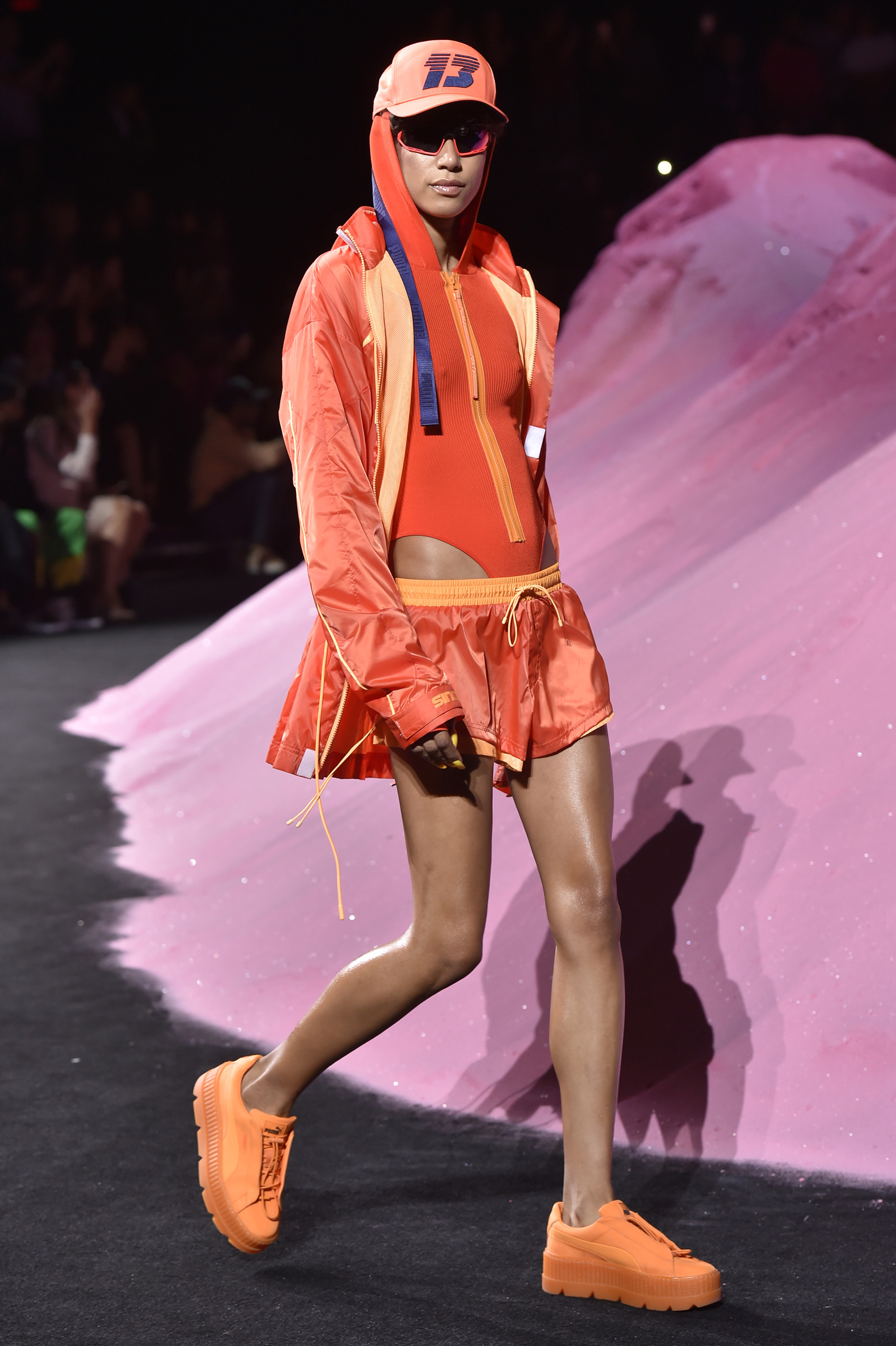 Rihanna's Fenty Beauty and Savage x Fenty lines have drawn acclaim for taking the depressingly radical step of formulating underwear that fits a range of bodies and makeup that works for a variety of skin tones, so it's safe to assume her fashion line will transport this spirit of diversity into the sometimes self-serious realm of high fashion. If those oversized Fenty shield sunglasses are any indicator, Rihanna might also inject some Jacquemus-style fun with proportions into the mix, inflating some accessories to twice their size and shrinking down others. This is Rihanna, after all—the elements of fashion transfiguration are fully at her disposal.
The "leather" aspect of Rihanna's upcoming line is particularly exciting, given the singer and entrepreneur's history with the material (remember this Versace moment at the Milan launch of Fenty Beauty, or this jacket-and-minidress combo that makes Rihanna appear to be cosplaying as a sexy Morpheus?) Will Rihanna's take on leather incorporate the pastel fur that made her Puma slides a must-have item?
There's no release date yet for Rihanna's LVMH line, but a source told WWD it "could be released in tandem with her ninth album, expected out sometime later this year." Could past album covers, such as Anti's scarlet-and-white palette or 2005's lip-glossed, gilded Music of the Sun , provide some inspiration for the luxury line?
Or—more likely—will Rihanna go rogue and do something totally unexpected, like when she sent a 9-months-pregnant Slick Woods down the Savage x Fenty runway? (Woods reportedly went into labor during the show, because that's how good it was.)
Ever since Phoebe Philo departed Celine, only to be replaced by the decidedly masculine Hedi Slimane, people have been hungry for a brand that truly feels "by women, for women." Rihanna—who's proven her skill at designing with empathy and celebrated individuality at every turn in her fashion career— like a worthy inheritor of Philo's legacy.