On Longing, Domestic Labor, and Marge Simpson's Pink Chanel Suit
GARAGE spoke to Simpsons writer Jennifer Crittenden about one of the most Marge-centric, fashion-focused episodes of the series.
Green dress. Red beads. Blue hair. Mere mortals can only dream of developing a uniform as timeless and instantly recognizable as Marge Simpson's.
Yes, the matriarch of the Simpson clan has undergone a lot of changes over the show's 30 seasons, but her clothes have remained a constant, hinting at the object permanence we so often expect from our mothers. Okay, fine, technically, every cartoon character's clothes stay the same (except on special occasions, like when Lisa becomes a disaffected '90s kid), but on a show where her husband is afforded zany adventures on a weekly basis, Marge is often—particularly in early seasons—the staunchly consistent straight man.
Almost a third of the way through the show's run, all that changes. "Scenes from the Class Struggle in Springfield" (1996) is the fourteenth episode of The Simpsons' seventh season, and the first to be both written and directed by women. "It's always hard to come up with stories for the the more well-adjusted characters, so we were constantly on the lookout for a Marge story," episode writer Jennifer Crittenden told GARAGE. This episode concerns itself expressly with two things the series had rarely delved into: Marge's interiority, and fashion.
Fashion found the Simpsons on numerous occasions in the 22 years since "Scenes from the Class Struggle in Springfield" aired, with the family recently making a trip to Prada Marfa. However, haute couture wasn't a topic of discussion on the show until Marge donned her instantly recognizable pink Chanel suit.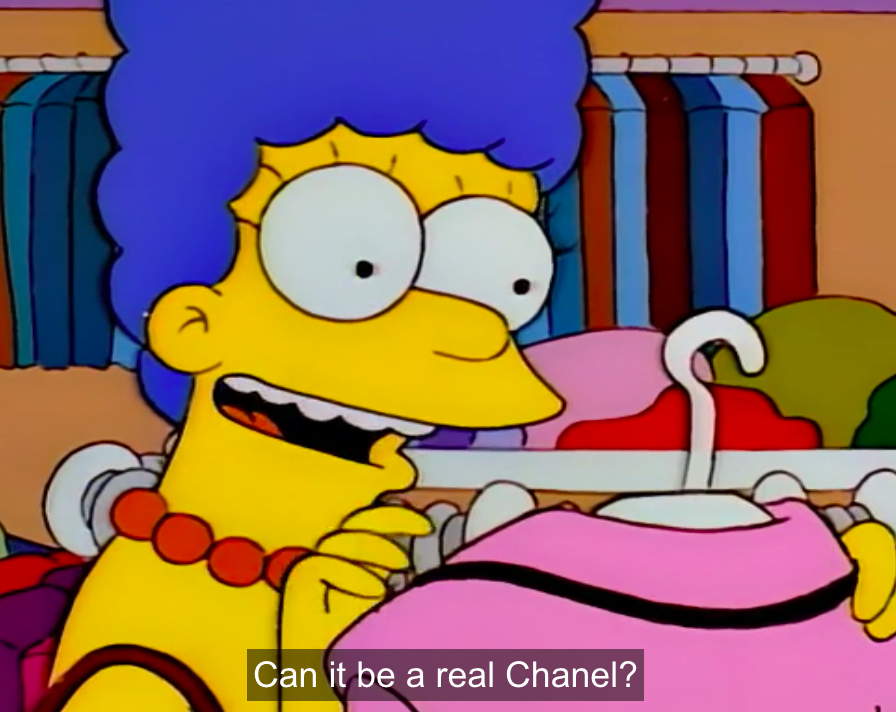 In the episode, it's actually Lisa who unearths the suit at a discount emporium ("Browse through our bra barrel!" the shop's sign implores), pressing it on her mother despite its $90 price tag. "Marked down from $2,800!" Lisa chirps encouragingly, and indeed, something happens when Marge puts the suit on. Normally a study in green, red, and blue, Marge looks like someone else—someone glamorous, someone powerful—when the pale pink of the Chanel suit is juxtaposed against her lemon-yellow skin.
Marge looks so good in the suit, in fact, that a former high school classmate invites her to visit an exclusive country club, which kicks off a sequence of events in which Marge, besieged by mean-girl gossip about her (to quote Lizzie McGuire's chief villain, Kate Sanders) "outfit repeating," alters her one discount Chanel suit over and over to make her wardrobe look appropriately to-the-manor-born. Meanwhile, her family chafes at Marge's newfound pretensions, and—this being a sitcom—Marge learns a Valuable Lesson ™ at the end, forsaking her fake friends to eat Krusty Burger with her family in a brand-new, $3,300 Chanel ball gown, returnable for store credit only. (Mood.)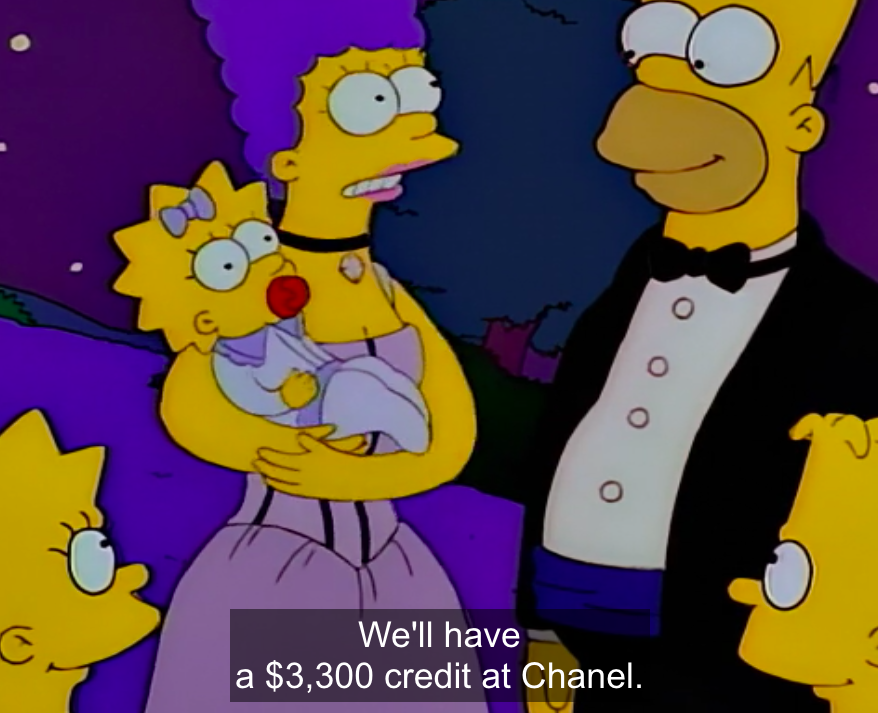 Marge's wealthy-girl drag is also, of course, reminiscent of the pink boucle Chanel skirt suit that Jackie Kennedy wore during her husband's assassination (the blood-spattered suit was eventually given to the National Archives in Maryland, although its precise location is kept secret.) "Chanel just seemed like perfect choice for Marge. Timeless, elegant, plus you can't help but have that brief thought of splattered brain matter," Crittenden told GARAGE.
The episode in question may end happily, but it brings up the larger question of what, exactly, Marge wants for herself. Like so many sitcom women—from June Cleaver to Modern Family's Claire Dunphy, all the way to the conflicted writer-mothers of today—Marge carries the dual weight of not only performing domesticity for her family, but appearing to be happy about it, even if nobody in her family seems particularly invested in her happiness. One particularly poignant shot in the episode shows her vacuuming in her Chanel suit, shortly after Homer balks at her suggestion that they attend a cultural event. Even when Marge makes her entree into the society world, the one Chanel suit is still not enough—she's forced to alter it into a two-piece croquet outfit to wow the country-club fashionistas around her.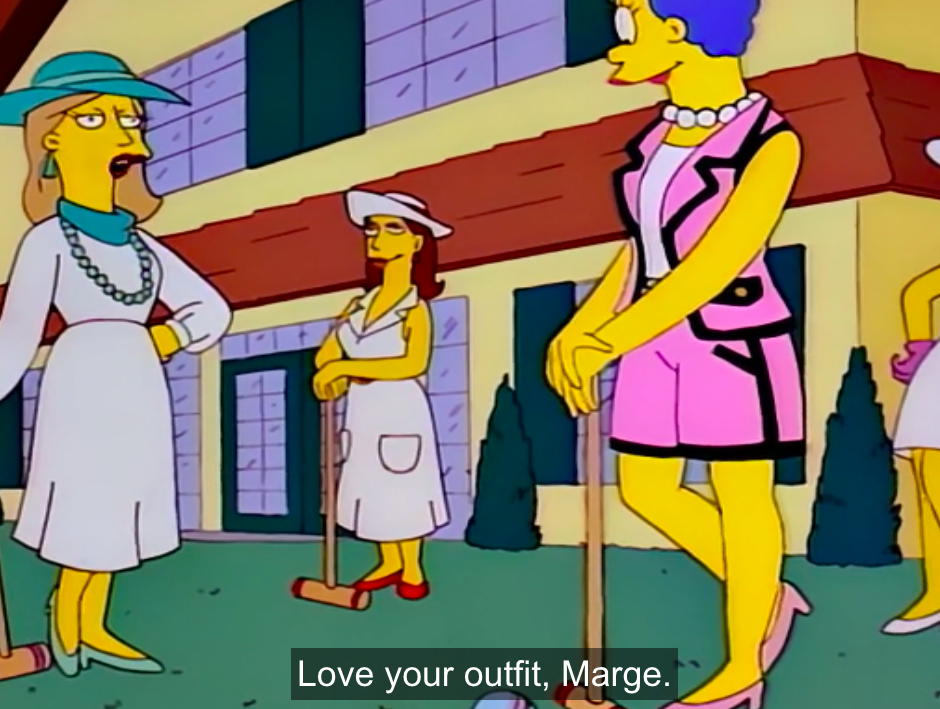 When the suit Marge attempts to alter once again into a ball gown so many times finally shreds to pieces (necessitating the brand-new, unaffordable Chanel), she says dully, "At times like this, all you can do is laugh." Still, we go to black over her unsmiling face, eyes slowly blinking—without getting too Phantom Thread about it, Marge's hopes and dreams were sewn into the fabric of that suit. Like any instance of label lust, Marge's passion for Chanel isn't just about the suit itself, but about attaining the ease of lifestyle that the suit represents; whether it's a longing to attend the opera or a desperate desire to appear Chanel-worthy to her country club coven, watching Marge want is painful.
Designers from Marc Jacobs to Jeremy Scott to Virgil Abloh have embraced the Simpson clan in collections (and tattoos), but it feels significant that a couture label's first appearance on the show represented Marge's unfulfilled desire. Marge may dream of country clubs and Jackie Kennedy's Camelot—they even share a maiden name, Bouvier—but her reality is pure, unalterable Springfield, and there's no suit stylish enough to change that for longer than an episode.