Charlap Hyman & Herrero Transformed a Venetian Mirror Workshop into a Mythical Bedroom
Our first dispatch from the Venice Biennale brings you into an immersive artwork that draws inspiration from Cocteau.
Photo by Enrico Fiorese
There's a scene in Jean Cocteau's 1932 film The Blood of a Poet in which the protagonist, an artist in crisis, commands a mirror to "open up" for him. Then, using some pre-CGI movie magic—flipping the set wall horizontally and replacing the full-length mirror with a pool of water—he dives into it with a dramatic splash and enters another dimension.
It's an image that Adam Charlap Hyman and Andre Herrero, of the architecture and design firm Charlap Hyman & Herrero, refer to often. "It requires so much suspension of disbelief, it's such a beautiful cinematic moment and trick of the eye," said Charlap Hyman. "There's a lot in that film that culminates in this moment that's really important to our practice and the way that we think about dreams and emotion in spaces."
When the gallerist Alma Zevi approached them with the idea of doing an installation to coincide with this year's Venice Biennale, she offered them the use of an abandoned mirror workshop, a grotto-like room layered with years of grit and a few built-in surrealist touches, like an ancient wood column with bits of bark still clinging to it and a plaster cast of Beethoven's death mask mounted on the wall above the sink. As they started work on the project, the image of Cocteau's mirror-slash-plunge-pool became a guiding light, and they borrowed the title of the show, "Ouvrez-moi," from his script.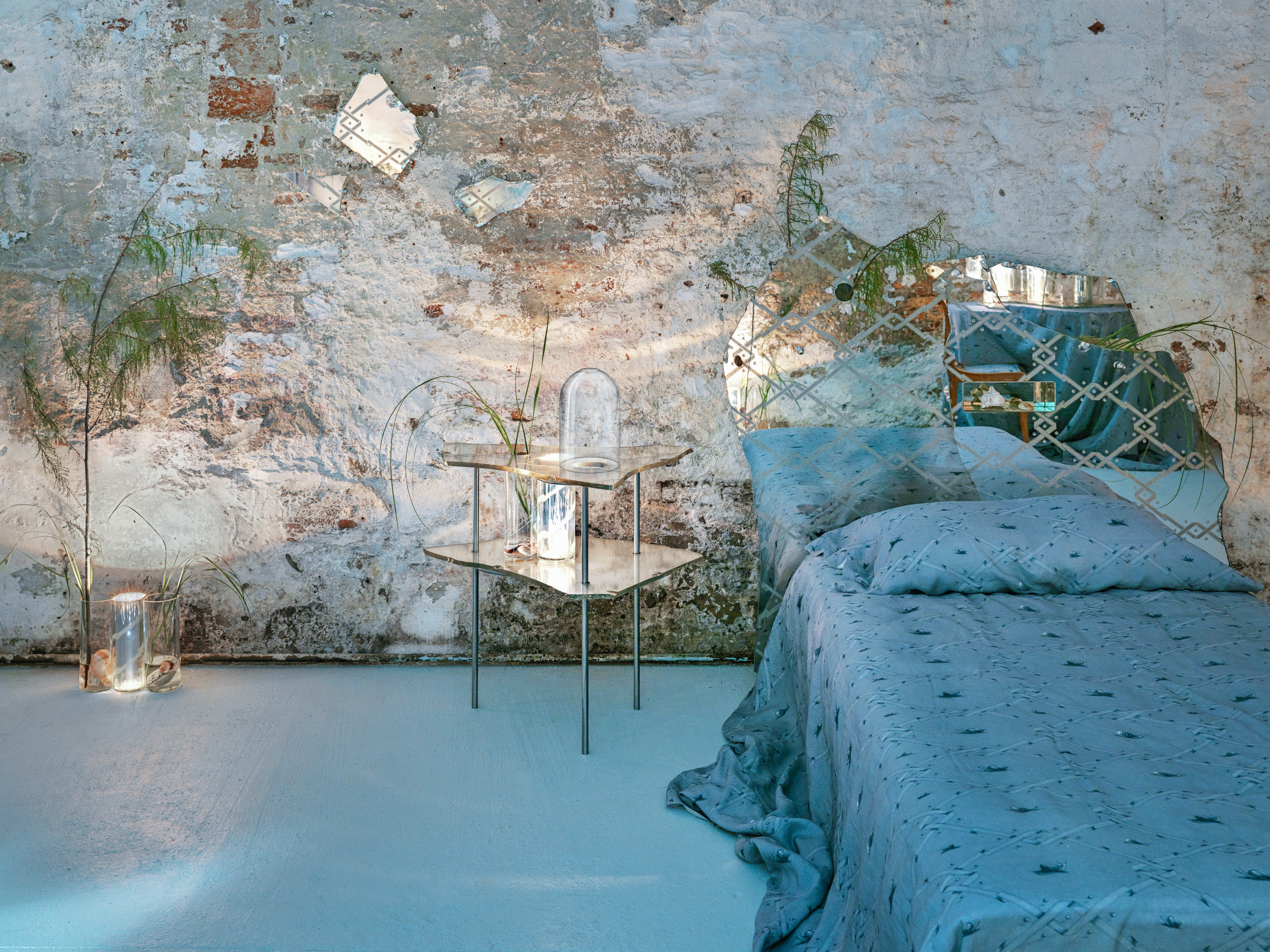 Charlap Hyman & Herrero transformed the workshop, a ground-level space on a tiny side street in San Marco, into what Charlap Hyman calls "a mythical bedroom," with everything from the headboard to the to the table made out of massive cracked shards of one- and two-way mirror, etched with an interlocking ribbon pattern by master craftsmen in Murano. Each piece contains spaces for a candle to flicker, ghost-like, through the translucent glass, and vessels filled with lagoon flora, shells, and live snails.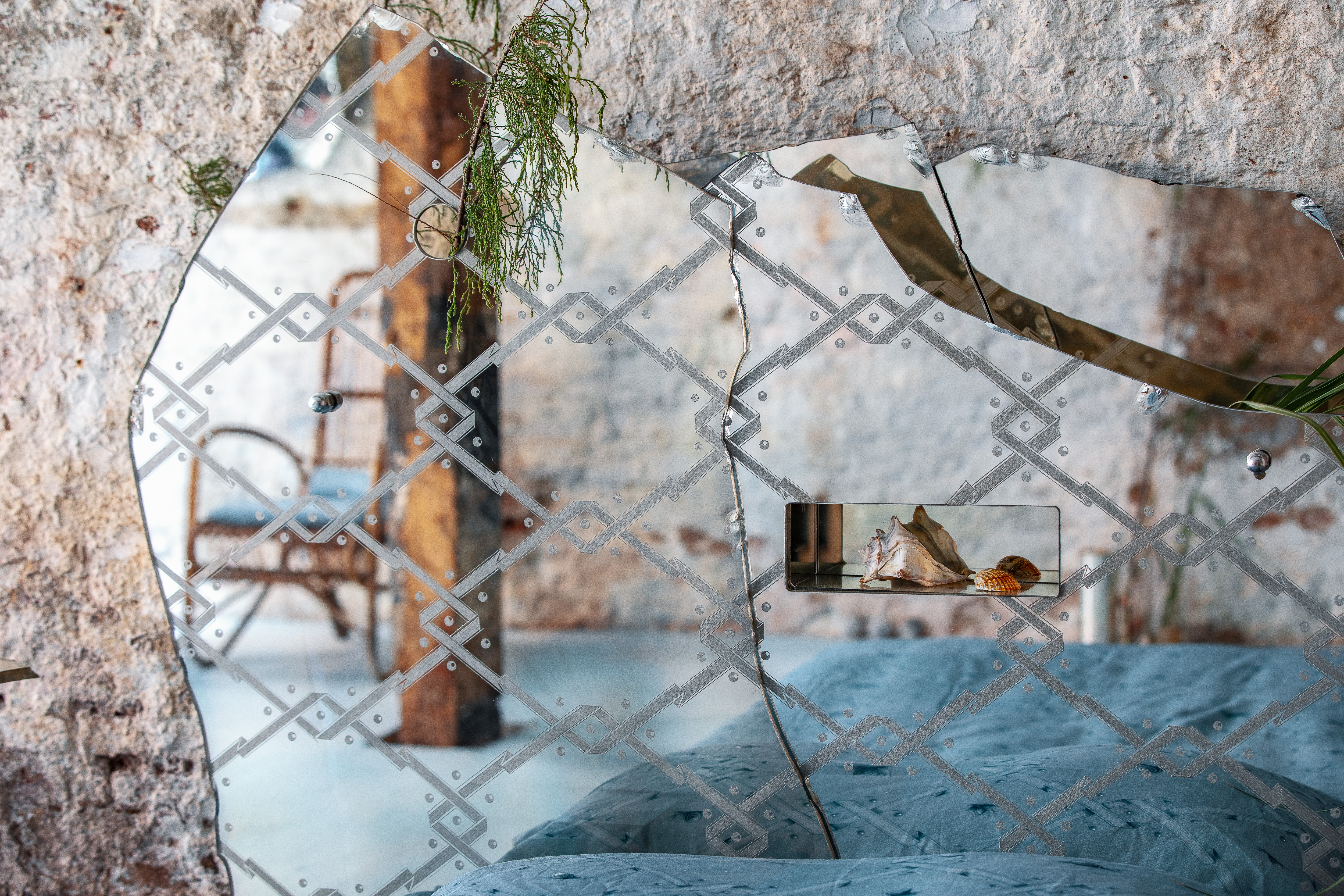 The snails and ribbon pattern (inspired by a Piero Portalupi motif on a palazzo in Milan) are echoed in a custom linen fabric draped over the bed, swagged over the door and windows, and upholstered onto a pair of vintage wicker chairs. "I've always been fascinated by snails because they're this amazing fusion of something so ugly and so beautiful," said Charlap Hyman. "They're grotesque, but also really elegant."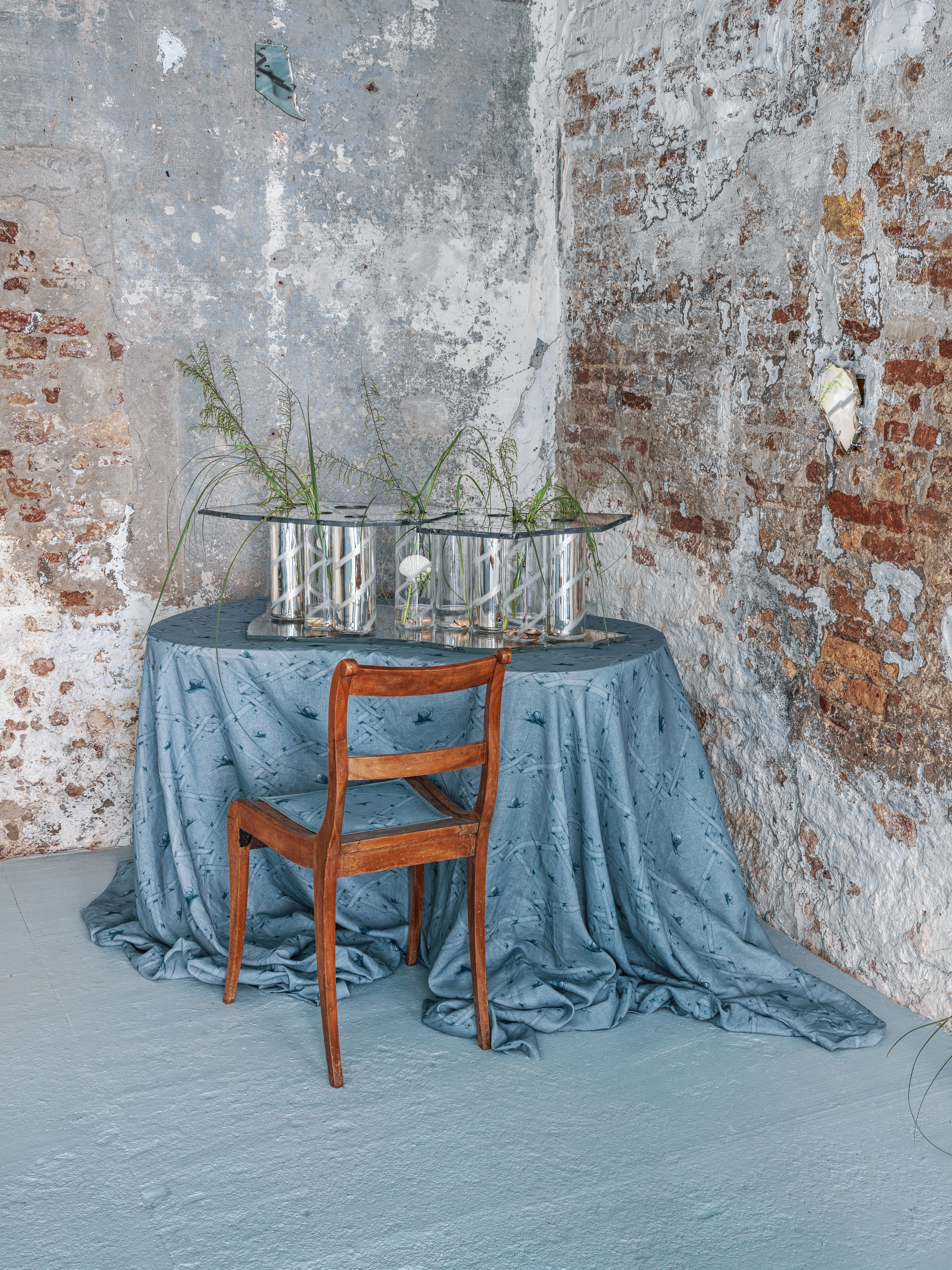 The overall effect of the show, which stays open through July 6th, is intimate, elegant and a little melancholic. It's studied and referential, but like all of Charlap Hyman & Herrero's work, it's ultimately very playful. (During the opening, multiple people jokingly asked if they could spend the night) It's also the pair's first solo exhibition. They have collaborated with artists and curators on immersive exhibition designs before—decking out the 56 Henry gallery in New York in sombre green silks for Cynthia Talmadge's exhibition of paintings of the Frank E. Campbell Funeral Chapel and created a life-sized dollhouse out of cardboard and watercolors for a furniture show at Friedman Benda—but never designed a stand-alone installation of their own.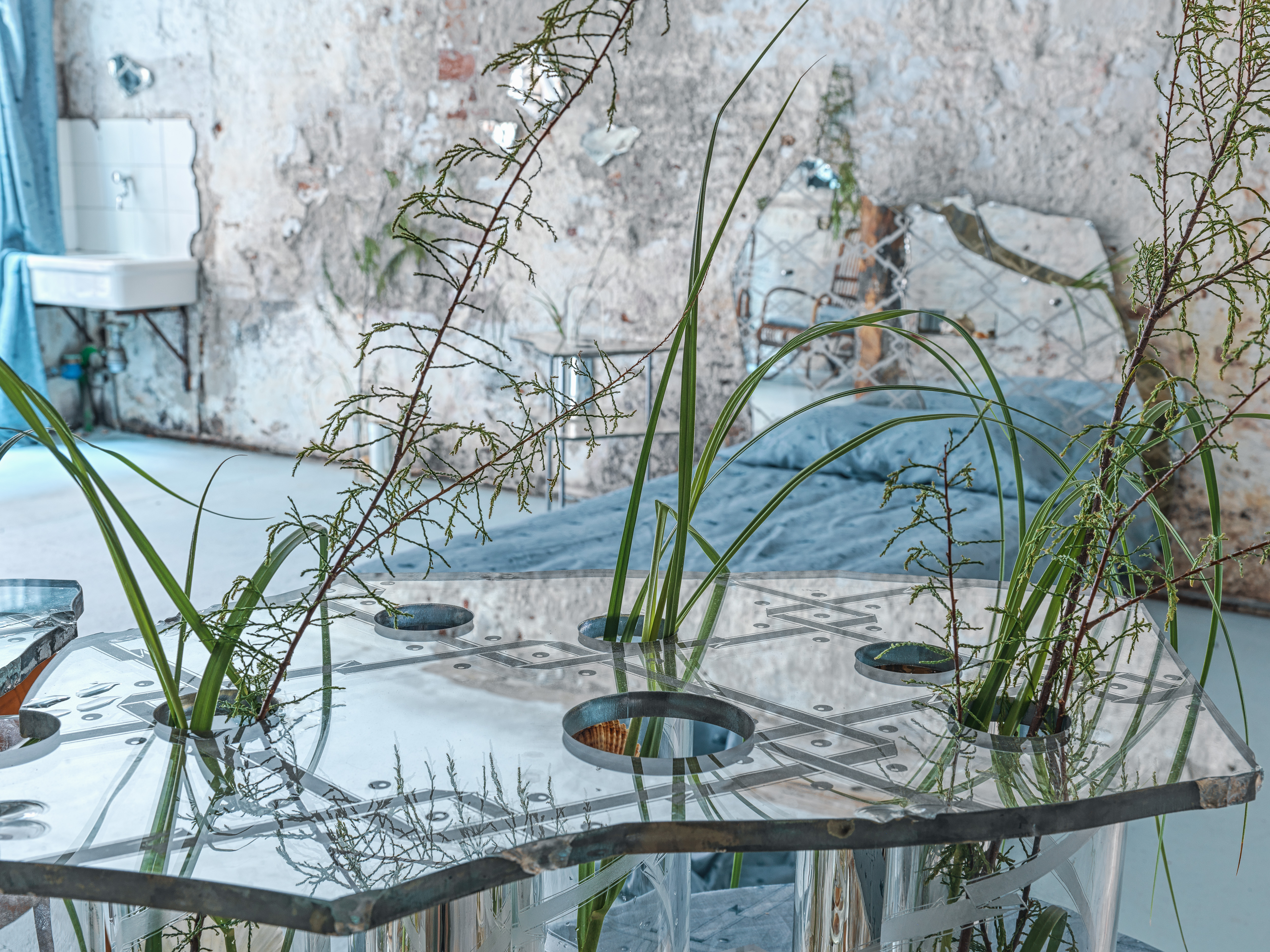 Zevi's sister Clara, who is working with her sister in Venice for the first time after four years at Ordovas in New York and London, said that working in the less-than-frenzied environment of an Italian residential neighborhood was a bit of an adjustment, but it yielded a few moments of magic. An elderly neighbor, who kept seeing her standing outside of the space during the install, insisted on offering her his stool. And when they lost power and needed a 50-meter extension cord, another neighbor buzzed doorbells up and down the street until they found one. "The space was such an important part of the neighborhood for such a long time. It was a workshop where a lot of the great Venetian glass artists produced their work," said Clara. "I think it's been really interesting for the people who live here to see it come alive with mirrors again, but in this completely different way."
Ouvrez-moi is on view in Venice until July 6th at Alma Zevi Projects, San Marco 3208, Salizzada Malipiero.