An onion-topped wine glass at the "sensorial supper." (Photo by Nadja Sayej)
Edgar Allan Poe, Hand-Picked Vegetables and Conceptual Nudes? At Dinner?
A Renoir-themed "sensorial supper" held at the Explorers Club went in on the artistic references.
An onion-topped wine glass at the "sensorial supper." (Photo by Nadja Sayej)
"Want to get creative?" a man asks, running through a dinner party with a metal palette knife in hand—the same instrument used to mix oil paint.
Slap.
A blob of raspberry cream is slapped onto a wooden square. A closer look reveals a few slices of pineapple and a pink macaroon.
This wasn't an amateur art class, or even an episode of Nailed It. It was a dinner party curated by artist and writer Emma McCormick-Goodhart, which celebrates the forthcoming exhibition, Renoir: The Body, The Senses, opening at the Clark Art Institute on June 8.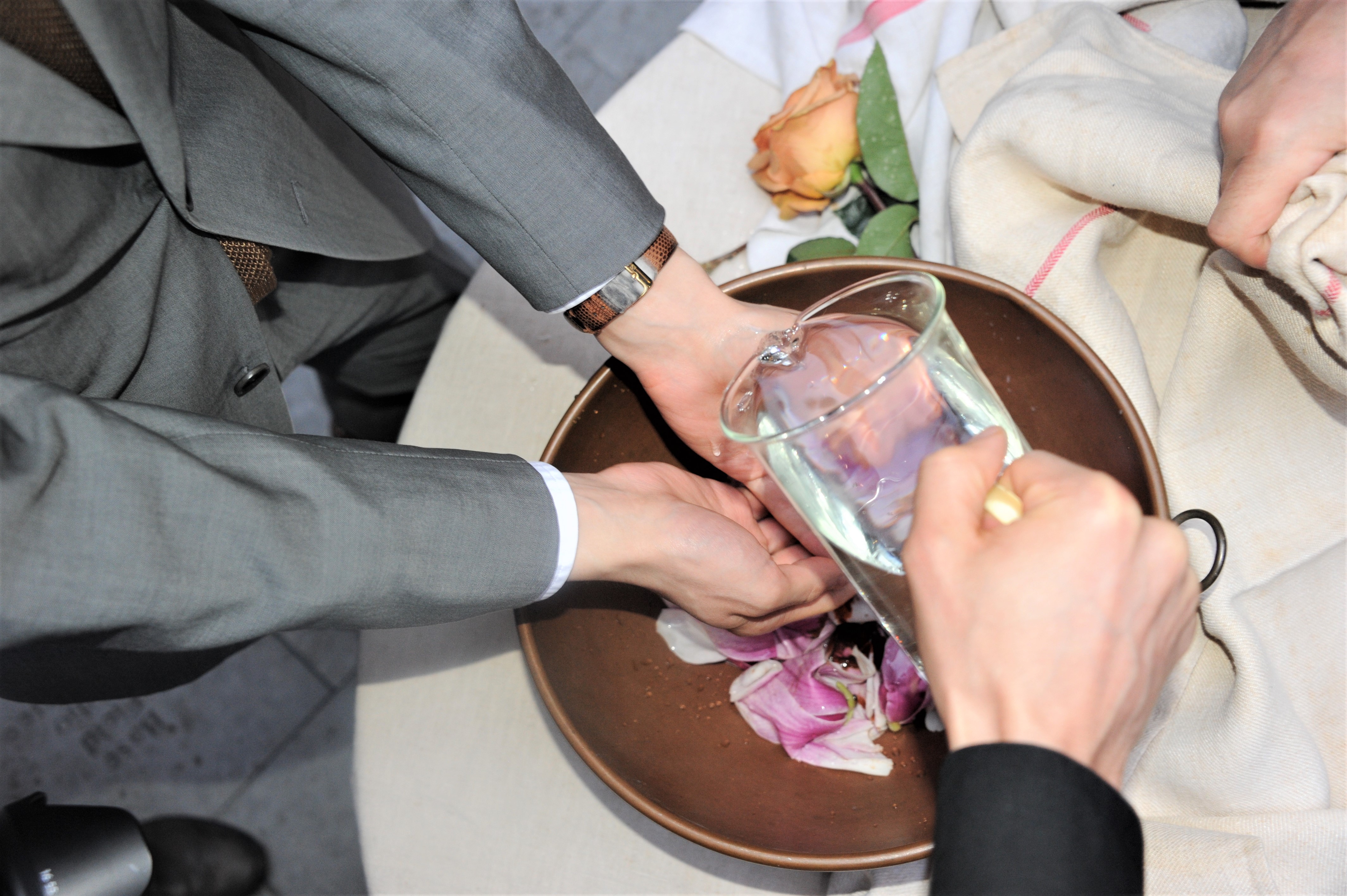 The dinner was held on Thursday night at the Explorers Club, an English manor-style house in the Upper East Side (with a terrifying taxidermy polar bear). The dinner's theme was Parisian chic meets 19th-century pomp with a side of conceptual nudity, translating a Pierre-Auguste Renoir painting into a dinner party with edible portraits and floral fragrances.
McCormick-Goodhart, who was wearing a floral headdress designed by Joshua Werber, presented this conceptual dinner, the "Sensorial Supper," based on Renoir's nudes. But is the male gaze on the female body—especially in the #MeToo era—is potentially played-out? (Not to mention problematic.)
However, the exhibit is meant to look at this Impressionist painter through a contemporary lens, as it isn't just female nudes, but male nudes, as well (paintings like Boy with a Cat, which you could typically only see at the Musée d'Orsay in Paris, will be on view). The night was dedicated to visionary performance artist Carolee Schneemann, who was supposed to play an important part of the evening, but passed away last month.
Entering the space, guests were greeted with the smell of scents by Julian Bedel, a perfumer who only uses natural materials for his olfactory creations at Fueguia 1833. Here, he used a floral fragrance.
"It's related to how scent is an expression," said Bedel, who used roses—one of Renoir's favorite subjects to paint—as a starting point. From bourbon roses to cabbage roses, the alba rose and the damask rose, the painter first started painting roses in still life paintings, then moved onto bouquets—and came under the influence of artists like Édouard Manet and Gustave Courbet, which some experts say, can be traced in Renoir's early bouquets.
But rosy Parisian romance is not exactly timely. Especially in a time when the Yellow Vest protesters are in full force on the streets of the French capital—even more so since the Notre Dame cathedral went up in flames, and as the billionaire donations to rebuild the church has seen backlash. Yet, many still want to romanticize the 19th century charm.
There were floral drinks by mixologist Arley Marks of Brooklyn bar Honey's, where he mixed magnolia-infused vodka with citrus skin for a spring elixir with champagne and Lillet.
The dinner really was a work of art, as the tables were adorned with canvas tablecloths. The chef Danny Newberg of nomadic restaurant Joint Venture ventured out to parks in upstate New York to hand-pick vegetables for the meal—which included trout lily—referencing Renoir's landscapes, as the artist painted them mostly on-location, just like his 1877 painting, "In the Woods."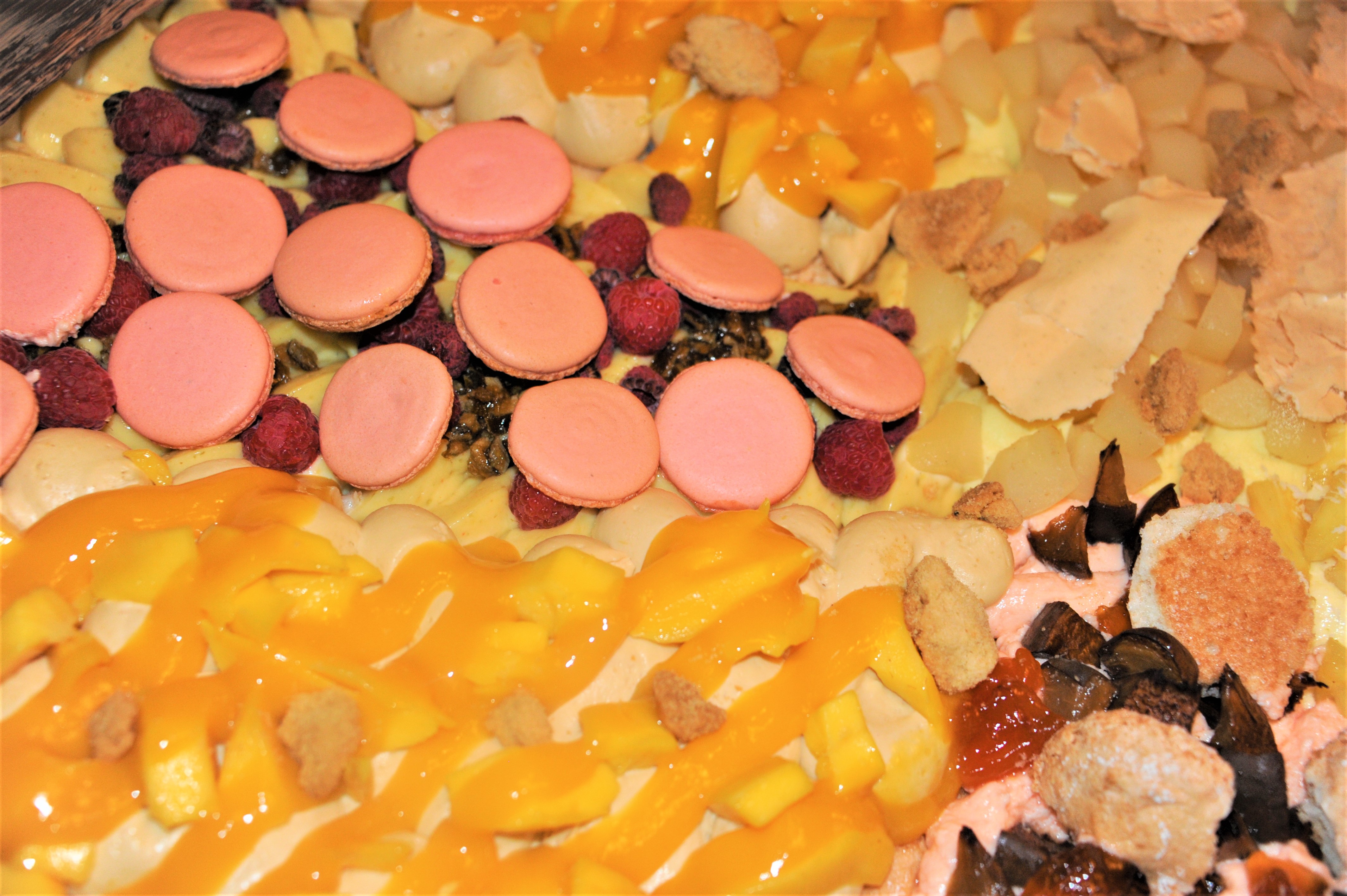 That's not the only painterly reference, as the dinner tables were splayed with arrangements of roses, onions and mushrooms by French florist Bella Meyer, the granddaughter of Marc Chagall, in reference to Renoir's still life paintings, from his famed onion table in Naples to his floral bouquets.
They saved the best for last, as the palette knife-friendly pastry sculpture by Savinien Caracostea was inspired by Edgar Allan Poe's short story, "The Oval Portrait." This edible painting was created in the pastel hues of a Renoir painting, from flesh tones to sunsets, portraits and warm-hued landscapes of Venice, matching flavors of lychee, coconut, mango and raspberry. With palette knives, it was a dive in extravaganza, where guests were invited to pick up wooden painter's palettes and make their own portrait.
This masterpiece was crowned with an edible picture frame made of chocolate, which was chipped off and eaten lie something out of Willy Wonka and the Chocolate Factory.
"It's a non-linear dessert experience, a deconstructed painting portrait pastry," said Caracostea, a self-proclaimed 'architect of taste.' "It's a palette of colors and fruits, an oval portrait but an abstract portrait. It's about creating your own portrait. In the end, we consume the work."
Yet, despite the nude theme, nobody was naked. Not even performance artists—which could have been a shout out to Renoir's nude models.
"Next time," said McCormick-Goodhart, "I'll stage a spoken word piece with names of his nude models!"