From the 'Cosmic Ether,' A Tyler, the Creator Ice Cream is Born
The GOLF le FLEUR* x Jeni's Splendid Ice Creams collab is a delightful troll.
Tyler, the Creator, fresh off the release of his sixth album IGOR, has merged his fashion brand, GOLF le FLEUR* by GOLF WANG, with Columbus, Ohio-based company Jeni's Splendid Ice Creams to create a limited edition ice cream flavor called "Snowflake," forming one of the more bonkers ____ x ____ collabs in recent memory.
To be fair, this one kinda makes sense. Tyler's into niche junk food, and his documented appreciation for breakfast cereals honestly makes him something of a Yung Christina Tosi. Maybe this was just a natural progression of Tyler's love for Pharrell, whose Icecream brand paved the way for the throuple that is hip-hop, fashion, and ice cream. (No disrespect to Gucci Mane!)
As the copy on the Snowflake pint reads, "Tyler, the Creator and [Jeni's founder Jeni Britton Bauer] collided in the cosmic ether sometime in 2017" (have you ever read a more L.A. phrase?) and bonded over their "shared love for people, color, scent, and flavor." Thus, they created an ice cream that's "a cool and warm ivory green mint with white chocolate," packaged in Chanel Jade-hued pints printed with the signature GOLF le FLEUR* flower.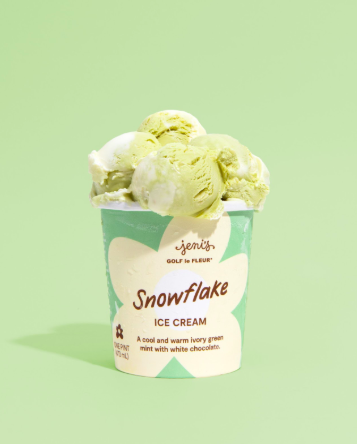 Tyler and Jeni also bonded, it seems, over things they dislike: "As much as I love white chocolate chip cookies, I can't get over the universal rule that they always have to come with those useless macadamia nuts," Tyler wrote in a truly wild statement about the flavor. "For as long as I can remember, mint ice cream seemed to always come with every chocolate chip but white. I finally got the two away from their clingy friends and set up a play date for my mouth." As a Jeni's stan, I am also aware of the fact that Jeni used to not like mint chocolate chip, so how wonderful that they got together to merge their dislikes to make a like. An only love sprung from an only hate? That's amore.
In what is sure to be Tyler's most compelling mouth play date since the "Yonkers" cockroach, the flavor will be available to purchase on July 6 at the GOLF flagship store in L.A. and online — to be sold at golflefleur.com and jenis.com in, of course, a special collaborative pack that includes a Snowflake pint, a limited-edition Snowflake tee by GOLF WANG, and two pints of Tyler's favorite Jeni's flavors — and later at Jeni's locations on July 8.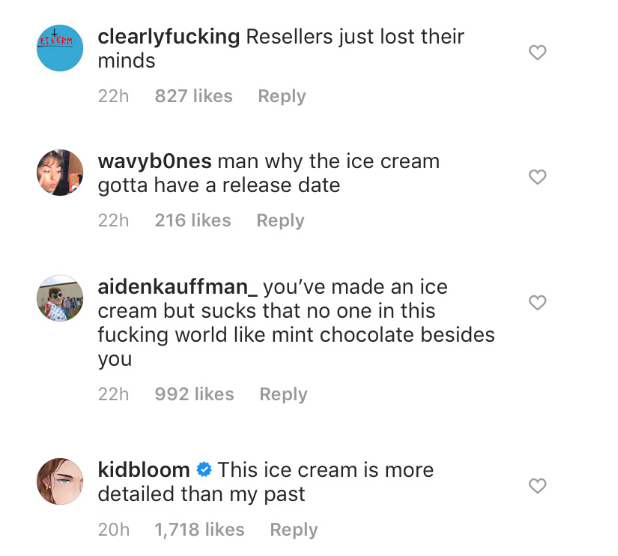 Jeni's Splendid Ice Creams, founded in 2002, is perhaps the OG purveyor of ultra-premium ice cream, pioneering the $12/pint model that's reflective of our current consumer palate's affinity for the artisinal. (In the spirit of full transparancy, this writer used to scoop ice cream at a Jeni's shop and I do think it is the best ice cream I've ever had.) To marry that luxe food sensibility with music and fashion's taste for exclusivity and drop culture… Sheesh!
For Jeni's, collabing with the one-time Mr. KILL PEOPLE BURN SHIT FUCK SCHOOL is the stuff PR dreams are made of, and honestly, it's pretty delightful. Following the collab announcement, young hypebeasts flocked to all of the appropriate social channels to troll Tyler. And while seeing Jeni and her brand have to tag Tyler's absurd handle "@feliciathegoat" would have been good enough, the response from older generations also has its own charm. One commenter wrote on the Jeni's Facebook page, "I am a little shocked that Jeni collaborated with him. But it looks like a great flavor!" Another asked, "Is the [sic] political? Sorry I had to ask.." (Snowflake… incredible.) The motto of this summer is "SCANDALIZE BOOMERS MAKE MONEY EAT ICE CREAM."