Eckhaus Latta, Carolina Amato gloves.
Two Thumbs Up for All the Gloves at New York Fashion Week
Why are gloves the accessory of the moment? GARAGE investigates.
Eckhaus Latta, Carolina Amato gloves.
Around 476 BCE, the king of Sparta accepted a bribe from an enemy army: a gauntlet filled to the brim with silver, which he tried to conceal by sitting on it. He was discovered, exiled, and his home was razed to the ground. In the 13th century, in the midst of concern over decadence in Christian dress, the clergy was banned from wearing red, green, or striped gloves; and, according to legend, when one chilly saint rejected a pair of gloves that had been offered to her, the mitts hovered in midair for an hour, signaling divine approval for her self-control.

Fast-forward to New York Fashion Week 2018 and designers are seeking escape in excess: drugs, Sprawling Banquets, and 1980s indulgence abound. And if you've already discarded asceticism for sequined bolo ties or a cornucopia of hallucinogens, you certainly can't be blamed for picking up a nice pair of mittens and creating a warm boundary between your fingertips and the biting frost. Carpe cestos: go ahead, it's cold, take the damn gloves.
In his Fall 2018 collection, Raf Simons showed long latex gloves, slickly shiny as an oil spill. The gloves were bunched around the elbows, with a plastic case on an watchband snug around the wrist: a mini-minaudière that resembled a mirrored cigarette case, a pillbox, or, at best, an itty-bitty first aid kit, on hand for emergencies and cravings. The blend of fetish-inspired evening wear and druggy neurosis was a heady one, linking the freewheeling luxury binge with its pragmatic but equally fanatical twin: wellness micromanagement.
Kim Shui told GARAGE that her collection was inspired by extreme sports as "a reaction to the extreme reality at the moment… It's about powering through." The tops of cerulean puffer half-sleeves, cinched at the wrist and elbow, pillowed out like tiny hoods; a tar-black set, an experimental take on gloves that grazed the knuckles, were overstuffed and peaked at the top like a knight's bracers and were paired with a shaggy fawn-colored coat.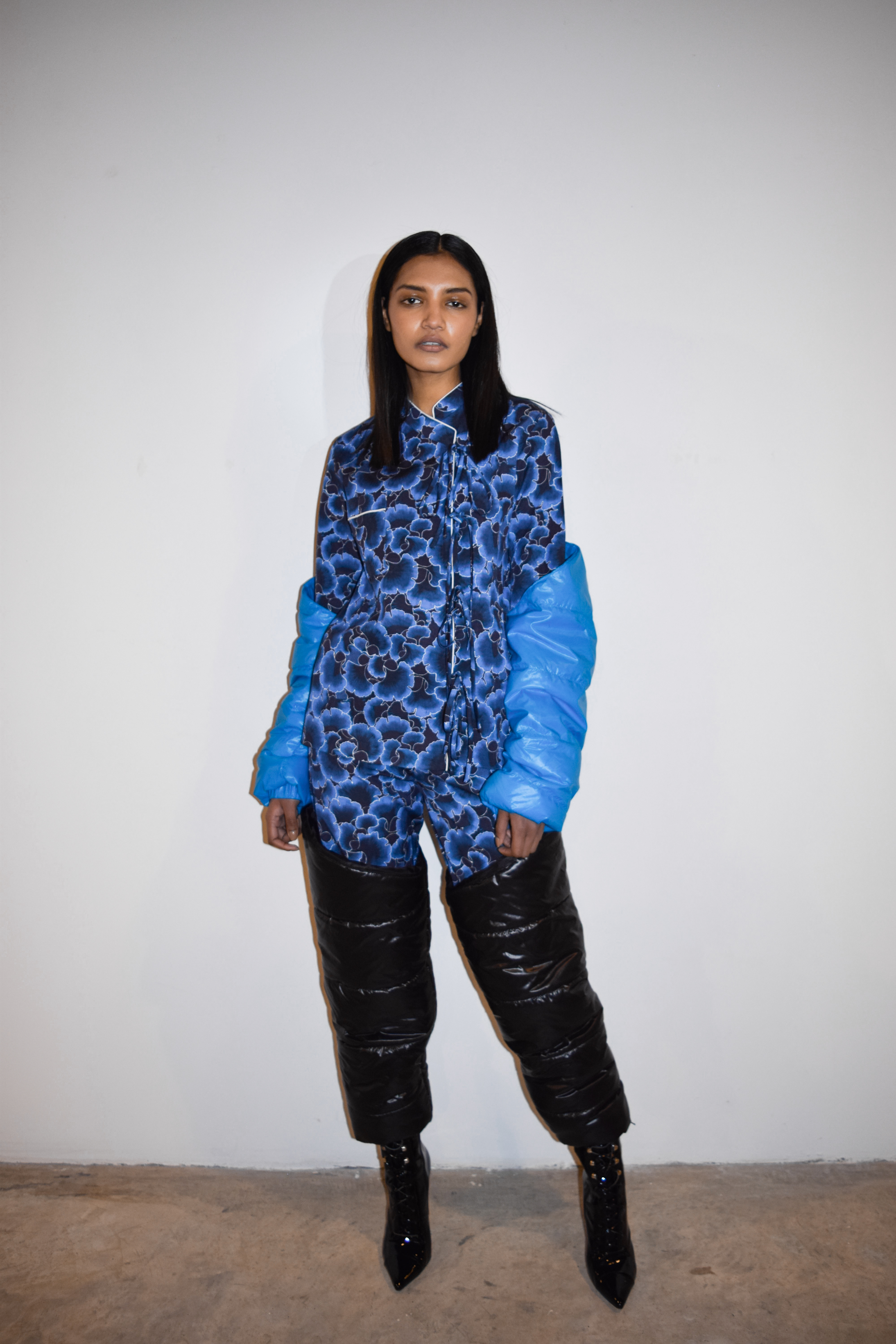 There were gauzy gloves at Eckhaus Latta, delicate, white, and paper-thin, worn with a felted suit, sourced from accessories designer Carolina Amato. Alexander Wang also showed a sheer variety, closer to lingerie than a garden party: they were tight and black and showed their seams. One look included a full sleeve, a translucent black shell from shoulder to fingertip, in a similar vein to LRS's red glove dress. They were a demure, barely-there forcefield against the chaos of the world outside.
Gloves are like hands, birds, or the ocean: they come in all shapes and sizes, and anyone who tells you that they have one fixed position in our beautiful, intricate lexicon of symbols is lying. They're an emblem, alternately, for evil heiresses who skin nice dogs, vaudevillians, ladies who lunch, entertaining mice, prizefighters. So if the glove renaissance means anything, it's a return of the character study rather than of a particular character, a way of dressing up and drawing the outlines of the type you're pretending to be.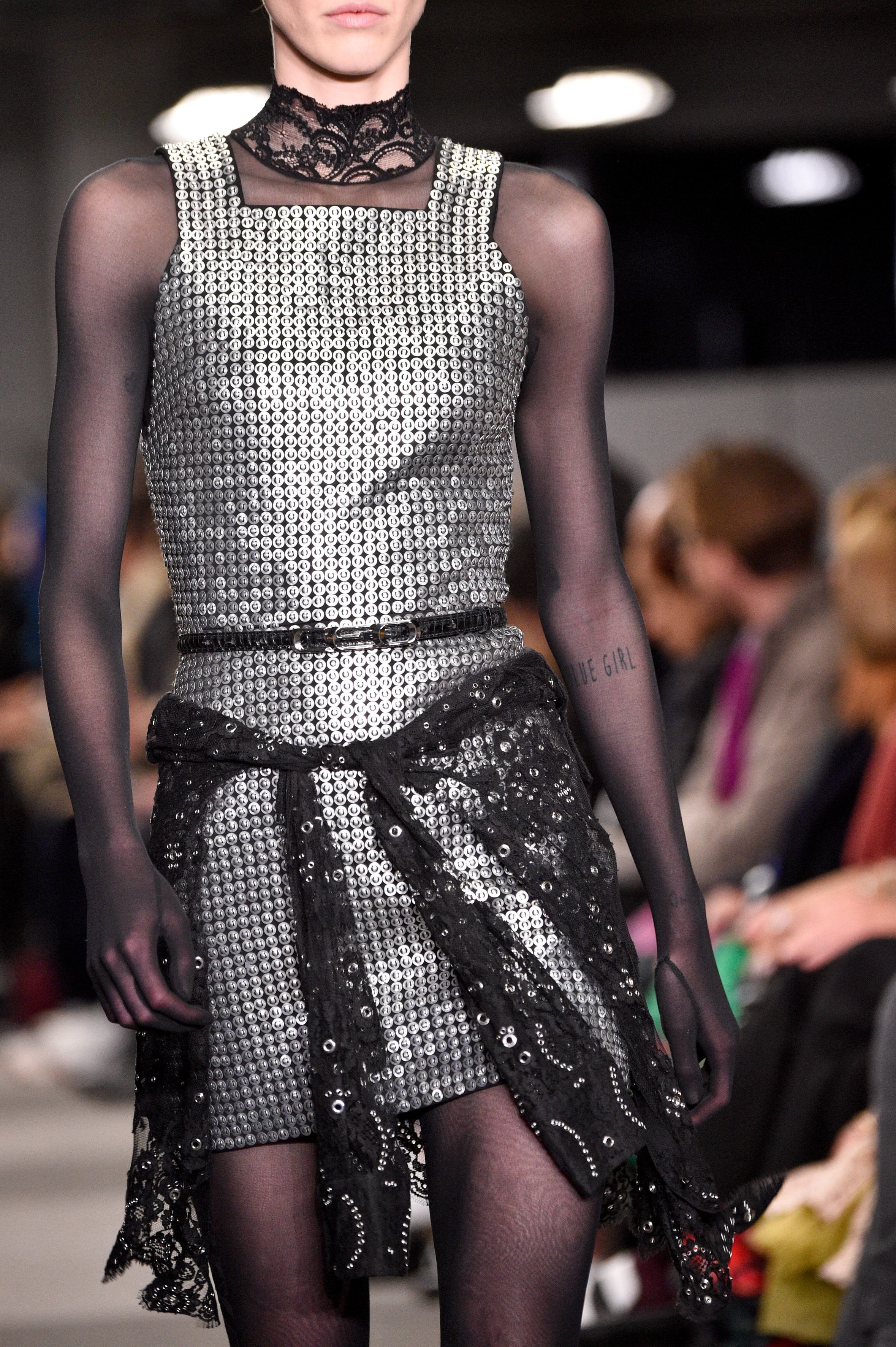 Of course, gloves also serve a practical purpose: for gardening, performing surgery, curling (sport), curling (your hair), and not getting stung by your own swarm of bees. Yesterday's Supreme drop included a pair of work gloves by Mechanix, perfect for wielding a combination wrench or refinishing your longboard deck. N.Hoolywood's workwear-inspired collection also presented fingerless gloves on models toting messenger bags, their faces swaddled in scarves and hoods. One look, composed of a newsboy cap, overalls with heavy nylon straps and firetruck-red mittens, felt like the hypebeast answer to the Broadway musical "Newsies."

One might see a harbinger of glovecraft's revival in Jacquemus's La Main dress, sold on SSENSE for a few golden and fleeting months in 2016 before it disappeared into the ether of designer consignment e-stores. The dress is a giant navy glove. Your head sticks out the wrist, and the fingers fan into a skirt. It's a visual pun, and an idiotically blunt one, at that: here's the thing you wear to cover your hands, but now it's covering your body. But maybe that's how you throw down the gauntlet.