View of Lorna Simpson: Unanswerable, Hauser & Wirth, London, 2018. © Lorna Simpson. Courtesy the artist and Hauser & Wirth. Photo: Alex Dalfanne
Dark Times Prompt Stormy Imagery in Lorna Simpson's New Show
The artist digs out from London snow to face down both seasonal chills and our backward-looking moment.
View of Lorna Simpson: Unanswerable, Hauser & Wirth, London, 2018. © Lorna Simpson. Courtesy the artist and Hauser & Wirth. Photo: Alex Dalfanne
As London ground to a halt beneath a snowstorm nicknamed the "Beast from the East," Lorna Simpson was installing a statue of a woman sitting on a giant snowball at the city's branch of Hauser & Wirth. Sparkling and powdery, the six-and-a-half-foot sphere is dimpled with the suggestion of handprints, while the snow figure seated on it is topped, incongruously, with a graphite-colored head. Keeping her company is a suite of paintings in which polar snowscapes explode into volcanic ash clouds, and an installation of vintage stacks of Ebony and Jet magazines held in place by what appear to be vast blocks of ice. For Simpson, winter—hard, sharp, icy and forbidding—is here, metaphorically as well as physically.
"That dark, foreboding landscape is a background to the work, and also maybe a psychological state as well, in terms of what it's like to live in America right now," Simpson told GARAGE, walking through the show ahead of the opening. "Ice is a temporary state—a suspended state of water. So there's a sense of preservation, but also destruction."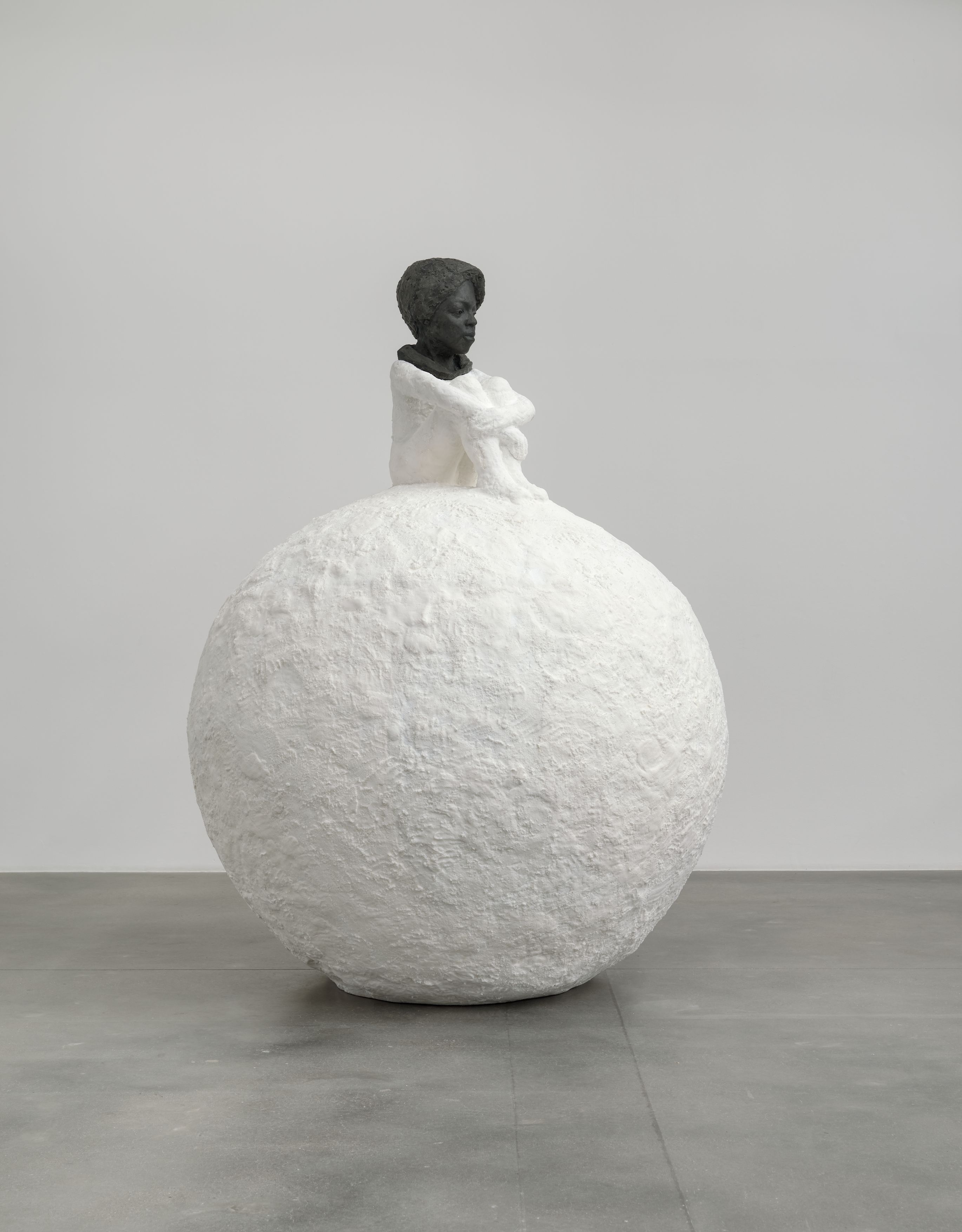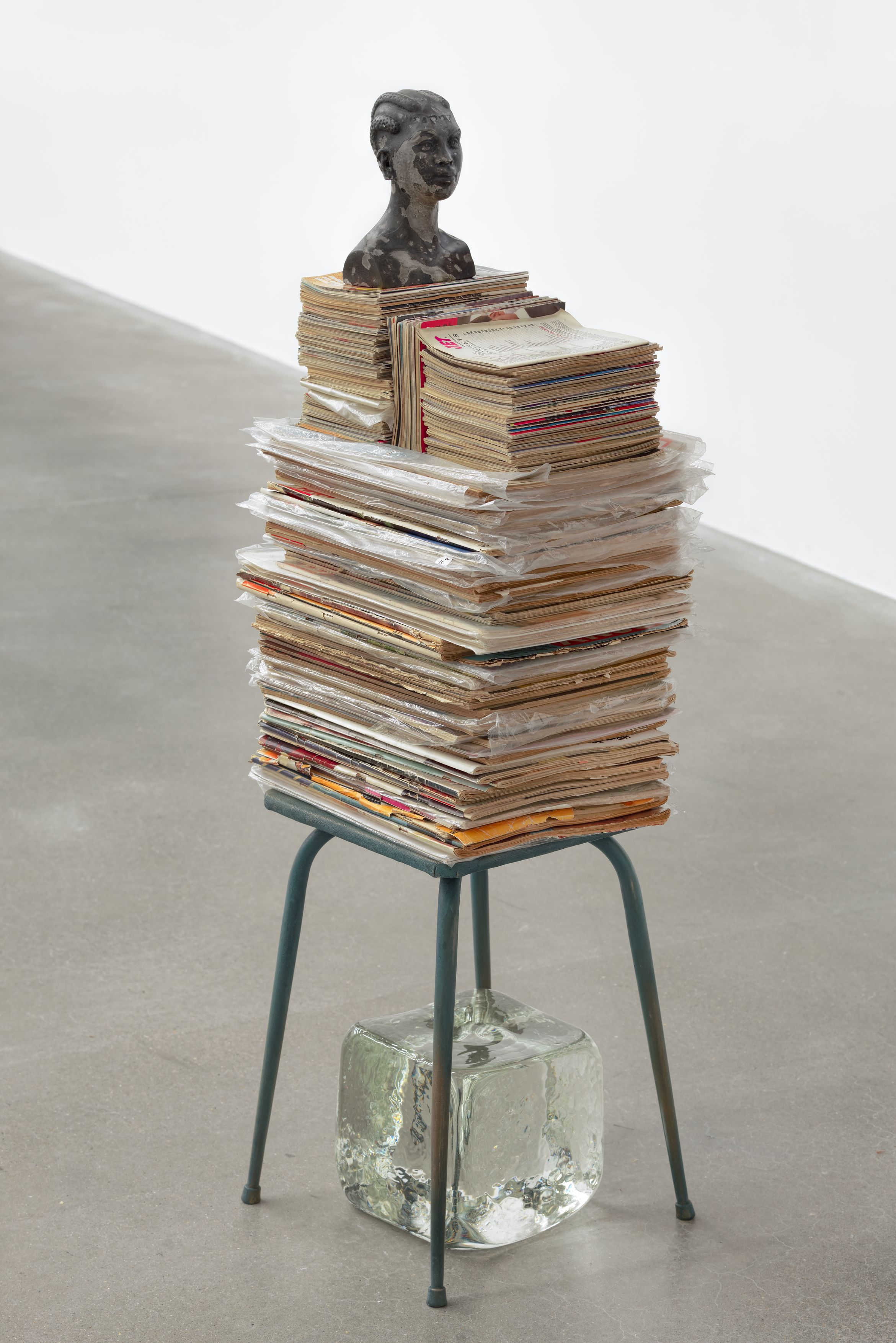 The idea of being kept on ice—with its suggestion of both suspended animation and a stretch in prison—is one that Simpson sees as pertinent to the current state of civil rights, and the kind of future-facing optimism embodied by Ebony and Jet in the mid-century. "I think we have gone back to the 1940s a bit," she said. "It feels as though there is this ramping up of revisionist history, as if the past forty or fifty years hadn't taken place," she continued. "It's a return to a past that is dying out, a political position that there is no more room for, that's in its last throes of defeat, in a way. So it's a good thing, and at the same time a worrisome thing."
The show opens with a wall of forty photocollages that the artist produced like sketches in preparation for the show. Piecing together photographs bought from newspaper archives and figures cut out of magazines, they're grouped around themes of fire, ice, and domestic weirdness. One set uses photographs of wild deer kept as household pets, standing pertly at the kitchen counter, or curled up, pretty, on the quilt of a double bed. Simpson has replaced the deer's heads with those of women from beauty ads, imaging a disquieting desire for a home companion that is beautiful, mute, and tamed to the point of subservience.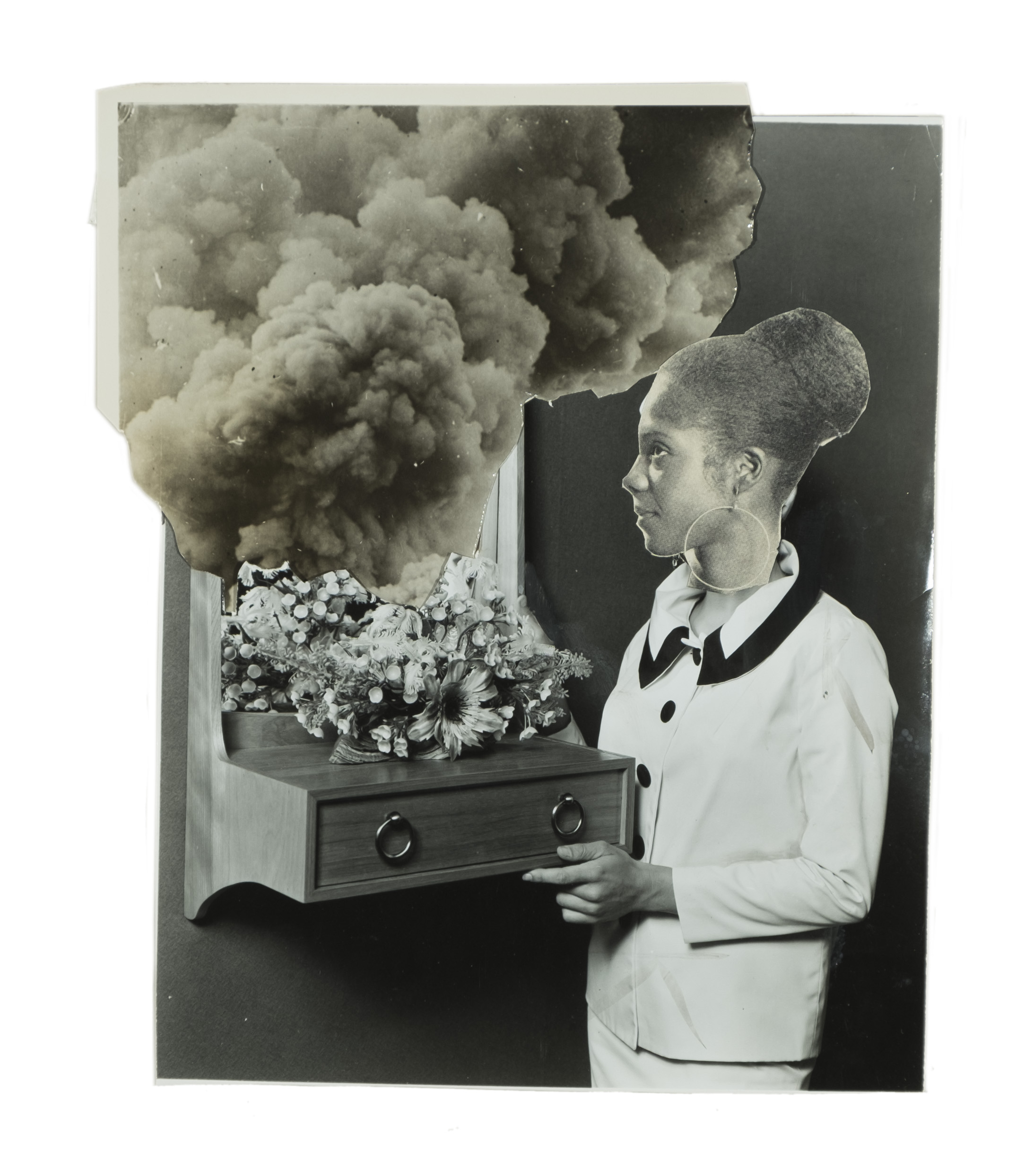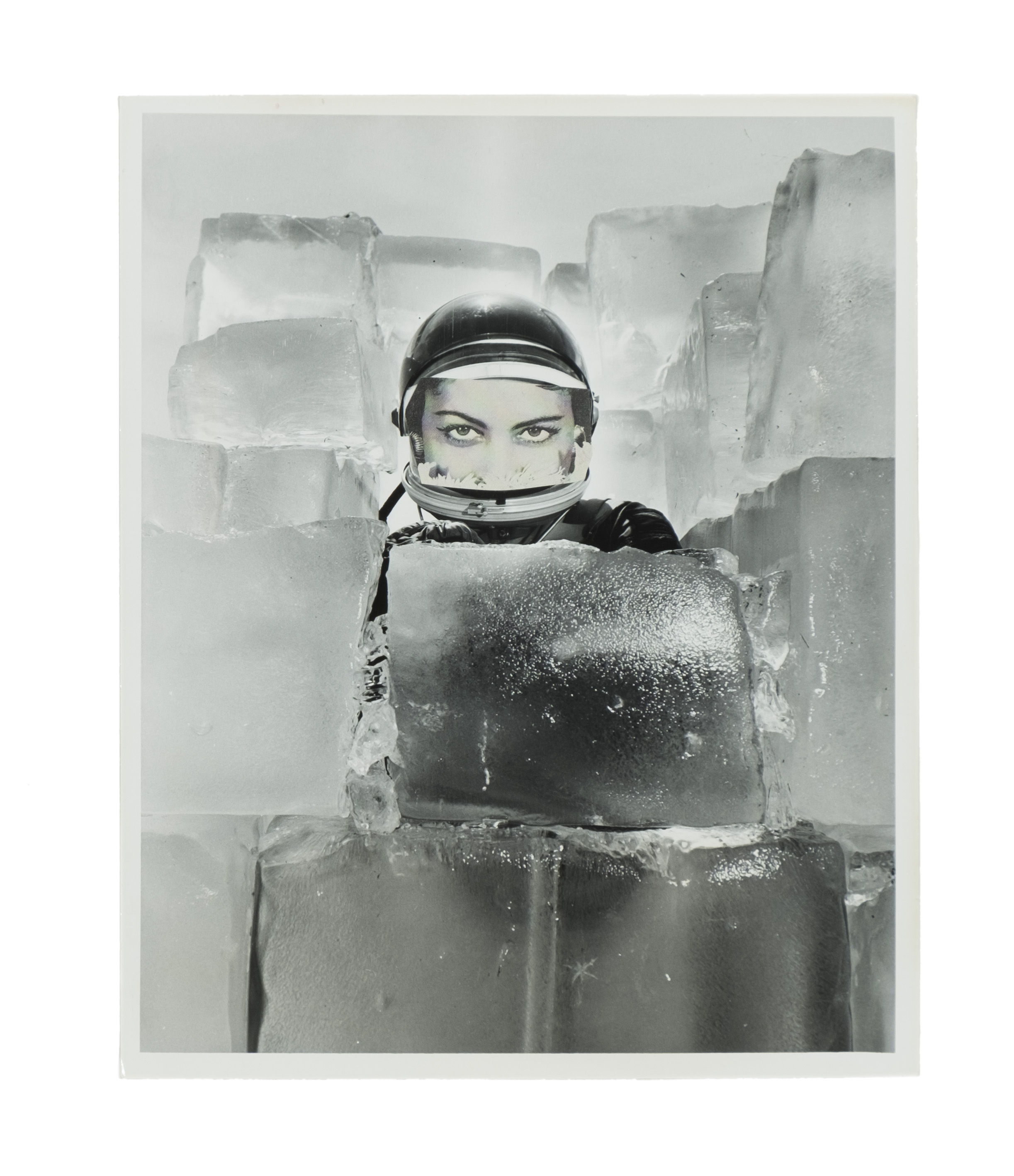 "Even without the heads, many of these images have this surreal quality," Simpson observed, "which to me is also an indication of something about a psychological state." This unease also spills into a five-panel painting, Montage (2018). Rendered in nocturnal blues and purples across blown-up magazine print, Montage draws its imagery from sources that include a 1960s article on suicide. In some panels we see the feet of a woman standing on a ledge; in others, a woman in bed. Simpson first worked with the material in 2015 but felt it was too dark and put it aside. "What I thought was interesting was this precariousness," she explained, "this undertone as a political element of what's going on in America—this sense of it being precarious but also being dangerous."
Simpson talked about the #MeToo movement, and generations of coercive silence, and shared that even her 19-year-old daughter's peers experienced sexual harassment and assault while they were in high school. I recalled, as we talked, that the earliest filmed footage of Antarctica was a 1924 documentary titled—poignantly, in this context—The Great White Silence. Ice and snow extend easily into metaphors, but Simpson is not immune to the charms of a snow day. Talking about the source image for the snowball sculpture, she thought through the significance of placing a woman on an inaccessible and unstable pedestal. She remembered her dog—a wolflike type—and its urge to climb onto high perches to survey the scene, and found that she could relate. "My dog is a snow dog," she said.

Lorna Simpson: Unanswerable is on view at Hauser & Wirth, London, through April 28.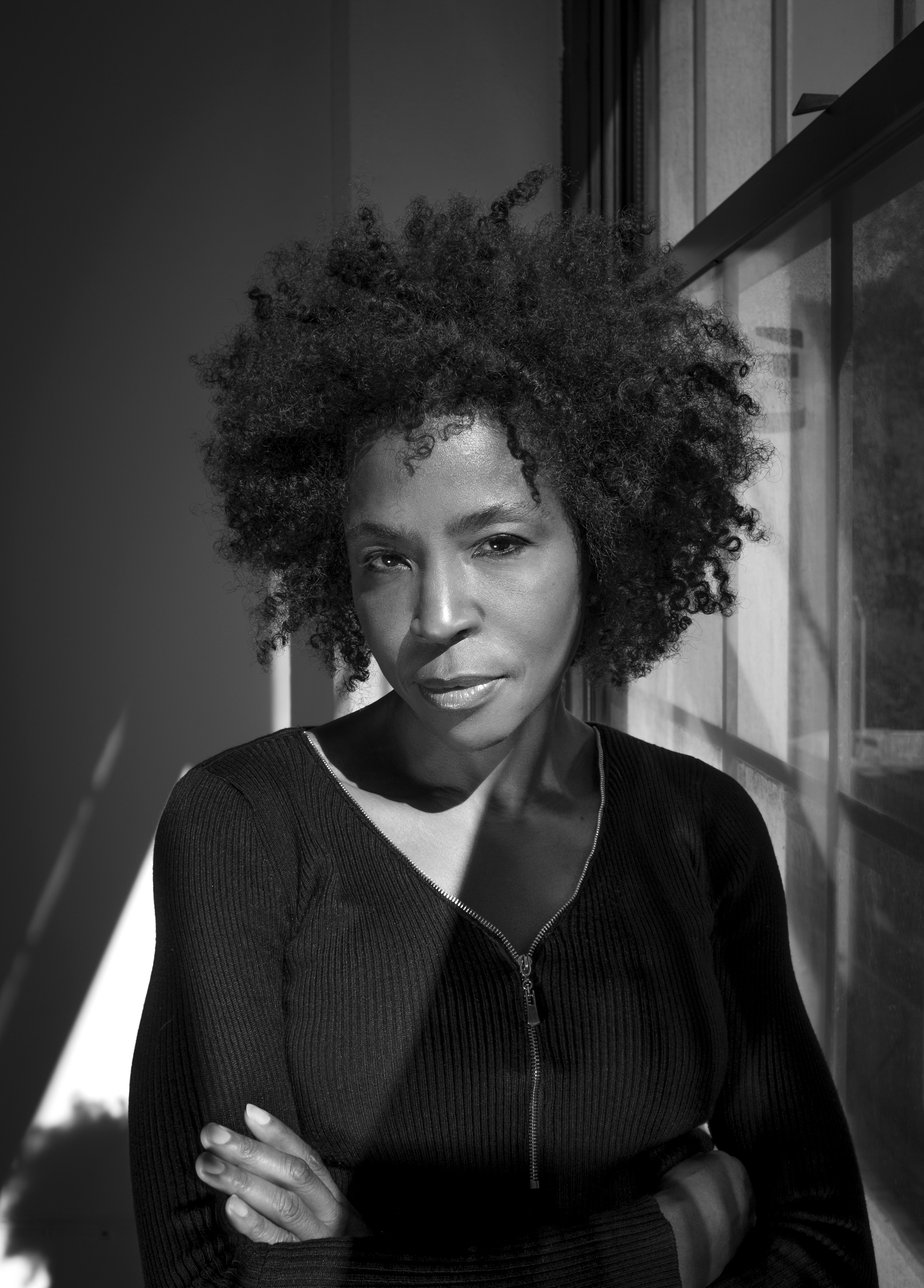 Tagged: