Ettore Sottsass (manufactured by Memphis Milano, Italy), Carlton Room Divider, 1981. Wood and plastic laminate, 76 3/4 x 74 3/4 x 15 3/4 inches (194.9 x 189.9 x 40 cm). The Metropolitan Museum of Art, New York, John C. Waddell Collection, Gift of John C. Waddell, 1997
Ettore Sottsass: Walking in Memphis
The Met Breuer's centenary celebration of Italian design outlier Ettore Sottsass links the Memphis founder's work with objects and images from across the museum's collection.
Ettore Sottsass (manufactured by Memphis Milano, Italy), Carlton Room Divider, 1981. Wood and plastic laminate, 76 3/4 x 74 3/4 x 15 3/4 inches (194.9 x 189.9 x 40 cm). The Metropolitan Museum of Art, New York, John C. Waddell Collection, Gift of John C. Waddell, 1997
One autumn, in the waning days of the Carter administration—and the twilight years of my parents' marriage—my father returned from a trip to Scottsdale, Arizona, bearing two Hopi kachina dolls (alternately known by the Hopi spelling katsina), as gifts for my older sister and me. No doubt these were cheap souvenirs bought hastily in an airport gift shop, but no matter: the colorful, clench-fisted, slightly menacing figures thrilled me with their strangeness—a sensory confusion of soft feathers, bold stripes, O-shaped mouths, and alarmed expressions. While still youthfully ignorant to the doll's tribal significance, it was easy to invest this cryptic hand-held totem with my own. In my fraught early teens the kachina doll became a palimpsest onto which I transcribed alternate versions of my family life; a small treasure that represented a happier memory. I clung to it.
The image and centrality of that doll, long disappeared with the vicissitudes of divorce, moves, college, and adult life, came rushing back in the most unlikely of scenarios, two-thirds of the way through the Met Breuer's current centenary celebration of Italian designer and architect Ettore Sottsass, reluctant father of Memphis, co-creator (with Perry King) of the unforgettable Olivetti Valentine, author of the visionary Wolf House, in Colorado, and the sublime blue pavilion of the furniture museum in Ravenna. If not exactly provocative, "Ettore Sottsass: Design Radical" is at the very least thought-provoking.
The exhibition begins, appropriately enough, with that typewriter: the cherry red Valentine (1968) that has come to exemplify the cult-ification of design objects. It is conspicuously mounted atop a case emblazoned with a Sottsass quote from 1993 that reads, in part, "I worked sixty years of my life, and it seems the only thing I did is this fucking red machine." It is with some relief that what follows is not the full-throated greatest hits show that this arrival might suggest, but a thoughtful procession through what the Met claims is a broader design discourse between Sottsass and his predecessors and contemporaries. It accomplishes this with a good measure of success, by pairing a careful selection of Sottsass works with other pieces from the Met's design collection (and a few loans), including thoughtful matches with LA ceramicist Peter Shire, Lapo Binazzi (of UFO Collective), architect, designer, and founder of Domus magazine, Gio Ponti, and revolutionary Japanese designer Shiro Kuramata.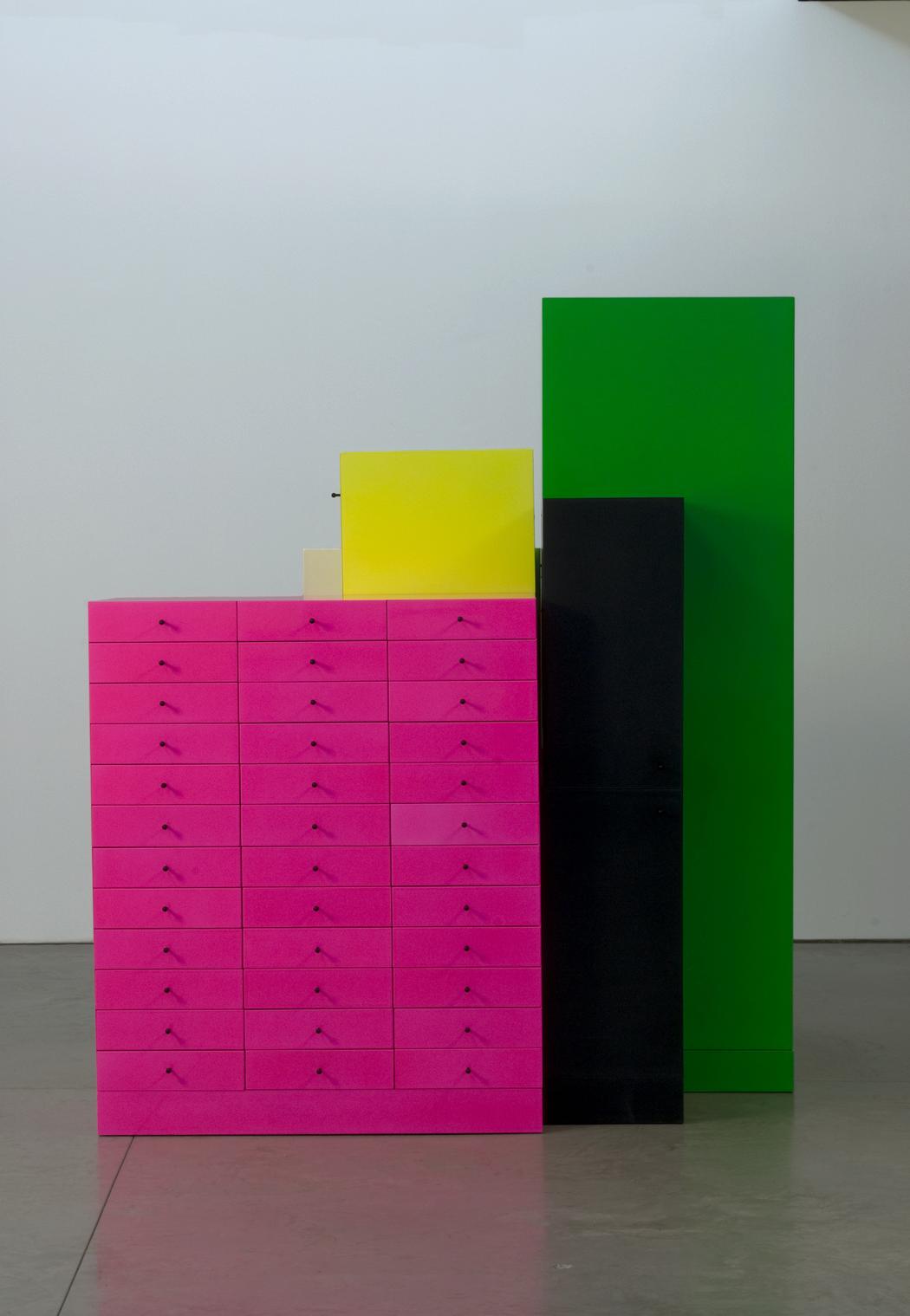 What the show really succeeds in doing, however, without crowing too loudly about it, is placing Sottsass within a meaningful discussion about culture and society at large. Coming of age during the Fascist regime in Italy, and infused with an impulse to challenge the status quo, Sottsass rejected the prevailing rationalism of postwar Europe, investing his work with a consistent emotional and cultural significance. It's almost impossible to think of him outside the context of Italian design, as separate from the idea of Italy. Sottsass, like many creative individuals of his generation confronted by the conflict in Europe and Italy's almost willful isolation, viewed his work (indeed himself) as necessarily political. He tackled politics as a product of history, as immersed in society, and through an almost anthropological lens.
Sotsass's work, while functioning as an alternative to fascism, also expressed a larger sense of responsibility that wasn't necessarily attached to a singular ideology. His international travels were key, resulting in a body of experience that went beyond mere information or even influence. In 1961, he went to both India and the US. India—as it is wont—had an especially profound impact on him. The US was significant too—he worked briefly for George Nelson—but perhaps less for its cultural inflection than for the fact that Sottsass began to suffer a crippling nephrosis in Palo Alto that landed him in hospital for some time.
The heady intersection of the designer's own physical suffering and that which he witnessed in India proved critical. A subdued group of darkly glazed ceramic vessels from 1963 called "Tenebres" are decorated with simple, almost mystical circular patterns. These, it turns out, reference the moon as seen in a vision experienced by Sottsass during his medical treatment. "The more I think about darkness," he writes, "the less I know what it is like." The violet light of the hospital corridor was apparently one path into that darkness. Illness and oblivion were strong pulls in that moment, but both proved short-lived and soon gave way to something resembling joy. A certain amount of self-reflection as he recovered reinforced Sottsass's feeling that his objects—perhaps all designed objects—should contribute to a symbolism perhaps lacking in western society; in other words, they should be totems.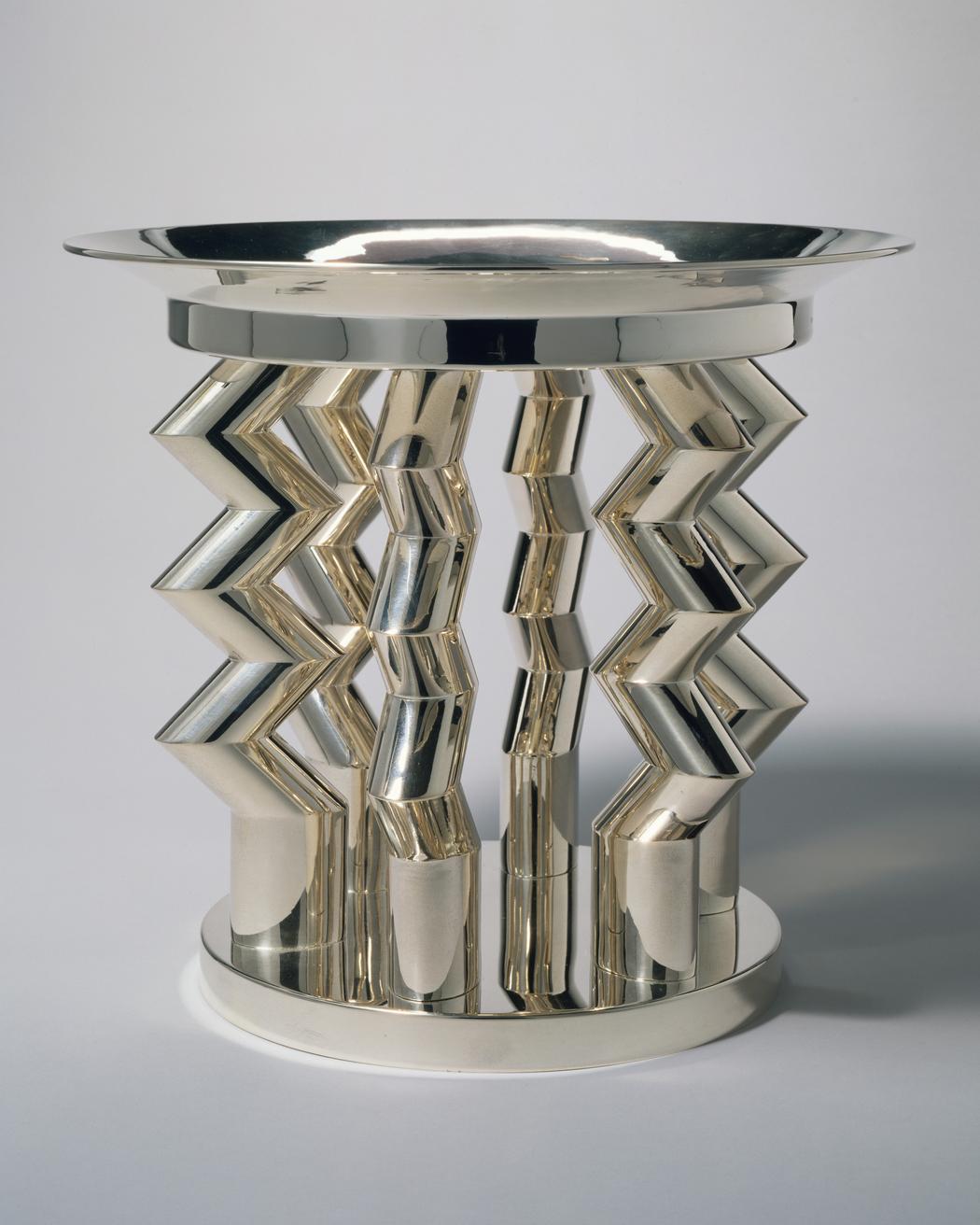 One can't look at Sottsass's work and think that color wasn't paramount to his project. Mid-exhibition, at the center of the large gallery holding the ceramics, is a small forest of what can only be described as totem poles. Originally featured as a group at Enzo Sperone in Milan, in 1967, under the title "Menhir, Ziggurat, Stupas, Hydrants & Gas Pumps," they are the epitome of this contribution. A combination of the spiritual—a complete expression of what he might have taken from his travels in the East—and the commercial—the gas pumps of the West, they might be the most cheerful and animated pieces here aside from the furniture, the star of which is probably the late (2007) fluorescent, Lego-like cabinet blatantly titled Omaggio.
But back to that kachina doll. Also featured at the Met Breuer is a vitrine containing three of Sottsass's elaborate glass pieces in black, white, and red, paired with three Hopi katsina dolls from the Met's Arts of Africa, Oceania, and the Americas department. (Three glass works in an accompanying vitrine are paired with the more predictable Greek and Roman amphorae.) It is at once the most surprising yet moving association in the show: the mystical gravitas of the diminutive katsina beside the grounded rotundness of the glass. One doll sports a black-and-white striped collar that echoes the hoops of black surrounding one of the works; another a cone-shaped headpiece, a stand-in for Sottsass's black spikes, on a head-shaped globe of white. It is inspired, both as an aesthetic pairing and as a fully evolved visual statement of the designer's values.
For the immediate connotation that many make between Sottsass and Memphis, the reality is that his tenure with the loose group of radicals he recruited lasted all of four years (the group's, about seven). Despite the history-bending designs produced from the project he has become inextricable from, Sottsass transcended that over-photographed Carlton bookcase (1981), and the frenetic Nathalie du Pasquier textile patterns that appeared in the background of a thousand 1980s magazine spreads and television shows. "Memphis is a phenomenon that arose out of cultural and political necessities" that no longer exist, he said, years later.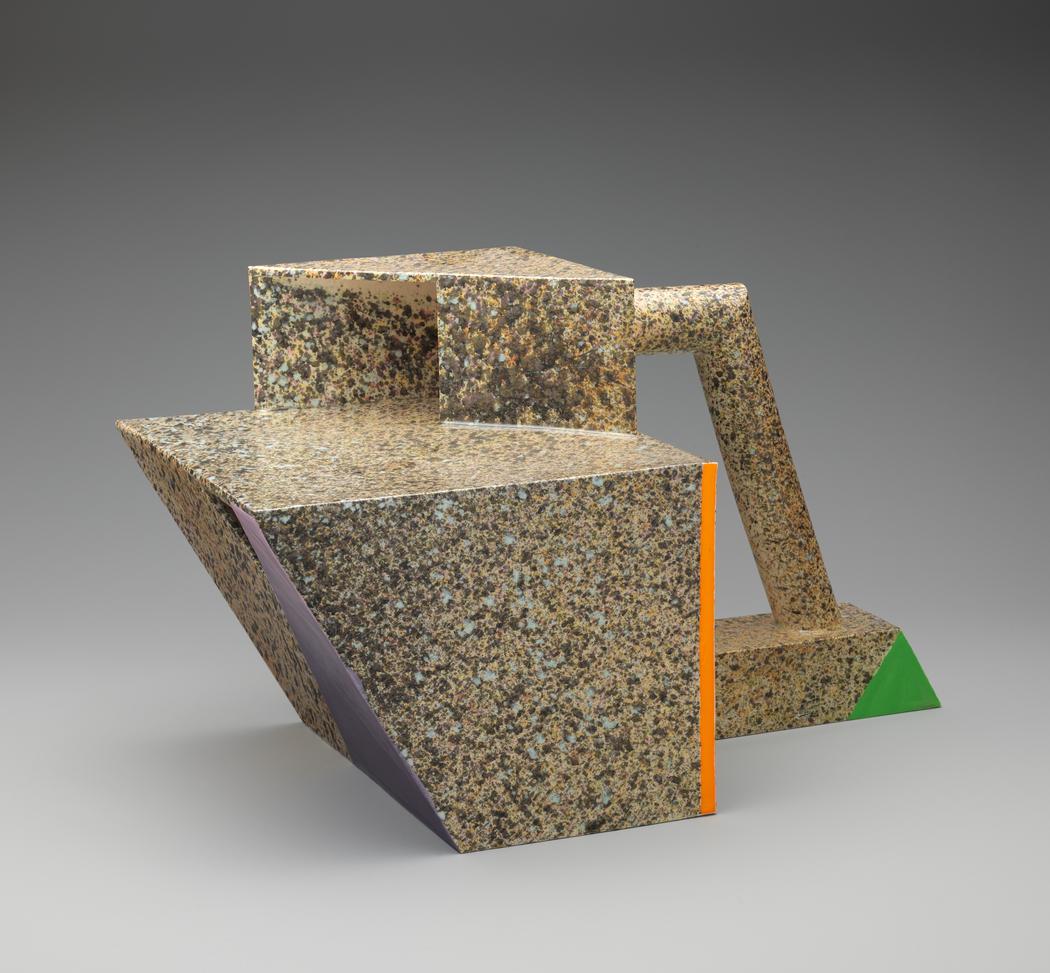 In spite of this perspective, the questions of dubious taste around Memphis's output, and the astronomical prices of the work both at auction today and in its own time, there has been a notable resurgence of interest in the movement. One could crassly chalk this up to the sale of David Bowie's Memphis collection at Sotheby's last year, to du Pasquier's prints being used by American Apparel and Danish housewares firm Hay; or to the series of shows celebrating the hundredth anniversary of Sottsass's birth. But by the time one exits the show past the Fornasetti facade of a Gio Ponti secretoire (1951) (juxtaposed with Studio Job's epic and dark Chartres cabinet in bronze and gold leaf [2009–12]), and past Sottsass's simply made and monastically narrow bed, the desire to recapture the vitality of that moment in its rejection of expectations may well return. We, like Sottsass, have plentiful "cultural and political necessities" to kick against.
New York-based Eugenia Bell, the former executive editor of Design Observerand design editor of Frieze, is the editor of the Peabody Essex Musuem's Playtime initiative.
"Ettore Sottsass: Design Radical" is on view at the Met Breuer, New York, until October 8, 2017.