Pete Davidson stars as "Scott" in The King of Staten Island
The King of Staten Island Wears Online Ceramics
Decoding the hidden messages in Pete Davidson's wardrobe.
Pete Davidson stars as "Scott" in The King of Staten Island
Pete Davidson is known for many things. His comedy. His tattoos. The fact that he once dated Ariana Grande. In Judd Apatow's The King of Staten Island, Davidson plays the semi-autobiographical Scott, a young man that lives on Staten Island and spends most of his days smoking weed and giving his friends terrible tattoos. Like the real-life Davidson, Scott wears a lot of graphic band T-shirts: a Wu-Tang T-shirt, a Metallica T-shirt, a Ghostface Killah T-shirt, and sometimes no shirt at all (a freed nipple look, you might say). But it is the Online Ceramics T-shirts, an L.A.-based brand famous for their bootleg Grateful Dead T-shirts, that says the most about his character. Not because it shows that he's cool (he's... not!), but because if you look closely at the messages they bear, they act like an omniscient separate character that knows everything that's going to happen before it happens.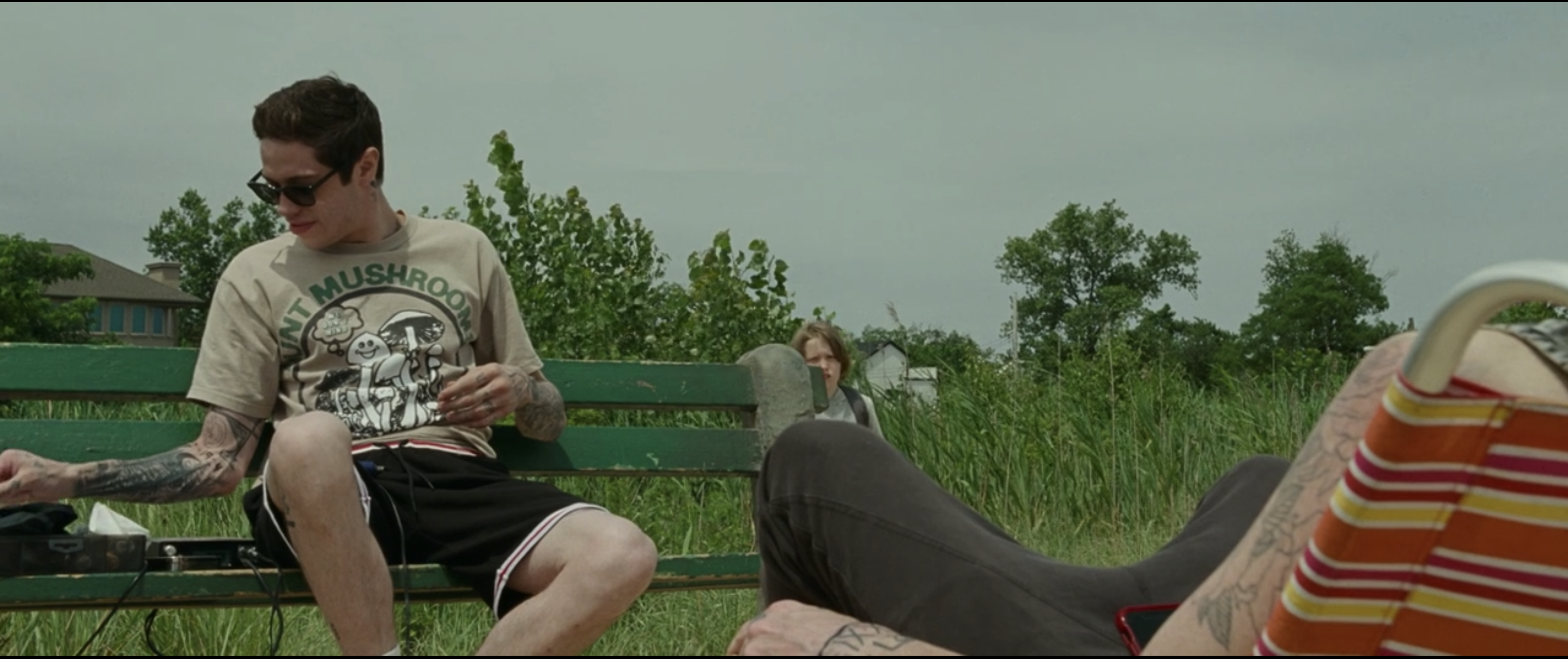 In one of the movie's early scenes, we get to meet Scott as a careless, selfish young man, when he gives a minor a tattoo in the woods after being busted by a security guard for playing basketball in the lot behind an abandoned orphanage. He is wearing basketball shorts, and the first of many Online Ceramics shirts, one that says "HUNT MUSHROOMS NOT ANIMALS." The anthropomorphic mushrooms are smiling, and one of the mushrooms has a speech bubble that says "We don't mind," implying that the mushrooms don't mind being hunted, presumably for psychedelic usage. The shirt paints Scott as a guy who is more or less a benevolent and chill dude, but clearly has a lot to learn in the common sense department. He comes in peace, but he also lacks the awareness to know that a literal child cannot consent to getting a DIY tattoo. The scene has a pandora's box effect: the minor in question ends up introducing Scott and his mom, Margie (played by a brilliant Marisa Tomei), to his father, who ends up pursuing Margie.
Later in the movie, when Scott's ambitious and hardworking little sister, Claire (played by Maud Apatow), goes off to college, he is watching Spongebob on the couch, vaping the devil's grass, and wearing a long-sleeved, tie-dyed Online Ceramics T-shirt with a graphic design that says "Keep Growing," and features little flowers and vines on the letters. It's both communicating that Claire is growing and evolving, and it's also a hopeful note that Scott himself is about to undergo some kind of good, transformative change. It's the sartorial version of Chekhov's gun.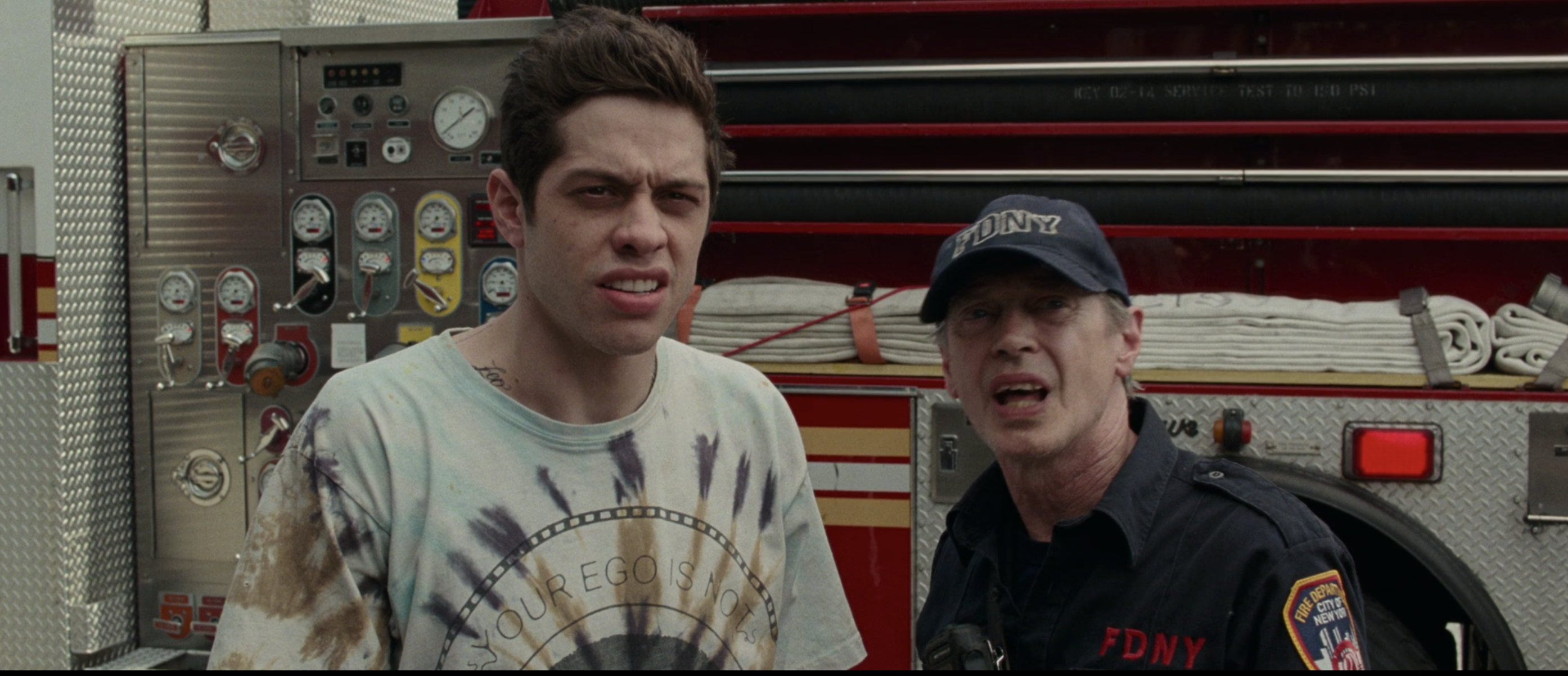 Eventually, after a series of trials and tribulations, Scott gets kicked out of his mom's house. As a result of being newly homeless, Scott decides to go to crash at the firehouse where his dad used to work, and begins doing odd jobs such as scrubbing the toilets and cleaning the fire trucks. One day the firefighters respond to an alarm for a huge fire in an apartment building, and Davidson goes alongside Steve Buscemi, who plays one of the firefighters and was friendly with Scott's dad. In this scene, Scott is once again wearing an Online Ceramics shirt, one that aptly states "YOUR EGO IS NOT YOUR AMIGO." While he's talking with Buscemi about the kind of firefighter his dad was as the all of the other firefighters rush to the smoking building, Scott comes to terms with the fact that he is a selfish asshole, and that following in his dad's footsteps might not be such a horrible thing. He realizes that he must surrender his ego in order to be happy, in order to be a good person to his friends and family.
While it is unlikely that the Online Ceramics shirts were written into the script—(but what if they were!)—their function in the movie is the same as their function in real life. An outward signifier of who we are as a person, a way to find people that are into the same things as you are, even when you feign disinterest in the world at large. We're not all Deadheads, but in the end we're all just looking for a community to call your own, someone to help us get by, to help us survive.