Please Enter the Mystical Mindset of Beepy Bella
Isabella Lalonde's work as a jewelry designer involves dreaming up the best possible utopia imaginable.
Photographs by Genie Kausto. All images courtesy of Beepy Bella
Isabella Lalonde, who makes jewelry as Beepy Bella, lives in two different worlds. There's the world that we all live in, and then there's the world that's in her head. That second world is one full of fairies, waterfalls, and unicorns. It's her utopia, and she likes splitting her time between Earth and whatever's going on in her head that day. Lalonde, who sells work at Café Forgot and grew up moving around between New York, New Jersey, Paris, and Switzerland, found as a kid that creating a rich mindset was grounding amongst turbulence. "I think having those abrupt shifts in my environments really helped me rely on my own ability to create utopias within my inner self and deep dive into the surroundings that I create for myself rather than my physical surroundings," she says of growing up. She has a background in video art, and has always used her art-making as a way to bridge the gap between worlds and modes of existence, she's also big believer in the idea that your five-year-old self is probably just as wise as the person you are today. That younger self had pretty good aesthetic intuition, too.
At Beepy Bella, her work is a conversation between all of those different halves of the self. The self that lives in a fairy kingdom, the self that lives in New York City, the self as a little kid, and the self as an adult. Looking at her jewelry—which feature a combination of beads made by Lalonde, upcycled beads, and ones made by artists she admires—you are immersed in waves of joy and childlike curiosity. In her latest collection, necklaces and earrings are adorned with frogs and strawberries, rings and earrings feature little mushrooms dangling like little happy friends, making you feel like you are inhabiting the sweetest of daydreams. GARAGE chatted with the designer about her collection, and what it means to split your time between a mindset utopia and the bustling streets of New York.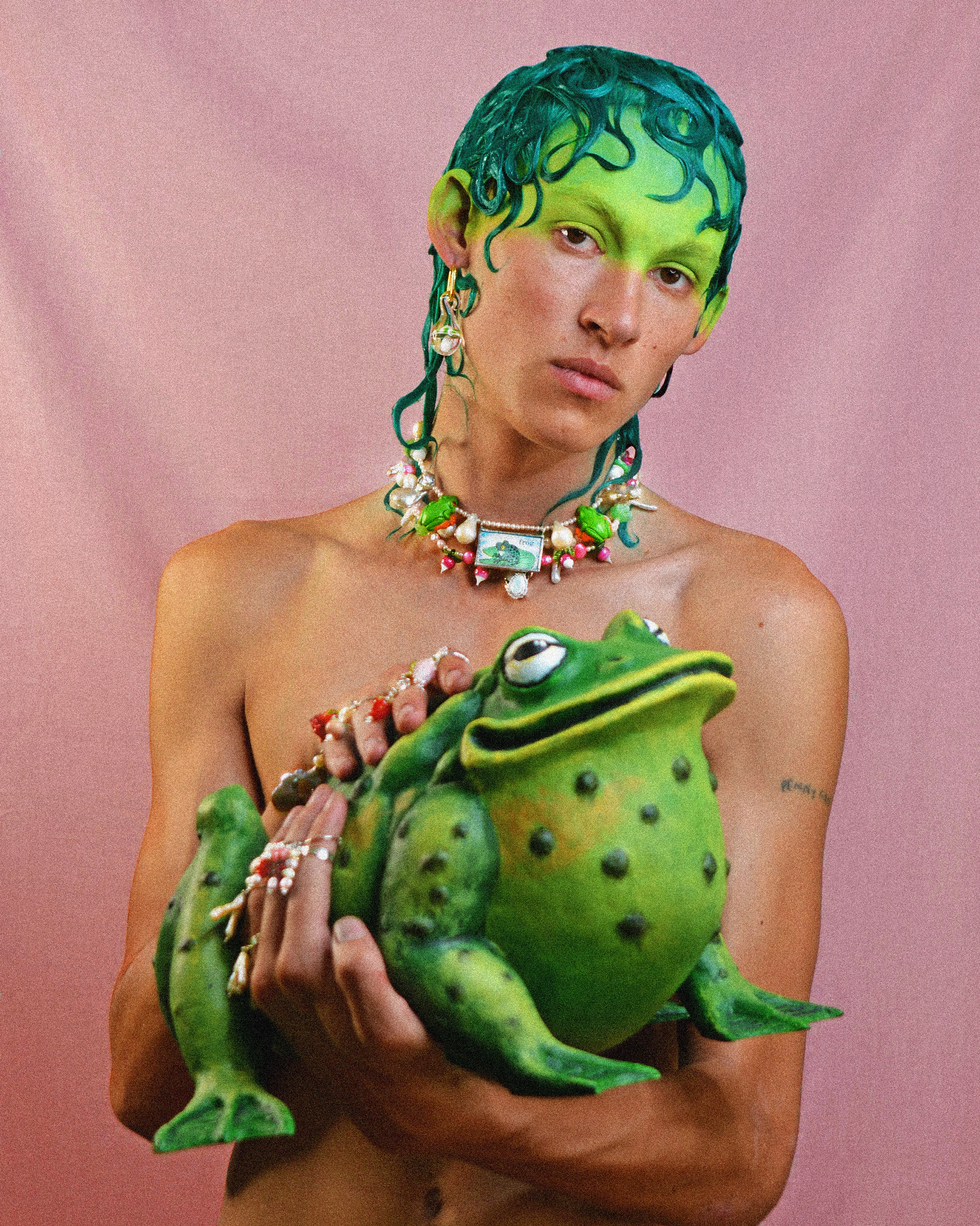 Tell me about the utopia you've crafted to make your work.
I've always been fascinated by magical moments where in real life you feel there are fairies that exist. There is fairy dust, there is a life beyond our own reality. For me, a really important form of coping with my physical realities has been deep diving into the surrealist mindscape that I create inside my own imagination. I like to think of my jewelry and anything that I make in my physical reality as souvenirs from my intangible world that's constantly thriving and growing within my inner self.
How has the movement in your childhood and vivid mindset manifested in your work as Beepy Bella?
I think of my jewelry in two ways: I have synesthesia, so when I'm designing, I don't really see the jewelry that I'm making. I more feel it. And then sometimes I can taste certain beads and textures, and I really don't even have to visually observe a necklace in order to make what I feel. It relates back to my art practice because it is very genuine. Each bead placement has meaning to me, it's almost like a painting where you paint a certain brush stroke, a completely different color. And that changes the whole narrative of that painting. For me, beading is that. Where if I place a giant white pearl next to a tiny little glass purple bead, it means something and they have dialogue with one another and it's a conversation. And in a way, those conversations reflect my personal experiences.
The other way that I think about my utopia in terms of relating it directly to my jewelry is a lot through the narrative qualities of my beads and especially glass beads. I love to use fairies, frogs, mushrooms, berries, anything that looks like food or has a surrealist effects that feels almost real, but not quite there and uncanny in that way. It's a very visceral feeling.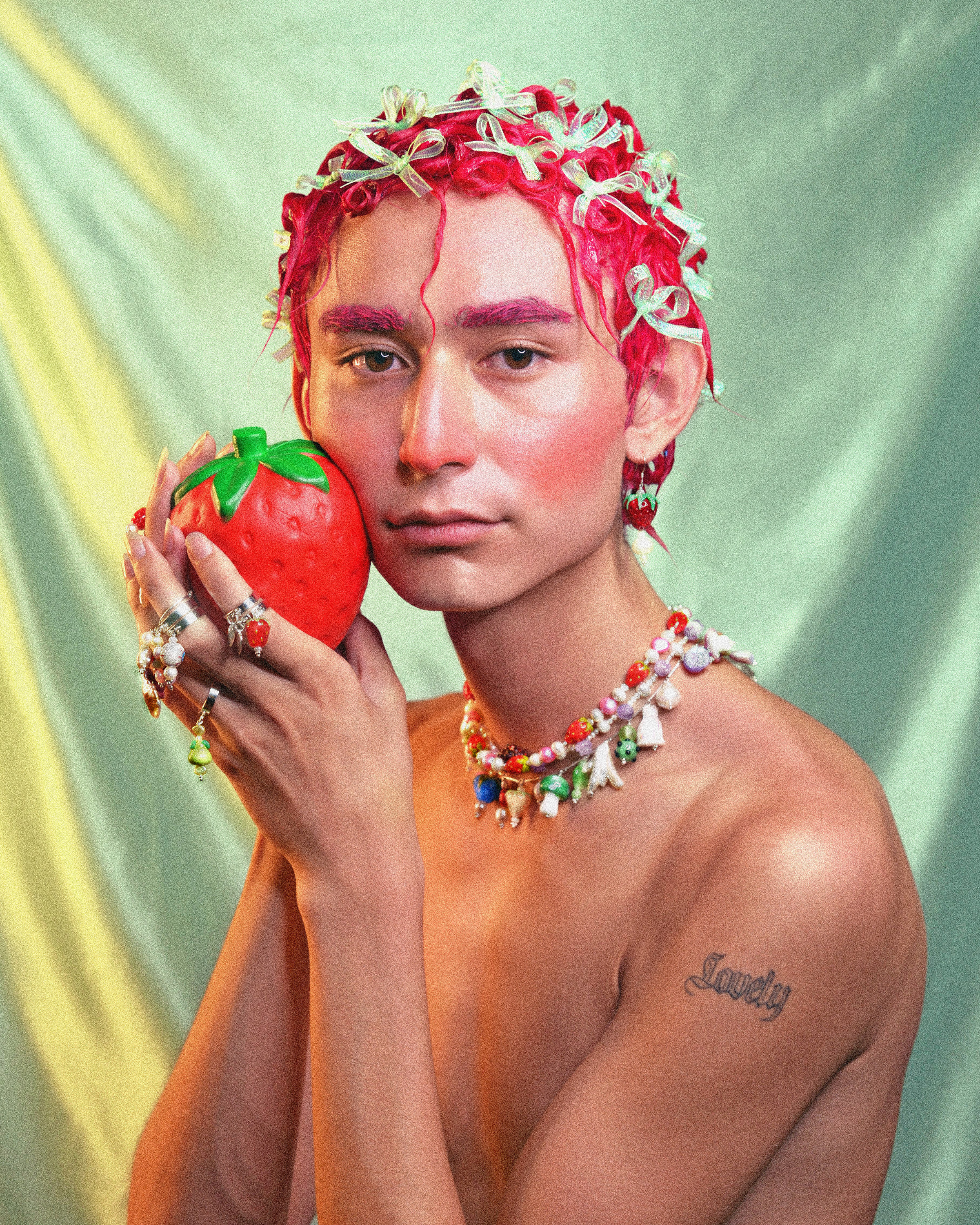 What stories are you the most interested in telling right now through your work?
A big story for me and something that I've been exploring and trying to understand is the transition from becoming from a child to an adult, and the things that we lose within that journey. So that innate sense of curiosity and creativity, where you believed in the Tooth Fairy for instance, [when you] really thought for a while that a little fairy was coming to give you money underneath your pillow. Little moments like that, where it's in a sense it is naive, but it's also beautiful to have an impression of the world that's that magical, that limitless.
How do I carry that with me and not lose that? How do I relate back to the five-year-old self and still have a conversation with her every single day so that I know who I was when I first walked on this planet? As an adult you think that your mindset and your thoughts as a kid were not correct or not accurate or not the right perspective, and I try to hold it on an equal playing field where I think I knew what I was doing as a young kid, just as much as I know what I'm doing now. And I try to have that inform one another so it's not just me as a 24 year old; it's also me through every single age that I've ever been, all in conversation with one another.
What's it like to be doing something that's so, as you said, autobiographical and personal and collaborating with people on it and then selling it to people?
I think selling it is one of the best parts of it because it's interactive. I get to have a connection with my viewer. As a [fine] artist, I always felt that I wasn't interacting with my viewer enough. This is a totally different experience where someone's buying a piece of my art, which is my jewelry and wearing it, putting their own emotional meanings onto it, giving their own creative mindset to it.
Even the fact that people style outfits with my pieces is so interesting to me because they're having a dialogue with my work and I get to see other people's perspectives on my own viewpoints. It's been really amazing because I think that's been a huge aspect of why I've grown so much personally and artistically. It's not just me anymore. It's everyone else that buys [Beepy Bella pieces] or looks at my stuff or comments on anything or follows me on Instagram. It's something that I definitely cherish.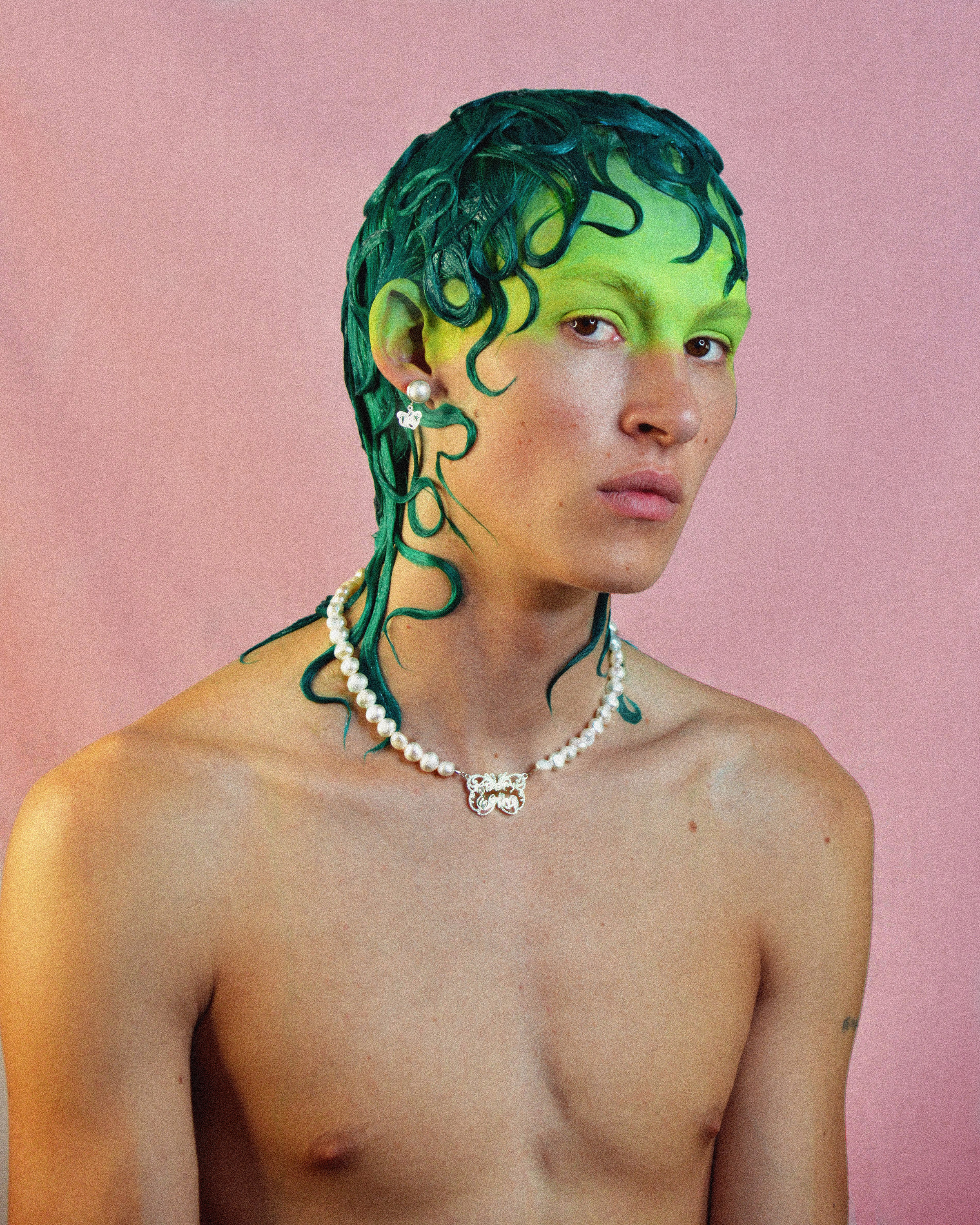 How does it feel then to be going into this new collection that you're about to release?
This collection was so special because I've been having this dream of glass stamped, vintage necklaces. I had sourced a bunch of vintage pendants that had old picture book illustrations that were cut out and old stamps. It was all upcycled and sustainable. With every collection I'm able to expand my world and my vision and, of course, my skillset.