I Want to Be a Tomo Koizumi X Pucci Cotton Candy Girl
GARAGE chats with Koizumi about his debut capsule collection for the iconic Italian fashion house.
A Tomo Koizumi dress is, first and foremost, poofy. Koizumi, a young Japanese designer who has skyrocketed in popularity the past few seasons, makes tulle-centric garments that look like tufts of cotton candy, the kind of thing you feel ensconced in just looking at the pictures. As of late, Koizumi has brought his talents to Pucci, where he's mixed his confectionary 3-D wonders with the aesthetics of the iconic Italian fashion house. The result is formidable, Koizumi's designs feel entirely cohesive within the narrative of Pucci. His instantly recognizable silhouettes are an ideal match for Pucci's deviously '60s color palette.
Like most of the collections this season, Koizumi did the bulk of the work for this collaboration during the pandemic, and largely over the phone. "It was a bit weird, but I spoke with the creative team every day and they helped me a lot, providing books, prints, samples from the house's archive where I took inspiration from," he says of the process. "At the same time, I had freedom to interpret Pucci heritage in a creative way, I tried to do something not obvious, but still very Pucci." The result of those phone calls and moments in isolation creating these garments is a collection that feels fully realized, joyful, vivid, and life giving. Koizumi spoke to GARAGE over email about the frothiness of the Pucci aesthetic, designing for an Italian fashion house, and more.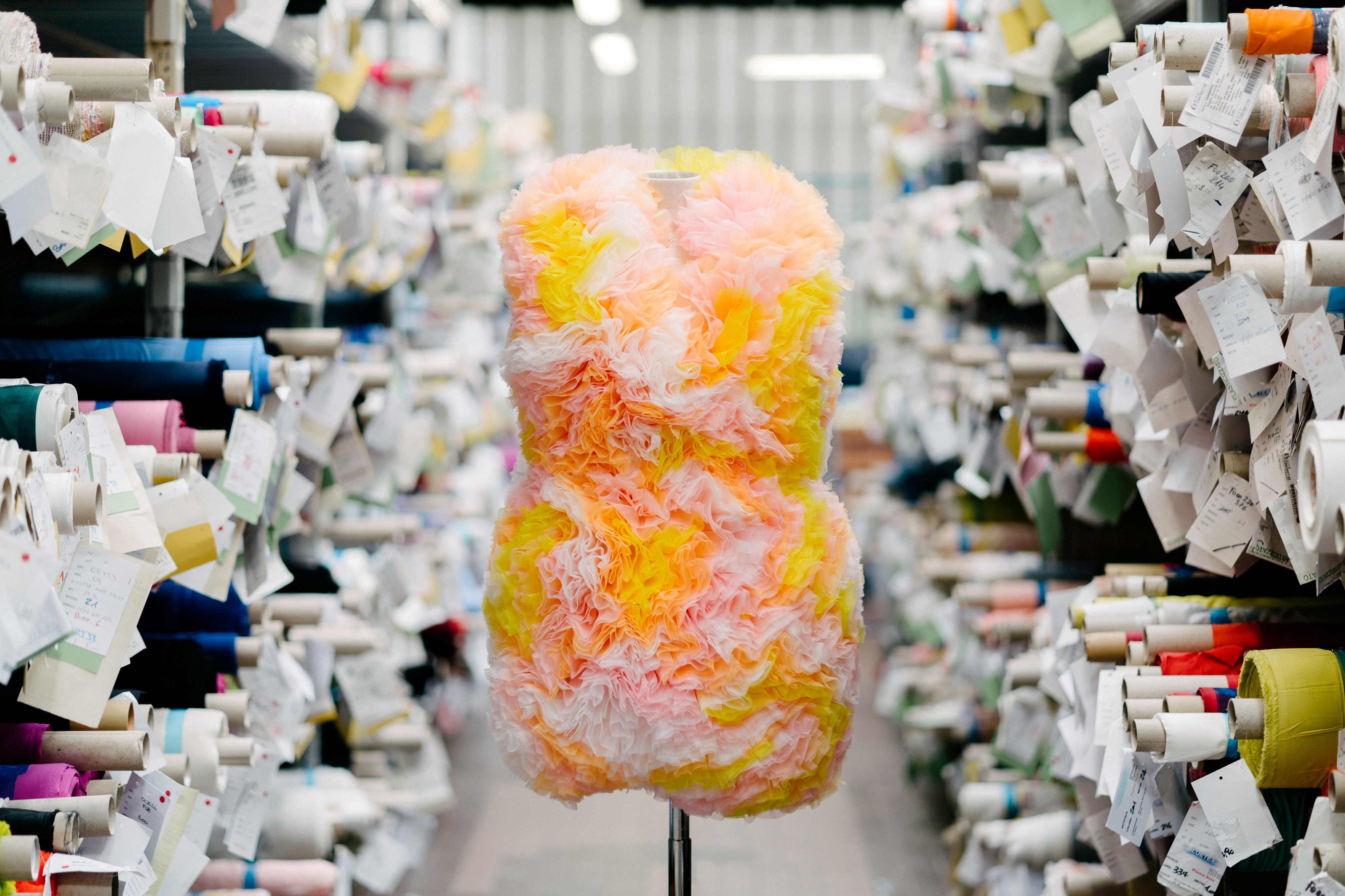 What do you love about the aesthetic of Pucci, and how does it relate to your own work at your namesake label?
I really loved Pucci and their vibe even before this collaboration. I'm amazed by Emilio Pucci's use of colors. I feel like it is all harmonized and that's the big thing I get inspiration from. I think we share the same passion for colors, a similar idea of femininity and a belief that fashion is meant to spray joy and optimism.
What lead you to deciding on the color palette for the collection?
What we want to express with this capsule was feminine and sophisticated elegance vibe, the color palette which is in harmony with the one of the Pucci show collection is composed by light yellow, pale pink, soft coral, and white.
Talk to me about how you incorporated these archival prints into your work
We did a great research with Pucci creative team on archive prints, and we have decided to use "Vetrate" print from 1966 in order to recreate this two-dimensional pattern into tridimensional creations, visually it looks like a print, but it is just an effect created with my own technique.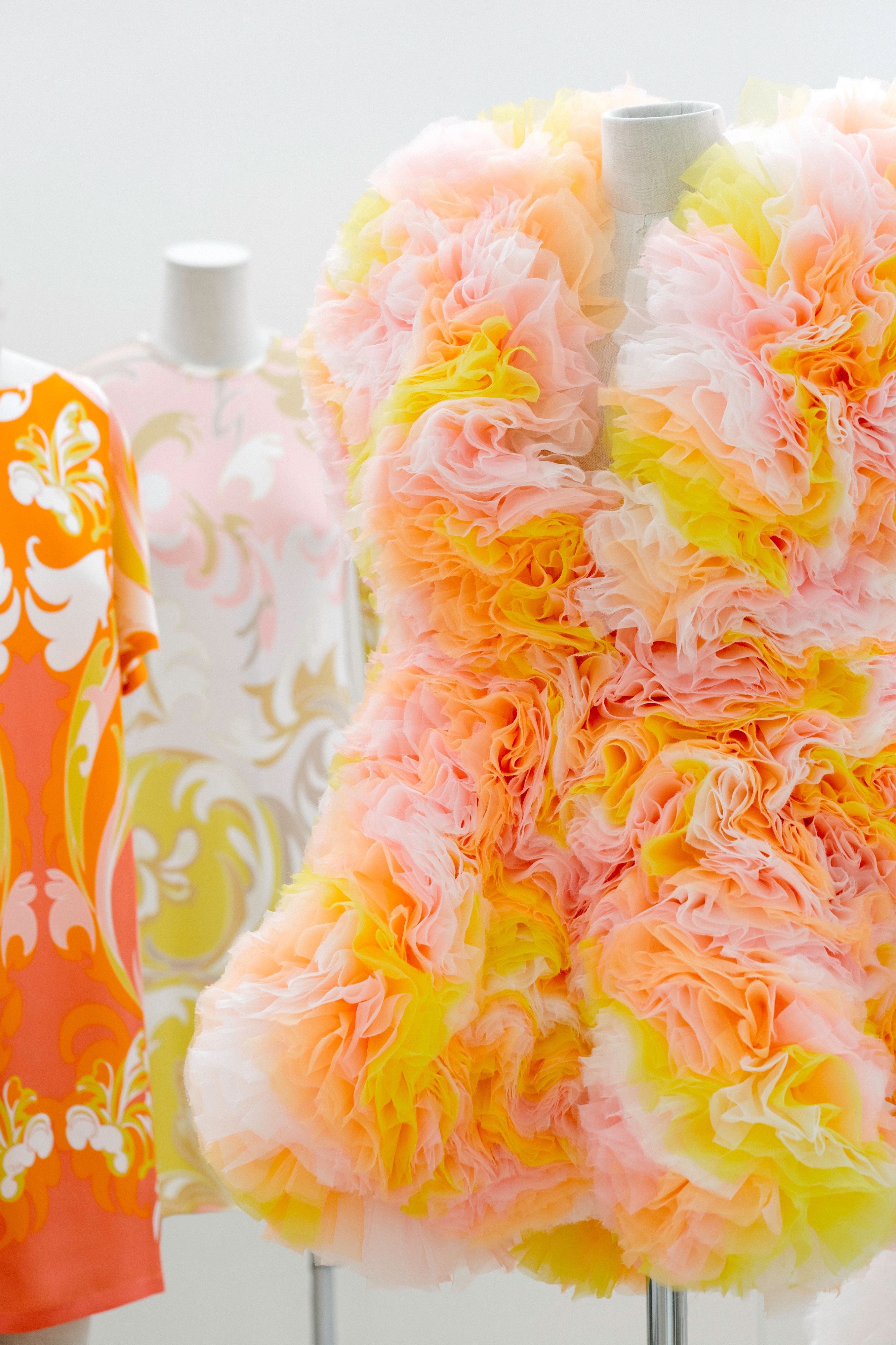 What kind of spaces do you envision people wearing these dresses?
The capsule collection is very versatile—we made slides, T-shirts, and tops that can be styled in very different ways and for many different occasions, from the most casual ones to more formal, I'd say from cocktail to party attire!!
What have you learned from making this collection? How do you think it will inform your craft in the future?
Collaborating for a fashion house with such a great heritage was an honor and he taught to me so much because it has been a rich dialogue between our two creative universes. This project has also challenge myself on making more approachable design, it's actually a first approach form me to a commercial offer. Indeed, the capsule includes also T-shirts and accessories like fluffy sandals and an amusing pouch.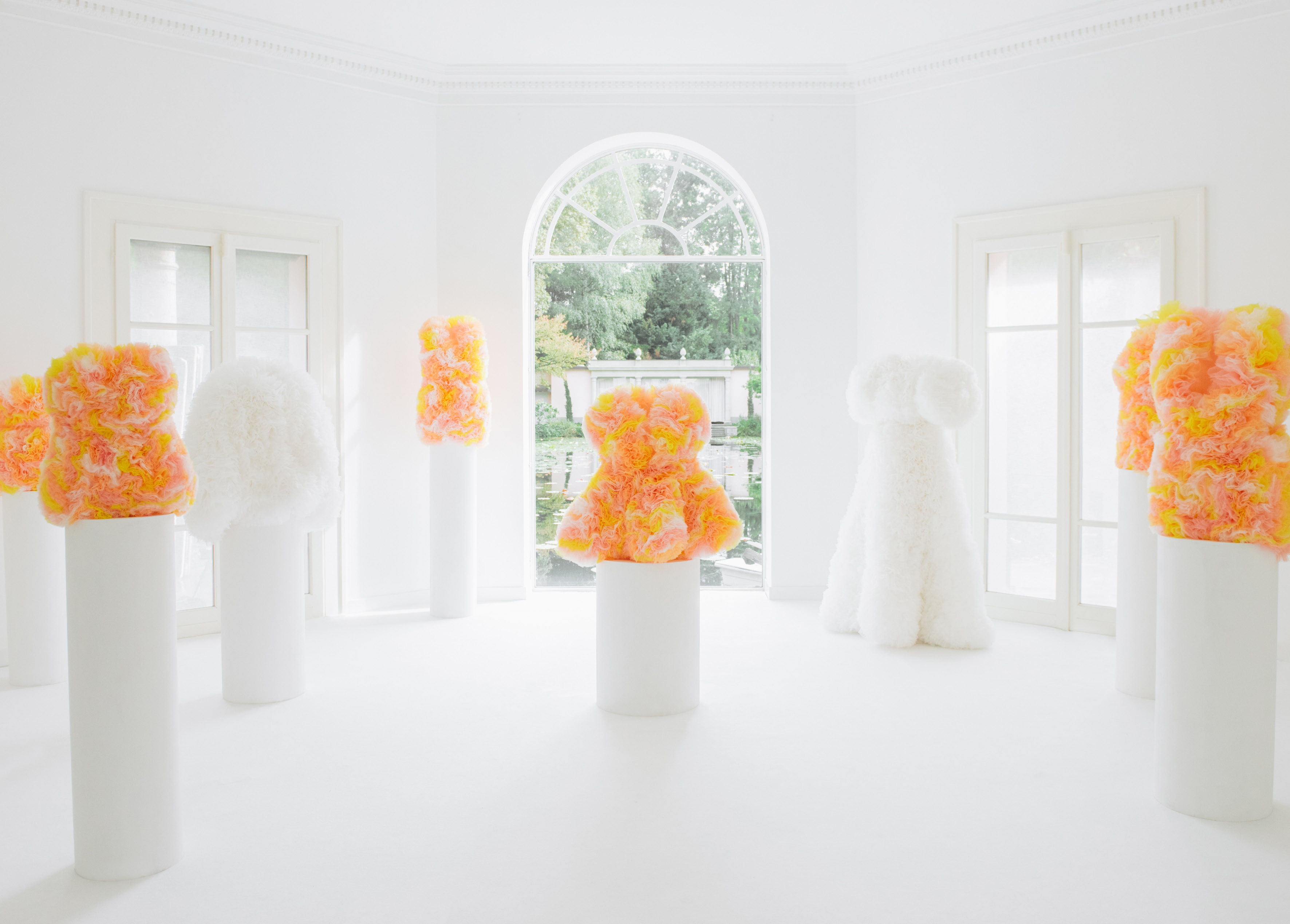 Tell me about a particularly special memory you have of conceiving and executing this collection.
I must say it was a dream to be able to have access to such a rich heritage like Emilio Pucci has—what he created through the year, his vision of woman, the silhouettes, fabrics and the prints it's really a huge inspiration for a young designer like me, it was a great lesson and a privilege for me to have this kind of access. I also loved meeting the Emilio Pucci team for the first time when I arrived in Milan a couple of days ago was the best feeling ever! I loved spending time in Milan and finally getting to know a team I worked with remotely.
Tagged: