Greetings Loved Ones, Let Me Take You on a Tie-Dyed Journey
The Psychedelic Bazaar aesthetic of Online Ceramics, Come Tees, and Joe Biden's recent merch drop feels both hauntingly '90s and hauntingly evocative of These Current Times.
Artwork from @Foiegraphics, Shirt from @TotalLuxurySpa
Time means nothing right now, let me take you on a fever dream. As the 90s keep creeping back up on us aesthetically, I've started having flashbacks of myself as a teen (in the actual '90s) navigating coffee shops, swimming in a sea of Nevermind, and Lilith Fair, flipping through dELiA*s for vintage-inspired bell bottoms, puffer jackets and bug eye sunnies. Back then we were obsessed with the '60s and honestly, I couldn't tell you why. Perhaps it felt like a freer time to me as a kid—dreams of saying what you want, supporting what you care about, saying "fuck it" to everything except what matters.
In isolation, along with bread-making, we've seen a boom in tie-dyeing. It's something you can do at home, and ultimately it can brighten up your room, figuratively and literally. In a video with California tie-dye graphic explosion duo Online Ceramics, they exclaim, "Let your inner kid out to play." Online Ceramics has taken off over the past years mixing poetry, spirituality and found graphics in service of world building and taking things out of context to bring you to a higher place—it is no surprise OC has been making Grateful Dead bootlegs from the get-go and now works directly with Dead and Co.
Many seemingly attribute this psychedelia to the bazaar-induced nostalgia, a desire for a time where things felt hopeful—a time that is not now. In tandem with the politically turbulent topography of the 1960s, the past five years especially have provided volatile social and political environments, sparking the rise of movements, ones that are coinciding with the marketplace rise of tie-dye—it symbolizes time spent offline, and an era of quality that is re-calibrating the print's formerly gloomy undercurrent.
Where Online Ceramics background is very steeped in the '60s Deadhead culture, there are other artists arriving from different starting points. Jason S. Wright, Broccoli Boy, Total Luxury Spa, Come Tees, Foie Graphics, Coloured Publishing, and Fisk's maximal compositions, free-love, free association flow of images and text represent a movement, not abiding by a social code so prevalent in most design circles bowing down to dead Europeans. I don't want to be so binary as to say it is anti-Helvetica, or anti-minimalism, but we cannot ignore that this work stands in direct opposition to the glutton of girl-boss friendly graphics that represent a hustle-hit-never-quit mentality. The T-shirts are a freedom from boxes, dictums, stay-in-your-lane complacency, and who doesn't want to feel free?
Most of these artists hand-dye their work, so many of these pieces feel and can be one of a kind. This, combined with a collage or maximal approach to visual communication gives further evidence to the hand, a proof of human touch. Perhaps one thing that makes this work feel new and not just a rehashing of old aesthetics, is the mix of references which hint at current events, meme culture, contemporary, and local vernacular. Drawing on the popular appeal of an analogue era, the work of these designers showcase both the epitome of beautiful accidents and inaccuracies, as well as a love for community, by constantly uplifting and speaking directly to the people that coalesce around their work. This is evident in how these artists have teamed up to raise money for folks and organizations that mean something to them. Many of these artists make the work they want to make, for the people they choose to be their audience. And if you don't get it, it's probably not for you.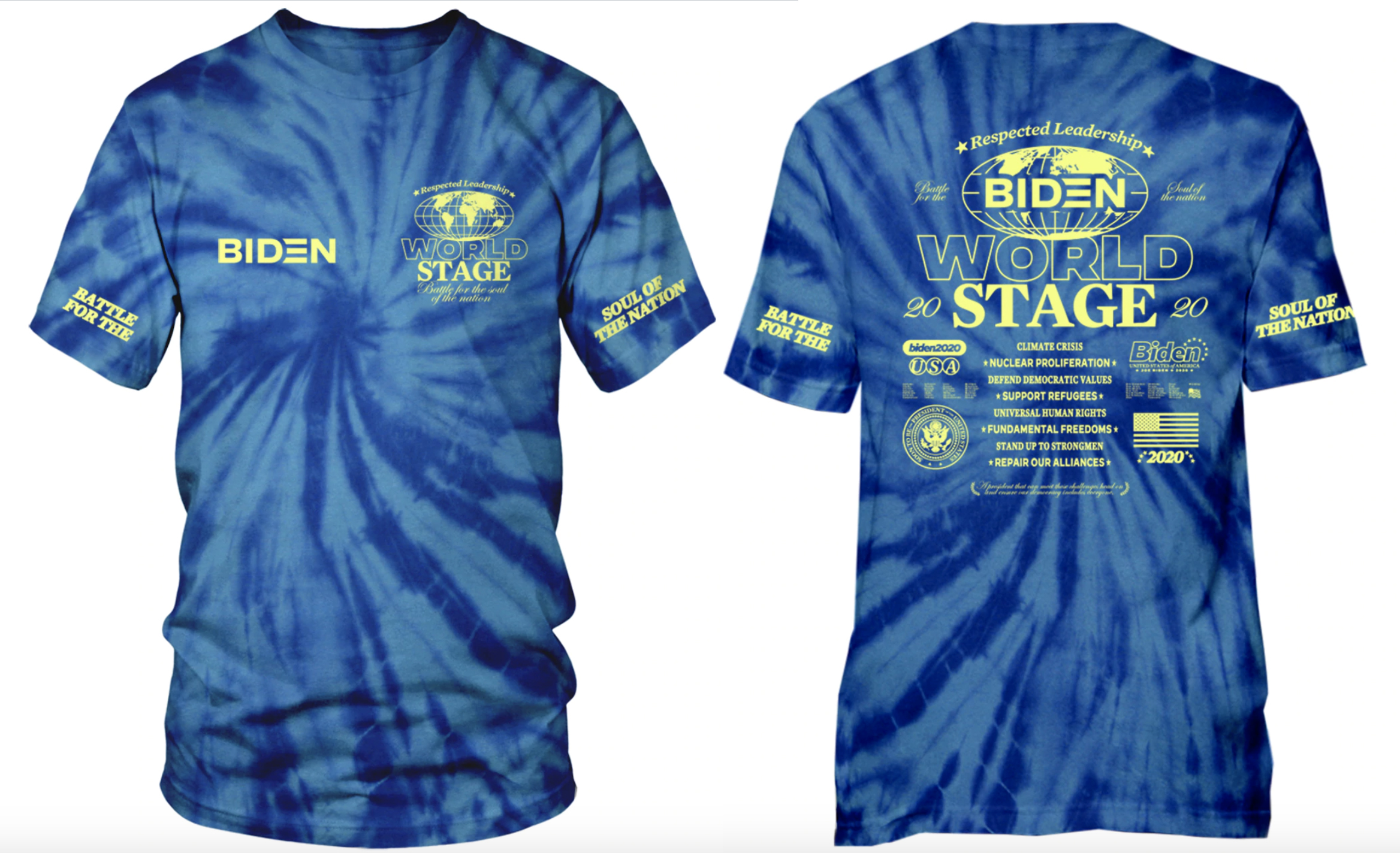 Although many pieces have been written about the mainstreaming of tie-dye, it was still somewhat surprising to see this aesthetic appear in a new range of merch released by the Biden/Harris campaign earlier this week. The blue tie-dye shirt features the same mish-mash of typographic styles and logos. How this aligns with the history and conversation around form being inextricably linked to content, in this context, is fraught with meaning, neoliberal at best. It's probably worth nothing that earlier this year, many of these very same artists were creating T-shirts in support of Bernie Sanders, oftentimes donating the profits to his campaign.
These graphics harkening to a friendship-grows-like-flowers-psychedelia represent universal necessities for local and world citizenry in a political time filled with civil unrest, injustice, and oppression. The work becomes a respite from a digital existence filled with isolation and bots. With many of these works redistributing their funds to non-profits and local organizations, I cannot help but look at their practices as anti-capitalist, or at least trying to figure out new models of distribution and support. And adorning a body, the message becomes mobile—a body politic. Graphic design can't save the world, but the transformative power of communication and visual language is inalienable. The question is, are the people buying these pieces down with the message or just the looks?