How to DIY Your Community
Mutual-aid secondhand sales and donation drives are popping up across Brooklyn (and the internet)—and in raising money for the community, a community comes together.
Photo courtesy of Aaron Wiggs, signs by Andrew Hurley
A gray sky felt different in early June, at least in New York City. On a particularly gloomy day in Greenpoint, Aaron Wiggs was sitting in McGolrick Park with two friends, Sachiko Clyde and Perry Goodman, fixated on—what else?—everything that was going on: protests against police brutality were happening across the city after George Floyd's killing in Minneapolis, as four months under quarantine collided with the approximate human tolerance for social isolation. "We were just looking at each other, bummed out," Wiggs recalled. "We were like, what can we do to contribute and help make a difference?"
Wiggs lives in Greenpoint and works at the Supreme store nearby, where he gets access to covetable stock. "That's where the idea kind of sparked from, me just sitting on clothes," he said. "With this whole corona pandemic going on, I was just like, dude, I have so much stuff that I could just put towards a cause. And me personally, [I got] inspired by Black activism at a young age." There in McGolrick, a plan was born: "We'll have a sidewalk sale. We could do it here in the park."
It's a thought process that seems to be taking place all over—secondhand sales, flea markets, and donation drives to benefit local mutual-aid funds, anti-racist organzations, and in-need New Yorkers (and beloved New York businesses) have been popping up around the city, gaining support and volunteers often by way of social media. That heaving feeling of "How can I help?" has been a pervasive one, and like Wiggs, newfound organizers are turning to that which has kept us company all these months inside: our stuff.
Arti Gollapudi, a comedian and writer living in Bay Ridge, had a similar moment. During a reading spree at the height of quarantine, while furloughed from the bookstore where she works, she thought, "I wanted to read all my books, or re-read them, and then I was like, actually, I don't even want to re-read this book. I want to find a way to give it away." While teaching a comedy class to middle school students via Zoom and sharing her memories of school book fairs—where, she remembered, she bought Mad Libs and her first-ever joke books—an idea began to take shape. With school years cut short and safe indoor activities at a premium, books felt crucial. She texted a friend, "Do you want to help me drive books to Grand Army Plaza and just give out free books?" When another friend offered to make a graphic to share the event on social media, suddenly the stakes changed: "The graphic is what blew up. And now it's no longer me and a guy with a car. It's so much bigger." The event, Book Fair For All, will take place this Sunday, August 2 in Grand Army Plaza, on the edge of Prospect Park.
Gollapudi's idea came together in under two weeks; it would be a free event where anyone could come and take books of all kinds, for all ages—with an emphasis on books written by Black, Indigenous, POC, and queer authors—with any suggested donations from those who can afford to pay going towards Playground Coffee Shop, a community space and café in Bed-Stuy that has recently been involved in setting up community fridges in Brooklyn. Their initiative, Gollapudi said, "is something that I thought aligned with what a free book fair is also doing, right? It's a different type of keeping the community fed."
For Wiggs, the plan really took off after he and his roommate made an Instagram commercial in his backyard—a "Sunday! Sunday! Sunday!" affair, complete with a Viking hat-wearing, Modelo-swilling host named Uncle Leroy—and as soon as word spread, friends and neighbors reached out to assist. Friends offered up tables, their stuff, and their Sundays to help out. Plus, "a lot of people that skate for Supreme were like, 'This is fucking rad, we're gonna bring clothes as well.'" (This past week, Supreme agreed to match the sale's earnings in donations.)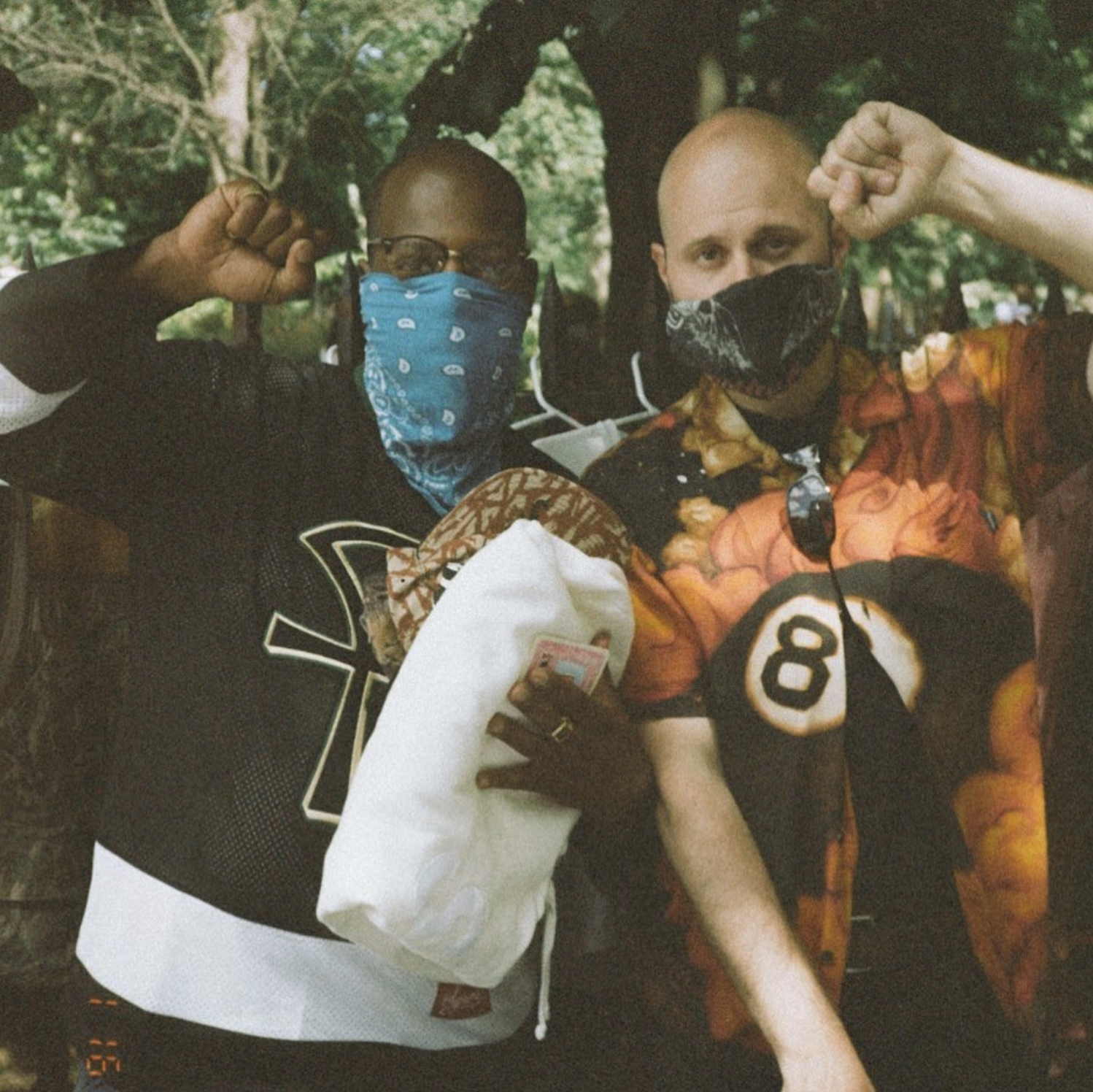 Now, on most Sundays, the block on the north side of McGolrick becomes the BLM Sidewalk Sale: a row of skaters and friends selling sneakers swap-meet style, alongside zines, hella tees, boutique womenswear (think vintage Prada and gently used Eckhaus Latta), juices out of coolers, flower arrangements, and more. They've held five sales over the past seven weeks, raising around $113,000, with all proceeds going to an array of nonprofits and crowdfunding efforts, including Black Women's Blueprint, Emergency Release Fund for LGBTQ+ and medically vulnerable individuals, and Feed Black Futures.
This past Sunday, a portion of sales went to a fund for Wiggs's sister, whose husband passed away two weeks ago while hospitalized with the coronavirus.
In many ways, these sales feel like an extension of our need to connect with each other now, to hold our arms out and offer support, be it in the form of cash or merely by keeping one another company, as a collective form of acknowledgement. Efforts to raise money for the community have their ways of bringing a community together. Indeed, hearing Wiggs and Gollapudi emphatically list off the friends and strangers who have offered a hand was heartening in a way that felt long-gone, though of course that collective heart has been there all along.
Gollapudi put out a call for volunteers through a Google form, expecting a handful to sign up, and ended up having to close the form within a few days after receiving over 200 applications. "A bunch of women across Brooklyn each took a part of the response sheet and organized it for me," she said. "A friend [who] works for a film festival was visibly planning out what we'll do on Sunday, another friend who's a carpenter is getting lumber so we can build out some shelving the morning of, and we have a fleet of people who have cars who have volunteered to pick up across Brooklyn from all the drop-off spots. We have people donating food, we have Streetwork doing Narcan training and disseminating information and zines about that, somebody is making protest posters on the spot…" Gollapudi laughs. "Again, it started with me thinking I could give out books out of the back of a car."
On Sidewalk Sale Sundays, "[other] people are like, 'Do you need help in the morning?'" Wiggs said, laughing. "And I'm like, no, we have a big, big, big, big, big, big fucking crew." By the end of the day, everyone is excited to find out how much they made. He mentioned other sidewalk and stoop sales happening in Bushwick and in Tompkins Square Park, and that friends had reached out to him about holding similar sales in Virginia, Toronto, and Oakland.
These types of sales, and this type of community-building, can happen anywhere, including, of course, on the internet. Julia Lindsay—who formerly worked as an editorial assistant at GARAGE—had been furloughed from her media revenue job in the spring, finding herself with an abundance of time on her hands and an apartment to move that was full of stuff to get rid of. Moving from Bushwick to Flatbush in June, as protests peaked across the city, meant "realizing that first and foremost I owned my neighborhood some mutual aid—that I had an interest, and obligation, in spending money back into my community." In turn, she created a digital pop-up Depop shop called Mutual Atelier, putting out a call for clothing donations in hopes of creating "a more sustainable way to give clothes a second life while also [being] part of an ecosystem that encourages you to find some way to buy within your community," with all proceeds going to a list of Brooklyn mutual-aid funds. She hopes others will buy or donate clothing for reasons that are mutually beneficial to all involved, herself included: to acquire new 'fits, to clean out your apartment, to give back. Even just selling two items this week, she was able to send $50 to Crown Heights Mutual Aid. "In the spirit of mutual aid, it would be great if it made hundreds and hundreds of dollars, but it's more about [that] it's more than I could give alone. There's a utility in shopping there."
Wiggs echoed that sense of utility: "If we publicize who we're going to donate to, then people have an idea of where they can put their money," he said. "That's the whole point of this—a lot of people want to get involved but they don't really know where to direct it to, and this is a good way for people to get something out of a donation."
For the BLM Sidewalk Sale, Wiggs plans to keep going in the park into the fall, while it's still nice outside. "Obviously, people are running out of stuff," he said, laughing. "This is forcing people to get more creative with things [beyond items they already own]. People are starting to make more speciality items" as sidewalk-sale exclusives. (This past week, Wiggs sold a tee featuring his Uncle Leroy character illustrated by artist Sara Rabin.) Other spaces, including The Standard hotel in the East Village and the Procell store in Soho, have offered to host, but Wiggs likes the park. "This has a very grassroots feel to it," he said. "You see clothes on the racks, you see clothes on the fence. It's just very DIY, it's just people coming together." So long as the weather holds up, things should be fine.