I Want to Be a JW Anderson Paper Doll
The designer's Spring 2021 Men's collection is an inspiration for play-time.
If the past six months of coronavirus have taught us anything, it is that when you want to put on an outfit, you're truly just doing it for yourself. We would like to think this was always the case, but it probably wasn't. There is always someone in mind when we get dressed up: a boss, a lover, that one stranger on your commute who is always wearing something fabulous. What do we have now? A trip to the grocery store, maybe a walk in the park with a friend while wearing an N95 mask and holding a cocktail in a plastic to-go cup. Fashion, without subjects outside of the self to latch on to, feels particularly anchored in fantasy and play-time at this moment in time. Which is where JW Anderson's spring 2021 menswear collection comes in. The clothes say, I am all dressed up, I have nowhere to go, and I like it that way.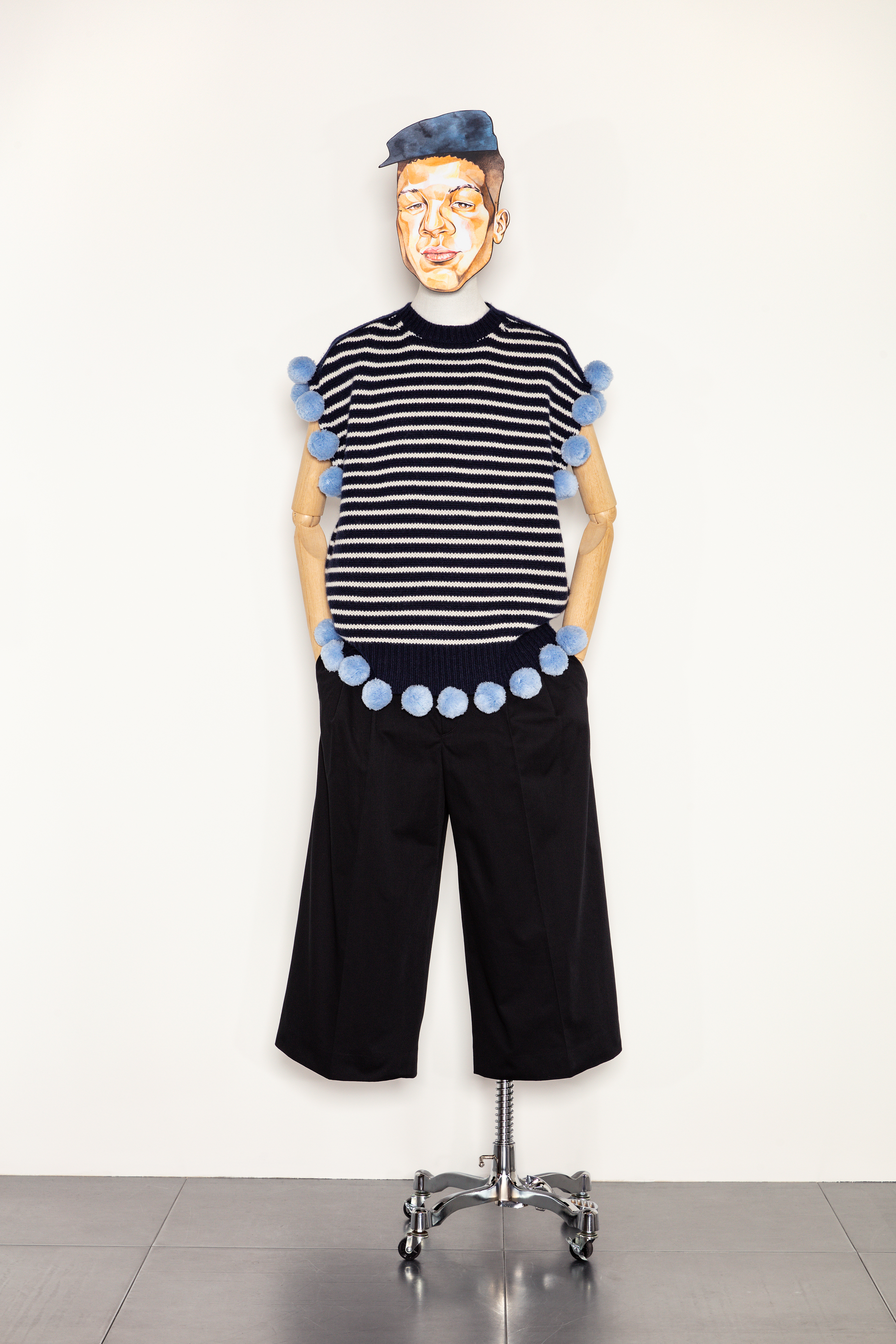 The collection was revealed via cards pressed with flowers and little swatches of fabric, and was presented entirely online. Extremely creative and daringly sweet, the first thing that catches your eye when looking at the collection is the masks—not the ones we wear to go outside but giant paper faces of boys with chiseled chins and coquettish facial expressions, designed by the artist Pol Anglada, that bring a level of humanity to the mannequins wearing the collection. The boys look like a cartoonish version of the real thing: they are handsome, jaded, and mischievous. They have cool haircuts and tired eyes. Remember playing with dolls as a kid? This is the grown-up version; the dolls look like the boys with neck tattoos who choke down cigarettes in Seward Park. Then there are the clothes; outfits for play-time. One mannequin with black and blue hair and a reserved expression, wears a long knit red sweaters adorned with what appears to be pin cushions, or maybe very small pillows, and underneath an ankle length black skirt. There's also pom-poms: a mannequin wears a striped French navy top with little periwinkle pom-poms attached on to the sleeves and the base. He also wears a pair of black high-waters and a little cap. It's all very naive; the kind of thing you could wear to launch toy sailboats in a pond.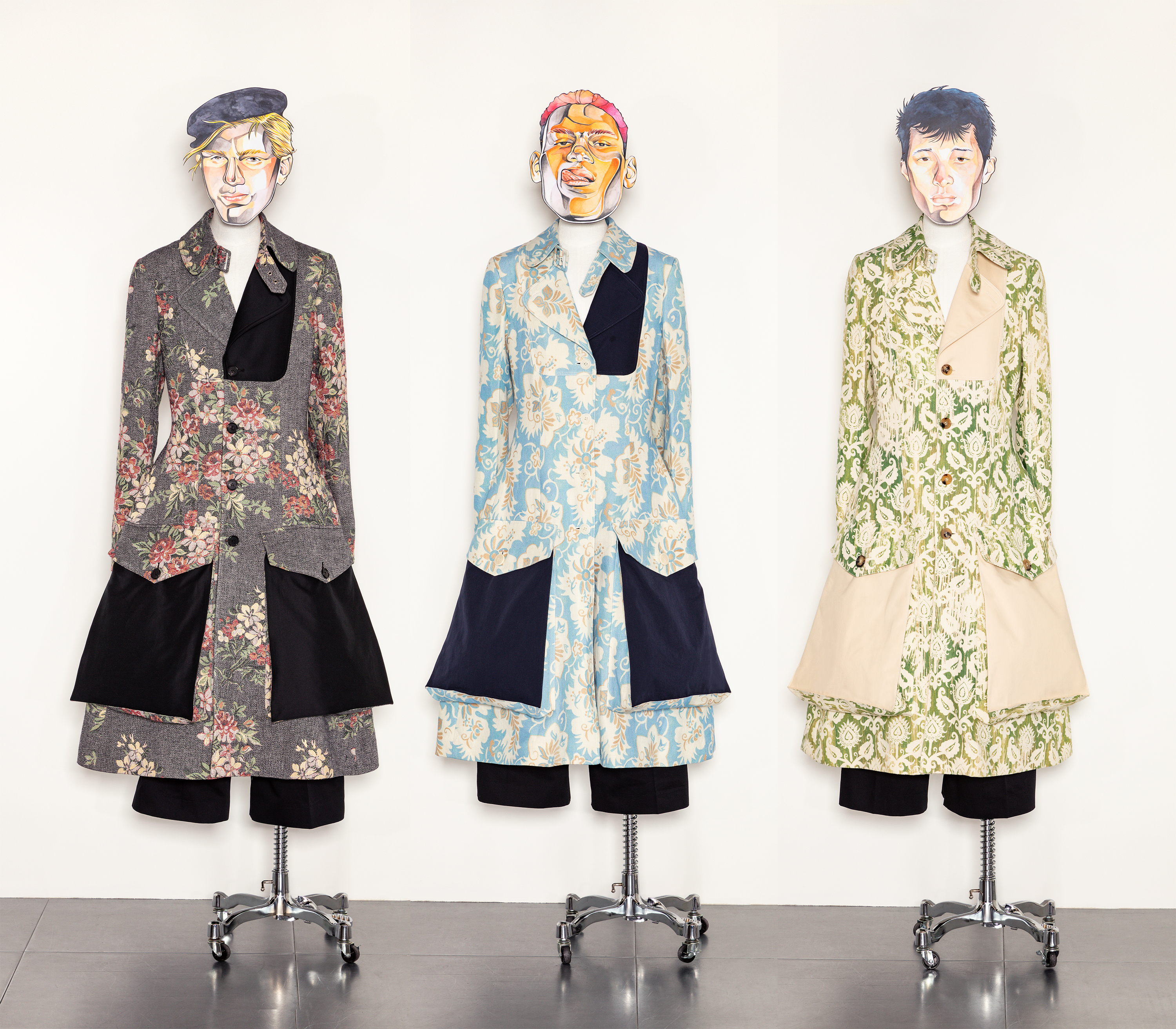 The best moments in the collection are when Anderson takes fantasy and play-time to its greatest extremes. There are the coats, which come in floral rococo patterns, like something you'd see in a portrait of some forgotten French aristocracy circa eons before you were born. Then there were the dresses, three of them in quick succession that made me feel breathless. The first, a sleeveless a-line tank dress whose skirt looks like it was directly shorn off of a sheep then lightly trimmed. Right after that, perhaps my favorite piece in the collection: a wizard's cloak of a dress that is yellow and red striped, with a huge spiral at the base and sleeves so long you're bound to trip. And the third: sleeveless dress with a high neck and a ruffle at the midsection with a black and yellow brocade pattern. Where would I ever wear this, you might ask yourself. The answer is simply that it just doesn't matter. This is a question that was constantly asked before the virus, and feels especially potent now. Fashion rarely feels like a question of utility, and now all we do is stay inside and getting dressed up feels extremely peripheral in our every day lives. There is literally nowhere to go. There is no fashion show to stand in front of nor is there a red carpet to fantasize about walking down.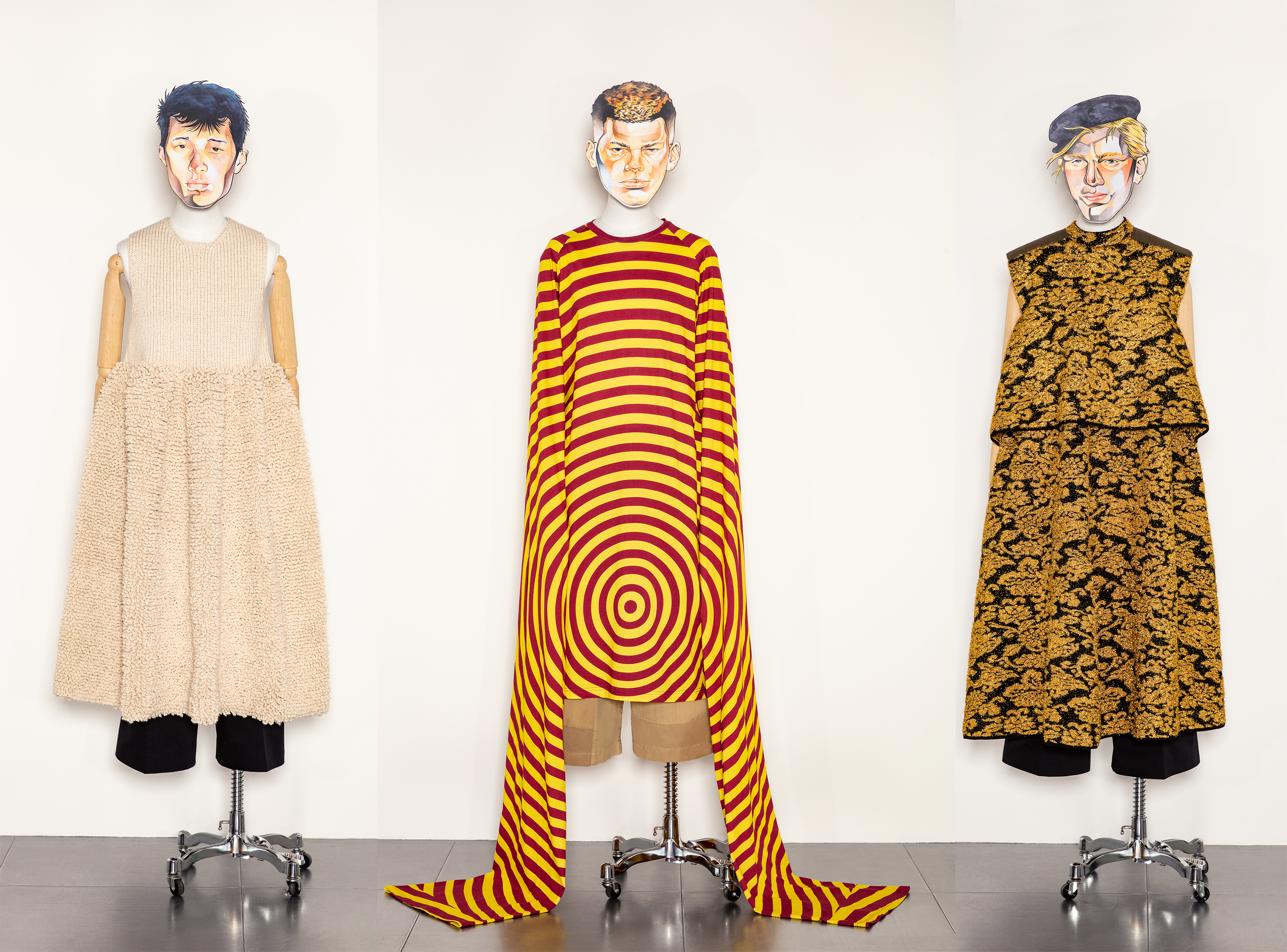 Could you imagine if you did wear these pieces out and about in this strange period of time? I can't help but imagine JW Anderson boys in their dresses and hats riding bikes instead of taking the subway and shopping for hand soap and sponges at Rite Aid. Fashion feels at its most joyful amongst these insane juxtapositions. The stark contrast of apocalyptic mundanity and almost childlike applications of color and pattern feels subversive. It also feels hopeful.