Kris Perry, Mother Earth (detail), 2020.

Photo by Angus Mordant.
Lost? Restless? Let Kris Perry's New Sculpture Act As Your Temple
The Rockaways are getting public art for the people.
Kris Perry, Mother Earth (detail), 2020.
Photo by Angus Mordant.
Almost all New Yorkers know it: there's a special energy out in the Rockaways this summer. We all go out to the beach for a lick of "normal" summertime fun, and often that is what we find, but it's also mixed with a sort of Darren Aronofsky-esque psychological entropy. Rockaway Beach is bedlam, and this year especially. We have the added freakiness of pro-police skywritings (can anyone clarify who the f— is paying for that??), the tension between beachgoers refusing to acknowledge social distance, and the familiar collective stupor of a large swath of people who have drunk one too many nutcrackers. Last time I went to Beach 87, I saw a little kid running amok with a dead baby shark in his hand. It's godless out there.
Appropriately, the sculptor Kris Perry's new public art piece, titled Mother Earth, sets out to provide Rockaway Beach-goers with a sort of temple before which to bow. Not to any god, but at least to the beauty of nature. This weekend, those strolling along the boardwalk will find a 35-foot-tall Corten steel form at the Beach 98th street entrance to Rockaway beach. At first glance the piece might look like an homage to industrialism, with bands of rust-colored steel bending into a severe, rocketship-like silhouette. Spend time with the piece however, and you'll see that it is in fact a meditation on environmentalism, morality, and life in a post-religious society. Don't believe us? Hear Perry preach it himself, below.
So how did the idea for Mother Earth come about?
I have a big interest in the relationship between technology and the natural world in my work in general. I was looking at issues like climate change and the polarity in politics and how certain words like "environmentalist" could be buzzwords and take away from people's connection to the Earth in a more base way. So I wanted to try to think of a way to look at our relationship to nature in a way outside of current events and just subvert that whole conversation. Are you familiar with the Hudson River School of Painting?
I am! Yeah, talk about a reverence for nature.
Right, so my studio is really close to Frederic Edwin Church's house, and so I kind of had this idea to try and create a dialogue in a public piece where people could come together even if they didn't share common ideas. Then I kind of looked at that through the context of the Hudson River School paintings, where common interpretation is that those paintings are kind of saying that the awe of nature is evidence of some kind of divine power. So I thought that was an interesting idea, because it was a very approachable way to look at a word like "God" and "religion." So then I kind of thought of that in the context of something like the Rothko Chapel. In some ways you could argue that our culture is post-religion, at least for a lot of people.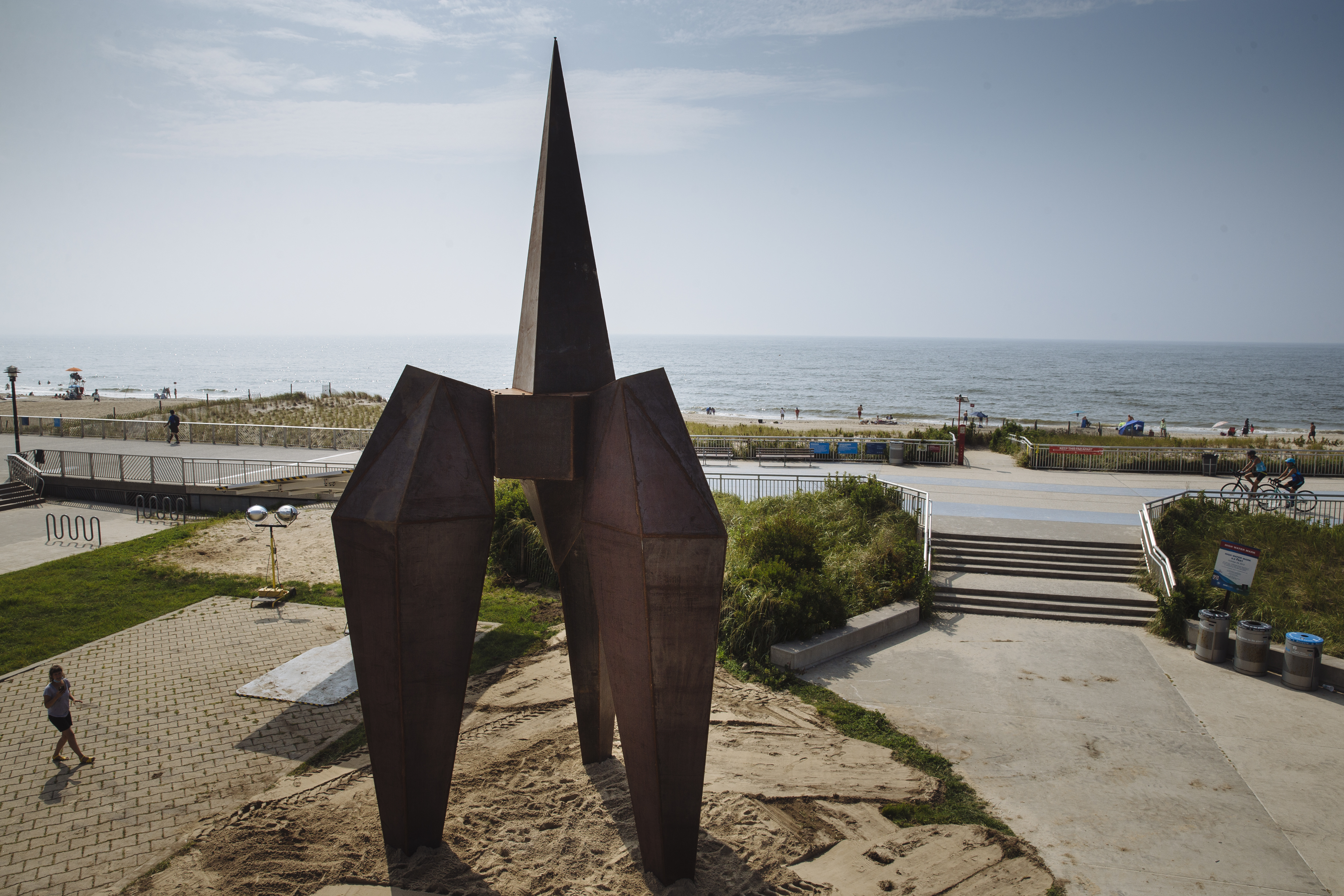 Given the political and environmental context of the piece, it seems like Rockaway is the perfect location for it. There's such a high volume of people seeking respite in nature out there, but it's been threatened by climate change before. It's also one of the places in New York that I see the most political discrepancy between people.
Right, and this project started long before COVID, and the context of Rockaway was already really interesting because of the damage that was seen there from Hurricane Sandy. So I feel like this conversation about the environment has a specific weight to Rockaway Beach as opposed to other places in New York City.
How long before the pandemic had you been working on this project? Do you feel like its meaning has changed given the new world order?
It started kind of as napkin sketches in about 2017. For this piece, I was looking at a lot of architecture and looking through the coffee table books on my dining table, and I really liked Islamic architecture. Something about the minarets and really early religious architecture like Hindu temples, so that just made me think about the obelisk in early Egyptian architecture. Just generally sacred architecture across cultures and how it points to the sky. You see that in steeples and spires in Christian architecture, and this upward direction of Hindu architecture and Islamic architecture. This concept of looking to the sky still seems like such a good analogy to have perspective and to allude to something that can be a guiding force. Something we can look to for guidance as a moral compass.
Is most of your work is public art, right? What do you love about making it?
I'm really passionate about it. I like art for the people, and art that subverts the art market place. People of all backgrounds can go and enjoy, and I also like thinking about art being something that's integrated into our life. It's not like you have to go to some separate place and pay admission to bring art into your life, if you can't afford to have it in your home. I like to imagine these kinds of sculptures becoming landmarks that can be a place where someone might propose to their partner, or deliver news, or whatever, and it's a place outside of your day-to-day where you get to have this moment. There are other cultures, like I think about visiting Mexico and seeing murals and the way that public spaces are where art is much more integrated into daily life. The idea of the landscape of an urban area with buildings and things like that and having public art be part of that structure subconsciously informs your mind.
Tagged: