Calvin Marcus, GO HANG A SALAMI IM A LASAGNA HOG, Installation View, David Kordansky Gallery, Los Angeles (November 1, 2019 — January 11, 2020), Photography: Jeff McLane
Go Hang a Salami I'm a Lasagna Hog
Calvin Marcus' surreal achievement currently on view at David Kordansky Gallery.
Calvin Marcus, GO HANG A SALAMI IM A LASAGNA HOG, Installation View, David Kordansky Gallery, Los Angeles (November 1, 2019 — January 11, 2020), Photography: Jeff McLane
Calvin Marcus' current solo show at David Kordansky Gallery, GO HANG A SALAMI IM A LASAGNA HOG, organizes the galleries into a one-way in and one-way out path, the first time an artist has transformed the laudable space into a channeled viewing experience. Unexpected scale shifts are initially experienced in the first gallery, which is installed with unique watercolors on canvas painted in a heroic scale (8-inch watercolor studies on paper were enlarged to become seven-foot paintings). During a studio visit, I viewed the watercolor sketches alongside the final paintings which commendably uphold the energy of the original doodle. It is refreshing to see watercolor, a less-utilized medium, on canvas at this scale. The works feel personal, possibly because the subject matter is personal, and possibly due to the materiality of the paint, as watercolor itself is a sympathetic medium.
The paintings have the capacity of being both basic and exceptionally charged: a Pinocchio with his nose cut off; the edge of a carpet; running dogs or are they chasing dogs? As Marcus described, "The image itself is undeniably strange. You can't read that image... There was no source imagery, that's just something I painted." Far from art as decoration, the works show Marcus' ability in developing a scalable language that is uniquely impactful. The paintings, as they emerge from Marcus' subconscious and imagination, are also in sense a psychological self-portrait.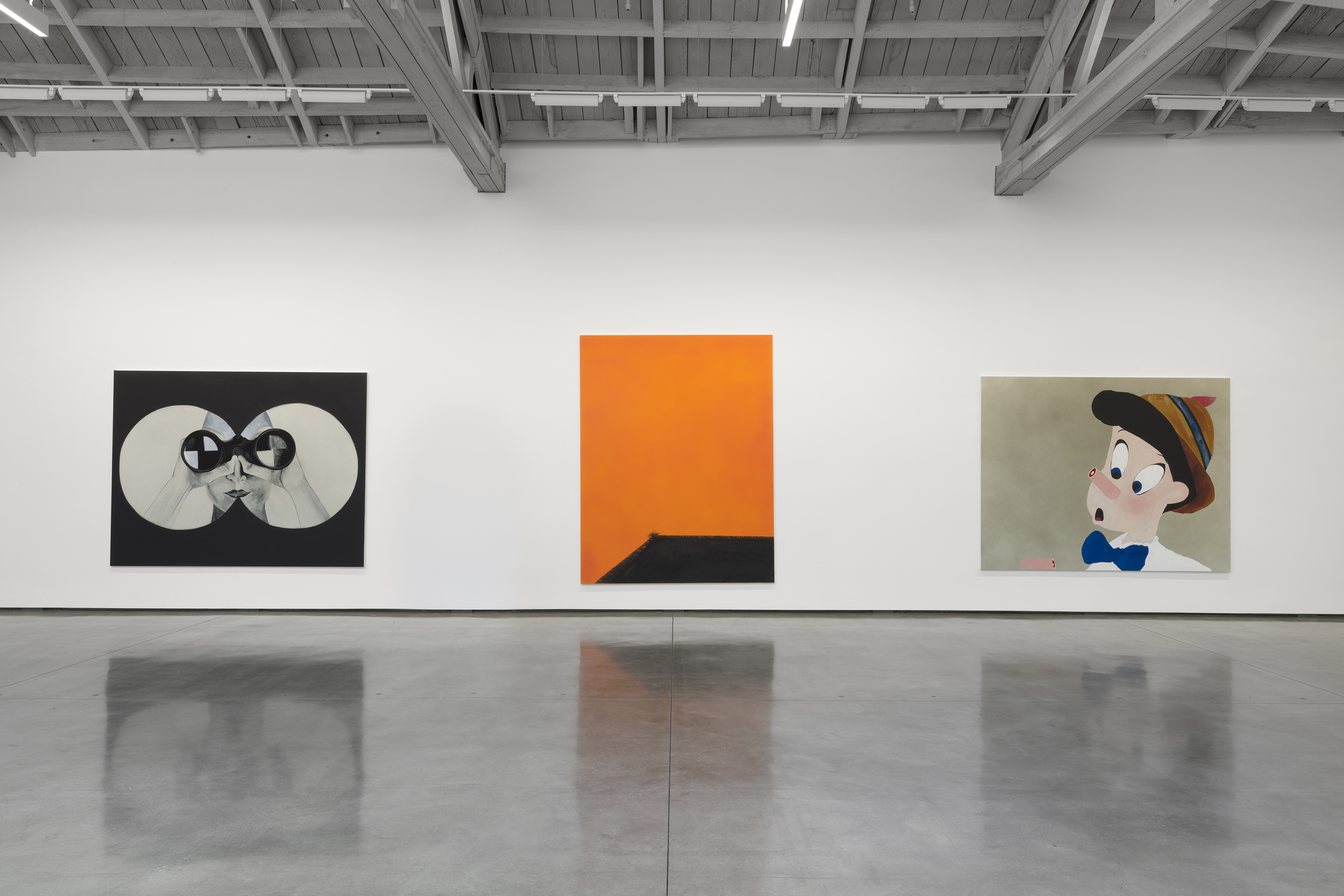 A darkened Gallery 2 houses a sculpture lit from within and a single, framed photograph. The sculpture is a reduced 100:1 scale model of the artist's last studio, showing the exterior of an East Los Angeles storefront complete with lighting and a working exhaust fan. Again playing with a sense of scale and expectations, Marcus employed the same materials you would use to build a real studio—plaster, roofing paper, flashing, concrete.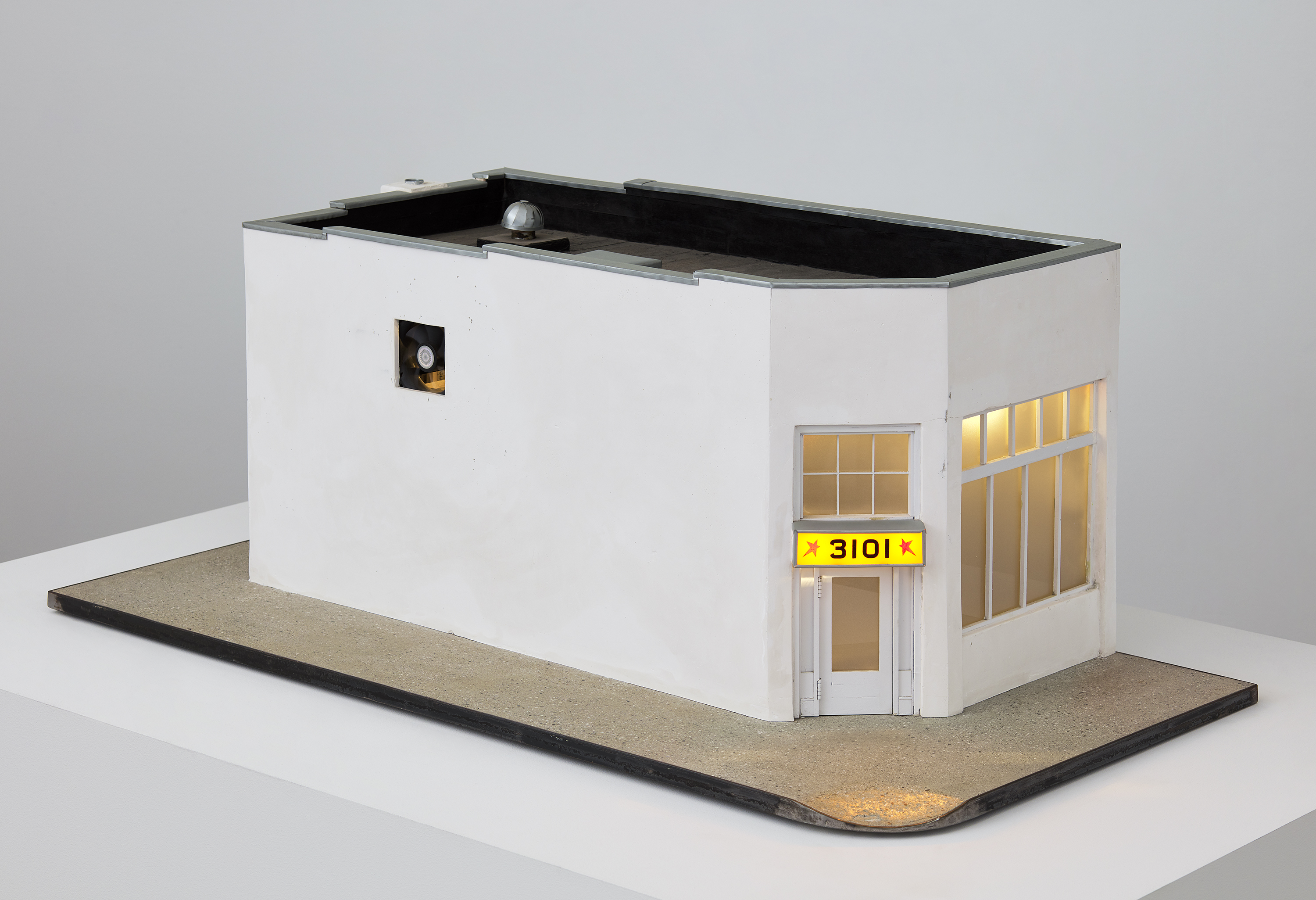 A single photograph hangs opposite the studio model. Reminiscent of early Surrealist photography, the image portrays a seemingly mundane plate of asparagus, recalling Manet's iconic 1880 paintings of the vegetable. What appears to be 9-inch long vegetables are in fact the flowering stalks of 9-foot long Los Angeles-centric Century Plants called Agave Americano. In order to produce this image, Marcus' friend, a surfboard maker, constructed a giant plate out of fiberglass. Marcus then assembled the oversized still life and it was photographed, optically reduced into an appearance of veggies. One can tell Marcus enjoyed the surreal play with optics, imagery and visual trickery as he re-represented this icon. It is a key moment in the show that nods to the clarity of this artist's practice.
The surreal scaling continues in Gallery 3 where Marcus debuts his new sturgeon series. All titled Stretch Sturgeon, the four paintings are on twenty-two-foot canvases and installed one per wall to create the visual effect of fish swimming clockwise in circles. The installation creates a dynamic vortex, encircling the viewer, as though one is standing in the center of a school of fish. Effectively disorienting, each fish painting measures the length of a stretch limousine, a size that references the longest sturgeon ever caught, at 24 feet, in the Russian Volga river. The continued familiar-unfamiliar aspect of the exhibition is heightened in this gallery with an expansiveness that moves toward abstraction.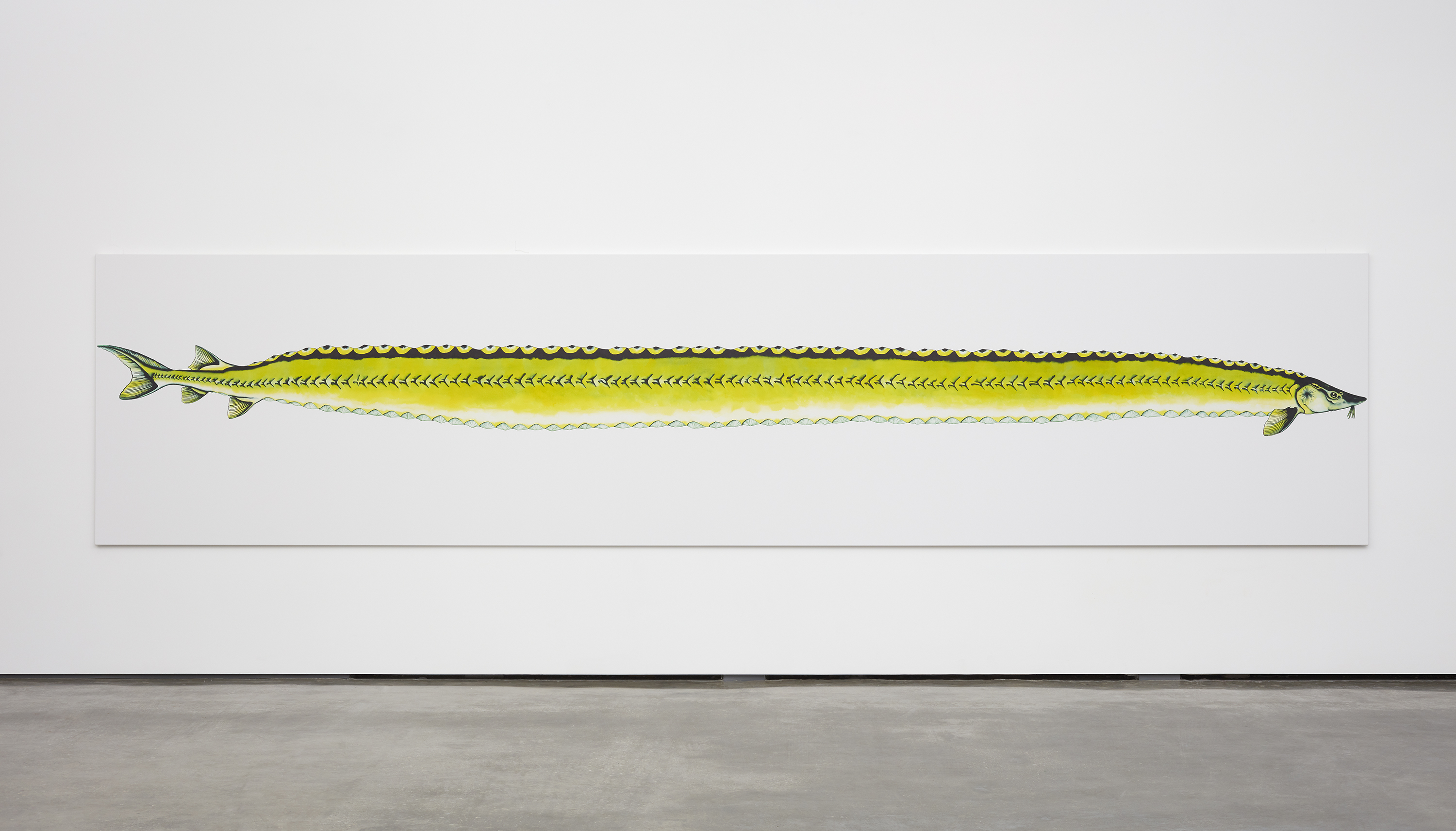 Marcus' painting research is a self-reflexive and meditative mode of preparation. As he contemplated the sturgeon series, the artist looked to the Japanese culture of aquatic ink prints, where ink is painted on the fish itself, then pressed to paper, as well as the American culture of marlin taxidermy. In contemplating how he could make a fish feel heroic—an enigma within fishing culture of the once-in-a-lifetime catch, a fish that is a trophy—Marcus looked at the encyclopedic illustrative studies painted by fly fisherman who document every catch in watercolor. This practice indulges the romantic notion that the paintings of fish are in fact self-portraits of the fisherman. Marcus' hand-painted watercolor washes of yellow and green document a tradition amongst fishermen who paint the fish they catch in a commemorative form of portraiture. The artist personalizes this folk-art painting tradition by enlarging the scale. In an Audubon-esque style of research diagrams, Marcus then made portraits of himself, via a fish, which feels at home within the artist's expanding oeuvre.