Ai Weiwi, Odyssey in Quilting (Detail), 2019, Cotton, printed with embroidery embellishments Courtesy Fine Cell Work ©Ai Weiwei
Inside the Arts Initiatives That Allows Those In Prison To Work with Ai Weiwei, Wolfgang Tillmans on Hand-Made Embroideries
Eight of the works are on sale in silent auction at Sotheby's this week.
Ai Weiwi, Odyssey in Quilting (Detail), 2019, Cotton, printed with embroidery embellishments Courtesy Fine Cell Work ©Ai Weiwei
The topic of mass incarceration and demand for prison reform has been mounting in the past several years, and arts initiatives have been integral in bringing these issues to light. Most visibly, stateside, collector Agnes Gund's Art For Justice Fund aims to reduce the prison population through funding criminal justice reform organizations, and many museums and galleries, such as the Drawing Center, Aldrich Contemporary Art Museum, and New Museum have recently displayed work by those incarcerated. There are countless initiatives to provide access to the arts in prisons, and one such initiative, Fine Cell Work, is being spotlit this week at Sotheby's in London.

The evidence that creating art has therapeutic benefits is irrefutable, and that's what's at the heart of Fine Cell Work's mission. The English social service works with prisoners throughout the country to offer training in fine needlepoint, and since they began in 1997, they've worked with over 7,000 people worldwide to create woven works that now hang in Kensington Palace and the Victoria and Albert Museum.
"Fine Cell Work has helped me to get through over twelve years behind a cell door," one stitcher, Robert wrote of working with the initiative. "It's given me a sense of purpose and taught me so many new skills. Showed me that I am not worthless, not useless, that I can learn, I can be creative, I can make things of beauty that other people appreciate."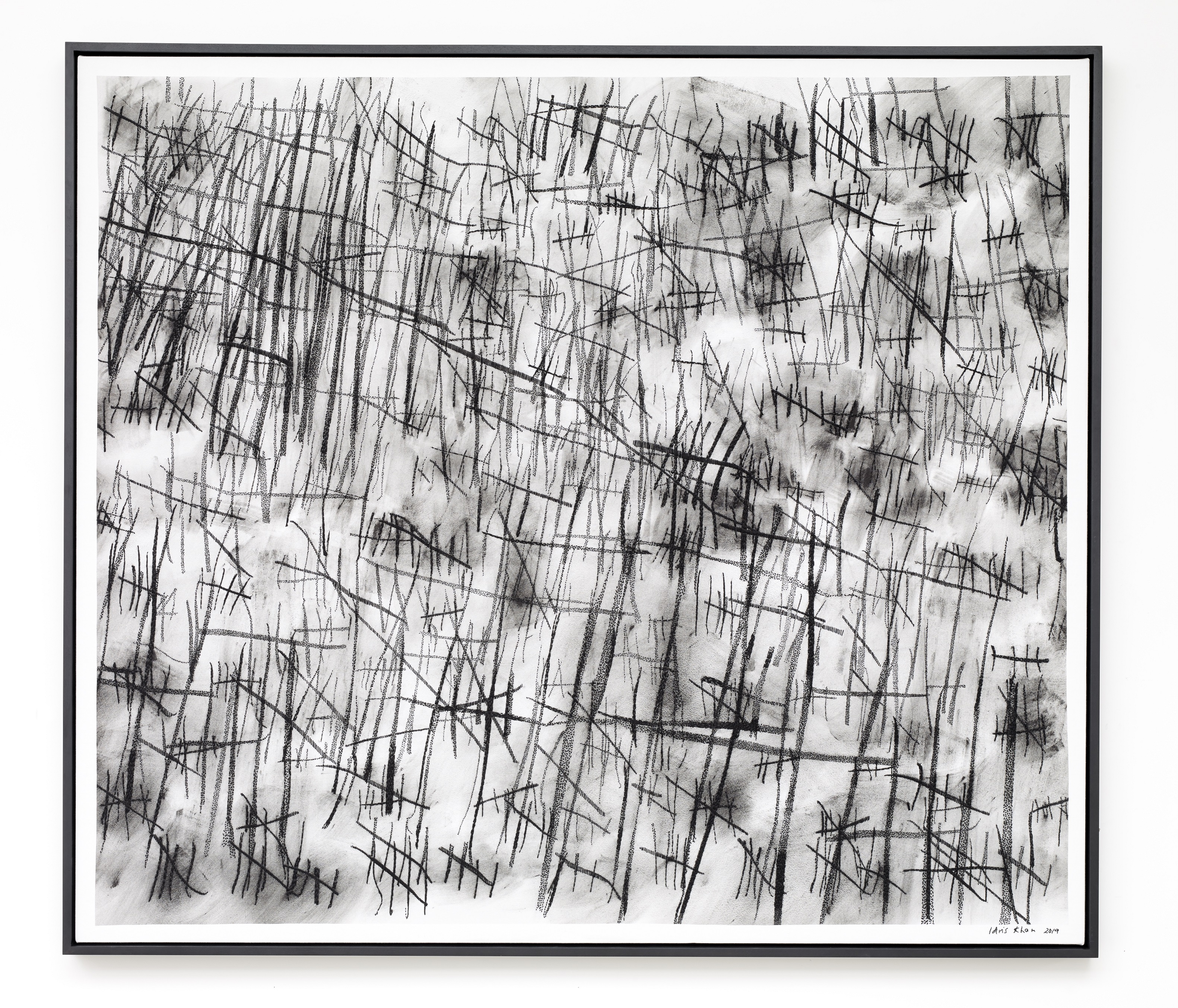 This week at Sotheby's London, eight pieces made through Fine Cell Work are up for sale, made in collaboration with some of art's biggest names. Ai Weiwei, Wolfgang Tillmans, Annie Morris, Carolina Mazzolari, and Idris Khan are just a few of the names who worked with prisoners to produce embroidered works in collaboration with prisoners in Fine Cell Work's program. Their final products cover the gamut of quilting, furniture, and needlepoint wall hanging.
Ai Weiwei's offering, titled Odyssey in Quilting (2019), pieces together 28 panels of fabric to form a "log cabin" style quilt, popularized during the American Civil War for their ability to tell stories. Weiwei's stark black-and-white piece illustrates a story of refugees crossing the ocean, a topic that the artist has been exploring for several years now.
"As a prisoner, my view of the outside world is mostly through the tv. World news regularly covers the issues of refugees." One of the prisoners who helped create the work, Garry, explained. He added, "The Ai Weiwei commission is the first bespoke piece that I have worked on. As soon as it was handed to me, a sense of responsibility suddenly washed over me. To be considered and trusted enough to work on this piece was an honor."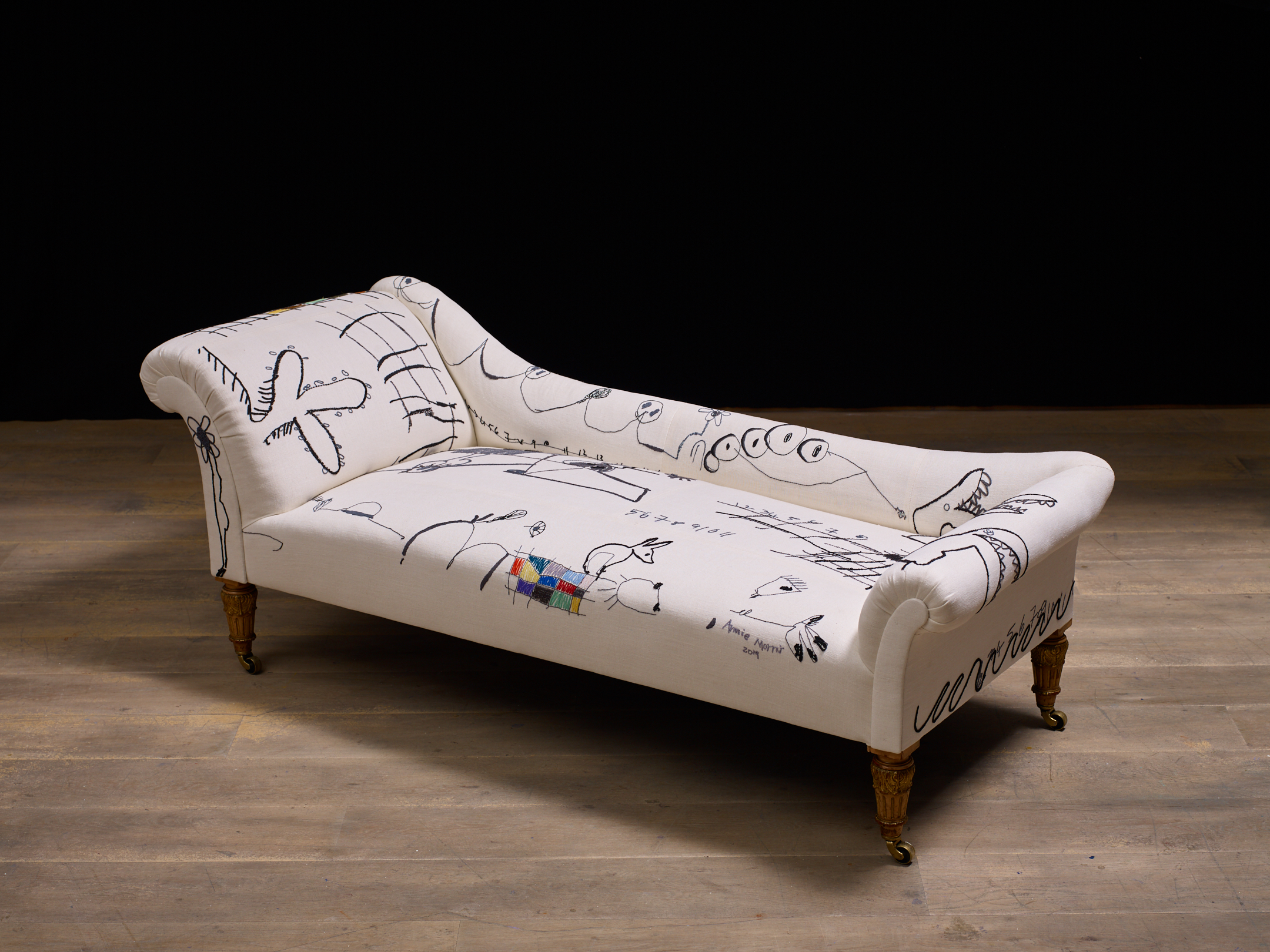 Ai Weiwei, who served 81 days in prison in China back in 2011, said of the project, "I think people in prison conditions may understand the topic [of the refugee crisis] better." He added, "We had many discussions back and forth and as a result, the piece has come back surprisingly beautiful. It has really been done with care and sensitivity."
Other stand out pieces from the sale include Annie Morris' hand-stitched chaise lounge, titled Hope From a Thin Line (2019). 10 embroideries in thin black lines were added to the couch, and the artist, known for her vibrant sculptures, then added on her own colored bits of stitching to the piece, ultimately creating the effect of a couch that had been (very expertly) doodled on.
"For this piece, I made individual drawings on sections of fabric and they were sent to various prisons in the country to be sewn by prisoners who did an incredible job," she explained. "All my life I've been drawing on every surface. I don't want to be confined by paper or canvas."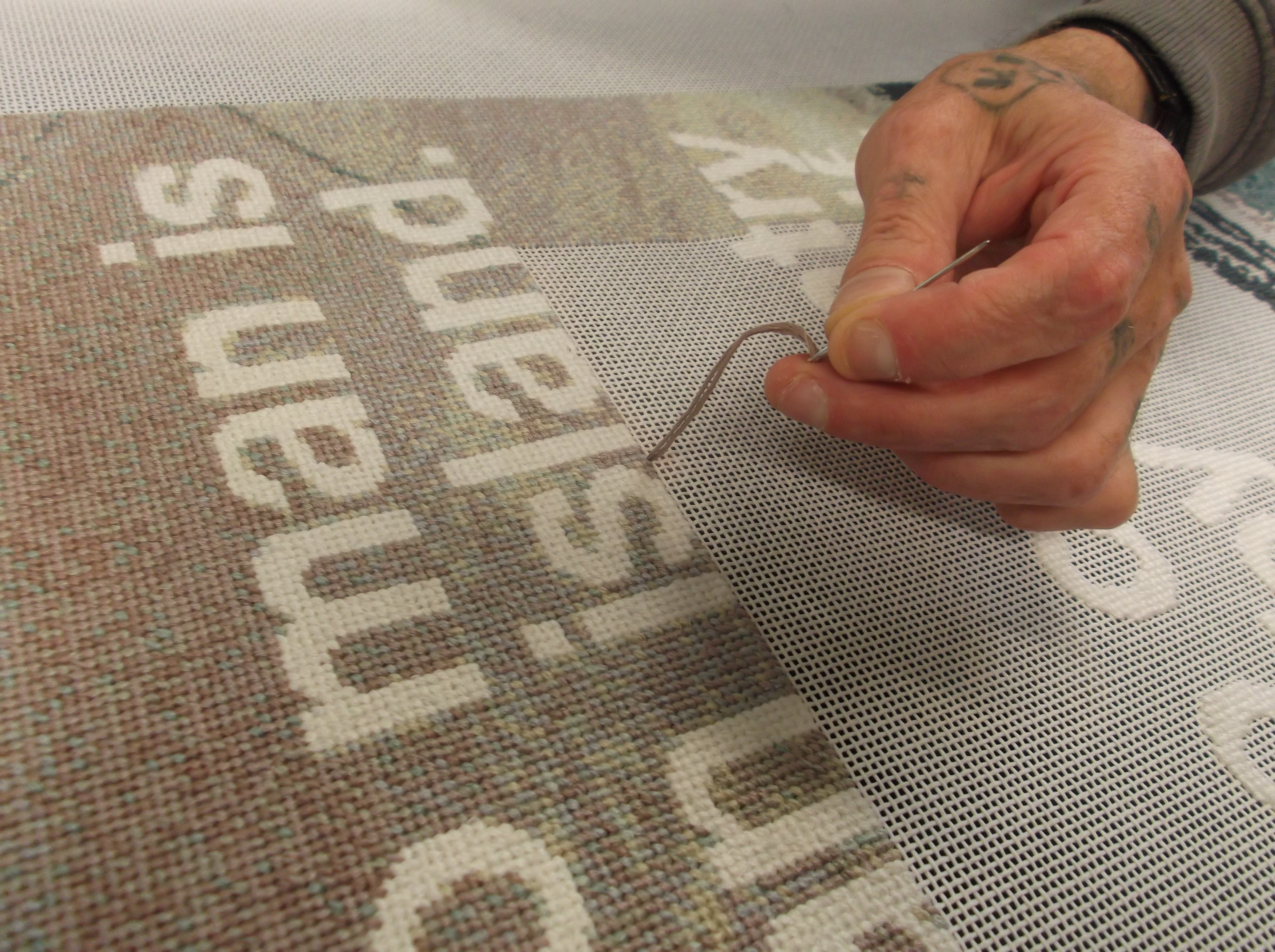 Winnie, a prisoner who helped Morris with the piece, wrote in testimony of working on it that, "Feelings overflow me, and stitching allows me to unload my heart and soul, and help my mind to process my emotions. Stitching is like a workout for mind and soul – and, like after a regular workout, after making art, you feel tired, but happy and healthy!"
Fine Cell Work's mission doesn't stop with just creating the art, however. It also has a program called "Open the Gate" which provides work experience, formal training, and employment opportunities to ex-convicts. Last year alone, Fine Cell Work created over 6,000 works of art in prisons, and 25 former prisoners have worked with Open the Gate after their release. These eight pieces are up for sale in silent auction with Sotheby's in London through Tuesday, March 3.
"It is the best way to express and process feelings for me—whether they are good feelings, like love or inspiration, or sad feelings, like broken heart and loneliness," Winnie continued. "It has allowed me to get through a very bad time of my life and has given me the motivation and determination to look forward to the future and make a difference to life."