The Fantasy Art of Celebrity Perfume
The gallery THNK1994 is staging a whole exhibit devoted to celebrity fragrances.
Why do people buy celebrity fragrance? These days, People want to smell musky and subtle, like sandalwood or amber—or, according to this Bloomberg story, like a slightly better version of themselves. People do not want to smell like drug-store fame. Sometimes famous can smell really nice, though, like in the case of Midnight Fantasy, Britney Spears' blue Swarovski-bedazzled perfume that got a "four-star; excellent" review from the New York Times in 2009.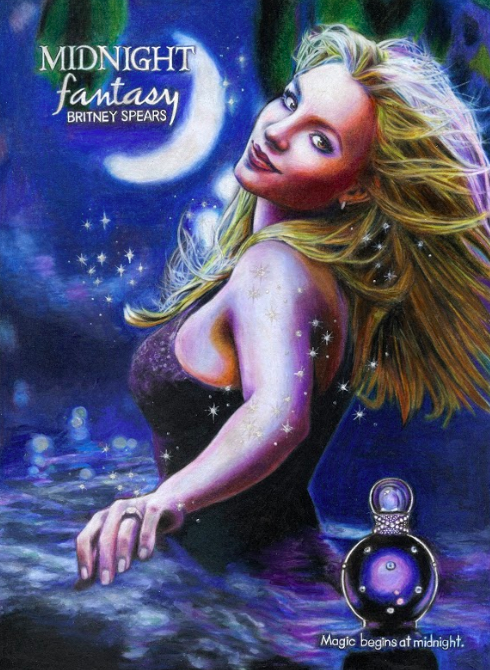 It was during a Fragrantica deep-dive, on the hunt for a knockoff version of Cacharel's discontinued Gloria, that led artist Miriam Carothers to a Kylie Minogue perfume, and subsequently, down a rabbit hole of celebrity fragrances. She partnered with Matt Harkins and Viviana Olen of the gallery THNK1994, who staged the 2016 exhibition 'Olsen Twins Hiding From the Paparazzi' and 2017's 'Real Housewives Pointing Fingers,' to create an exhibit titled 'The Fantasy Art of Celebrity Perfume,' which opens December 28th at 246 E 4th Street in Manhattan (with a New Year's Eve closing party at MeMe's Diner in Brooklyn.)
Carothers has illustrated, in portrait form, the most famous celebrity perfume ads, from Elizabeth Taylor's White Diamonds to Selena Gomez's The Debut Fragrance. The exhibit will feature a giant perfume bottle, a mini makeup counter, and an original box set of each celeb perfume in the show—as well as their dollar-store "Sexy Lady" knockoffs. There will also be a photo shoot station and a "fabulous" floral display. "We wanted to have just a touch of, "Oh, am I in a department store?" Olen says.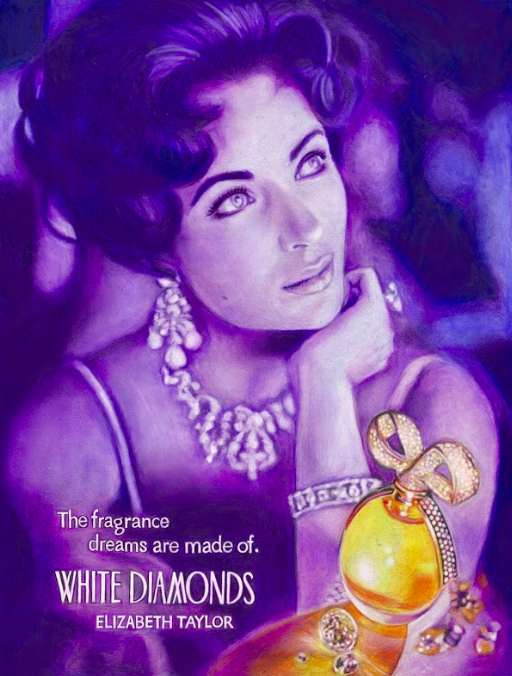 Carothers, along with Harkins and Olen, talked to GARAGE about the smell of fame, how the exhibit came about, and the perfectly marketed appeal of the celebrity fragrance.
What makes someone smell famous?
Olen: I think it's a smell that's mysterious, yet precise.
Harkins: Whatever it is, it's a lot of it.
Olen: If you have a lot of perfume on and you enter the room, you're instantly famous. Because everybody's looking at you. Everybody's thinking about you, talking about you, and they're like, 'Who is that? Who's that girl?'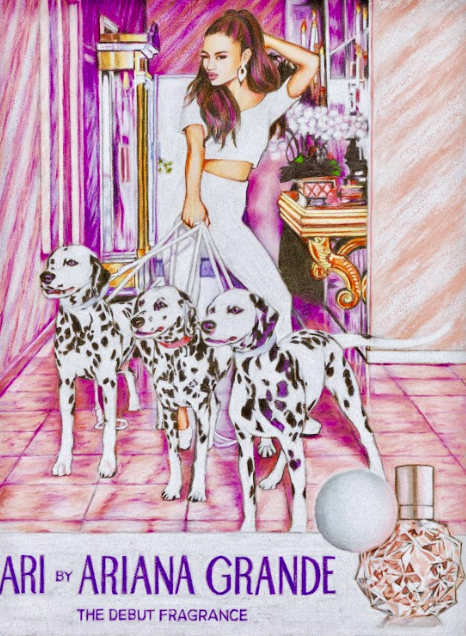 What are the components of an essential celebrity fragrance?
Olen: It's got to work out on the town. With the photo shoot, for drinking champagne, eating caviar on a yacht. It's gotta work for a movie premiere. It's gotta work for a secret meeting with your lover. It's also gotta work at the gym. It's gotta be so diverse. And it just has to work at the most fabulous locales. And then, it's fit for a celebrity.
Carothers: Of all the celeb fragrances I think both Madonna's Truth or Dare from 2012 and Truth or Dare Naked are excellent. You can tell she was thoughtfully involved in them. I'm dying to get my hands on a bottle of Amanda Lepore's perfume, Amanda by Amanda Lepore, but it's like a gajillion dollars on eBay.
Harkins: I think to make it iconic, it has to have a rollout that is well thought out. Britney is great at this. She has complete schemes, designs for the rollout of each, and every scent. There are video ads and a push before it comes out. And then, the name is on the bottle and…
Olen: Always put the name on the bottle. I'm somebody who loves a good theme. I'm from Las Vegas, and the best casinos had the strongest themes. I think that is what has to happen with this story, as well. Elizabeth Taylor is iconic enough that it can be just White Diamonds, because you know she's got the biggest jewelry collection in the world. She was on Larry King with it, she did the costume jewelry. Britney presents like, okay, this is Maui Fantasy. That's like, 'This is what you do when you're a beach girl.' And each one has that story just so compact.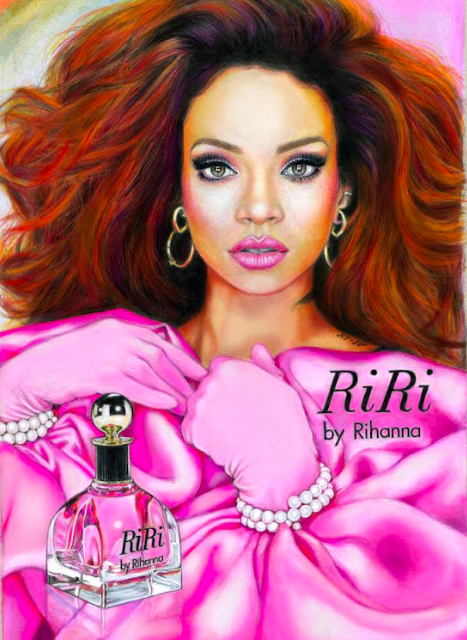 I feel like I've had the most delicious dessert looking at Miriam's illustrations. How did the show come about?
Carothers: I think we're all absurdists, and it's been many successful collaborations since the Nicole Richie BBQ/PopCultureDiedIn2009 show. During these scary years where all the news seems to be such a bummer, THNK1994 fills this need for wacky art shows that make people happy.
Having always loved the fantasy art of Frank Frazetta and basically everyone who's ever contributed to Heavy Metal Magazine, I wanted to try that high contrast illustration/fine art hybrid style on the ultimate fantasy images of celebs and their fragrance ads, which are truly bonkers!
Olen: And it's amazing, her stuff. Each one has 60-plus hours of work go into it. And it's so interesting looking at something that is so hyper-real because I think, for a second, your mind's like, 'Oh, did somebody just put this in a computer, or something?' But then you really take a moment, and you [realize] this is hand-drawn.
Harkins: It's obsessive almost. The quality of how she works, which is so perfect for the show because it's all about these perfumes that are geared toward people who would obsess about each celebrity that's in the ad.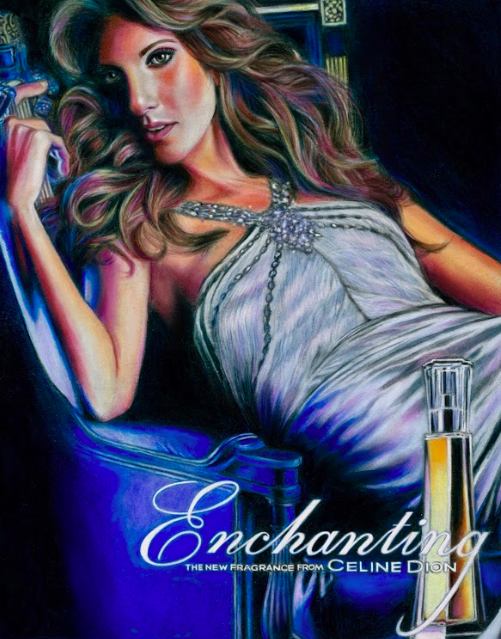 Are the celebrity smells going to be in the air?
Harkins: Oh, absolutely. All the scents that we got are going to be around for people to spray.
Olen: They're dollar store scents, so get ready for that. We are going to open the door occasionally.
"The Fantasy of Celebrity Perfume" is on view December 28-30 at THNK1994, 246 E 4th St, New York, NY 10009.