Paris Match, 1997. © The Helmut Newton Estate / Maconochie Photography
Explore the Dark, Surreal Glamour of Helmut Newton's Monte Carlo
The fashion photographer's images of the capital of Monaco are erotic, precisely composed scenes with a background of urban entropy. Supported by Louis Vuitton.
Paris Match, 1997. © The Helmut Newton Estate / Maconochie Photography
When Helmut Newton left France for Monaco in 1981, he quipped, "I like the sun, and there's none left in Paris." Newton found his beach, although one wouldn't exactly describe his images of women basking in their golden bikinis as "sunny." The photographs he produced in Monaco, late in his career, express a dark psychosexual charge and are set against the backdrop of a city in flux. Patrick Remy offers a skillful curation of these images in Monte Carlo, the latest in Louis Vuitton's Fashion Eye series.
Newton's Monte Carlo scenes seem plucked from a Fellini film or a Sciascia novel: dripping with sex, power, and menace, they evoke a crime drama with the crucial clues withheld. His subjects are either vamping, or prone. A woman with Betty Page bangs, wearing a waist-nipping Thierry Mugler corset poses against a streetlight, a supine male body on the sidewalk behind her; a red-lipped model on her hands and knees scrubs blood off a bathroom's marble floor with Lestoil. A blonde in a plunging red one-piece lounges on an inflatable raft, her arm draped around a blow-up sex doll as if they're old friends; their blunt, vacant expressions are strangely alike. They're framed by a vista of urban Monte Carlo: gray high-rise hotels, construction cranes, yachts with red-and-white flags bobbing in the marina.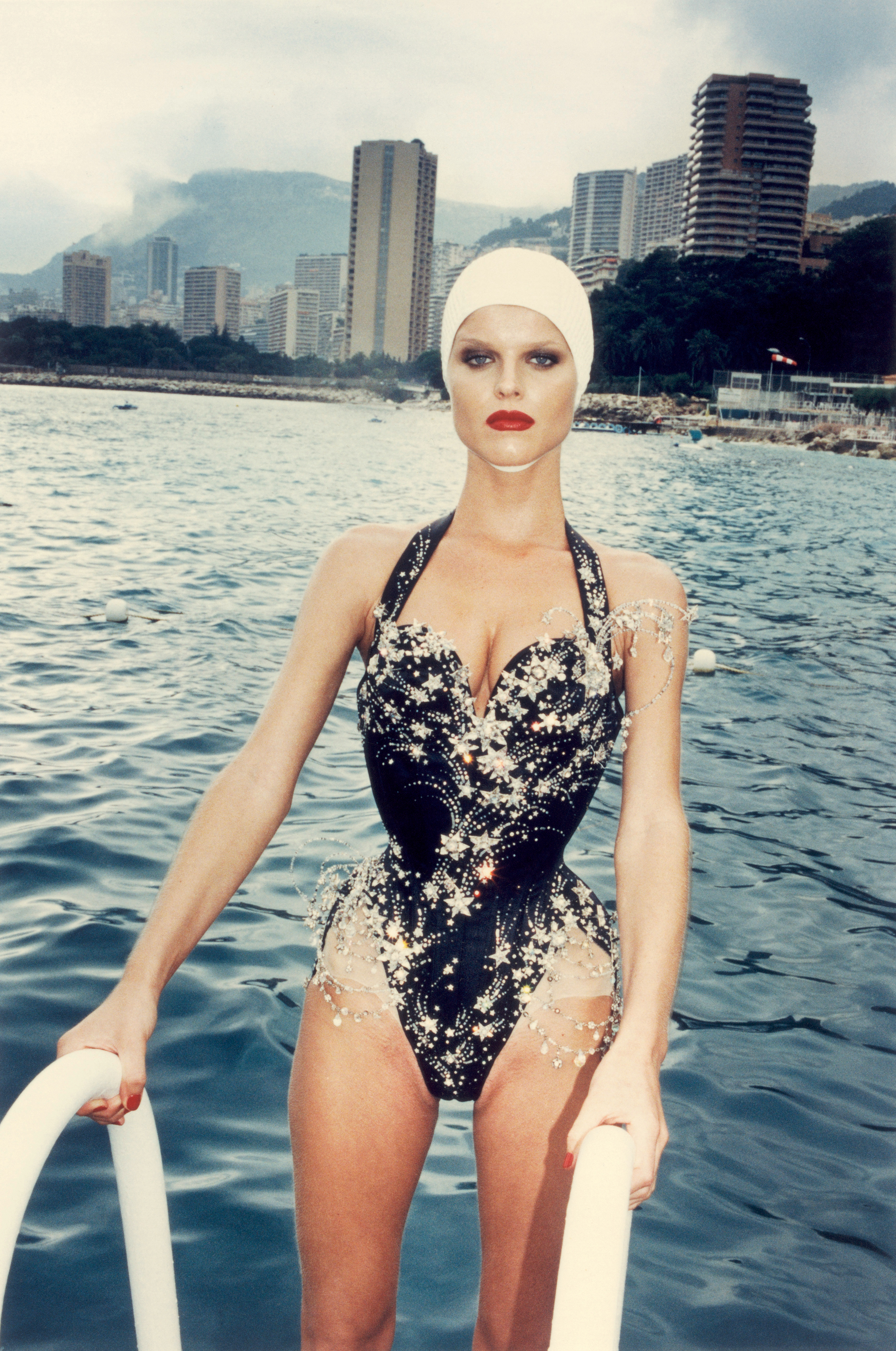 Newton is known for his female nudes, and Remy's broad survey ranges from foreshortened, vulnerable subjects with their faces obscured to assertive figures that stare down the camera. In the first image of the 1990 diptych On my terrace, Monte Carlo (Dressed/Undressed), a model, her curly mane of hair tossed over one shoulder, poses on Newton's balcony clothed in a dark jacket, snakeskin gloves and pumps; in the second image, she only wears the pumps. Her expression is the same in both images: forceful and self-possessed. The collection also contains portraits of David Bowie and Princess Caroline, alongside photographs of startled eels and Monte Carlo at night; one blurry image shows a lit-up and distant boat, a straight, slick trail of moonlight on the water, and the rounded sweep of a highway, cut off by shadow. Moments like this demonstrate the success of Remy's expansive curation: we learn that Newton spares the city the exactitude with which he poses his models, accepting the disarray in its glamour. He found something in Monte Carlo—his "sun," loosely interpreted—that kept him here.