How Rei Kawakubo, Valentino, Kim Jones, and Others See the Color Pink
Pink five different ways, from a new exhibition at the Museum at FIT.
Perhaps no other color has undergone as many transformations in the cultural subconscious as pink. It's been trivial (think "Think Pink"); it's been political (the ubiquitous pussy hats at the 2017 Women's March); it's defined a generation (at least by marketing standards: think Glossier and the omnipresence of millennial pink). In a new exhibition at the Museum at FIT, Pink: The History of a Punk, Pretty, Powerful Color, director and curator Valerie Steele charts the reimagining of pink from the 1800s to today, from a gendered color to an entirely androgynous one. Here, Steele walks us through five pieces from the show, showcasing how pink can be punk, delicate, feminine, masculine, childlike, charismatic, and everything in between.
PINK FOR STRENGTH: REI KAWAKUBO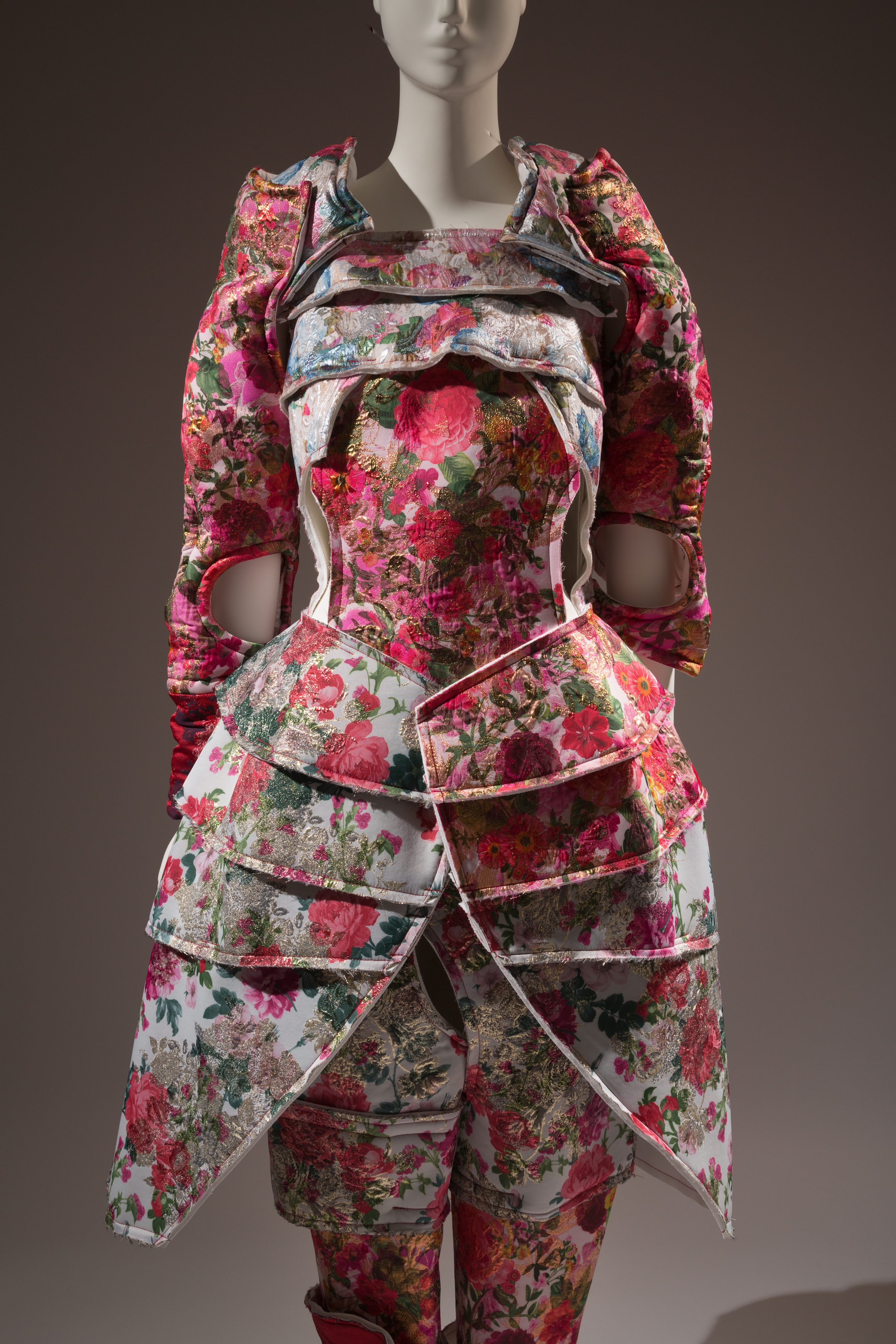 "Rei Kawakubo has been the single most instrumental designer in making pink not just pretty but punk and powerful. Red is the most popular color in Japan, white is the second most popular, and pink is the third. This would be impossible in the West! Pink in Europe is the second least popular color. America is in between; it's not so pinkophillic as Japan, it's not as pinkophobic as western Europe. [But] pink is a big, big part of Japanese girl culture, [which] a lot of Japanese female artists and designers like Rei Kawakubo have been focusing on analyzing. Interestingly, it is one of the only youth subcultures where girls have been the leaders. All the rest—punks, hippies, mods—the men have been the leaders and the girls have been the followers. Here, girls have charted out their look."
PINK FOR GIRLS: MOSCHINO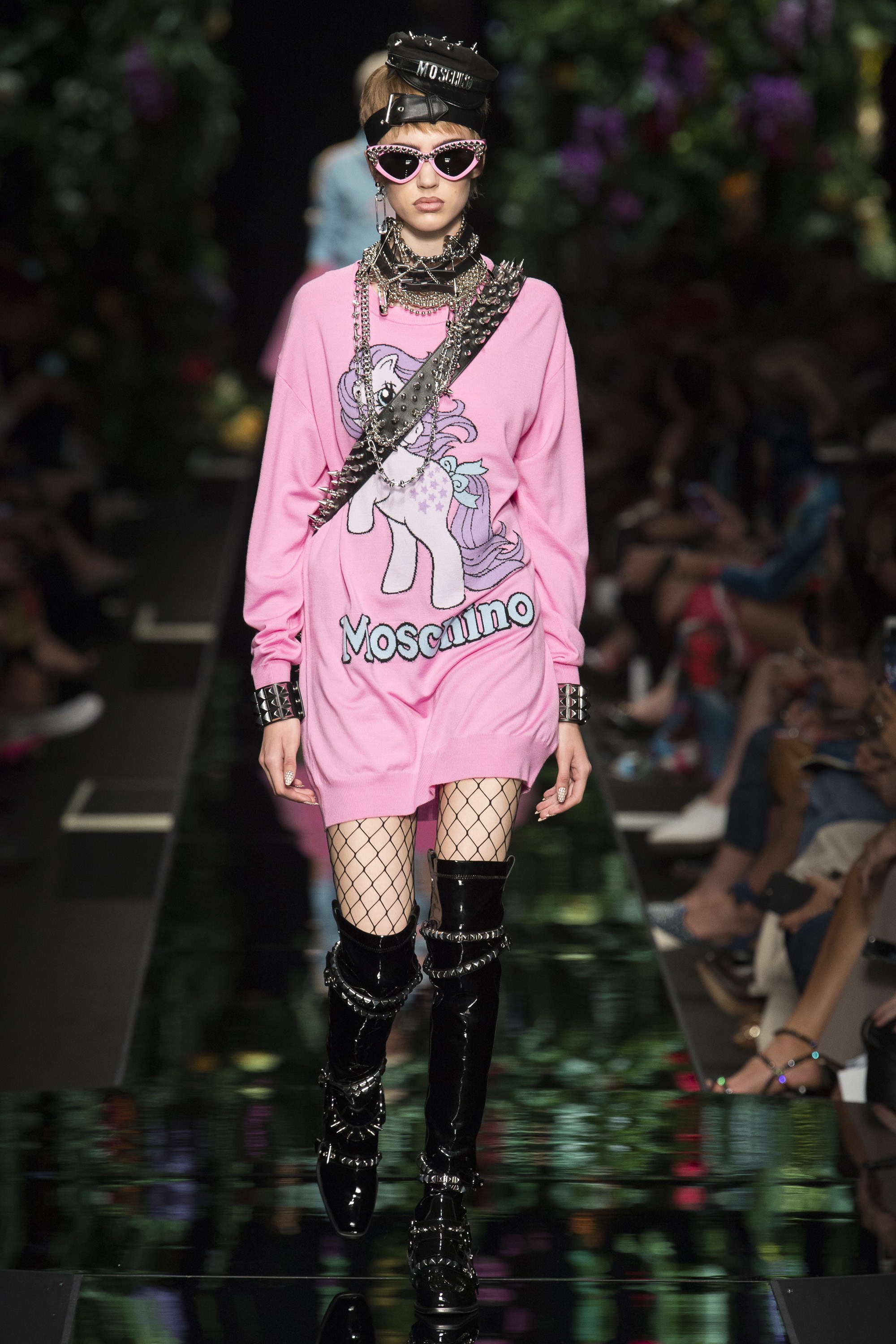 "Whether it's taken ironically or with an actual love of childhood, you've got Jeremy Scott here using My Little Pony pink and Barbie—and then working with Mattel to make a Moschino Barbie. Very interesting with Barbie, because in the first two decades of her career, Barbie was really fashionable. She wore clothes that were completely based on Dior's and Balenciaga's. It's only in the late '70s and '80s when Barbie becomes geared towards younger girls that she becomes pinkified, and when children's toys in general become pinkified—the pinkification of girl culture."
PINK FOR MEN: CHRISTIAN DIOR BY KIM JONES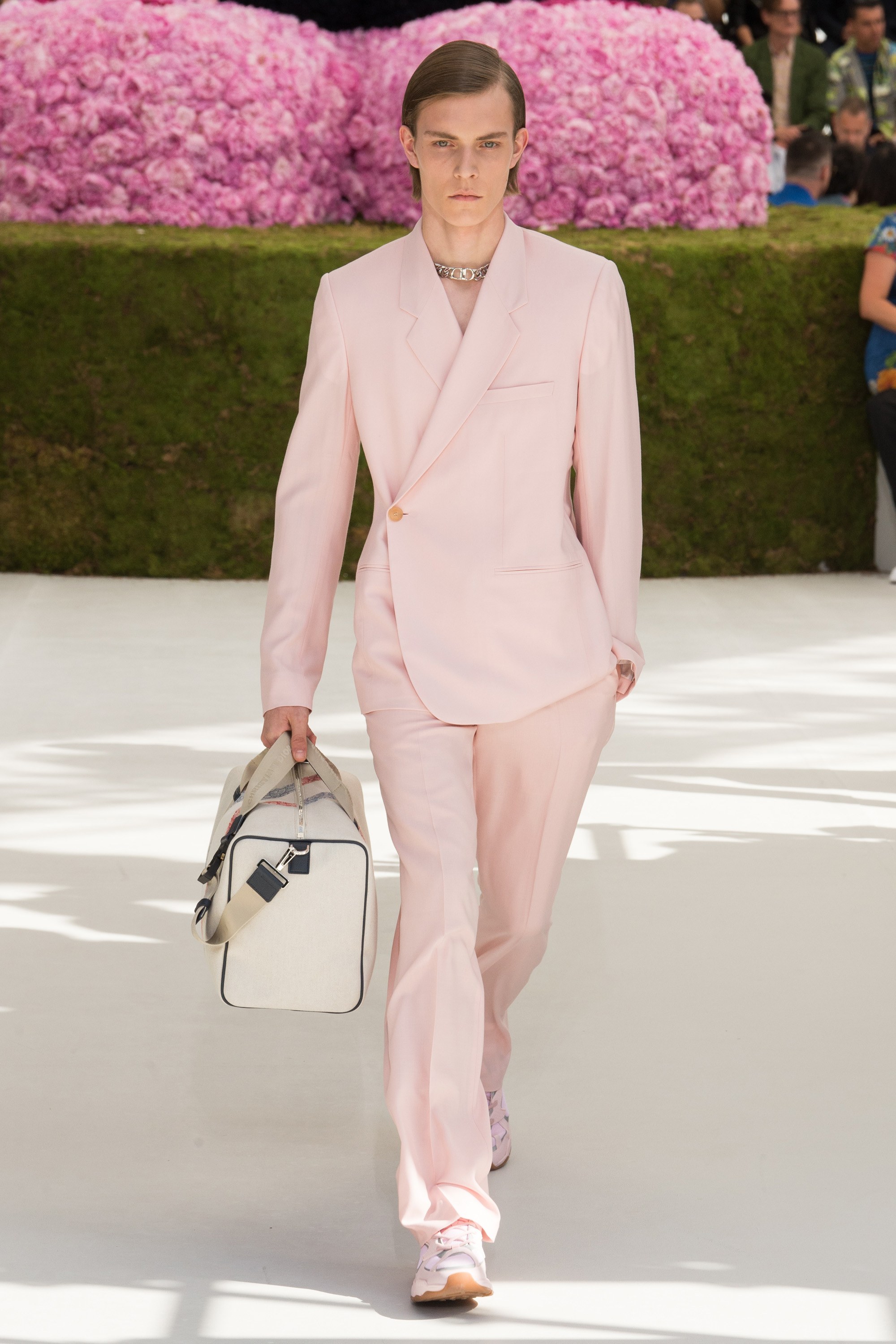 "Just off the couture runway referencing the idea of the Gatsby pink suit. Millennial pink came when a generation of young men and women started questioning all those stereotypes from the '50s and the '80s about pink, and saying: can you have pastels that are strong? Is it possible to change the meaning of a color? The questions people were raising in the last few years about pink and what it meant have changed definitively attitudes towards pink. You can't have so many hip guys wearing pink without the idea rubbing off that it's okay for men to wear pink."
PINK AS PUNK: VALENTINO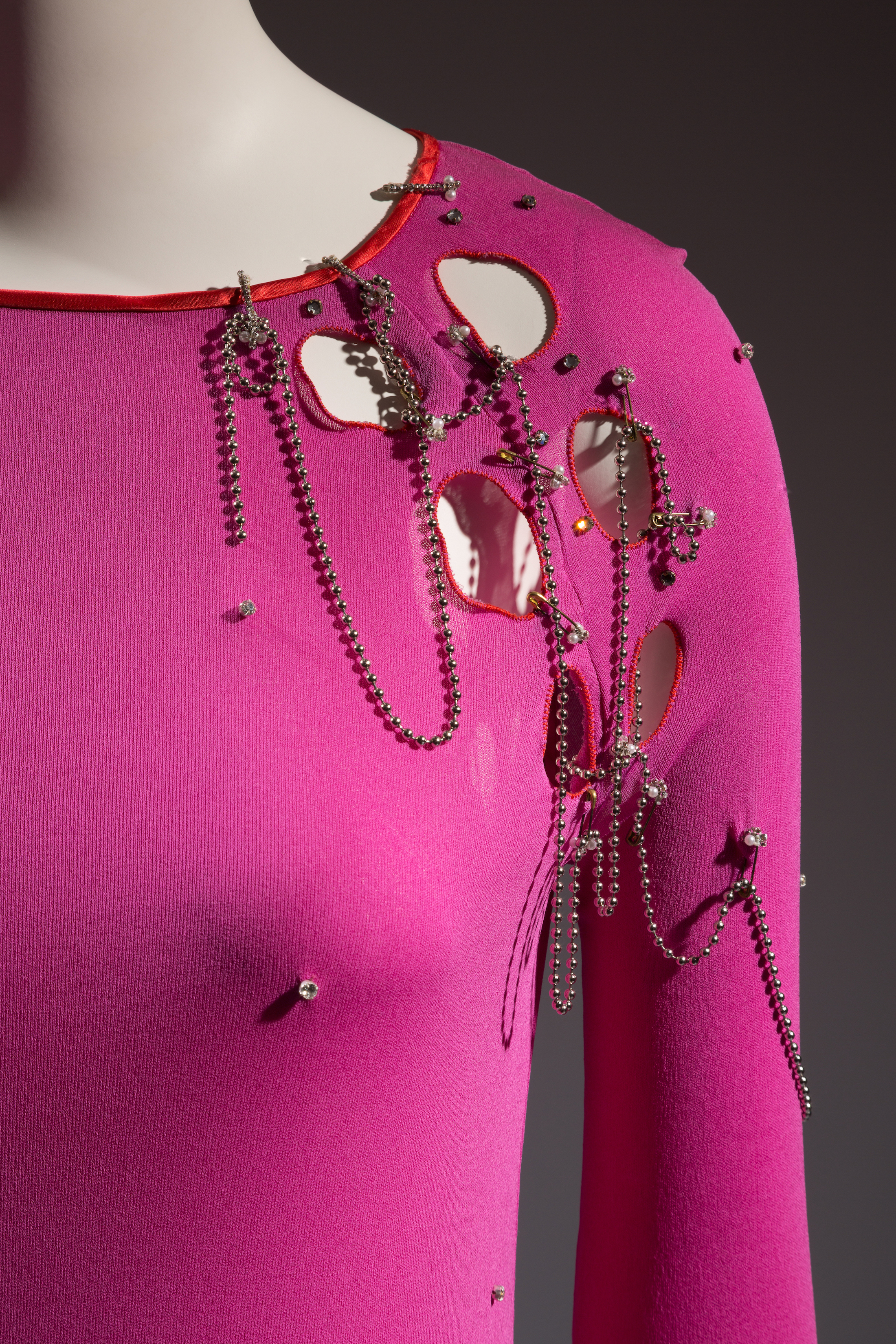 "[Pierpaolo Piccioli at] Valentino has made punk pink one of his themes throughout couture and ready-to-wear. He's talked about how pink is seen as 'soft,' whereas Valentino red is 'powerful,' but he thinks that pink can be powerful as well. Pink was a rock 'n' roll color! If you're on stage, boy will it show up. And in the '70s, you've got fluorescent pink and neon pink, which took off as a club color. That's when it went into punk and post-punk styles [as seen in this 1978 Zandra Rhodes ensemble]. Lots of record covers have bright pink graphics on them."
PINK AS KINK: CHRISTOPHER KANE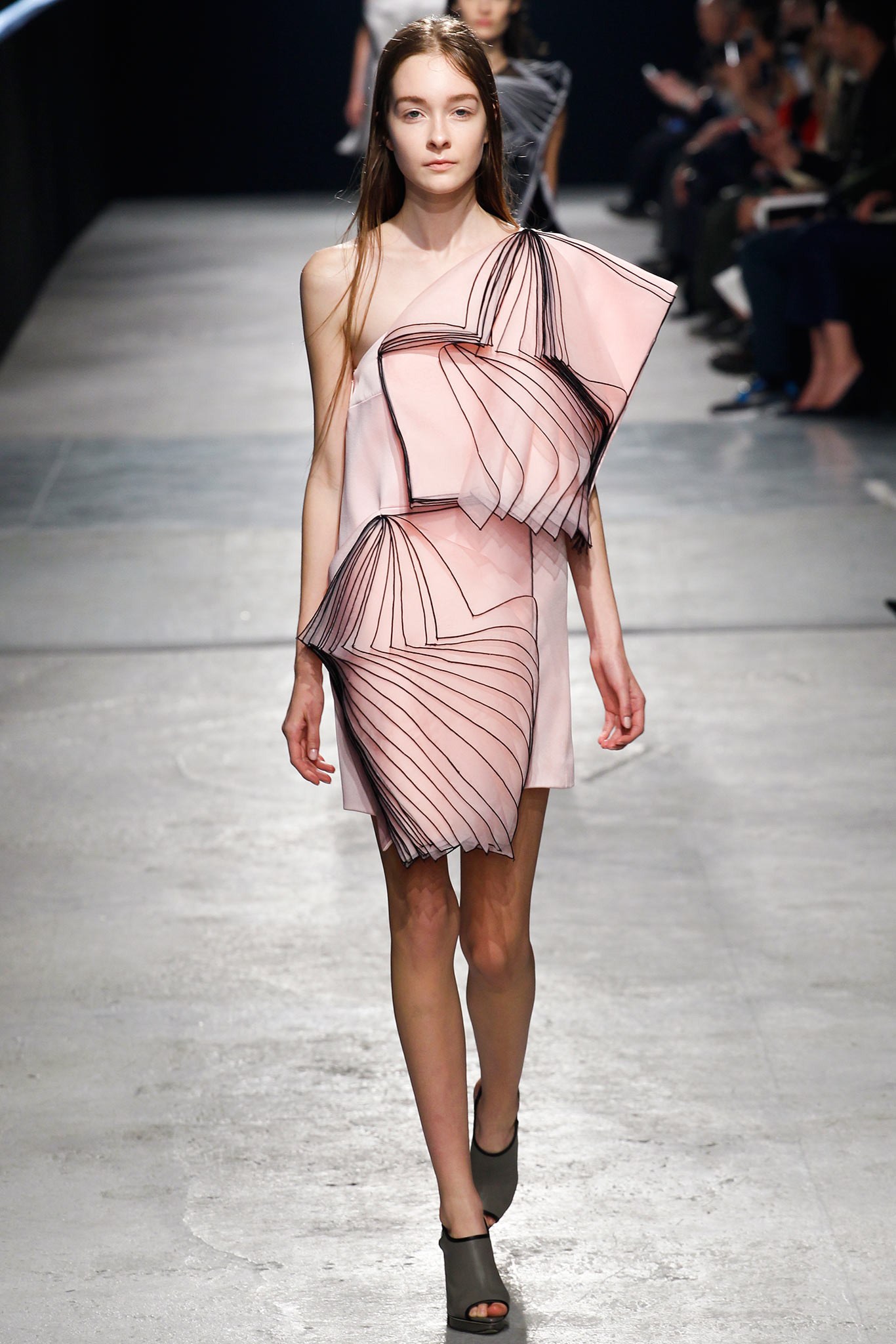 "In 2014, two years before millennial pink was named, you have this very pale, very sheer fabric and then the trim with black, because that pink and black is the fetish-y combination. Black is the number one fetish color, but as pictures of Madonna and her corset show, pink can also be a very strong fetish color. The whole question of what pink means, sure, it can be pretty. But it can also be powerful and punk, cool and androgynous. Millennial pink has faded as a trend but in the process pink has acquired some of the charisma and multifaceted symbolism, of, say, black."