Possessed: Eckhaus Latta at the Whitney Museum. Photo by Carasella Photography/Nick Papanias
Fashion and Art, In Love Forever: A Report from Eckhaus Latta's Whitney Opening
The shoppable exhibition featured bead-fringed skirts, logo citrus bags, and a dimly-lit lair screening live surveillance footage of Eckhaus Latta stores.
Possessed: Eckhaus Latta at the Whitney Museum. Photo by Carasella Photography/Nick Papanias
In the spring of 2005, I watched a crowd storm an H&M in Toronto. We maintained a respectable line until the store's doors opened at 10 AM, then, all at once, we transformed. We became predators and scavengers, ripping zippered skinny jeans from one another's hands, desperate to secure affordable Stella McCartney pieces in our size. In 2005, H&M had only done one designer collaboration before (with Karl Lagerfeld), and this was novel; devotees lining up for limited-edition collections wasn't as common as it's now become. The idea of fans camping outside of Supremes around the world was unfathomable. And in 2005, Mike Eckhaus, Zoe Latta, Gemma Ward, and I all turned 18.

Last night, we were 30. I was at the Whitney Museum of American Art for the opening of Possessed: Eckhaus Latta , the brand's "first solo museum exhibition," according to the institution, but one which lists 21 collaborators, among them stylist Avena Venus Gallagher, graphic designer Eric Wrenn, and artist Martine Syms—not to mention models, like Ward, whose cherubic face graces ads for the show around the city. Thirty is young to have a show in a major art institution—or maybe not. A 68-year-old friend of mine recently suggested that the young people he meets today work devotedly like his generation only started to in their forties. "You can't afford to fuck around," he told me, compassionately.
Unlike other exhibitions in the Whitney, which require an admission fee ranging from $18 to $25, Possessed is free. You don't need to enter the museum's main galleries to see it; the show is located off the main lobby, near the museum restaurant and gift shop. More store than exhibition, Possessed is a place where you can try clothes on and watch people do the same. The items are similar to those from Eckhaus Latta's ready-to-wear line, just extra lavish and precious: denim skirts and pants fringed with strands of beads. Everything wearable is for sale.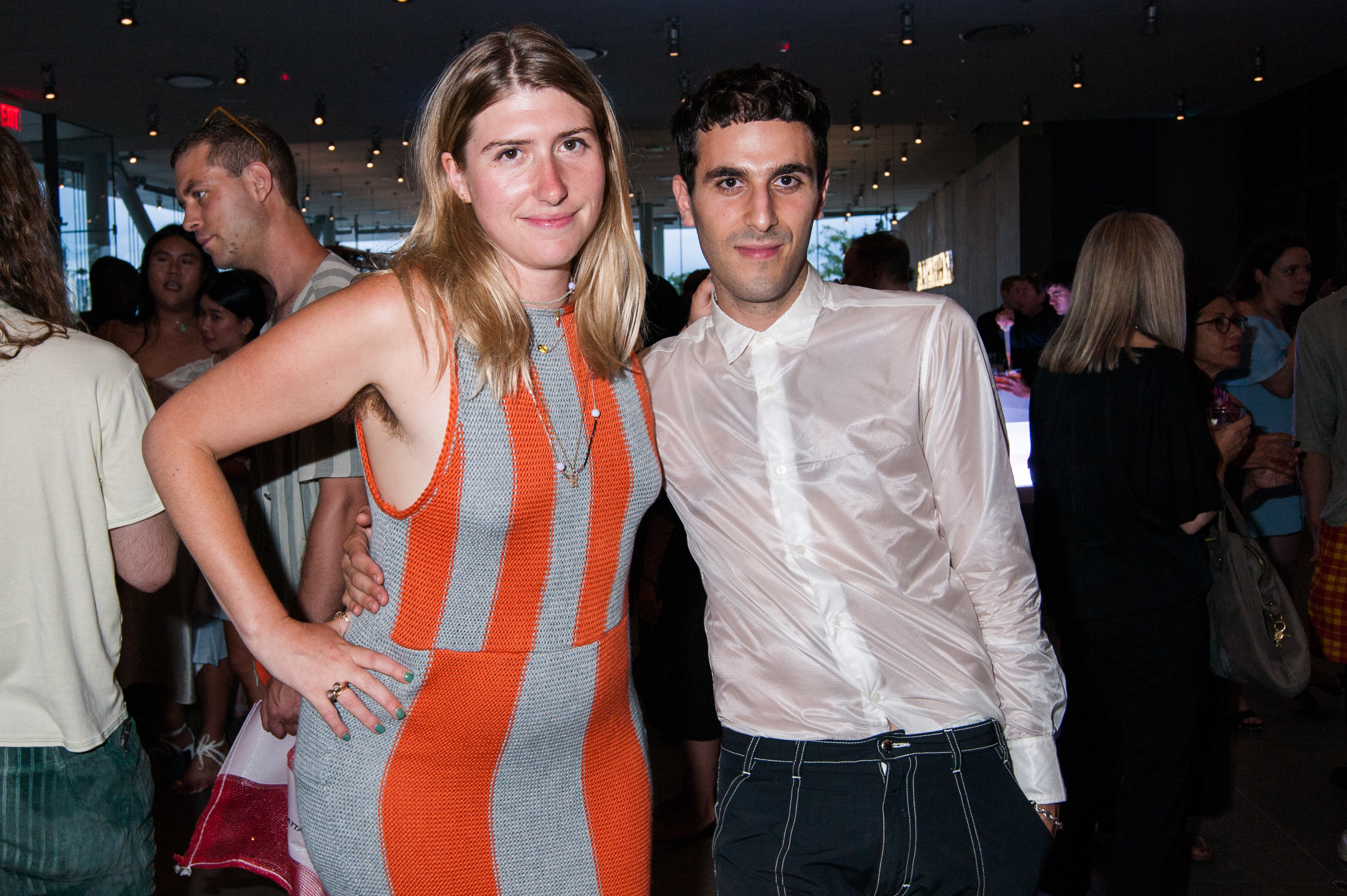 Possessed opens to the general public today. Last night, it premiered exclusively to "influencers"—among them model Paloma Elsesser and party host Dese Escobar—for an hour, then came friends, family, industry members, and press. No one rushed the place like an H&M in 2005, but there was a line and some light frenzy. At least one style sold out. "Limited edition retail," I overheard a young woman say to her partner, "makes people crazy." Shoppers carried red mesh citrus bags emblazoned with "ECKHAUS LATTA." Through their perforations, I saw: green baby tees, sunglasses, plastic knit tanks, and dresses and shirts printed with scribbled-out lists and poems.
Possessed does serve as an exhibition as well as a retail space, with fixtures made by artist friends of the designers. There's a Susan Cianciolo dressing room curtain, an Annabeth Marks clothing rack, and an Amy Yao garbage can. Artist Maggie Lee's favorite piece was Torey Thornton's Benching Hiercharchy Console (EL), a bench made from stacked and bound flat cardboard boxes, with speakers in buckets at one end, a basket containing a power bar and every cell phone charger imaginable at the other.
My favorite piece was an installation by filmmaker Alexa Karolinski: a room fit for a spy movie's supervillain, set up adjacent to the main store. It's dark, with comfy chairs facing a wall of screens that play surveillance footage. From here, you can watch every corner of the Possessed pop-up in real time, as well as a live feed from Eckhaus Latta's retail shop in Los Angeles and other stores that stock the brand. A pair of two-way mirrors are cut into the walls of the lair. Unbeknownst to the shoppers, those inside the darkened room can watch them try on outfits, sunglasses, and jewelry in their solitary self-consciousness.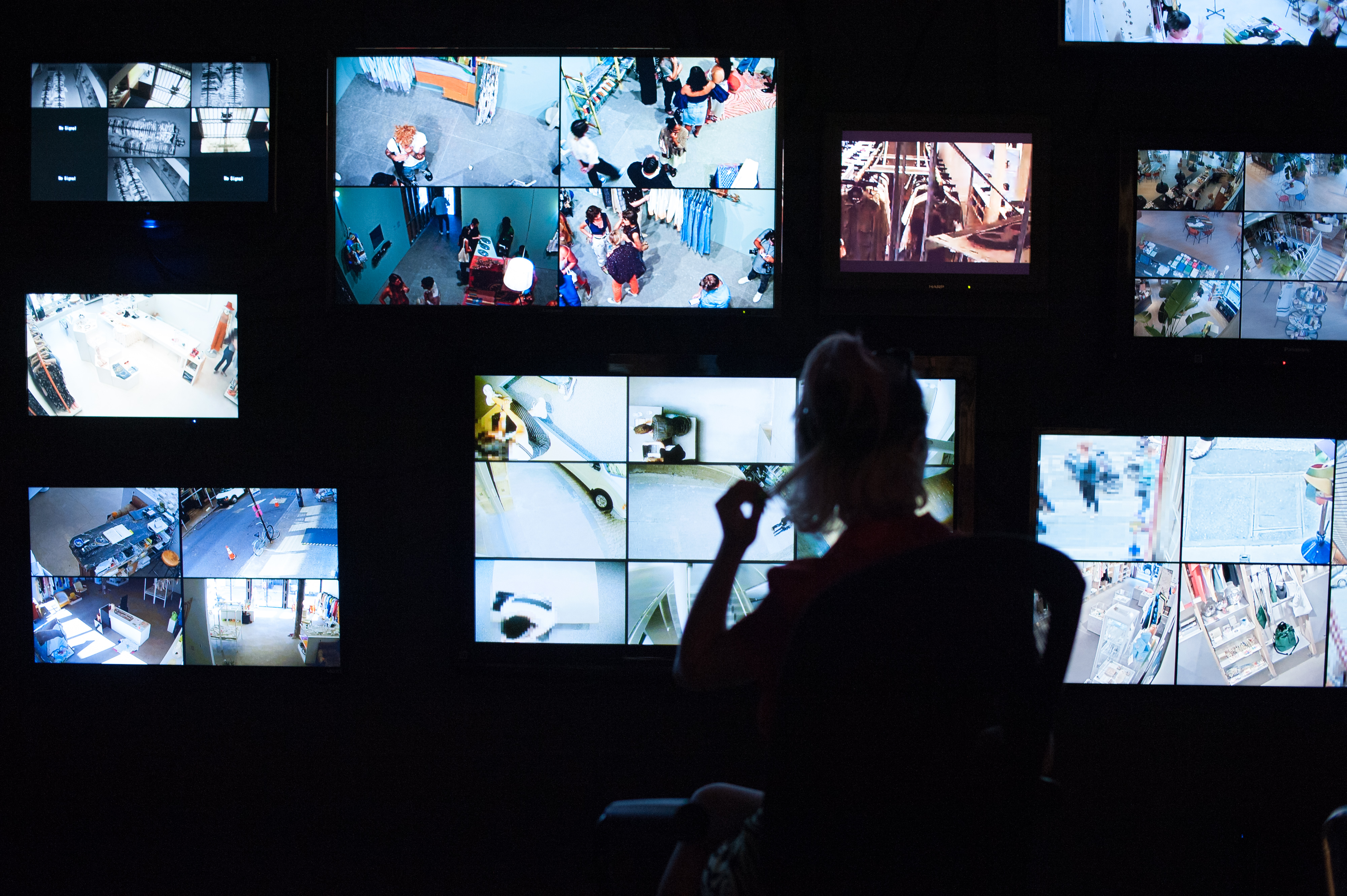 "I feel like I'm appraising people more than I'm appraising art at this thing," a curator friend and recent transplant to New York told me midway through the opening. She was sipping a cocktail by Arley Marks, prepared with a squirt of red juice from a turkey baster. "I'm always disappointed by openings," she continued.

Maybe it would've been different had Gemma Ward been present. Ward was the angelic face of high fashion when Eckhaus, Latta, and I were teens; that was when I first fell for the fashion industry. It felt both nostalgic and aspirational to have Ward as Possessed's cover girl, especially since Eckhaus and Latta most often work with non-model models: friends, family, and fellow artists. Latta told me that getting Ward "was a pretty intuitive decision." She and Eckhaus made a "shortlist of iconic girls" to work with, "and Gemma was interested. We were honored." (Twice, I overheard attendees confide that Ward was absent due to an eye infection.)
I was honored to speak, near the end of the evening, with Latta's mother and father, Martha and Jay. Martha was a nurse, now retired, and Jay is a goldsmith; he collaborates with the brand on their jewelry. They live in California. I asked Martha what she saw in Eckhaus Latta that might be rooted in her daughter's upbringing. She replied, "Love—there was always a lot of love."
On my way home from the museum, I received an email from my mom—in her classic style, it just contained link to the review of Possessed in The New York Times. "Who Wore It Better: Art or Commerce?" the piece asked, with familiar suspicion about its mix of fine art and fashion. It occurred to me that—in the same way that caring for someone makes their potential flaws our favorite things about them—love can equalize oppositions. Whether its object is someone or something, art or fashion, love makes sense of the contradiction.