Sylvie Fleury, "Solar Exposure," 2017. Photograph courtesy of Salon 94.
Do I Have a Tom Ford Lipstick Fetish? On Artist Sylvie Fleury's "Eye Shadows"
Am I unhealthily obsessed with painting my face? Are haul photos making me high? Am I assigning value and meaning to bronzer based on its shiny black package?
Sylvie Fleury, "Solar Exposure," 2017. Photograph courtesy of Salon 94.
It doesn't make much noise, when you drive a hulking Buick Skylark over a pile of makeup. The plastic cases crack, the pigments shatter into dust, and everything crunches like a mouthful of Fritos.
That was the plot of artist Sylvie Fleury's "Drastic Makeup," a wacky performance and video from 2007, but she's been playing with cosmetics, shoes, vintage American cars since the 90s. I guess you can't say "playing with" when you're talking about art because people pay so much money for it, but it did have an element of play to it, or maybe that's more of an element of fucking with you.
This week marks the opening of her latest exhibit, Eye Shadows, at Salon 94 in New York. No cars, but oversized compacts made of painted canvas stretched over wood, with names like "We and Wild (Green)" and "Gold Concealer." They're not labeled with a designer logo, though some r/MakeupAddiction members might be reminded of a certain Chanel-shaped container. But that's beside the point. The little indentation for a brush is missing, too, transforming the product into an art object—an abstraction of vibrant, gold-flecked colors.
Wearing a chunky Christopher Kane cardigan that sprouted electric green threads, Fleury ordered an overpriced omelet in the lobby of the Mercer Hotel. Jaden Smith paced back and forth nearby. Fleury told me that she hopes those who view Eye Shadows will get "the feeling of satisfaction without having to consume" —from all of her art, really. "It doesn't mean you'll be on a permanent orgasm," she laughed, but perhaps you'll get the same jolt of pleasure and energy and dopamine you get from shopping, without the credit card debt. (Unless you're buying a piece, I guess, in which case: huh.) "My whole work is about this. It is fascinating and disturbing."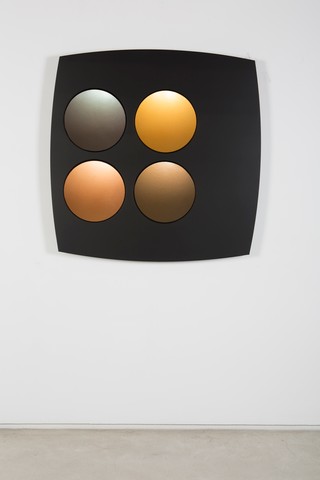 That body of work has included a shopping bag series that created a buzz in the early 90s, for which she went shopping, then plopped the bags, filled with merch, on the gallery floor, and sold them to collectors for $5,000 a pop. "There was a rumor saying when you bought one of these pieces, you'd get far more than [you paid for, because of] the contents that were in it," she laughed.
It was called C'est La Vie, taken from a crimson Christian Lacroix bag that catches your eye. The bags (and contents) were deliberately chosen for color, size, and reference to other art. "It means that every time I go shopping I consider it working!" she joked.
"I do look at things differently when I'm shopping for a piece. The outside is important. I will go to a place that has a bag that interests me for one reason or another, whether it's the design or trendiness or evocations, color, size...So there is a real composition there. Once I know which bag I need, I will look for things that will make a reference to something that has to do with art." She mentioned a striped pattern that reminded her of Buren, YSL's Mondrian pieces. She made a series of wooden boxes with Slim Fast logos that were inspired by Warhol's Brillo box.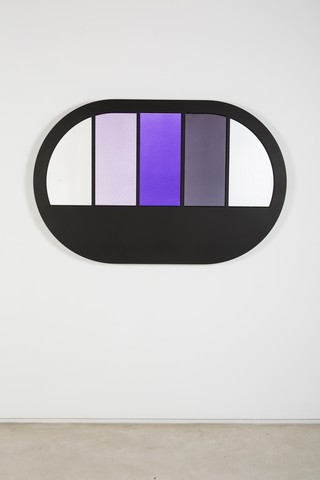 When the fashion world (designers, magazines, ad campaigns) began nodding at the art world, she turned around and did the same. In 1995, taking inspiration from Jeff Koons, Fleury put three pairs of beautiful translucent Karl Lagerfeld boots in a fish tank with ultraviolet glowing blue light. It was called "Platinum." "And when he saw this piece he bought it right away," she said.
In some of her earlier works with cosmetics, she was ahead of her time, by which I mean, ahead of the internet. Take her piece "Happy Clinique," mixed media prints of makeup smears, all in a row. It immediately reminds me of swatches—the lineup of all the shades of a new lipstick collection (or whatever), usually marked on someone's arm. Makeup communities on Reddit (and online in general) trade swatches like selfies, yet the photograph of all the colors is itself an abstract self-painting.
"I'd photograph [the application of] a color on the skin or on a piece of paper to test the color, and then enlarge the photograph," she said, but she was using old digital cameras, so they haven't aged well in this hi-res era. "But I like this too, in a way; it's like my VHS videos. It's not always a bad thing that things age," she laughed.
Similarly her shopping bags series predates haul photos, another online beauty world trope, in which a user updates a photo of everything she bought at Sephora. Throw all the words at it: consumerism, fetishism, whatever. "They're doing my work!" exclaimed Fleury when I told her about haul photos and unboxing videos. "Amazing."
You might still be thinking about how good of a name Happy Clinique is. It's funny! Fleury uses the "poetry" from magazines, slogans, and product names often. "That's a process I've been utilizing over the years," she said, "This way of looking at something and bringing it into a different context. Then suddenly people see it differently. Like a perfume's name. Eternity Now—it's a good name—but recently I was lucky enough that the Bass Museum in Miami bought this piece. If you put 'Eternity Now' on a beautiful art deco building, in the middle of Miami Beach, it takes a whole new [meaning]."
If you blow up a makeup compact, something usually stowed away in the pockets of a purse, to bring viewers face to face with it, they'll begin to see something beyond the pigments. Am I unhealthily obsessed with painting my face? Or maybe I'm not appreciating how much beauty exists within the product itself? Are haul photos making me high? Do I have a Tom Ford lipstick fetish? Am I assigning value and meaning to bronzer based on its shiny black package? Do the round symmetrical shapes of the palettes signify some perfection I'll never attain?
"That's what I'm really interested in," said Fleury, "this mixing of things."