Photograph by Jeff Henrikson.
Toyin Ojih Odutola Imagines A World In Which Slavery Never Happened
Toyin Ojih Odutola's new drawings ask us to imagine a parallel universe in which the past 600 years have an alternate history. GARAGE talked to the artist and Rujeko Hockley and Melinda Lang, co-curators of her dazzling new show at the Whitney.
Photograph by Jeff Henrikson.
With To Wander Determined, her current solo exhibition at the Whitney Museum, Toyin Ojih Odutola asks us to imagine a world just different enough from the one we live in to be a little uncanny and tremendously revealing, in which black people haven't been held back by centuries of slavery, colonialism, and their myriad consequences.
In a first-floor space at the museum, Ojih Odutola shows seventeen large pastel, charcoal, and pencil works on paper, depicting members of a sprawling family of Nigerian landowners, posing in their opulent surroundings and in the open air, their poses and settings tantalizingly familiar to anyone who has flipped through an art history textbook. Ojih Odutola's wall text in the gallery provides the history of this clan and explains that the works on view have been loaned from their collection.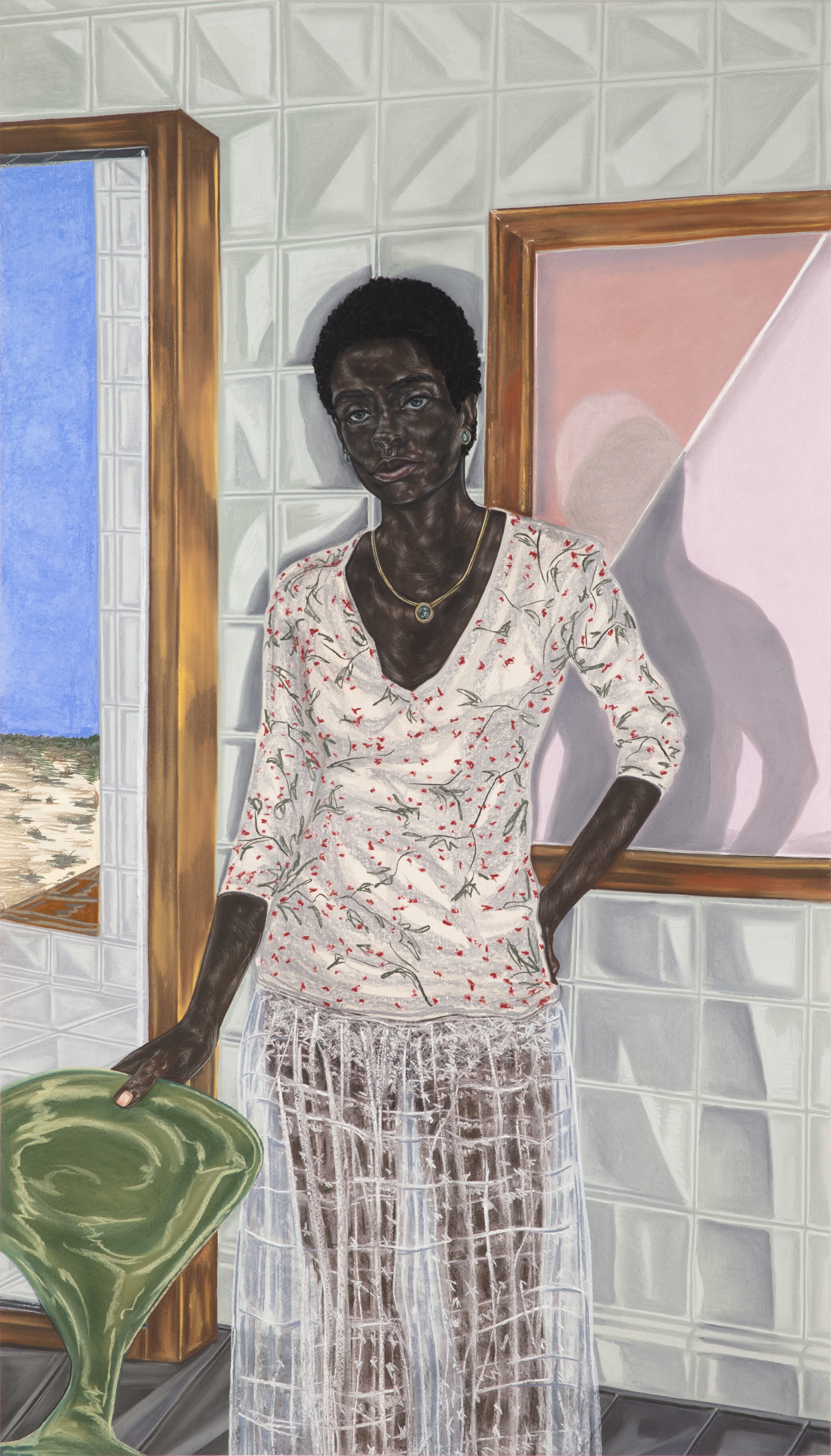 This is a show of "what ifs": the family is fictional, another branch of those in her solo exhibition, A Matter of Fact, shown last year at San Francisco's Museum of the African Diaspora. The characters have been carefully drawn, both conceptually and literally. Nuances of their skin tones, their postures, their clothing and accouterments, their surroundings are exceedingly well thought out, says Rujeko Hockley, co-curator of the show.
For Ojih Odutola, the wealth of the family is a necessary condition of this imaginative exercise. "I hope people walk out of that not thinking so much that this is a fiction, but that this family very well could have been real—if not for the 600 years where there wasn't a choice . . . " she says. "I wanted to show a family that exists in a parallel universe of some kind where there was never the interference of colonialism or of slavery. And that is a fiction. I wanted to explore that in terms of historically oppressed people: how would it look, if for one second we could suspend this history and could think, 'oh, of course there would be a landed gentry Nigerian family who would lend their collections to a museum . . . .'"
"I want to show people 'this could have been. Do you understand what we have lost?' This fiction is revealing what we've lost. For that time in the exhibition, we can suspend reality for a minute and get lost in the possibility that we could have had this. Not just black people could have had this, but the world could have had this."
For Hockley, this act of joining Ojih Odutola in her thought experiment has deeply political implications. "What does it mean for an artist to imagine different places, different stories, different types of being in the world, people who look differently than we expect them (in terms of skin color, self-fashioning in terms of dress and style, gender identification)," she explains. "None of these things are a given. Can we do what artists do, can we see what Toyin is doing, this imaginative exercise—can that give us license to also be imaginative, to be expansive in how we think about people, how we categorize people, how we understand different parts of the world, how we understand everything?"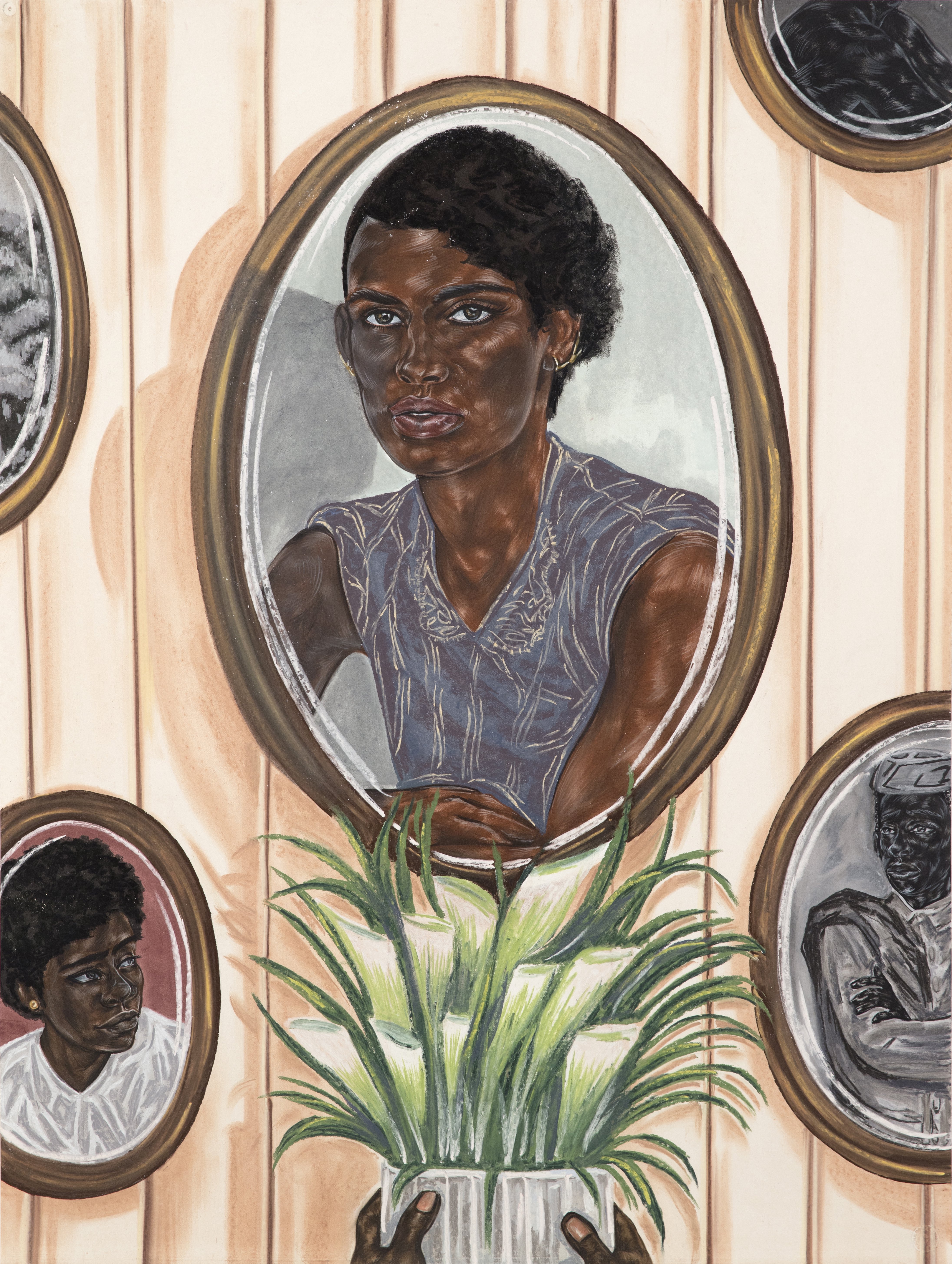 The 32-year old painter, Nigerian-born, Alabama-raised and New York-based, boasts collectors including Solange, MoMA, and the Whitney, and her work has appeared on Empire; she has shown work both at Jack Shainman Gallery in New York and at museums and galleries elsewhere since graduating from California College for the Arts in 2012. In this and in A Matter of Fact, Ojih Odutola breaks with what had become her "signature": ballpoint pen drawings, in which blackness was conceived not only as a racial marker but also as a formal one: in these earlier works, white skin—in drawing, usually indicated by the absence of mark making, as untouched paper—becomes a visual presence, shown as an intricate, modeled and mottled, highly varied accumulation of ink.
Her turn now to pastel and charcoal offers new challenges. Co-curator Melinda Lang explains that the artist's almost encyclopedic knowledge of the history of art and interest in pop culture allows her to find solutions to the technical challenges she sets for herself— some of which are very traditional (deriving from 18th-century European pastels, for example), while others are totally new. The approach "gives the drawings a sort of composite quality that is very interesting," says Lang.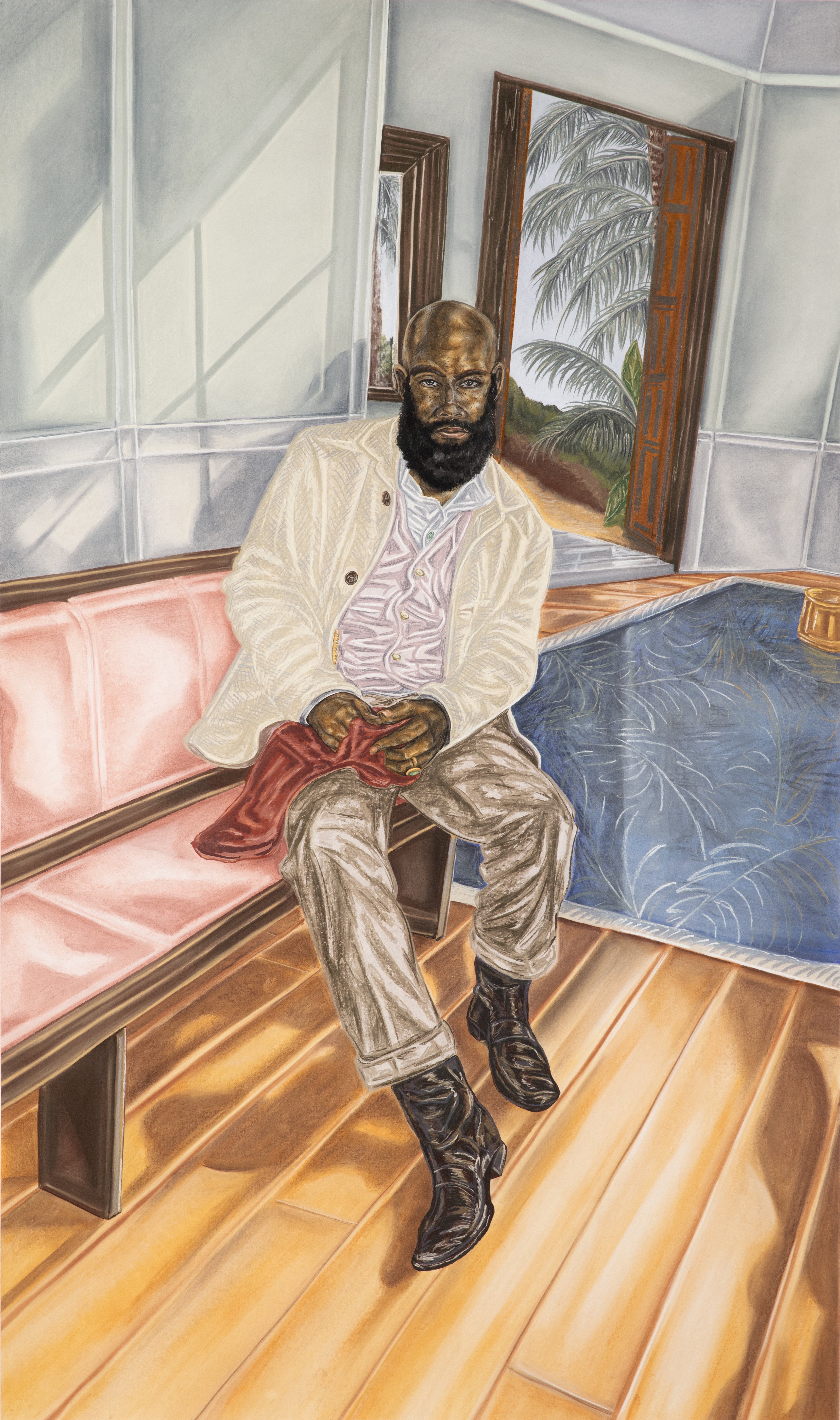 In searching for ways to convey the notions and choice for her fictional family, Ojih Odutola hit upon the idea of movement in space. "I wanted to show historically oppressed bodies in control not only of themselves but in control to the impetus to travel, of their need to exist in the world and not be in control of anything else but themselves. The only thing I knew could cut to the heart of that was Manifest Destiny, so there's a lot of Manifest Destiny-like, Hudson River School situations going on in these works."
In my conversation with the artist, I point out that whenever she speaks of how she imagines her work, she is (quite refreshingly) imagining a black audience. She concurs: "I always had my vision coming from a place of FUBU [for us by us], and from that expanding to everyone else. It's awesome and really beautiful if someone who has no idea what it's like to be black in the world walks into the show and connects with it, but I hope that when they're walking through they understand that this show is an exception. When black folks walk into the show, they know that already. The text helps to broaden it to a wider audience. When you enter that room, you are entering a world. It doesn't remove the capacity for imagination to flourish. But it definitely sets the tone for whoever walks in there to say 'this is what it would have been like if people had choice.'"
"I think sometimes there's an inability for people to assign or attribute fiction or imagination to artists of color," says Hockley. "We're comfortable with documentary tradition, social realism, or—frankly, very often—sad stories from artists of color. We assume perfect veracity and facticity; we don't assume a capacity for play or for imagination or for speculation. Toyin is an artist who is creative and thoughtful who is always thinking about, reading, imagining a million things at any one time," she contiunes. "Why would you want to limit that imagination? Especially when it comes to race, which is, quite literally, a fiction."
Toyin Ojih Odutola: To Wander Determined is on view at the Whitney Museum of American Art, New York, through February 25, 2018.