Photo by Jessica Craig-Martin.
The Art of Dying
Cynthia Talmadge's recent series of paintings, "1076 Madison," held its reception at Frank E. Campbell Funeral Chapel.
Photo by Jessica Craig-Martin.
Sylvia Plath said dying is an art like any other. What would she have made, then, of the scene at Frank E. Campbell Funeral Chapel on a very still Madison Avenue evening last week, when dying and art mingled at a tasteful reception, which included finger sandwiches and miniature cheesecakes?
The occasion was happily meta-conceptual — the exhibition opening as wake: a two-night show of Cynthia Talmadge's recent series of paintings, "1076 Madison," painstakingly detailed, near-obsessive pointillist depictions of the Campbell brownstone's exterior in all seasons, as though it were the Rouen Cathedral after Monet, returned to haunt another artist's waking and unwaking hours. Talmadge's visions begin and end with the building's facade, sun-bleached or suspended behind a static scrim of snow or slipping into a spectral pocket of dusk. The shape of the goings on inside remain a mystery, not unlike what transpires after we die, or as we live, for that matter.
Like Zitomer Pharmacy and the Viand diner, Frank E. Campbell is one of the stolid grand dames of Upper East Side daily life, unflashy yet possessed of a serene, moneyed entrenchment. Campbell has been in the undertaking business on the Upper East Side since 1898. It's a stocky memento mori among Madison Avenue's luxury temples, a skip away from the Metropolitan Museum of Art and a few blocks up from a Sant Ambroeus. It enjoys the adjacency — its client list reads like a tip sheet from a Vanity Fair publicist's fever dream: Stravinsky, Aaliyah, Jacqueline Onassis, Biggie Smalls, Joans Crawford and Rivers, Heath Ledger, Leona Helmsley, and Glenn O'Brien have all been memorialized there. The tagline, in urgent italics on its sidewalk canopy, is "The Funeral Chapel," as if to acknowledge its standing as the premier final portal of much of the last hundred-odd years of New York's cultural life.

Like any Upper East Side society matron worth her off-season cold-storage, the chapel is not gauche about status, for the most part. In 1962, while staging the funeral for Rudolph Valentino, Campbell surreptitiously tipped off the paparazzi. The ensuing scene involved the police. Surely flattered by its latest turn in the spotlight, the chapel invited Talmadge to bring her paintings uptown, giving them a frisson of the camp (an advertisement created in-house billed Campbell's continuing "commitment to support culture, music, and the arts," which if you accept commiting artists to the earth as supporting their work, then yes).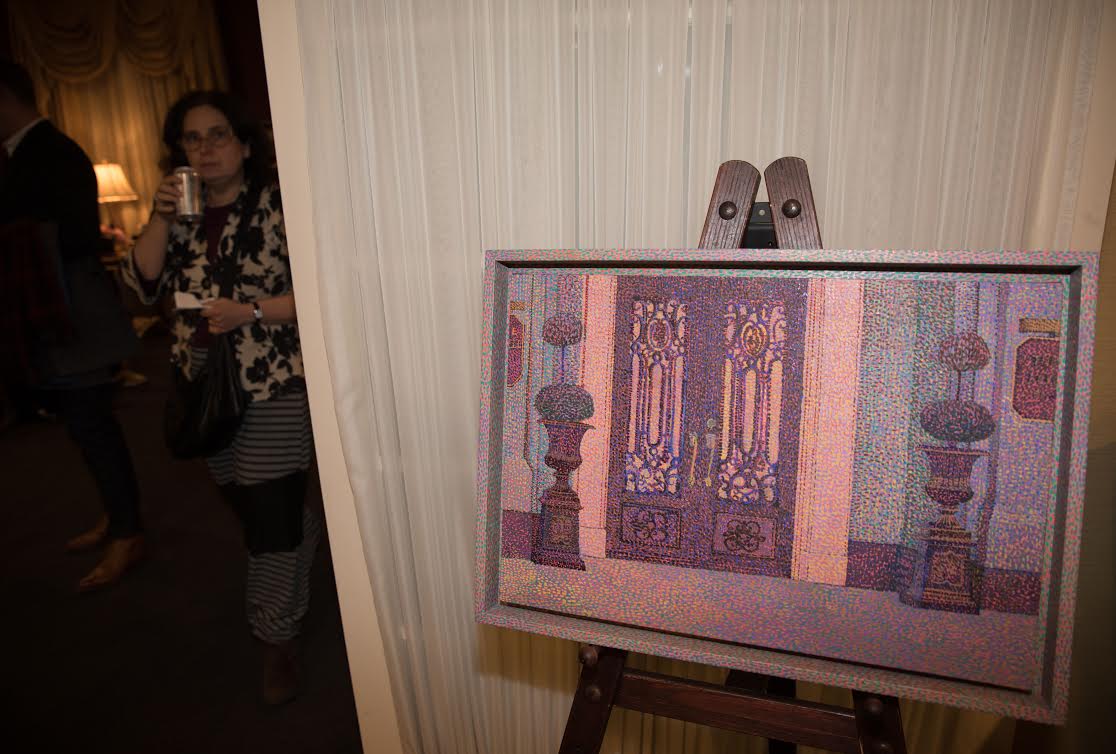 When "1076 Madison" was originally shown downtown at 56 Henry last year, Talmadge outfitted the small gallery with wainscotting and pile carpeting in jaundiced greens and grays to approximate Campbell's fusty interiors. The effect was surreal, Campbell's tony appointments brought downtown to pinched Chinatown proportions. Returned to the object of their devotion last week, the body, as it were, still warm, there was an element of psychic homecoming, and cosmic transference. A visitor, clearly overcome with emotion, asked her companion, "do you realize we're inside the paintings?"
Those paintings sat on easels around Campbell's "Presidential Suite," whose adjoining rooms of overstuffed couches offered a far more palatial berth than their previous staging. The embalming tang was more authentic, too, and the generous spread gave the whole thing the cast of a lively shiva. How many of us wonder what it would be like to be present at our own funeral? It was a cognitive glitch compounded by a table set up with Talmadge's recent press, including a magazine spread with a full-page portrait stood open, which was probably eerier than they meant it to be.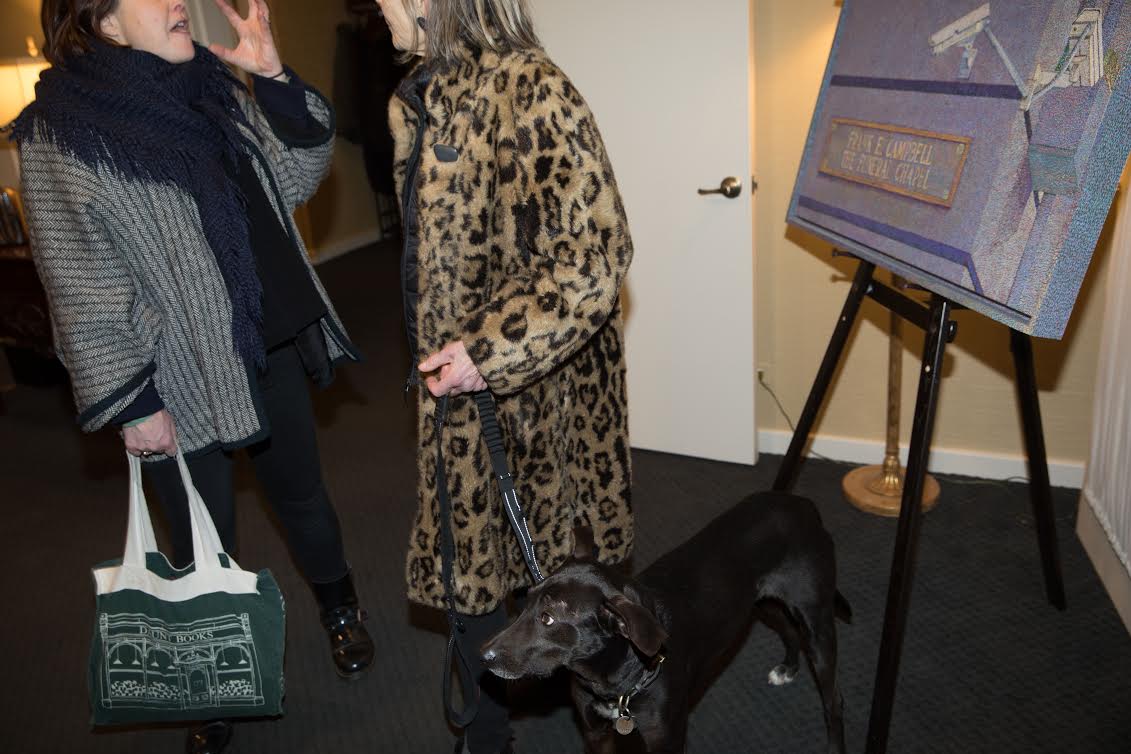 Talmadge was born in New York City but grew up elsewhere, so her choice in subject matter isn't weighted by sentimentality. Rather she locates in Campbell our tendency to ascribe the architecture of loss with the sites of its occurrence, and our insistence on giving that loss meaning through the trappings of status and opulent exclusivity. One painting is a close-cropped view of the twinned security cameras that crane from the brownstone's corner, a reminder that death is no excuse to drop the facade. That's doubly true in the rarefied precinct in which Talmadge sets her scene, in which money and celebrity hover uneasily overhead like ghosts, and the act of looking is inextricable from the upkeep of appearances. Your funeral is, after all, the last place you'll be caught dead.