Presenting: The Most Fashionable Marxist Alive!
Rainer Granahl hosts an evening dedicated tothe fallacy of aestheticizing Marxism in fashion
On a Thursday late last year, I was invited to an evening of talks and performances with 57-year-old Austrian-American artist Rainer Ganahl at the headquarters—once an art advisory, now a publishing house of books and editions—of renowned collectors Thea Westreich Wagner and Ethan Wagner, above the Louis Vuitton store in SoHo. The occasion was the launch of a new monograph by Ganahl, Manhattan Marxism, published by the duo's imprint Westreich Wagner.
In part, I attended the event because Westreich Wagner is a legendary tastemaker and patron of the arts (and I wanted to catch a glimpse of her intimidatingly chic stature in hosting mode. What would she wear?!). Then there was the program, which included "an operative presentation" entitled MARX PUNK, and Strange Teaching, "a standing sculpture to be not noticed for about 15 min," per the event program.
Manhattan Marxism, edited by Rachel Corbett, contains writings by Ganahl and others from the past decade, contextualizing its publication 10 years after the global financial crisis and 200 years after Marx's birth. Corbett insisted it is not, in fact, "a Marxist book," but a study of matters like "the fast fashion phenomenon…filtered though the lens of Marxism."
When I arrived, MARX PUNK was already underway, with two opera performers trilling lines like: "Tinder Marx—fuck yourself / Grindr Marx—fly SpaceX" and "Q: Marx language / A: Marx speaks Chinese / Q: Marx Africa for sale / A: Alibaba Marx / Q: Snake head dress for $5,100 / A: Gucci Marx"—with apparently no prescribed melodies.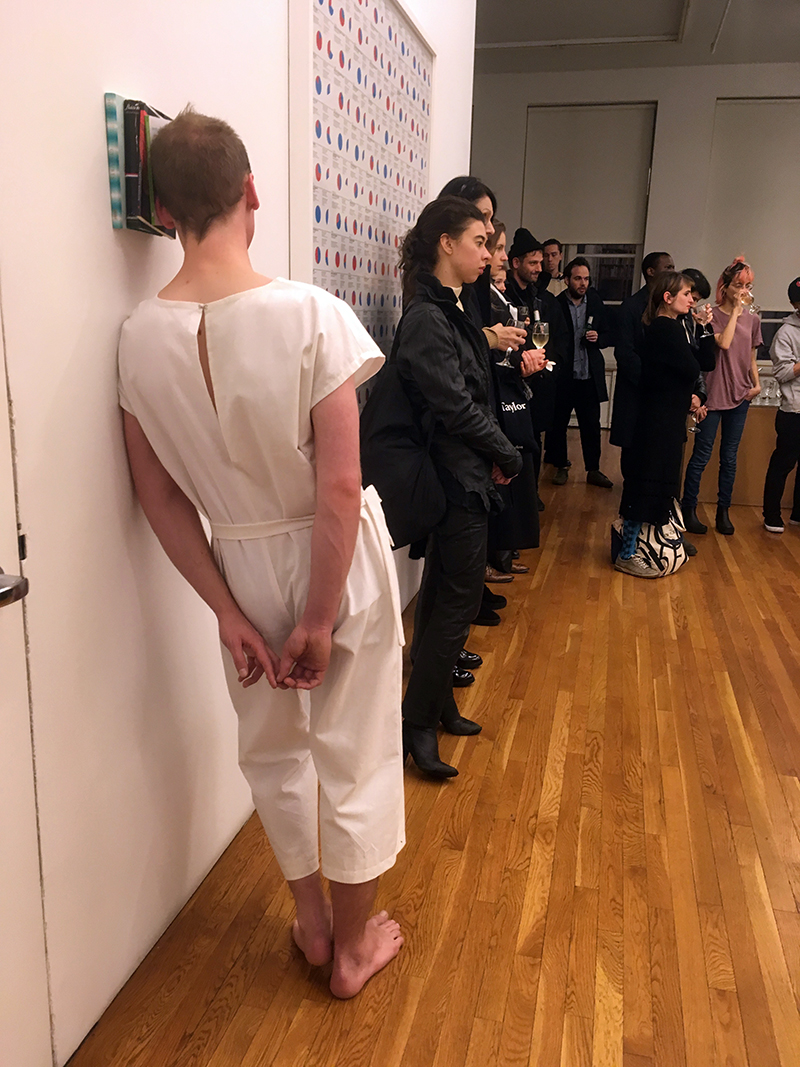 Three young people stood silent and barefoot at edges of the lofty room, donning white, neo-Buddhist straightjacket-type outfits with constricting accessories that required them to either press a stack of novels against a wall with the side of their head, bend one leg against the other calf, or fold an arm to encircle the head. These were the sculptures I was meant to not notice, obviously.
Pinned to the stage's front wall was a printed silk Hermès scarf—not unlike one I've been lusting after on the RealReal—with the words "HERMÈS MARX" screen printed over its center, surrounded by yellow vests, the sartorial symbol of this year's French populist protest movement for economic justice.
Standing beside the performers was a man in a distinctly so-deep-in-the-art-world-no-one-can-check-me outfit: thick, plastic-rimmed orange sunglasses, silk Hermès neck scarf, T-shirt, and a navy double-breasted suit patterned with a gray cross-hatching pattern of text that read, alternately, "Please, teach me Chinese" and "Please, teach me Italian" in various languages. He was moving around with his Android phone up, documenting the opera and the audience erratically, performing an almost Chaplinesque caricature of Established Artist. He was Rainer Ganahl, obviously.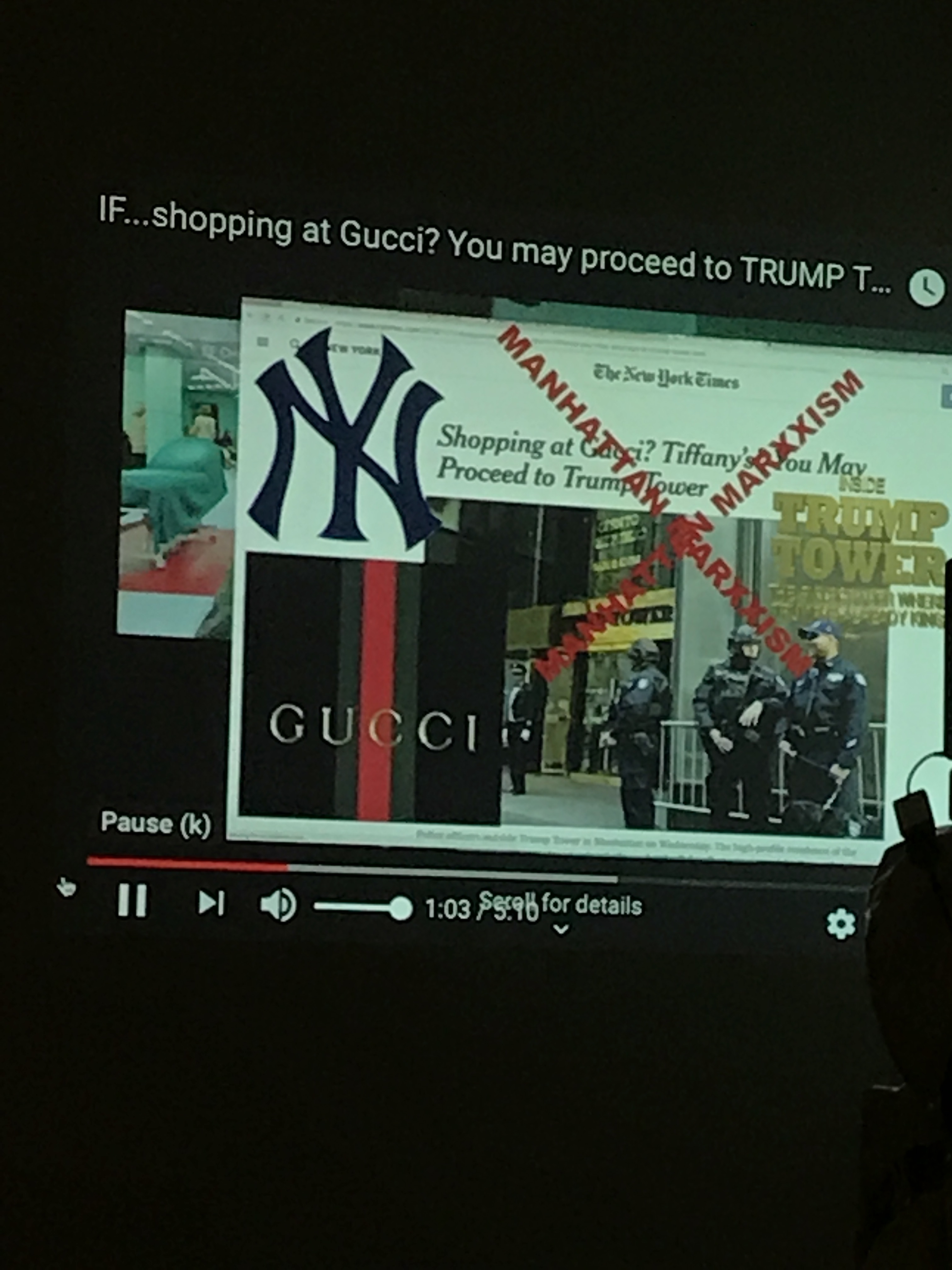 Slabs of cardboard on the floor lay on the floor displaying stacks of Ganahl's books and editions beside two Gucci accessories—a backpack and fanny pack, beneath hand-scrawled signs that read "UBU TRUMP, $6.66" and "COMME DES MARXISM 5$⁵." As the performance stretched on for nearly 30 minutes and Ganahl continued with his cinematography, I couldn't help but giggle, despite the devastating fact that Westreich Wagner had already departed and we were out of wine because half of it had been accidentally frozen.
After it ended, Ganahl talked about the performance while the audience in the back chatted amongst themselves, not at all listening, which didn't seem to bother him. He explained that he had designed this suit as part of a project commissioned by the Italian city of Prato, once the capital of the luxury textile industry and manufacturing source for brands like Gucci and Prada, now home to the largest concentration of Chinese immigrants in Europe and a hub for fast fashion manufacturing and illegal labor practices. The Italian government had commissioned Ganahl and Yoko Ono to create public art projects that might help bridge the hostile sociocultural divides between Chinese immigrants and Italian natives in what has become an extremely contentious and crime-driven city. Ganahl designed the multilingual textiles in line with his preoccupation with learning foreign languages and his belief that knowledge begets understanding and unity. Despite the artist's best intentions, however, the suit's very presence on his body demonstrated a litigious victory against the textile manufacturers who had soured on their deal and withheld his custom suiting for some time.
Then came my favorite part. Mr. Ganahl climbed up a ladder to project a video from his precariously balanced laptop that he filmed outside of the Gucci store beneath Trump Tower. He expressed something like outrage that the LCD screen behind the mannequins in the Gucci flagship's window display featured chopped up segments of Lindsay Anderson's 1968 film If..., an über-violent social satire about anarchy at a British boarding school. He decried the juxtaposition between the film's central imagery of kids with guns (which Gucci cut out! Shady!); Trump Tower; the gaudy feedback loop of Gucci's luxuriously ebullient appropriation habits; the street vendors selling fakes on the curb in front; and Gucci security trying to prevent him from filming the window. Why couldn't I stop laughing??

Ganahl's whole presentation seemed to be about the fallacy of aestheticizing Marxism in fashion, but it landed like an endlessly wandering doggerel of unfinished thoughts tracing blind contours around global politics and fashion. The dots between Prato, Gucci, Chinese manufacturing, Trump, Anarchy, Meaning, Meaninglessness and Mistrust were laid out, but perhaps the most compelling aspect of this Boomer-with-millennial-preoccupations' act was his inability to express what it is about Gucci (among other major brands) that feels overwhelmingly immoral at the same time as enticing. In what felt like a dandy pratfall of a Marxist critique the artist essentially provided comic relief, intentional or not, of our powerlessness in the face of the fashion industry's political messaging.