Martine wears necklace and earrings by BULGARI.
Martine Gutierrez's Self-Portraits Make the Old New Again
The artist explores media, pop culture, and spirituality in a new series exclusively for GARAGE's Issue 16.
Martine wears necklace and earrings by BULGARI.
Twenty-nine-year-old, New York–based artist Martine Gutierrez's supernatural self-portraits look like snapshots from another world we already know. Take one black-and-white photograph, Body En Thrall, p113 from Indigenous Woman, from her 2018 series Indigenous Woman. Gutierrez rises from a swimming pool in a white blouse, her wet hands at the feet of a man in polished leather shoes, the look on her face an indiscernible combination of desire, disgust, and fear. Perhaps it's an homage to Herb Ritts' work for Vogue, or a still from an occult horror film unfolding somewhere unknown. This is her work—a transfixion of symbolism drawn across time and compiled into something seamlessly familiar. Old, but also new.
Her body of self-portraiture possesses a quality of transcendence. There's a spirituality that exists in her images, whether she's lying next to a life-sized silicone doll buried in a bush of full, round flowers, or modeling a high-cut pink bob beside a bust of a man splattered with paint. Gutierrez speaks the language of editorial fashion, while enriching that space with totems of the culture from which fashion pulls (and sometimes sucks the soul).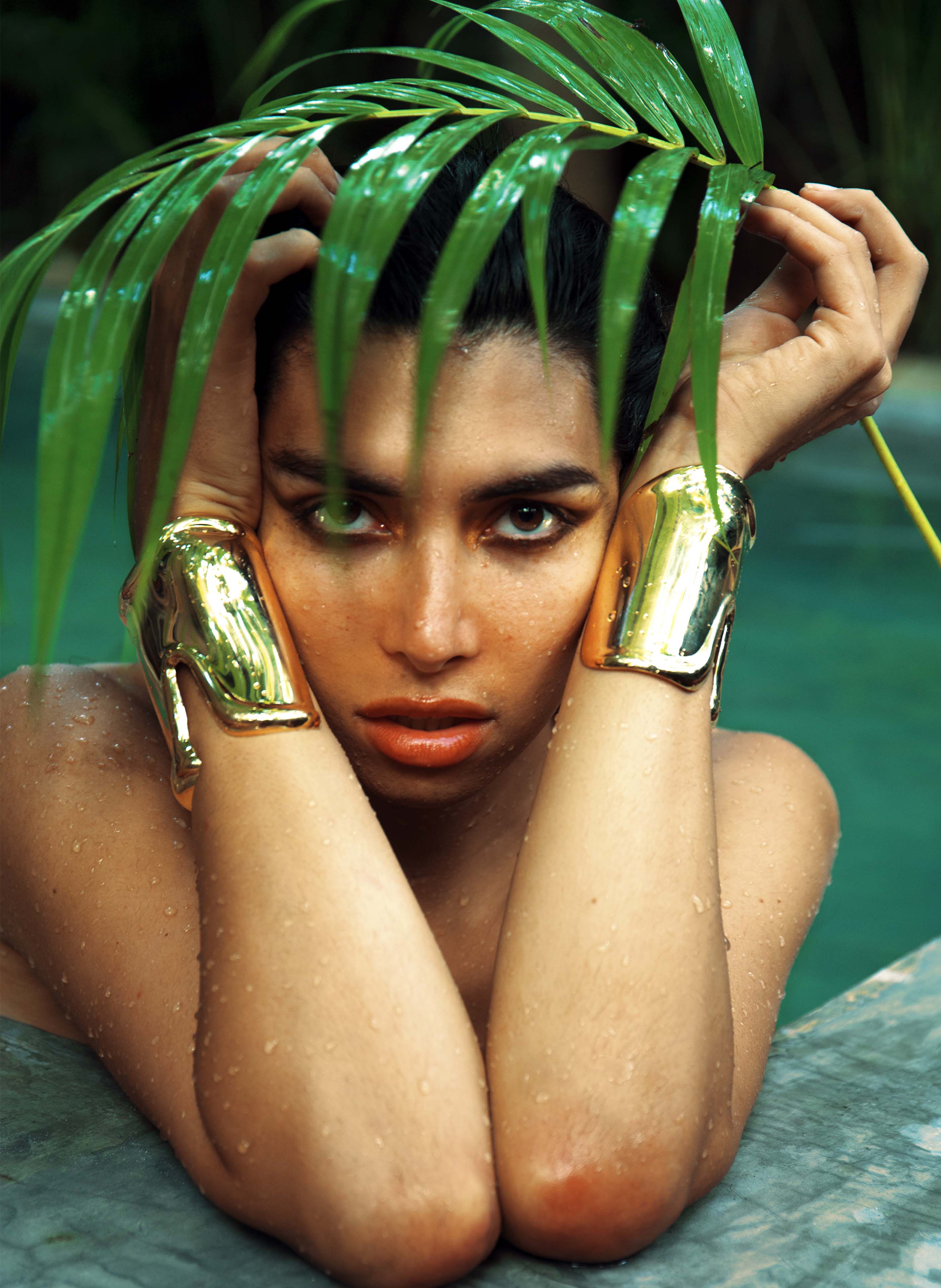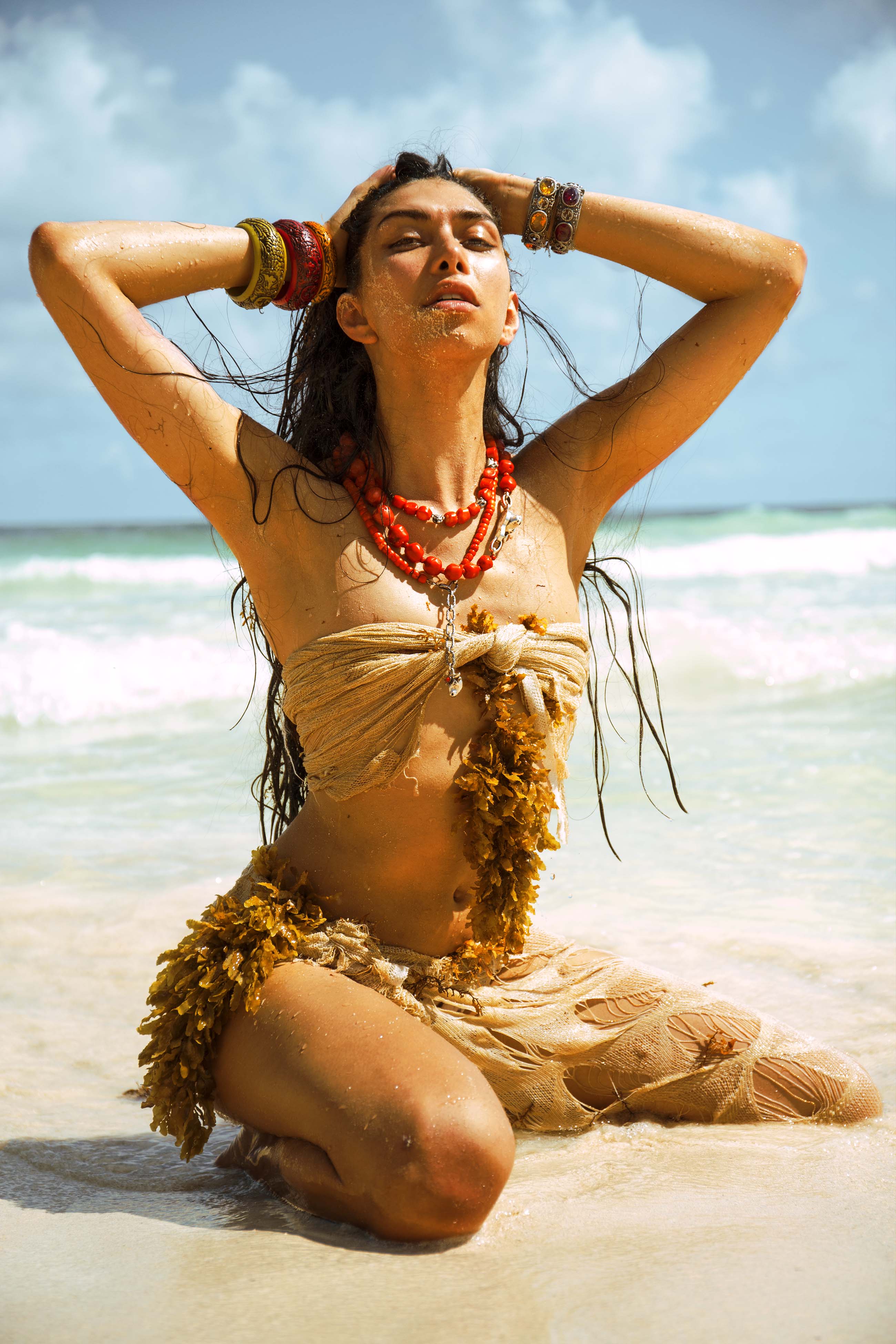 Gutierrez says that she tends to draw on "the dominant imagery that surrounds us: pop media, advertisements, editorials, movies, celebrities, all of it. I subvert our mainstream because it cannot be ignored. But the more I think about it, I don't know if I'd say popular culture actually 'inspires' me." She is inspired by the things that seem to have a second life, like trends that die and are reborn, sometimes decades later. "'Cool factor' is just timing: a recontextualizing of past iconography that is reintroduced to consumers." Her work is less to do with her references and more with what those references are missing.
Gutierrez was born in Berkeley, California, and grew up on both coasts of the United States. She and her family would travel every year to see her father's family in Guatemala, which felt like another home. In the U.S., people struggled to pronounce her Latin first name correctly, so they added an "e" to the end, as if it were French. "It became a girl's name, and I adopted it." Creating work that is about self-presentation, in which she controls the totality of her own portrayal, is a rejection of other people's stereotypes and an acceptance of the psychic spaces where she feels at home.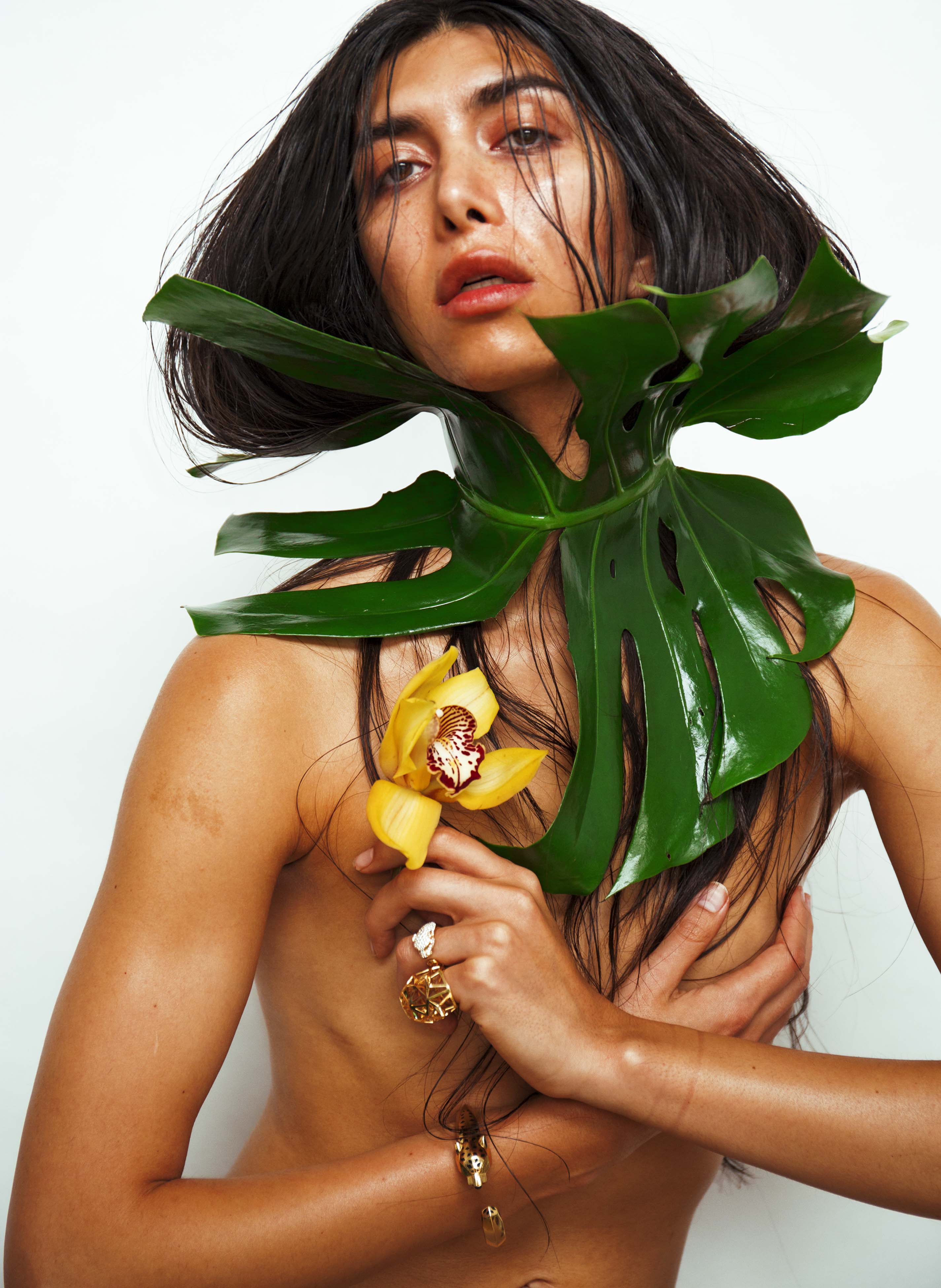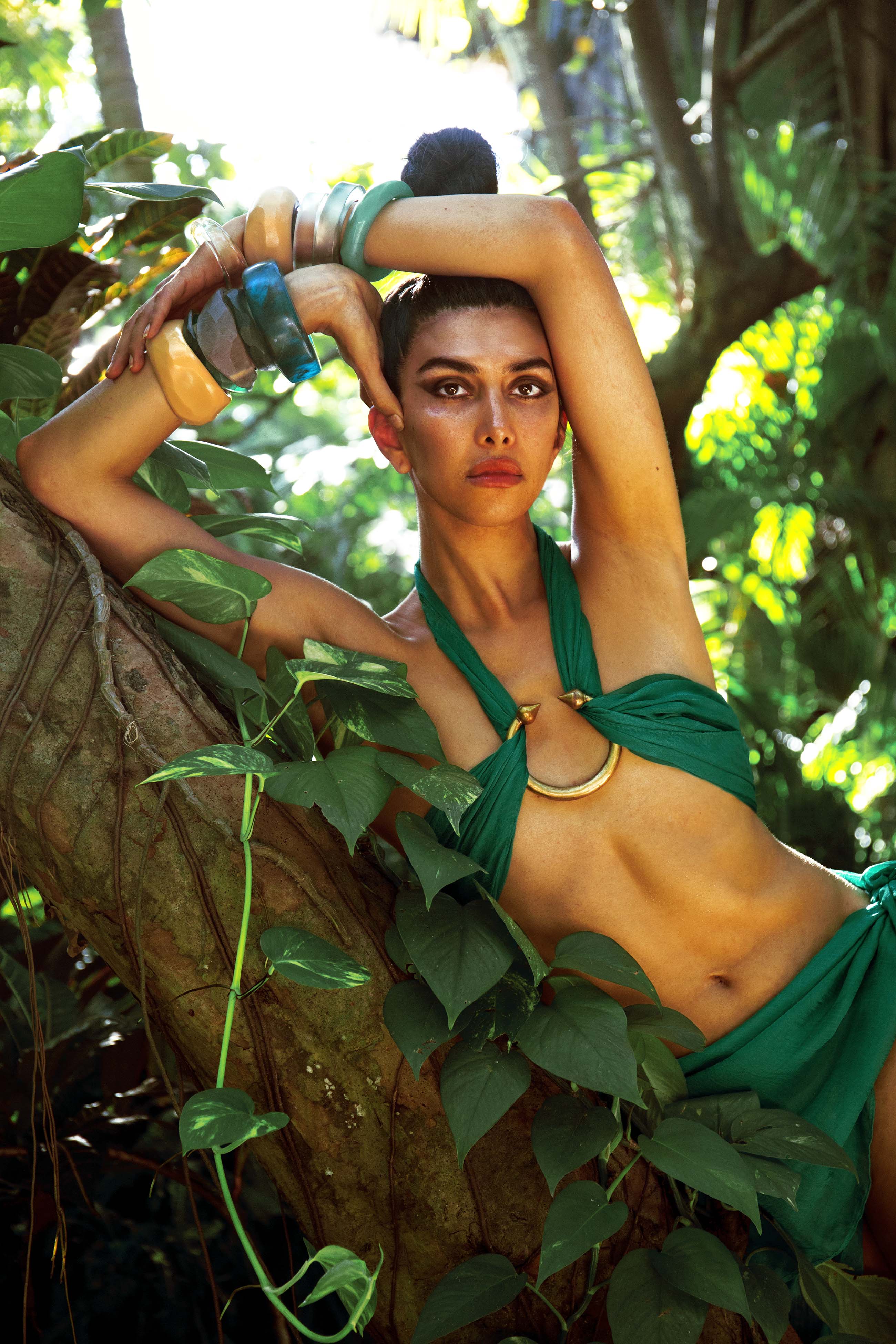 "It's about taking control," Gutierrez says, which is not to say that her work isn't also very fun, and very major. "It's always been play. I hope it always continues to be playful, as dress-up in a way. I was obsessed with dress-up then, but now, it's a more elaborate, indulgent understanding. Everything is ceremony, everything is performance. It's bigger than transness." Her outrageous vignettes root an image of the self in another world as complete and mysterious as our own. "I only wear costumes," she laughs. "That's when I feel most comfortable—in something loud, something frivolous."
Gutierrez typically shoots using a tripod with a timer and a remote control small enough to hide within her image. "I usually press it against my body, drop it on the ground, or occasionally hold it in my mouth—it's that small." As for her focus on self-portraiture, Gutierrez is a pragmatic woman. "I was the most convenient subject to work with, and I still am," she says.
"It's my interest as an artist to subvert whatever the current standard is, because the majority knows how to digest advertising, but in place of the traditional archetype of the blonde, blue-eyed, cis white woman, I insert myself—my narrative, by body, and my control over how both are used to talk about the lack of visibility for individuals like me from communities like mine," Gutierrez says. "I came into my power when I realized that the rules were written by some-one else."