(From left) Gruppo 9999's "Theatre in Relation to the Fine Arts" project, 1970; an original Space Electronic poster; the Paradise Now performance by the Living Theatre in 1969. All images © Gruppo 9999, courtesy of Elettra Fiumi.

The Futuristic Italian Nightclub With Vegetable Gardens and Toga Parties
Piranhas. Plasma. Disco. At Space Electronic, the 1970s club kids of Florence were living like it was 2030.
(From left) Gruppo 9999's "Theatre in Relation to the Fine Arts" project, 1970; an original Space Electronic poster; the Paradise Now performance by the Living Theatre in 1969. All images © Gruppo 9999, courtesy of Elettra Fiumi.

In 1960s and '70s Florence, the rock 'n' roll crowd was divided by turf, from the hippies who hung out in the Piazza San Marco, to the rockers enamored of American biker style who frequented the Piazza Santo Spirito. But "all of these people," says music writer Bruno Casini, "would go to Space Electronic."
Describing Space Electronic as a nightclub would be like describing The Odyssey as a poem about a boating trip. Opened in 1969, the discotheque—two stories high, housed in a former engine repair shop, and which, in its first six years, would host everything from a vegetable garden to a conceptual toga party—was first created by architects Carlo Caldini and Fabrizio Fiumi, as well as their friend Mario Bolognesi. Caldini and Fiumi worked with Giorgio Birelli and Paolo Galli as an architecture collective called Gruppo 9999, and the club was their biggest, most intricate, and most ecstatic achievement.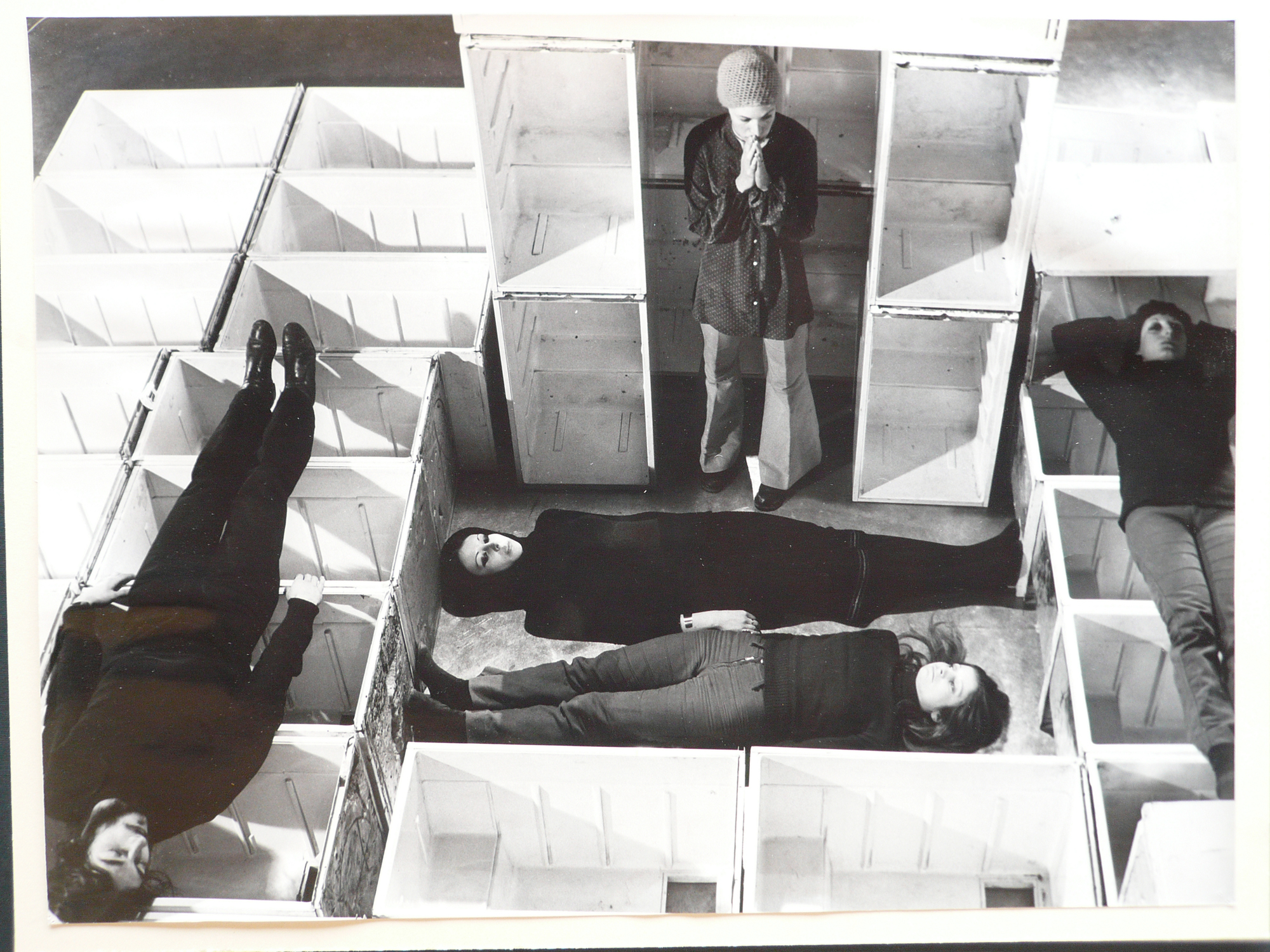 Gruppo 9999 were pioneers of radical architecture—part of a larger Italian design movement that departed from the self-serious universality of modernism, embracing technology, artifice, and kitsch. They constructed no buildings, by design. They were interested in something more experiential. "The architecture of Space Electronic is inexistent," the collective wrote in one particularly gnomic passage of their 1972 book, Architectural Memoirs. "Those reflexes on the silver walls have by now become a myriad of red stars like rotting strawberries in a wall of reinforced concrete impressioned with wooden planks."
Space Electronic's ebullient approach to cultural critique started with the club's strict door policy: no jackets and ties allowed. According to Casini, trippy colors, bell-bottoms, and Afghan coats were popular, and hard-rock leather ascended in the 1970s. While in line, you could watch the scene inside via a closed-circuit television system, one of the first uses of the technology in Italy; and the crowd inside could watch you—a practical, real-time entertainment system inspired by Marshall McLuhan's 1964 work, Understanding Media.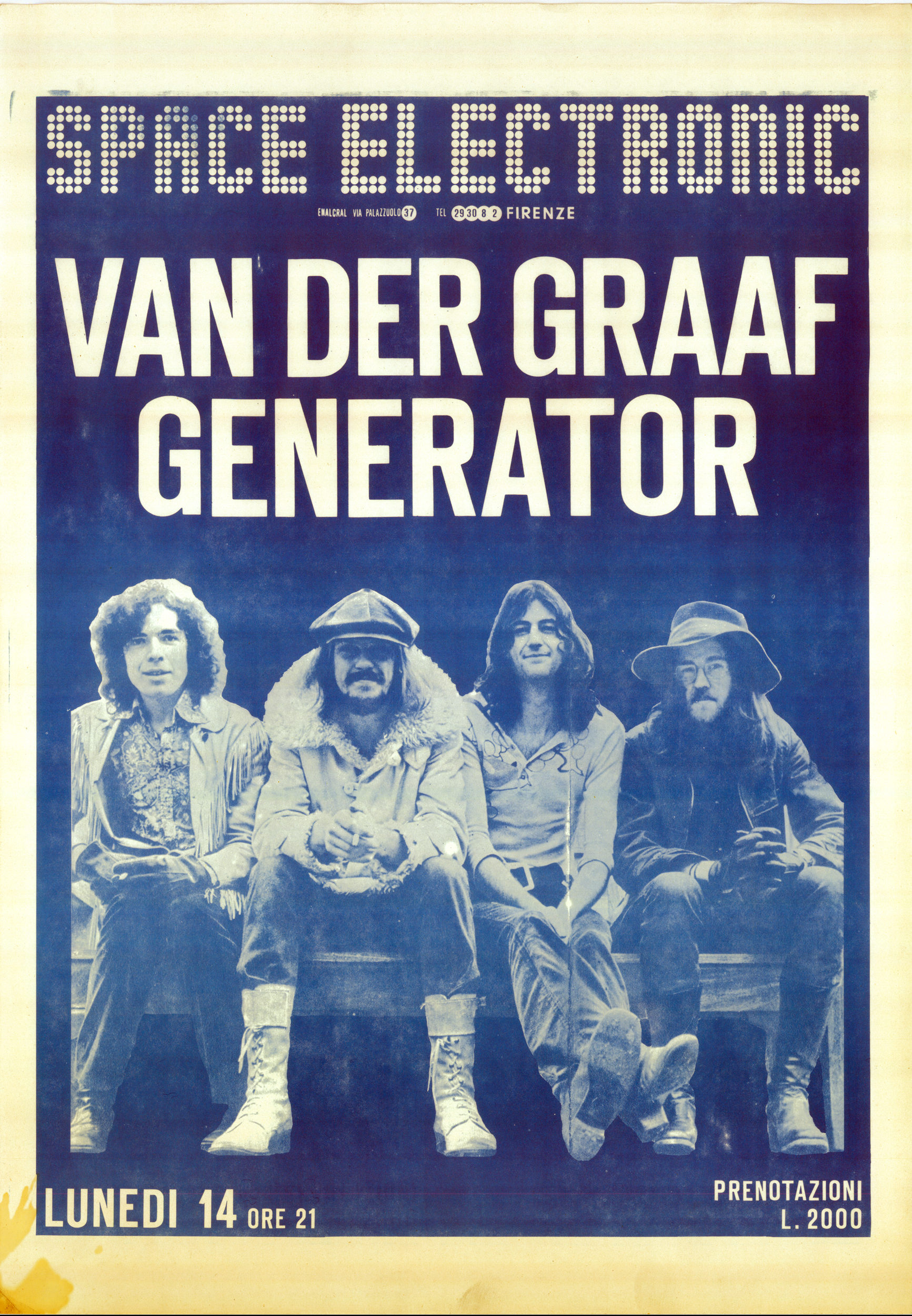 Bands like Van der Graaf Generator, Amon Düül, and Canned Heat played every possible hybrid of rock, blues, soul, and jazz in the space. An unfurled parachute imported from San Bernardino, California, loomed overhead. Images melted on the walls, projections overlaid with colored oil and water and silhouettes of objects found at junkyards. Downstairs, you could rest your drink on the bar: an aquarium vitrine that was filled, for three or four years, with piranhas. "It was a big show," Casini says. "Everybody would come to watch when they would feed the piranhas."

In 1971, the collective transformed the building's basement into a shallow pond, and upstairs, architects and artists convened for a weekend-long session of S-Space, an experimental school created by Gruppo 9999 and design collective Superstudio. For the occasion, they planted an indoor vegetable garden with lettuce, cabbage, and fennel. A rowdy performance by the UFO design collective began with its members zooming in on bicycles, dressed in racing uniforms emblazoned with the Italian flag, and ended with a food fight.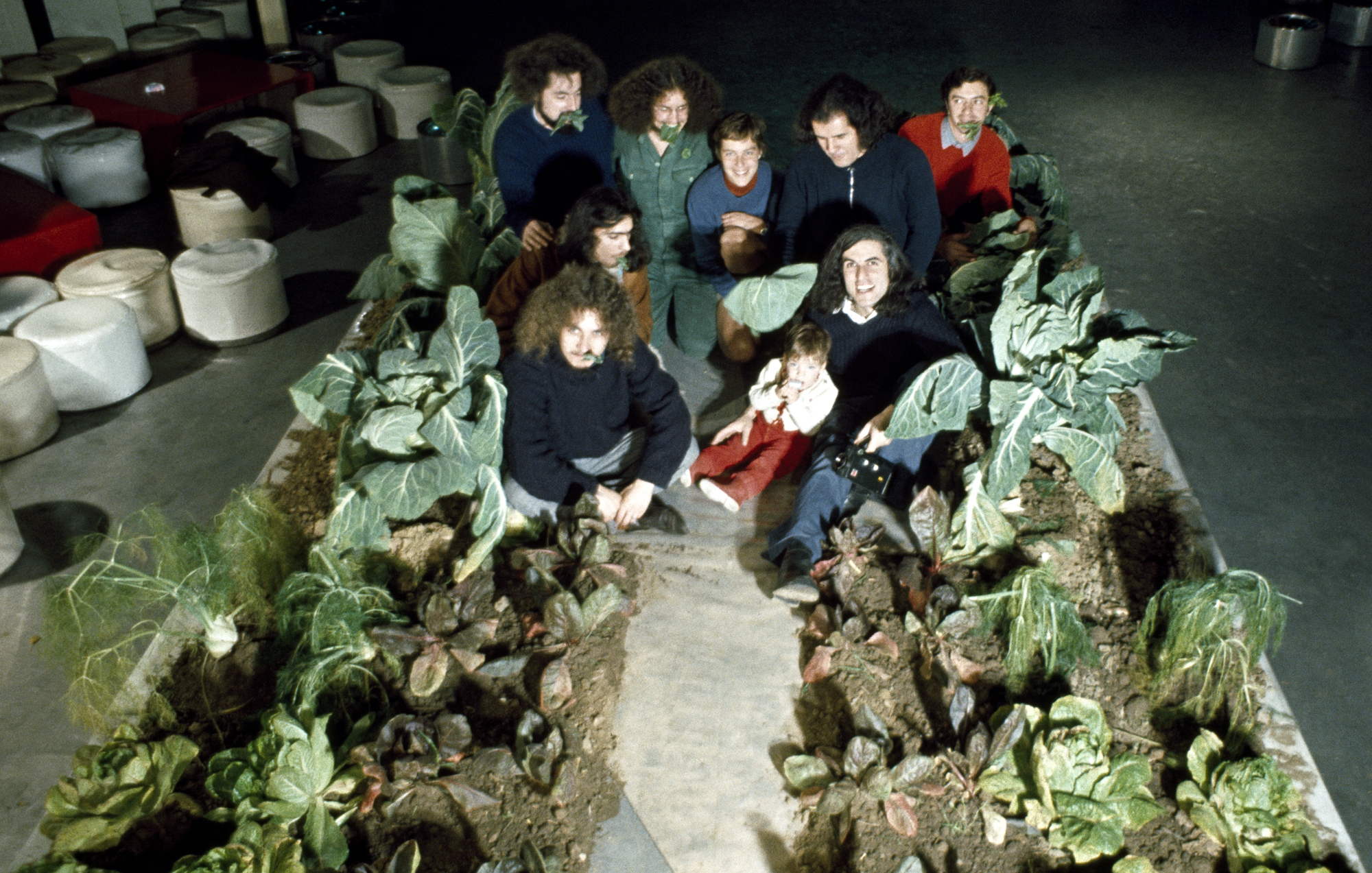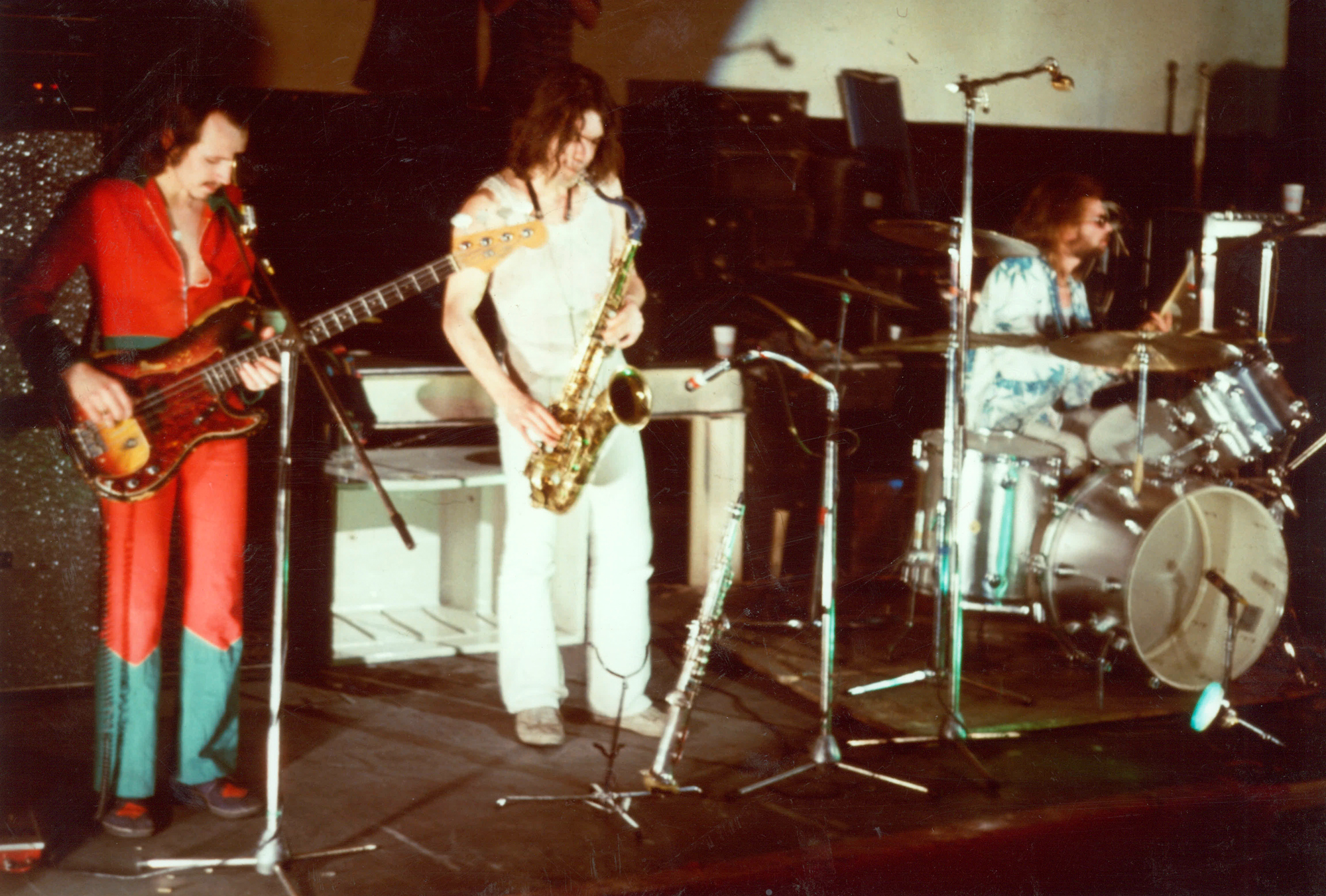 While you were dancing under the lights at Space Electronic, you may have sensed the world its creators hoped to manifest: a break from the past that would bring technology and nature into harmony. "All other forms of life are to be respected," they wrote in Architectural Memoirs. "At present, there are too many of us and we must, if nothing else, not increase further. Intelligent use of energies. Research into non-polluting forms of energy. Solar energy, sea waves, wind, plasma. No more atomic reactors. Re-cycle ideas and architectural products, use of computers as banks with global access like objects and clothes."
Elettra Fiumi, the daughter of Fabrizio Fiumi and the director of Radical Landscapes, a forthcoming documentary on the group, read me the passage over the phone, pointing to the tantalizingly brief prediction imagining "computers as banks with global access." "I can't believe that they're talking about the Internet!" she said.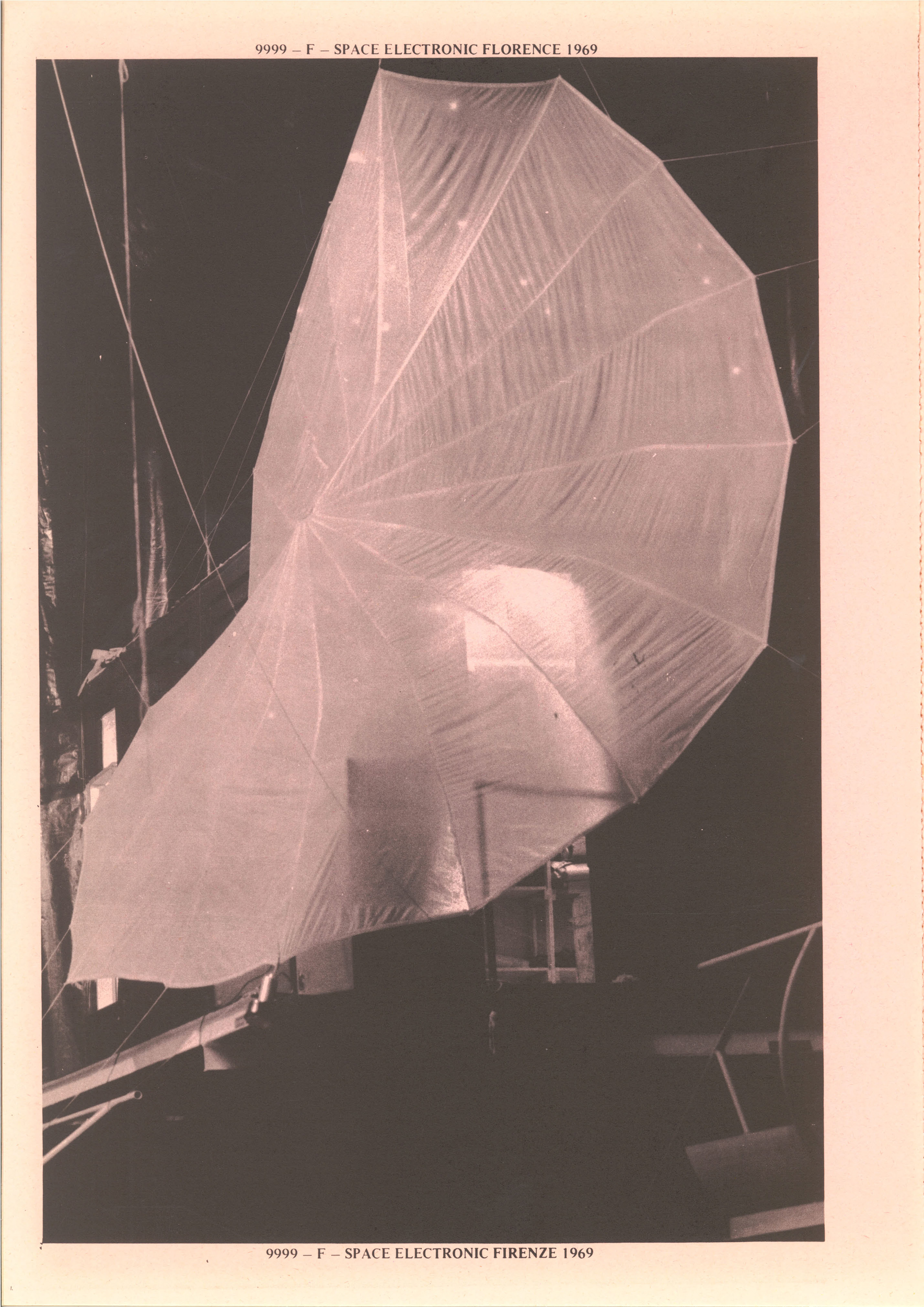 "How in the world does a group back in '69, '70, '71, formulate a treatise or manifesto on architecture that takes more than 35, 40 years to come true?" says Peter Lang, an architecture professor at the Royal Institute of Art in Stockholm. "What they succeeded in doing was anticipating the future by a whole lot of years."
Casini describes Space Electronic at its zenith as "a marvelous toy"—the catalyst for fantasy, a way to hurl yourself head-first into another world. "The extraneos [sic] Body 9999 is in trembling expectation of the prophetic moment of the arrival of zero zero zero zero in the window of the digital counter," the group wrote. "It is, at the same time, the start of the countdown which just began one second ago."