Mowalola's World Beyond the Body
"Silent Madness," is the fashion designer's newest exhibit in London's NOW Gallery.
Courtesy NOW Gallery
A word that gets used a lot to describe the fashion designer Mowalola Ogunlesi's work is punk. Probably because her clothes are unexpected and unapologetic. They are sexy. Speaking to British Vogue after her A/W '19 Menswear show with London's pioneering talent incubator Fashion East, she described her collection thus: "You're basically wearing what you want to be fucked in." There is also the music, which is so symbiotic to her work that it's near impossible to imagine what her clothes, or indeed runways, might look like without her kaleidoscopic playlist of references, which spans the psychedelic rock of her native Nigeria, Lil Kim, Kavinsky, The Prodigy, and Nine Inch Nails.
In this sense, Silent Madness, Ogunlesi's solo exhibition at South East London's NOW Gallery, is true to form. Upon arrival, each visitor is handed an MP3 player loaded with a soundtrack that includes Joey LaBeija, Shygirl, and KESH, among others, so that they can be the DJ of their own experience. A band of mannequins, slicked in black tar and with instruments in hand, are assembled on a makeshift stage. Short films made in collaboration with the image maker Jordan Hemingway, the musician/producer Yves Tumour, and Dazed art director Jamie Reid blare from retro TV sets nestled in hollowed out speakers. (There is also a Mowalola original gimp suit on display.)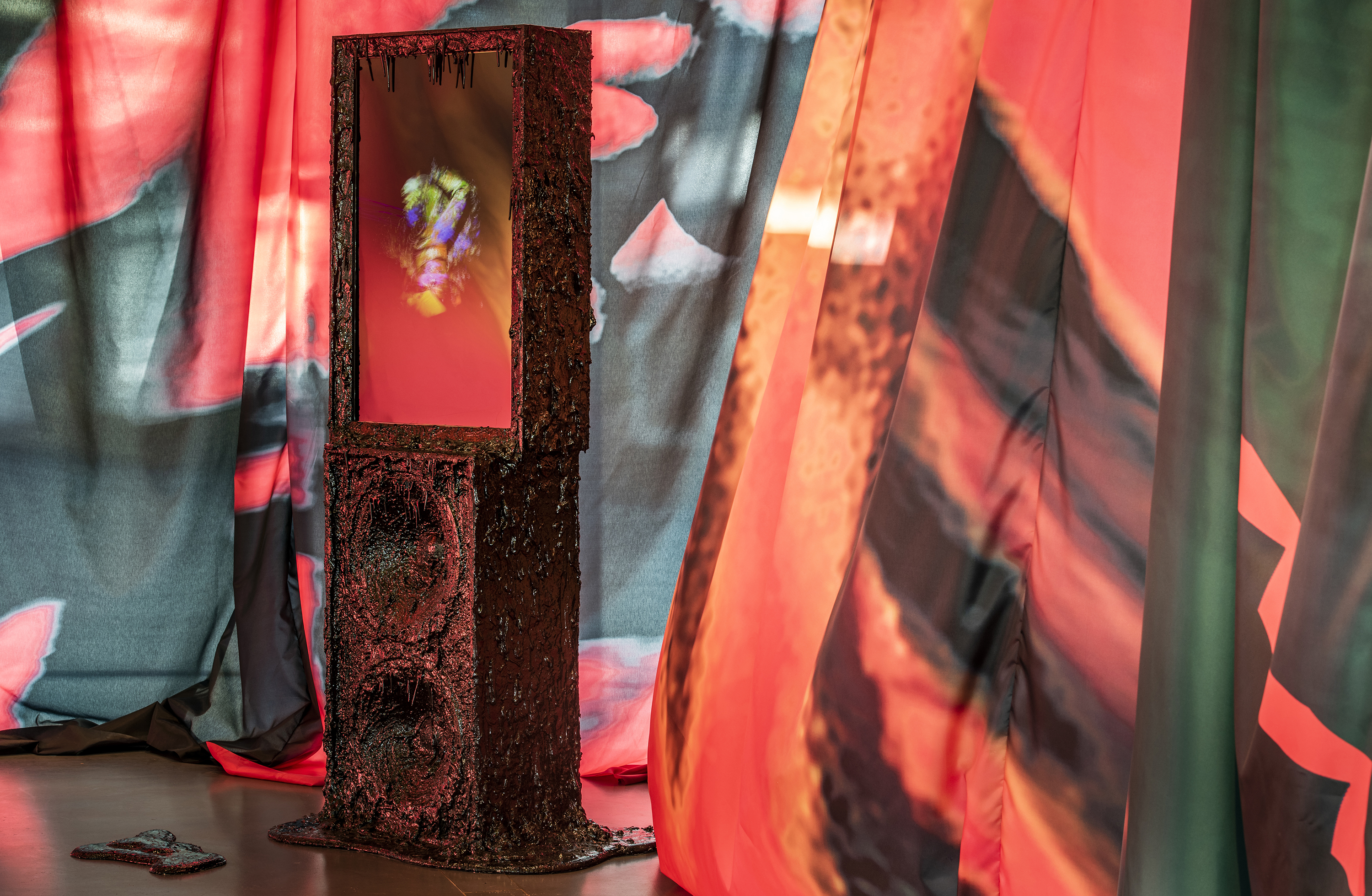 "What we're doing is not clothes," NOW's curator Jemima Burrill told GARAGE in a phone interview. "We're saying to a fashion designer, you're a creative person, come up with something completely extraordinary, come up with something you would never otherwise have been given the opportunity to do." Since 2015, the month of December has featured a collaboration between the gallery and a young fashion designer to create what could be described as an exploration of the designer's world. For Phoebe English and Richard Malone, this meant an intricate consideration of their design process. Charles Jeffrey reimagined his brand and cult club night as sculptures. Molly Goddard opted for gigantic (or, if you'll excuse a cliche, Alice In Wonderland-proportioned) versions of her dresses suspended high up on pulleys; in a radical nod to craft, exhibition-goers were encouraged to embroider directly onto the tulle of the dresses.

The fashion-art dialogue is a long one, and in a context which has typically seen the gallery reserved for a designer's blockbuster retrospective show, or for established designers—Helmut Lang and Thom Browne among them—to have a later-stage pivot to art. In that sense, what NOW is doing is unusual, but not necessarily unique. January saw Grace Wales Bonner's A Time For New Dreams, which used art, literature, music, and performance to interrogate the designer's heritage, and the legacy of colonialism, open at London's Serpentine Sackler Gallery. Wales Bonner is one of fashion's foremost researchers—in an interview for SSENSE last year, Ogunlesi, who worked with Bonner over a period of three years, said, "She got me to see that creating a collection is more than just the clothes, it's the whole story." A Time For New Dreams gave an insight into this very particular ability to worldbuild that's not always possible in the confines of a runway show.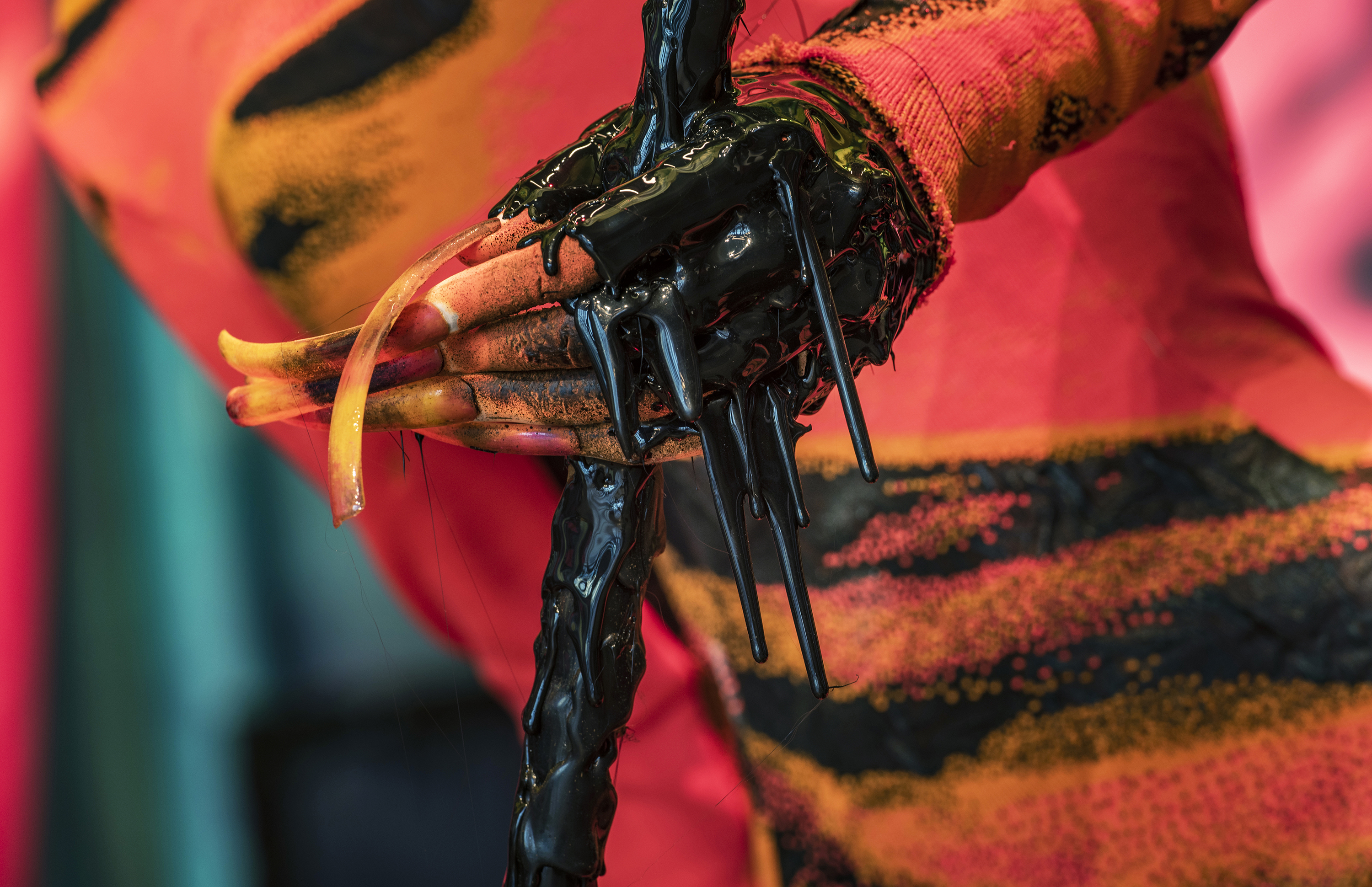 Last summer too, was Eckhaus Latta's Possessed at The Whitney. The first time the museum had hosted an exhibition that was also a shop (or at least a space where the brand's clothes could be purchased), Possessed functioned, in part, as a consideration of the entire experience of buying fashion—you could even watch yourself on CCTV store footage. In this way, the show to the heart of the traditional unease with showing fashion (commerce), in an art (not) gallery; that fashion is bound to commerce in a way that art isn't supposed to be—or at least not outwardly.
Conventional wisdom holds that fashion is one of the lesser arts: newer, more flippant, and with a purity that's ultimately compromised by the fact it's a product. But, as underscored by recent controversies around where the money that funds many art institutions comes from, art is also very market driven, it's just better set up to pretend it isn't. Ultimately, the divide between the two (aside from fashion's relationship to the body) might come down more to how we consume and view fashion. Time is not in abundance in the fashion world. Painstaking bodies of work and research get discarded in the cycle of a single season, in a system in which waste and burnouts are par for the course (even Virgil Abloh, who could be said to be the embodiment of this, recently announced he was taking a step back due to health concerns).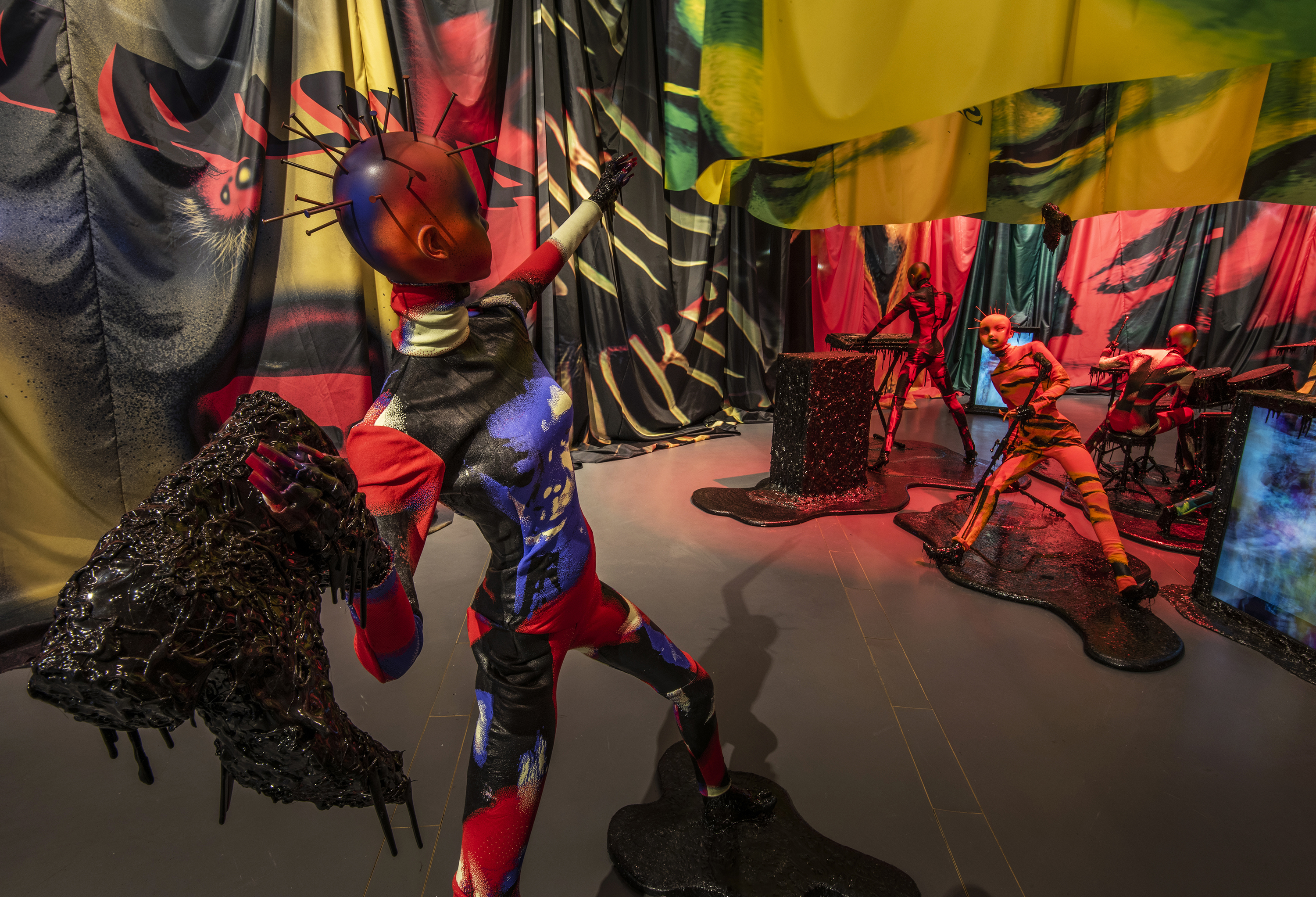 Part of the value of what NOW does, then, is to violate this logic. "With fashion, you typically have this one big runway moment; it could be just six minutes of fame, and you've worked for six months to make a collection," said Burrill. "But the exhibition at NOW is on for three months, and so it's something a bit permanent—it's more tangible." The show stretches the time in which the nuances of a designer's work and world can be appreciated, outside of the commercial constraints of the store, and even on a small scale, that's important.

Punk, subversive, and an ode to club hedonism as much as to craft, it's hard to think of a better antidote to a system that stifles creativity, and binds it to commerce, than Silent Madness.

Tagged: