How The D.R.E.A.M Ring Dancers of FlexNYC Use Dance To Experience The Matrix IRL
The dance crew teaching activism and expression to Brooklyn youths.
I sat down with Reggie "Roc" Gray, Steve A. Harvey, Stickz, and Jeremy Opt Perez, four of the twelve men that make up Brooklyn's D.R.E.A.M ("Dance Rules Everything Around Me") Ring Dancers, just before their first performance on opening day of "Prelude To The Shed." Theirs was our third interview in a full day of conversations with all the curators, choreographers, designers, and professors that worked hand in hand to craft a two-week preview of what we should expect to see when The Shed opens in Hudson Yards come 2019.
The foursome joined us at our shaded table and inched up to their microphones in an explosion of energy, just like what I felt wash over the audience as they took the stage an hour later. Their passionate devotion to Flexn, a form of dance Reggie pioneered after years of watching "Flex N Brooklyn"— a public access TV show airing competitions between local dancers— was clear and infectious. They talked to me about how they mastered Bruk Up, an art-form born in Jamaican dance halls, reinventing it for an East New York context. Now they are sharing the fruits of their labor with Brooklyn school kids.
How did you guys get involved with The Shed?
Reggie Gray: We got involved in this because it was just destined. It's a meant-to-be thing. (Laughs)
But to be more literal, really we've been involved with the Shed since the beginning. It all started with Alex [Poots, Artistic Director of the Shed]— he and I have a previous relationship with the Manchester International Festival— and he said "Yo Reg, you got to get involved." We got to talking and bouncing ideas, trying to figure out how to pull off something huge. Alex had the thought, why don't we do something involving all five boroughs? Then I thought, let's bring in social justice.
What were some of the other bullet points that were important to you in launching this partnership?
Steve A Harvery: Racial Injustice, bullying, peer pressure...
Stickz: Since were dealing with schools, we got to tackle some of the issues the kids deal with head on. Dancing became an outlet for them, and whatever situations they're going through. You know, they're from the same neighborhood's as us, East New York, Flatbush... so they come from where we come from. We didn't really get the same opportunities they had, so for us to be able to give this to them? It's huge for all of us. Just walking around the neighborhood, knowing how things used to be...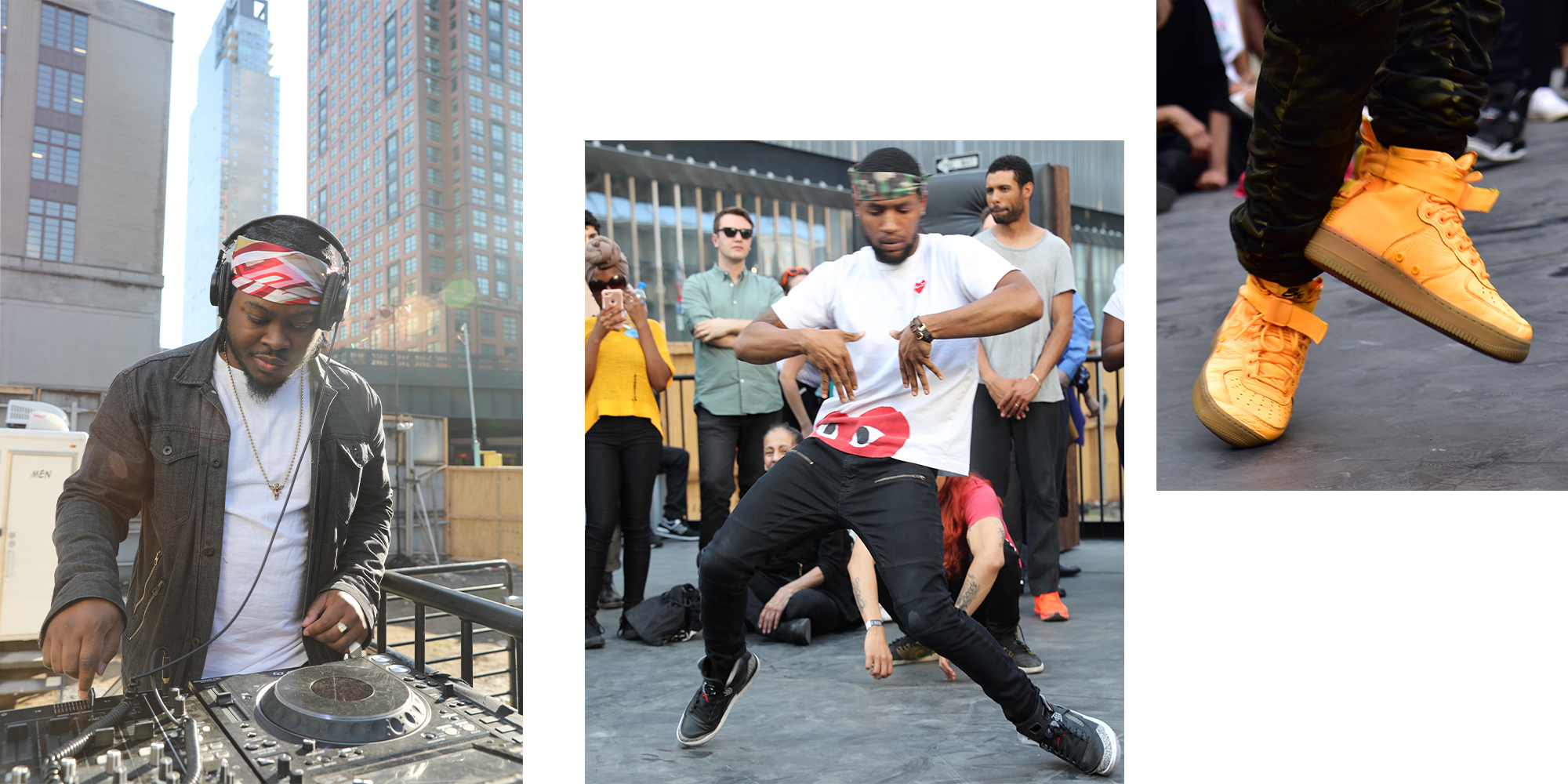 Gray: What makes it even more special, is we're actually teaching at the school we graduated from. It gives us a chance to give back to the community, and also look at some of the teachers like "Yo what's up? I'm back in here, but I'm doing something different."
Harvey: It's big.
Stickz: They always tell the kids "If you knew who they were before…" Now, it's like "whoa". Dance changed our lives really. Took us out of a lot of hard struggles.
Jeremy Opt Perez: Dark places.
Stickz: To be on this side of the fence, we're extremely grateful.
How did you all come together as a group?
Perez: I knew Reg from East New York, he lived down the block. I used to see them dancing, and thought: "I need to get involved in what's going on." It was a great gravitational pull, and ever since then it's just been sharing great energy with great people and doing the thing we love, expressing how we feel.

So explain to the people— what is flexn?

Gray: It's a culture, it's a lifestyle, something that we live by every day because of what we're around and deal with on a daily basis. All of that is compacted into our dance moves.
There's a dance style, I want to say a throwback to the 90s, called the Bruk Up, which is the foundation of what we do. That was something fun we came up doing at block parties, group dances, battling. The aggressive parts of Bruk Up fueled flexn. We started doing this show called Flexn Brooklyn—shout out Rocky and Sandra!—and it became the place to be. If you weren't there, you weren't nobody.

Jumping to the future, my dance group, Interactive, started breaking the rules of Bruk Up because we wanted to do something different. We watch a lot of movies, a lot of Crouching Tiger Hidden Dragon, The Matrix.
Perez: Dragonball Z...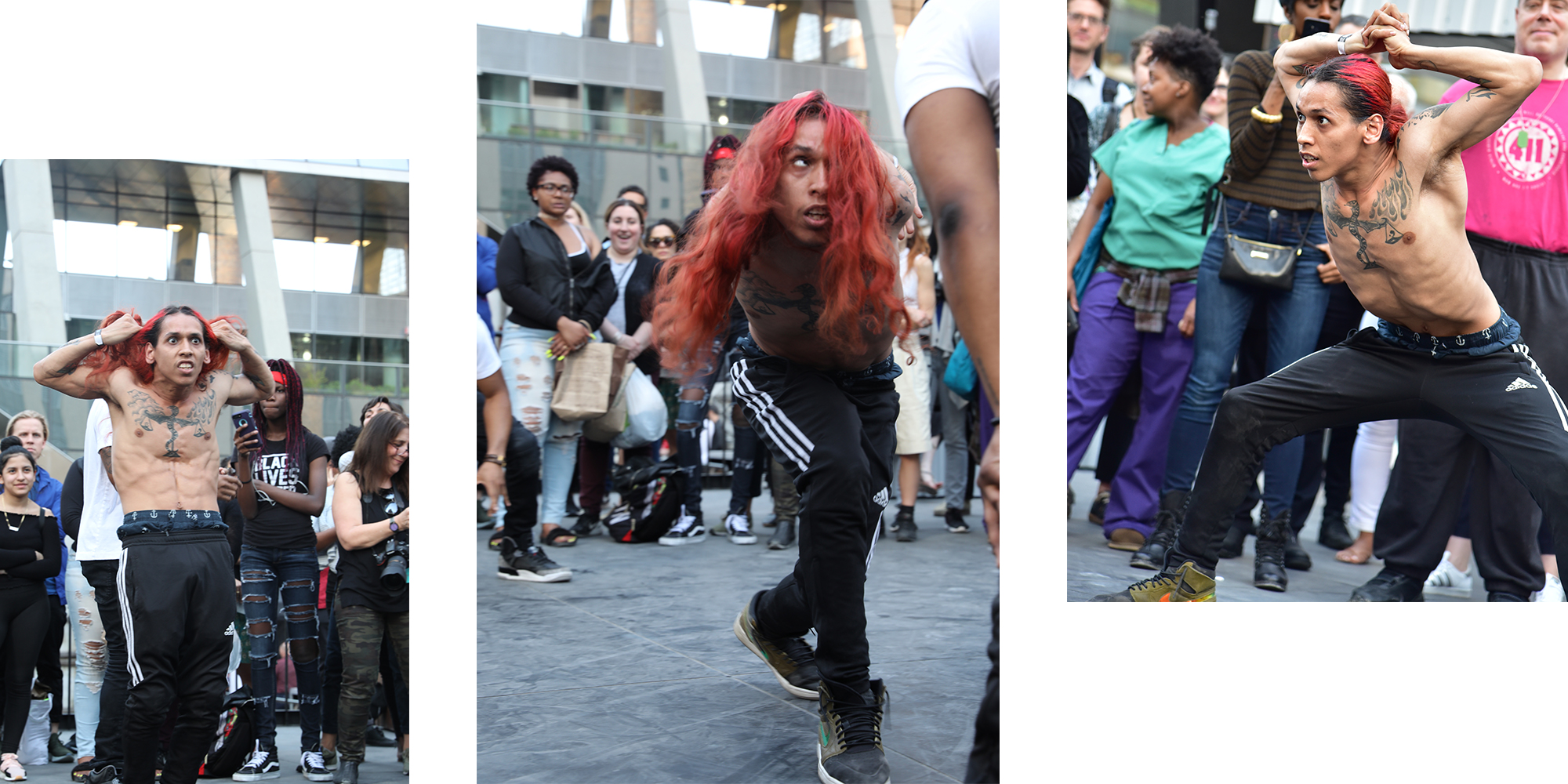 Gray: Yeah, and we wanted to make THAT happen, on the stage. In real life. You have this animated style of Bruk up, popping the shoulder and getting crazy, but it's like how do you make other things happen? How do you push it forward?

One of my guys Brian, had this gliding style. It was just amazing. Like it wasnt...regular.
Jeremey Opt Perez: He took it to another level!!!! It was crazy!
Stickz: His feet wasn't normal. His feet wasn't normal.
Reggie: Then you had my boy Nugget, who had all these crazy animated faces, and he was double jointed—
Stickz: Shout out Nugs.
Reggie: Shout out Nugs! Once he popped out a little bone [during one of our performance], and that started "bone breaking." Then I got beat in a battle really bad, right? And we used to watch the tapes back and forth, so I used to press play and pause on the tapes to make us glitch and move. So I made a style out of that called "pausing," a real glitchy dance style. So those three styles became our dominant styles, and from there it became a trend. It became something everyone was doing. Then other styles were created: "get low", "hat trick", "connecting"...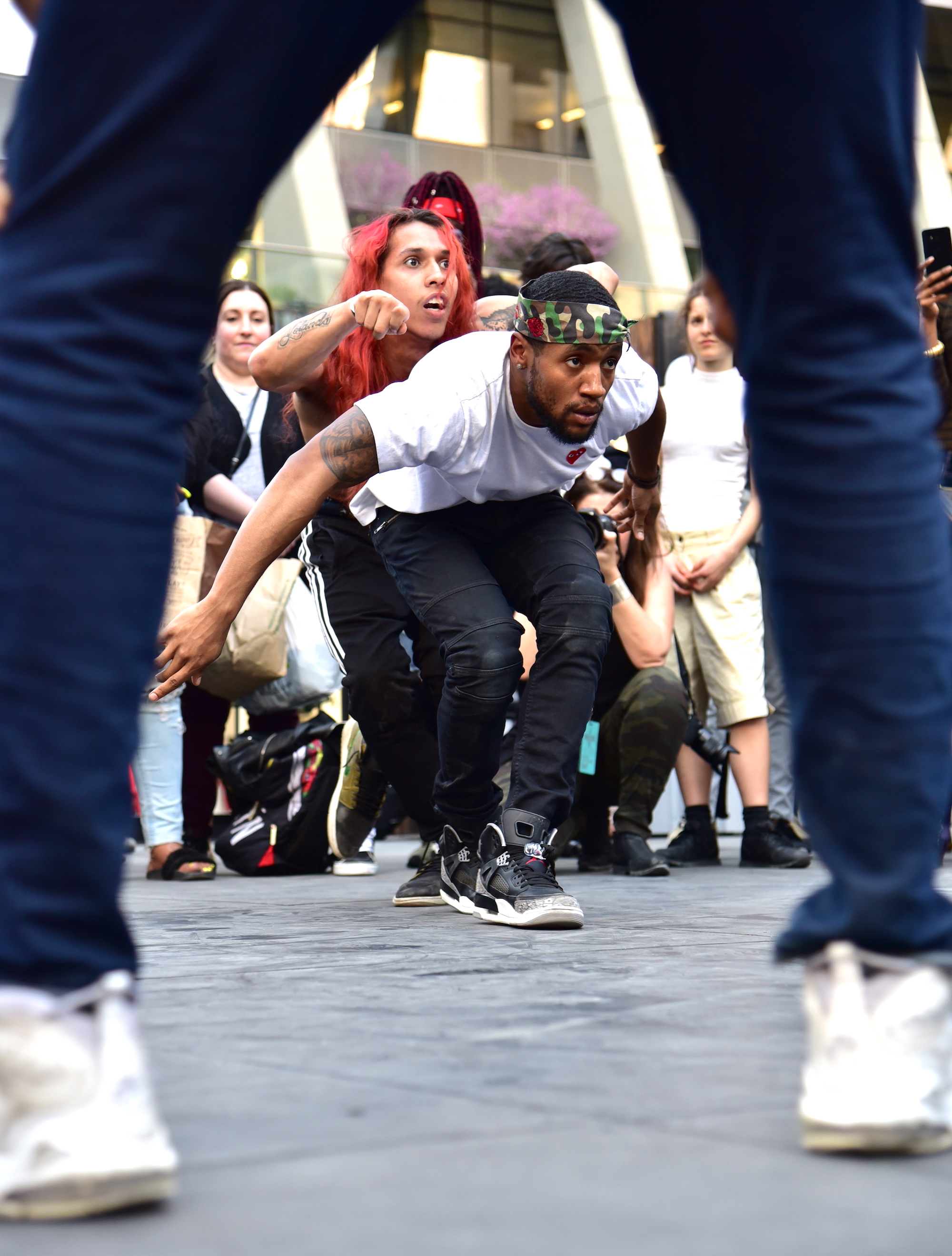 So other people started experimenting with your forms?
Reggie: Exactly. And then, when we walk outside, you hear the kids saying "There goes that flexn dude!", and I'm like "What is flexn?" But when you hear the youth call it something, you can't stop it; it becomes a wave.
Stickz: Thats how culture is created. They were just doing what they naturally did in the culture of bruking up, and the dancehall scene. Looking at it from then to now, we have our own DJ, our own clothing, our own language—
Your own language?!
All in unison: YES!
(They all shout out foreign words from their own language, like "Woo-woo!")
Reggie: It all just evolved.
Stickz: Being young, and seeing what these OGs like Reg did for themselves to keep it going, because it's what they love, they took that foundation and gave it an individual style. I feel like you need to understand the foundation...
So that you can break the rules.
Gray: That's what Flexn is all about, taking that dancehall foundation, and inserting who YOU are. It's like a fingerprint.
Stickz: That's what makes it great, it's still growing. Kids are coming out even smarter. I want to see them do better than me. That's what I look for in the future.