JR, SO CLOSE, 2018 (detail). Photo: Courtesy of Teddy Wolff and The Armory Show
A Giant Artwork by the Hudson River Brings Attention to the Refugee Crisis
French artist JR's monumental photo installation at Pier 94 ensures that visitors to the Armory Show don't forget immigration's troubled history.
JR, SO CLOSE, 2018 (detail). Photo: Courtesy of Teddy Wolff and The Armory Show
JR may not have won an Academy Award (he was a Best Documentary nominee, with Agnes Varda, for Faces Places), but he's winning the art-fair game. This year, the Armory Show reserved the exterior of Pier 94 for a large-scale installation by the French street artist that commemorates the immigrants who helped build America, and directs attention to today's Syrian refugees. Presented as part of the fair's Platform series, for which curator Jen Mergel commissioned 15 international artists to make site-specific works around Piers 92 and 94, SO CLOSE presents the event's international visitorship with a provocative and imposing image.

The monumental project uses archival photos of a group of immigrants, capturing their moment of entry into the US during the mass relocations of the early twentieth century. JR bridges past and present by swapping now-anonymous faces from the older shot with images of Syrian refugees based on photos he took at Zaatari refugee camp on the Jordanian border.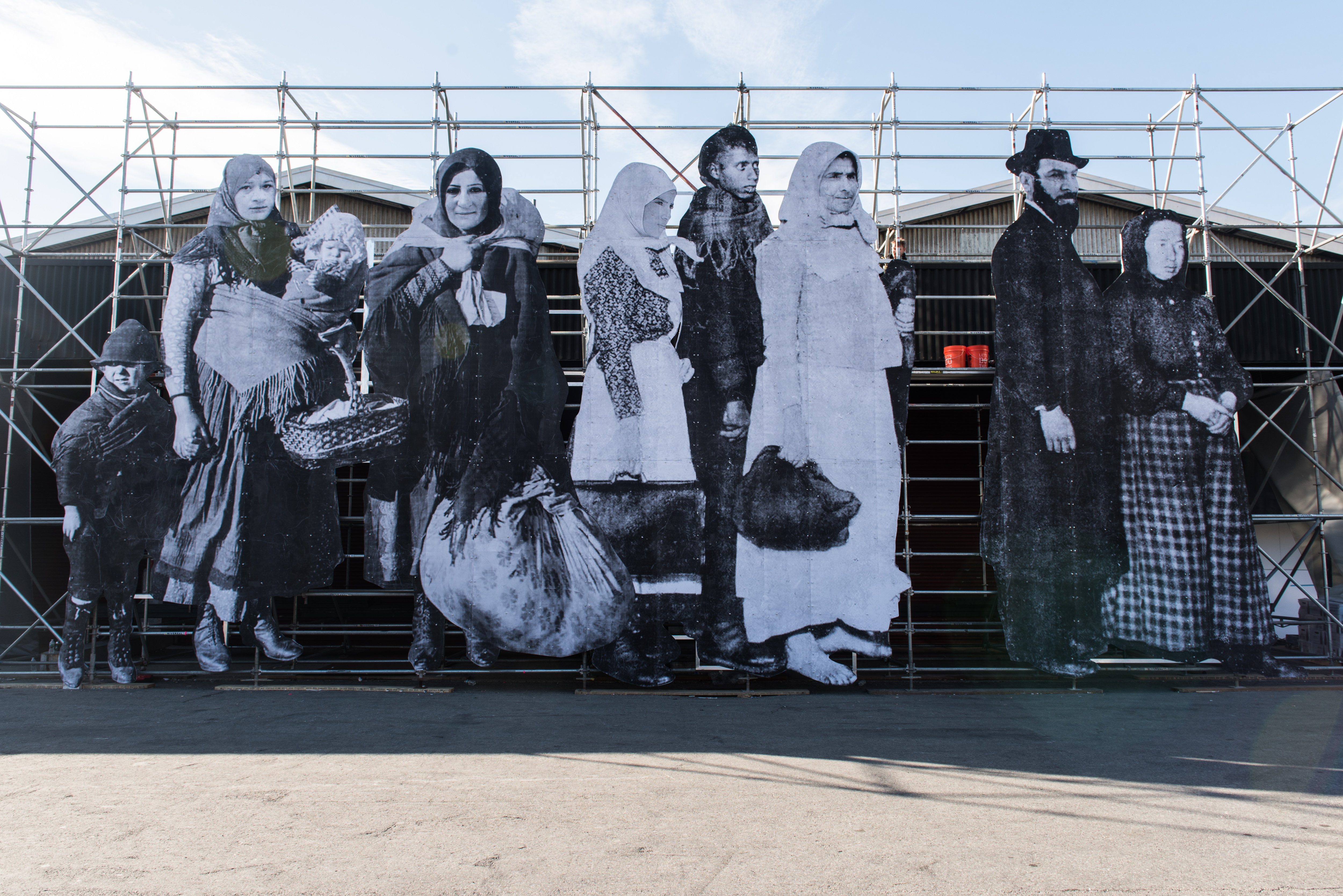 SO CLOSE is an epic demonstration of history repeating itself. The images of nameless women, men, and children address the instinct for survival and make a case for basic human rights—arguably not the easiest notions to convey in the generally buoyant context of an art fair. Lining up for entry into an uncertain future, ghosts of the past century are revived in the faces of contemporary refugees we've become accustomed to seeing often. JR's switcheroo technique may not sound subtle, but it works well to remind viewers of the inherent precariousness of national and other legal statuses.
SO CLOSE follows a similar project made by JR in Mexico in which he installed a vast image of a Mexican child gazing over the American border near Tijuana. The Armory presentation has a similar sociopolitical heft, again heightened by scale and location—the West Chelsea piers are close to Ellis Island, a landmark that JR has worked with before. The artist's 14-minute film Ellis, which premiered at the New York Film Festival in 2015, features a somber Robert De Niro wandering around an abandoned hospital on the site. And this project was in turn preceded by the artist's architecturally scaled images of immigrants pasted onto Tribeca façades. SO CLOSE thus forms part of a powerful body of work that draws attention to situations and people we can't afford to ignore.

Presented in partnership with Artsy and Jeffrey Deitch, JR, SO CLOSE, is on view at Pier 94 through March 11.