Will Ryman, Pac-Lab, 2017. Rendering of Parc de la Villette, Paris exhibition. Courtesy of Paul Kasmin Gallery
Will Ryman's New Public Sculptures Combine Stonehenge and Pac-Man
The New York artist is bringing his monumentalized vision of our everyday pursuits to a Paris park.
Will Ryman, Pac-Lab, 2017. Rendering of Parc de la Villette, Paris exhibition. Courtesy of Paul Kasmin Gallery
Arriving at Will Ryman's spacious studio in Lower Manhattan last Friday afternoon to meet the artist for GARAGE, I was surprised to find a dinner party underway. I wasn't dressed for the occasion, but the guests didn't seem to mind—the dozen figures clustered around a table were all made of clay, as were the candelabras, the cutlery, and the table itself. "I'm still working on his arms," Ryman said, pointing to a figure with spindly wire limbs who sat alone, poring over a thick tome scrawled with gibberish. "You can read it if you want," the artist explained. "The syllables and rhythm sound like language, but they don't have any real meaning."
The whole scene had a distinctly Last Supper-ish feel, but the figures' apostolic faces were interchangable, and only roughly human-looking. I asked Ryman if this work was a commentary on religion. "Not exactly," he replied, citing instead an interest in ritual. "We think there's some higher power, some greater existence, some deeper meaning, and we're always looking for it," he said, arguing that we're often willing to believe in whatever seems to promise knowledge or enlightenment. "That meaning, though, it's impossible to articulate. I don't want to sound corny but it's already here. It's in everyday existence."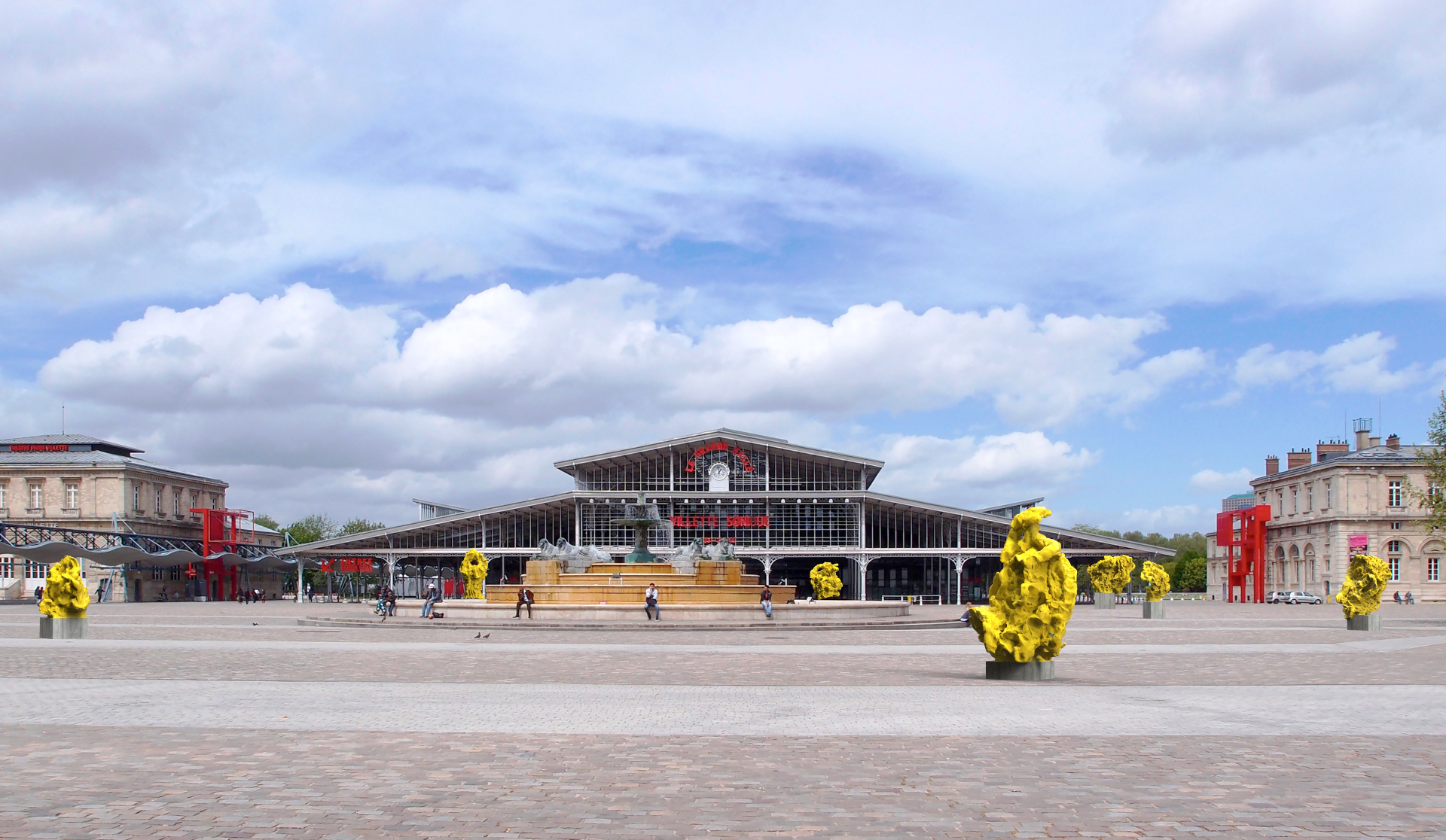 It's this wonder at the ordinary that's at the heart of Ryman's first major European project, a three-part monumental installation for Paris's Parc de La Villette, to be unveiled next month as part of the city's 100% arts festival. The artist is no stranger to making work on a grand scale—see the oversized roses with which he adorned Park Avenue in 2011, or his gallery-filling Situation Room at Paul Kasmin from 2015. For this commission, he wanted to make "a relic for our age, something like Stonehenge or Machu Picchu."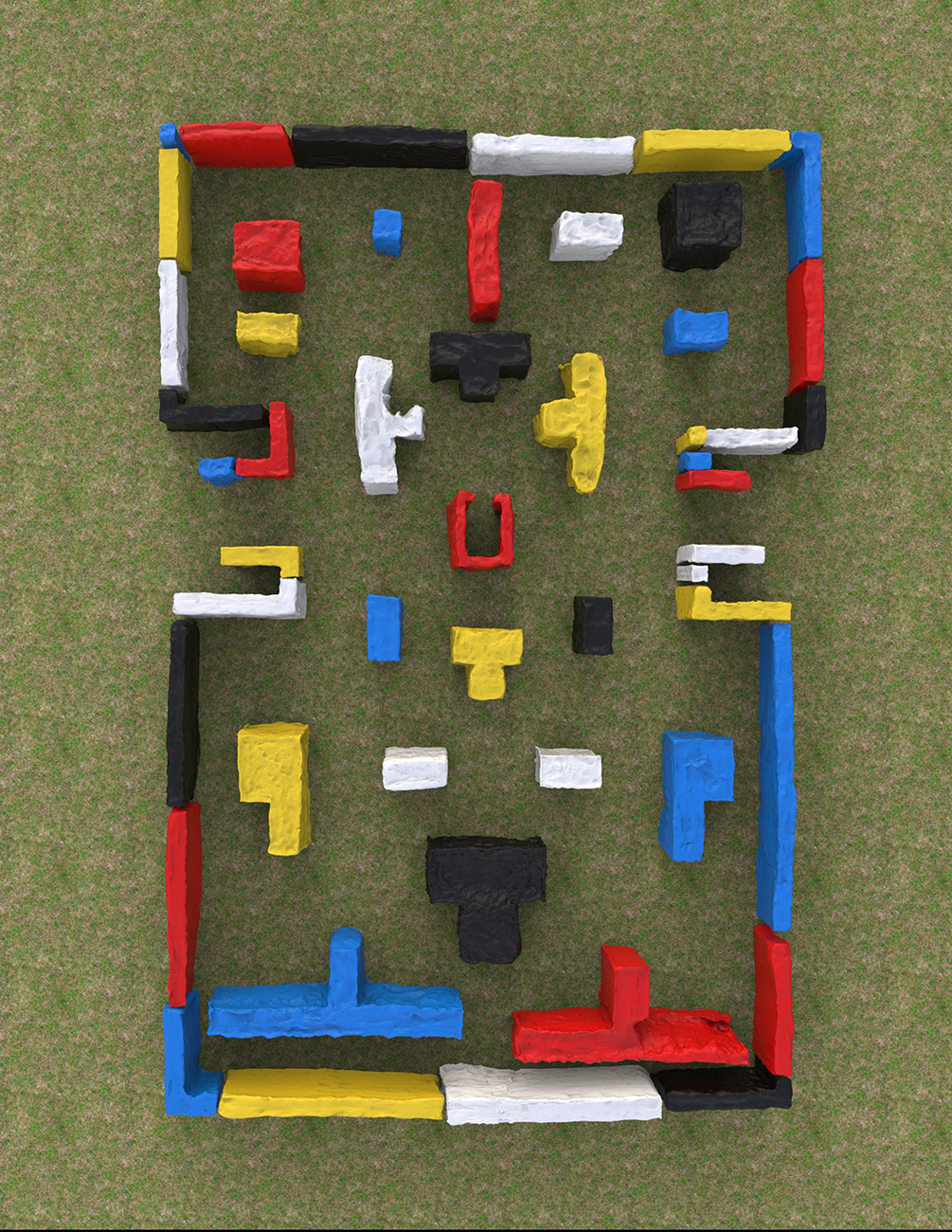 This is especially apparent in Pac-Lab, a labyrinth of larger-than-life, primary-colored resin slabs that will occupy the center of the park. "I designed the layout after the Pac-Man game," said the artist. "It's about consumer culture, really. It's just that little yellow dude going around and around eating as much as he can." The archetypal counterpoint to this image is echoed in a second sculpture, Sisyphus. "The point of the Sisyphus myth as I see it is that true happiness is in the pursuit of something," Ryman explained. "Instead of meaninglessness, there's almost too much meaning in life—choices, struggles, and questions."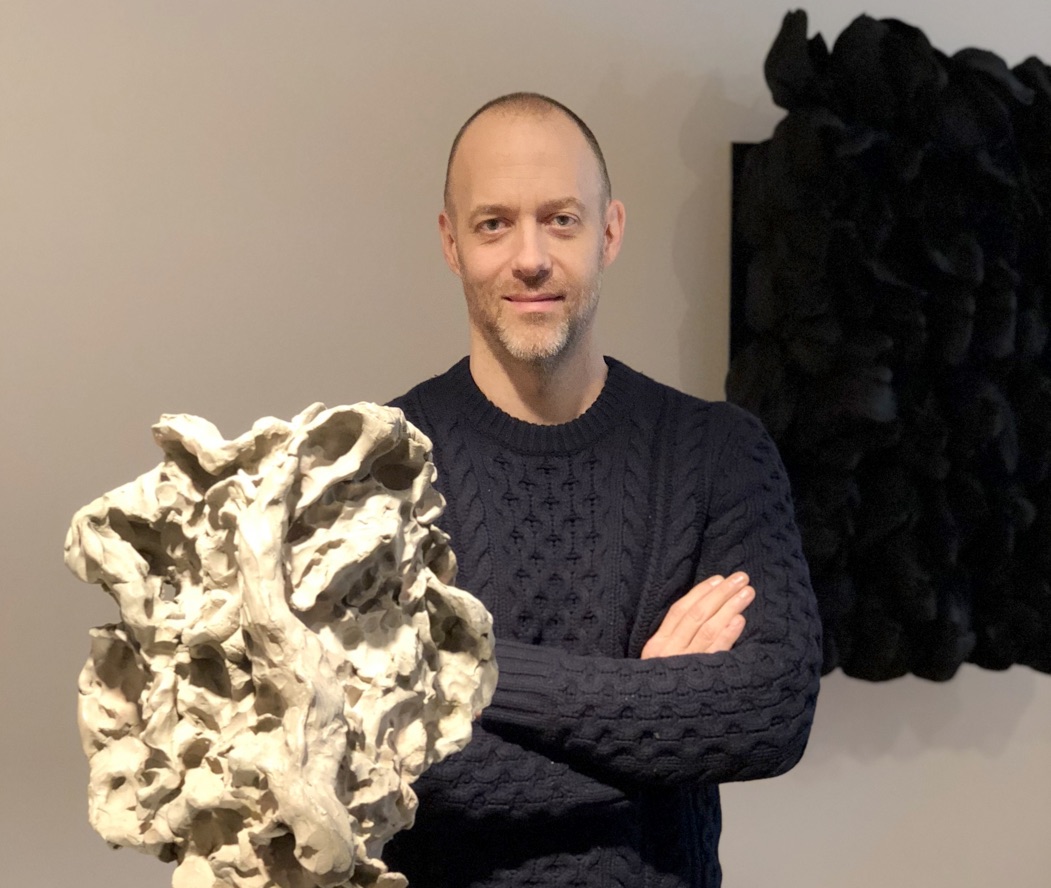 The idea of the search is best exemplified in the third part of the La Villette installation, Heads, which features seven super-sized bright yellow bronze casts of Ryman's cranium gazing ever skyward. Each part bears an additional title drawn from Beckett's "Waiting for Godot," another narrative about the pursuit (albeit passive) of spiritual experience. The theatrical connection is logical, too; Ryman spent a decade as a playwright before he transitioned to art. "My plays were about the unconscious, about what happens before the idea comes. They didn't even really have lines, just lots of made-up words. No one really liked being in them or watching them, so only a few were ever produced."
Ryman retains an interest in absurdist philosophies, however, and cited it as one reason for his use of clay: "You can't argue it. it is what it is. It's water and dirt. And it feels like it dances in my hands. It expresses itself." The same might be said for his use of made-up words and nonsensical language. "I feel like I'm the merging two now, sculpture and words," he said. "Language is a funny thing, though. People say things that they don't mean all the time. And people mishear other things to fit their expectations." He recounted some of the Heads titles—All mankind is us; Blaming his shoes for the fault of his feet; Nothing to be done—enjoying their elusive profundity.
Will Ryman: Pac-Lab is on view at Parc de La Villette, Paris, from March 22 to September 16.