Photographed by Susan Meiselas/Magnum Photos.
BDSM Is Everywhere From High Culture to High Fashion
But what does a practice so physical mean in today's increasingly virtual world? Photographed by Susan Meiselas. Styled by Stella Greenspan.
Photographed by Susan Meiselas/Magnum Photos.
For GARAGE Issue 14, we asked Magnum photographer Susan Meiselas to return to BDSM club Pandora's Box, the site of her celebrated 1995 photo series, to document a new erotic moment alongside GARAGE fashion editor at large Stella Greenspan (working with real doms and subs), and assigned writer Katherine Bernard to meet the artists exploring modern-day kink.
To consider the scope of sexuality is like turning your gaze to the universe—you may love to probe outer space's unknowable edges, or you may feel sick at the spread of stars, dizzied by the pulses. With the internet, fetish is not a dark reach; it's right there, and the vastness of human desire—whips, chains, inflatables, exhalations, toes, latex, goosebumps, statues, mirrors, gravel, trees, hot wax, and beyond—is available to behold. "It's uncensorable and totally sexual. If you don't get freaked out by that feeling, you can really stretch your mind," says Lissa Rivera, a curator at the Museum of Sex in New York.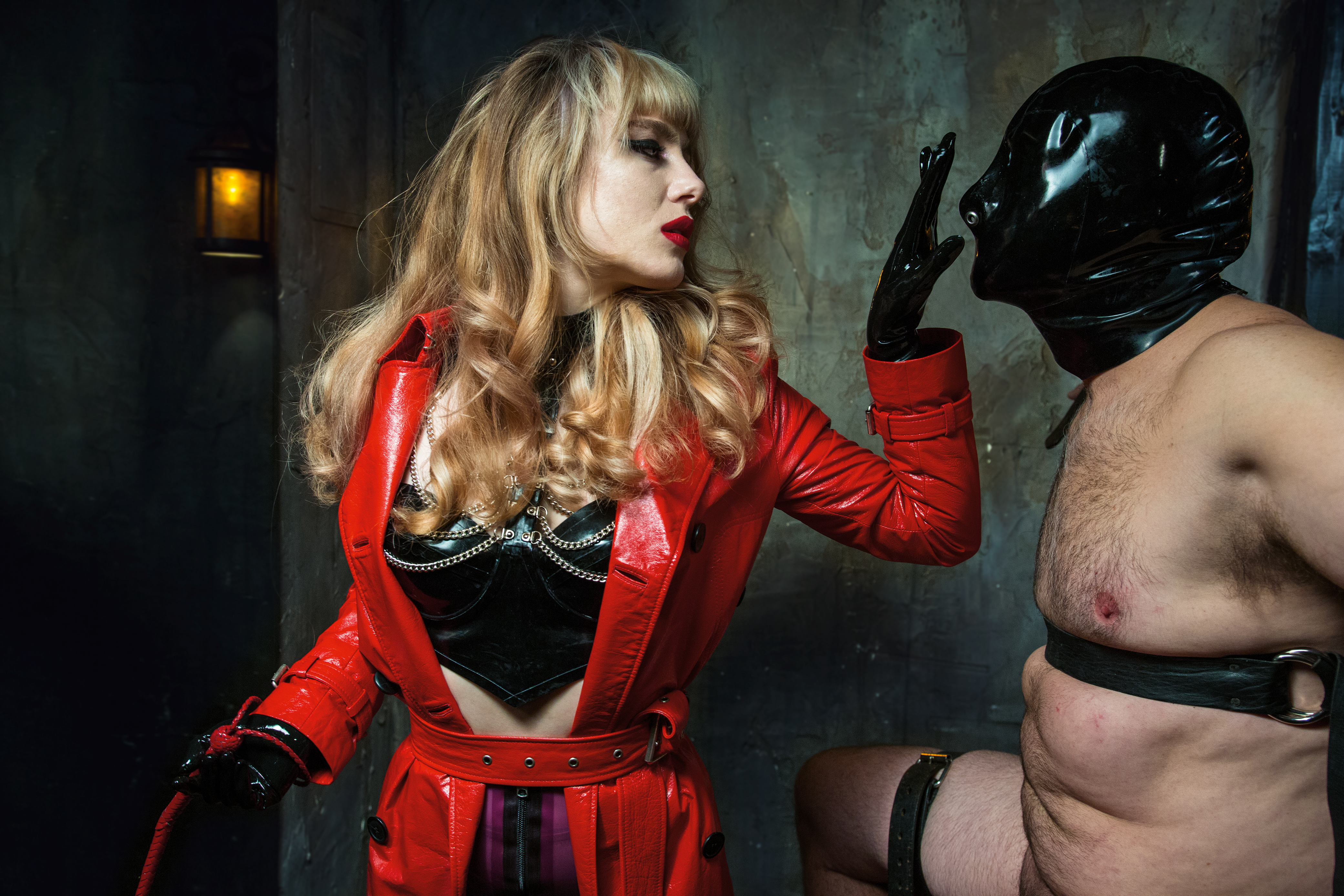 "I went on Etsy and searched 'leather harness,' and it came up with 7,224 results, "Rivera tells me by phone. "Fetish is so embedded in our lived experience, it's becoming a normalized subject." Grindr has an online magazine platform called Into, and in winter 2017, Pornhub opened a pop-up fashion store in New York's SoHo. Street-style stars like Kylie and Kendall Jenner translate the aesthetic into a look one might describe as everyday sexy, pairing latex with baseball caps and sneakers or wearing a full latex look to dinner. SS18 fashion collections like Alexander McQueen, Christopher Kane, and Helmut Lang draw from the bands and textures of bondage gear, putting masks and chains in cultural association with luxury.
The labor involved—and the necessity for communication—make BDSM culture, in its way, very formal: One must powder up to put on a latex suit. A lot of pieces and poses require help to achieve the desired effect. Expert hands bind and tie, like a 19th-century aristocrat's valet or a lady's maid drawing a corset to clench. The process fully occupies the mind.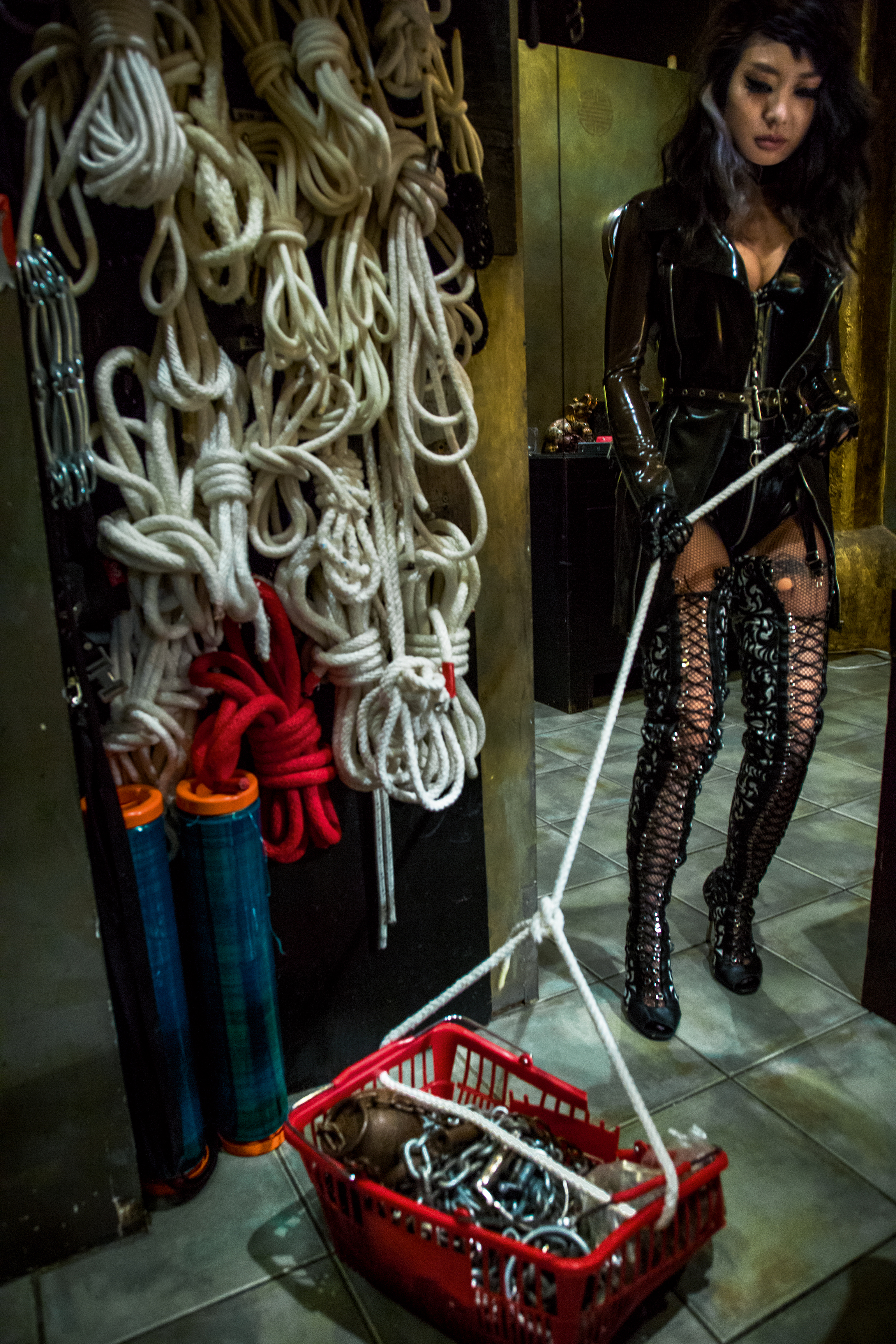 As such, ropy hugs and bound stillness are becoming more visible in the wellness movement as an aid to mindfulness. BDSM-themed meditations and yoga classes use the practice to engage the moment and heal what thrashes inside. The connection to pain is traditionally part of the meditative process; becoming aware of and accepting discomfort, whether from inner demons or extended sitting, is central to achieving stillness.
For those addicted to swiping and refreshing for likes, it may not seem extreme to enter into a forced hold in order to reconnect with one's corporeal reality. Kinbaku, or Shibari, a type of Japanese rope bondage, takes time and care to fasten. The rope becomes the meditative voice: first this arm, then that arm, guiding your mind down your body as the bondage progresses, focusing it on the sensations of the here and now. And even in a spiritual context, a partner is required. There is always a power dynamic, especially to achieve surrender.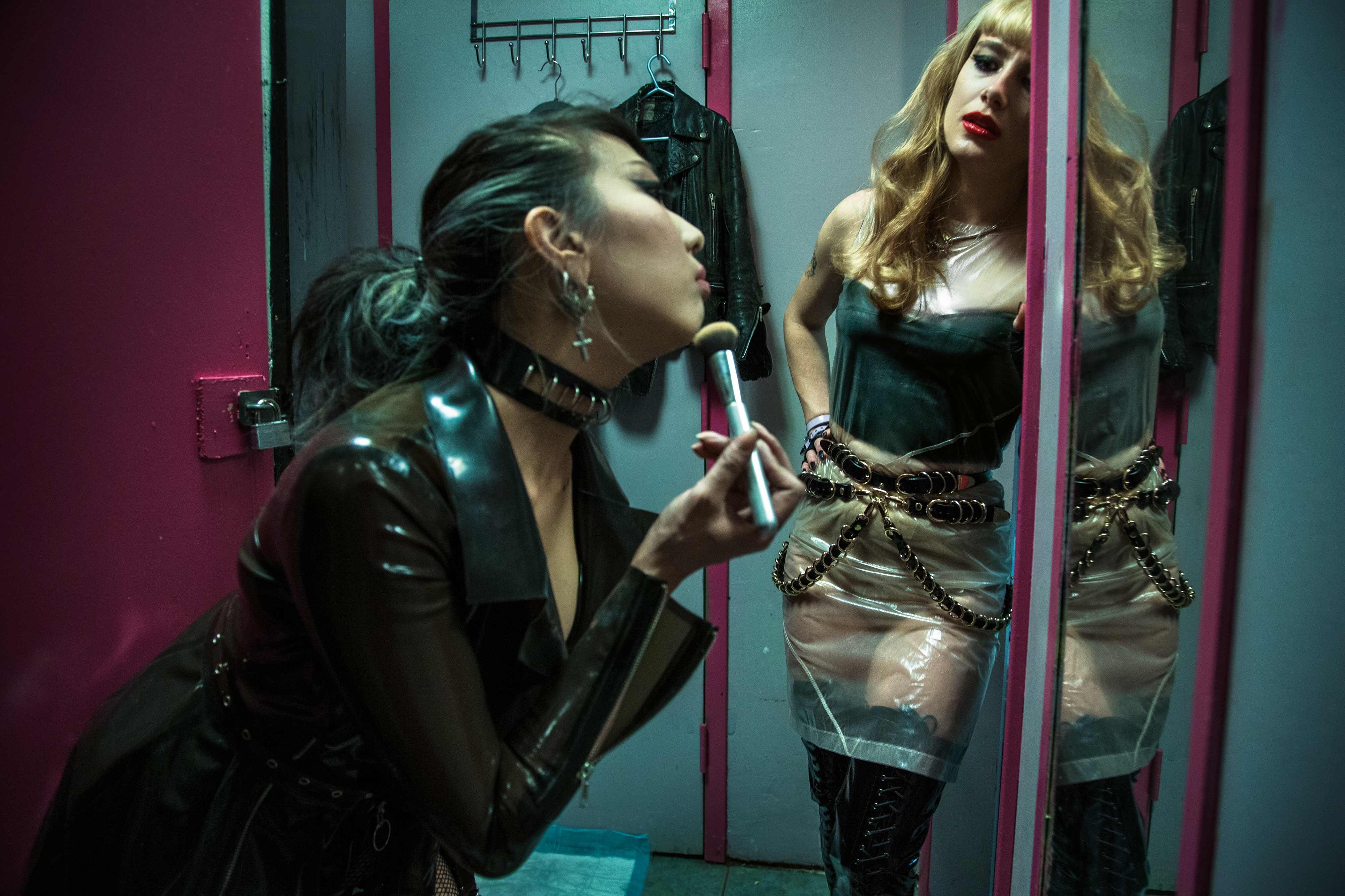 Artist Robert Mapplethorpe began a measured exploration of BDSM in the 1970s, taking black-and-white portraits that showed fisting, piss play, bodysuits, and more, all captured with theatrical precision. They were displayed in 1978 at Entrance Gallery at LAICA (though the curators did not know the exact subject matter of the photographs when they agreed to exhibit the work) and drew large crowds. It wasn't until after Mapplethorpe's death from AIDS, in 1989, that the homoerotic, sadomasochistic work became contentious. In 1990, the Contemporary Arts Center in Cincinnati defended its exhibition of Mapplethorpe's photographs in court—the first criminal trial of an art museum. The museum won, setting a precedent for what, legally, could be deemed obscene.
In 1995, documentary photographer Susan Meiselas entered Pandora's Box, a vast S&M club on 18th Street in New York. (New photographs by Meiselas, shot at the new location of Pandora's Box, accompany this story.) That same year, Catherine Opie's self-portrait Pervert—in which the artist, faceless in a leather mask, sits backdropped by gold brocade, the word carved into her chest and bleeding—appeared in the Whitney Biennial. "Pervert is too intense for me now," Opie told The New Yorker in March 2017, but at the time, the work was a radical claim of community, an image of what those in Congress who refused to fund AIDS research most feared, framed like a Renaissance painting.
For a generation whose idea of sex was formed by the digital universe, BDSM images themselves are no longer unseeable in the same way. Infinite uncloistered pictures and videos are a given, and the conversation now extends beyond documentation of the culture and its practitioners. Opie's grainy, intimate O Portfolio (1999), depicting friends in the BDSM community, and Robert Mapplethorpe's stark X Portfolio ("It's X and O, like tic-tac-toe, so it's a game with Mapplethorpe," Opie told Outin 2016) paved the way. Today, artists have a new subject: their own individual exploration of the visual swell itself, the wading path through the vastness.
"Instagram blurs that line between something that's pornographic to something artistic to something traditional," says Sean Bennett, a hairstylist who posts photos of bruisescapes and ruddy cheeks alongside images of editorial hair. Instagram connects him to other members of the community, a dually digital and IRL scene that feels very different from the gay leather culture of the 1980s and 1990s.
"The old guard, the leather daddies of the post-AIDS crisis, was steeped in toxic masculinity," Bennett says. "For the younger generation, consent is the best lubrication. You talk about the scene, what you expect and want done, and then there's aftercare." Bennett recently brought two younger men—a "boy" and a "pup," who does submissive collar-and-leash role-play—to Paddles, a BDSM club in Chelsea. "What I try to do with my own personal BDSM work is to create a sensibility of friendship,"he says. He put them in a cage to make out with each other. "It was very lighthearted. I was the scene-master, making sure no one was touching them and that there's safeness in this company."
Vincent Tiley, an artist who creates bodysuits worn by participants in his sculptural performances, recently cast Bennett in one of his endurance pieces. "I got dragged around a gallery for three hours," says Bennett, who was attached to another performer by a leather strap. "I loved it." Tiley's performances create a narrative out of bodily limitation. The confining suits and positioning give the duration its tension and emotionality.

Bennett discovered kink on sites like FetLife ("the original MySpace or Facebook of the fetish community"), whereas Tiley's introduction was at the Leather Archives and Museum, in Chicago, which he visited while working on his MFA. "I had no idea how creative and political the fetish scene was," Tiley says. There, he saw remnants of the AIDS crisis: leather garments saved by friends of the deceased who did not want ashamed family members to throw them away. The result is an archive of custom handwork, expressive labor preserved by queer family. "That museum totally changed my life," he says.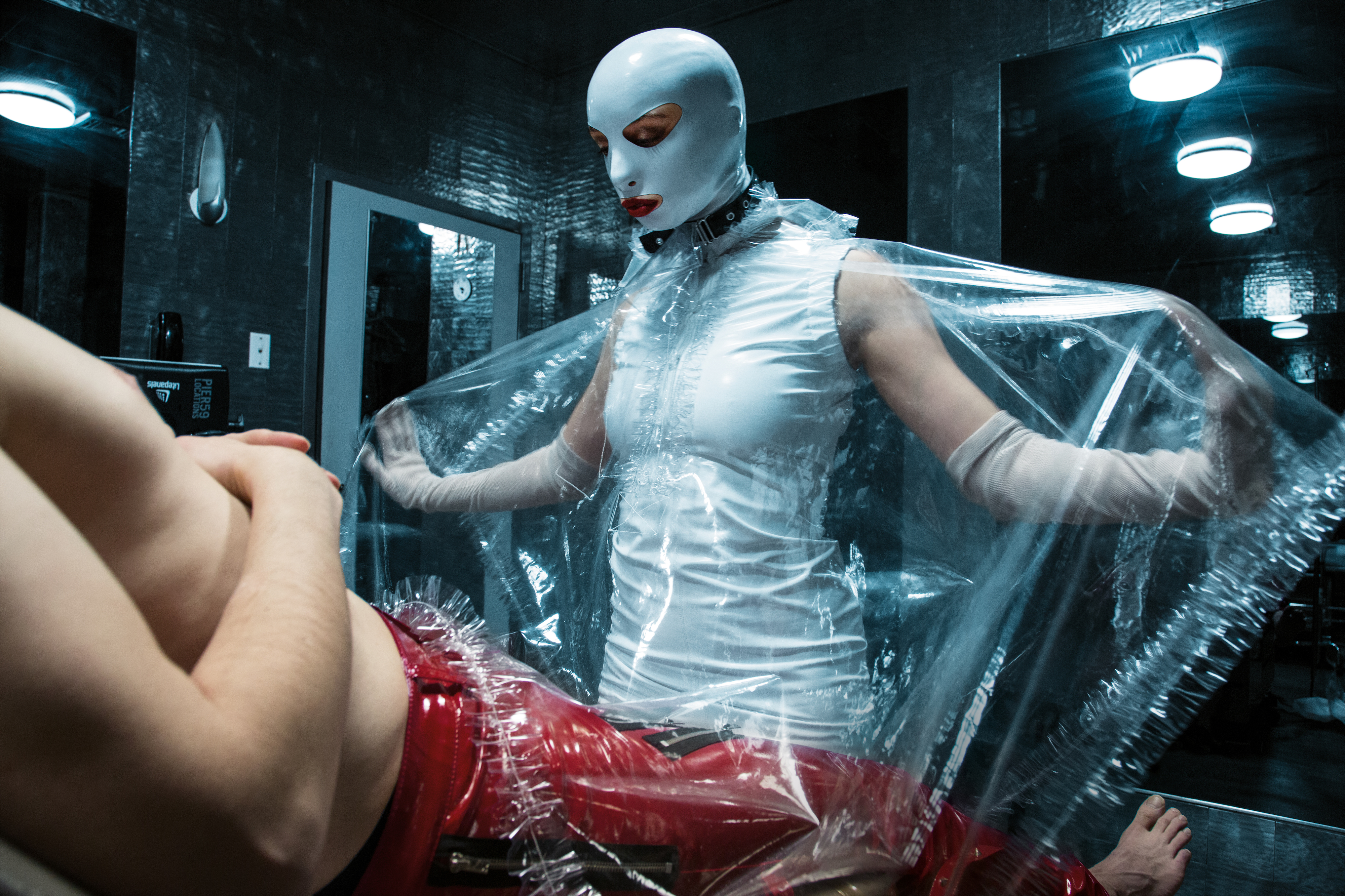 Tiley was a resident at the Fire Island Artist Residency this summer, where he began a project using inherited leather materials and oral history from the local community. "A lot of work right now in the LGBTQ community is around the act of writing our own history correctly," he says. "There's been so much to erase. It's part of this larger conversation of bringing BDSM garments out of the bedroom and onto the sidewalk."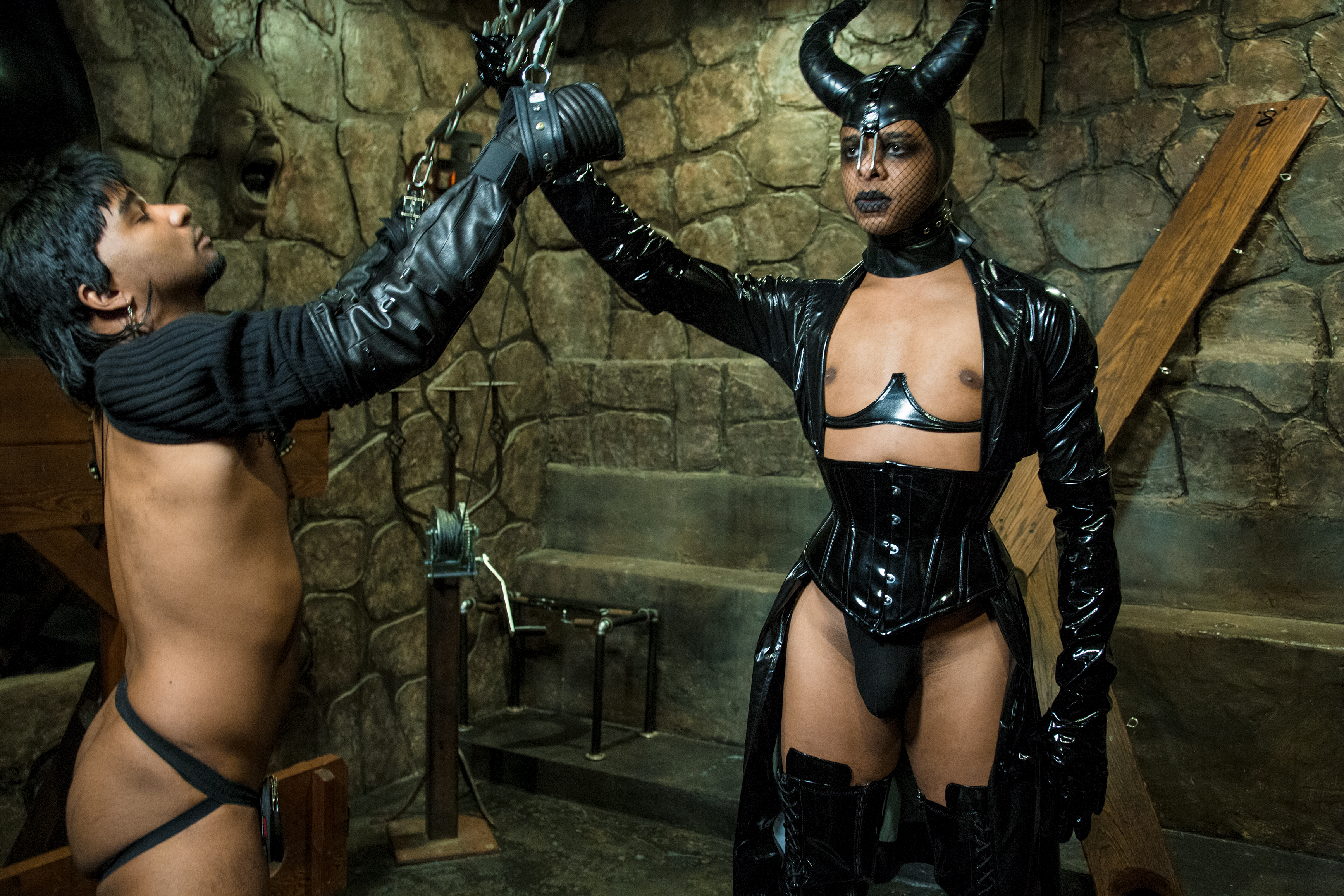 "Congratulations on being a mom!" Elise Peterson's former dominatrix mentor recently wrote on her Facebook wall when Peterson shared a photograph of her pregnant belly. This year, Peterson created illustrations for the first children's book to depict mothers as sex workers: How Mamas Love Their Babies, by Juniper Fitzgerald. The book depicts mothers in all kinds of caretaker modes. "Some moms stay at home, some moms use their heads, some use their hands," Peterson explains. "Some moms dance on their feet all night long in special shoes."
In 2014, Peterson began working as a pro dom in Midtown Manhattan. She had recently been accepted into art school at Parsons and was the music editor for Solange Knowles's site Saint Heron. "I was coming from a place where I felt disempowered, and [being a professional dominatrix] was my way of working through that," she says. Yet the dungeon was monitored 24/7 by a man off-site, and the women working there weren't allowed to leave the premises during a shift. "It would be dishonest to say," she adds, "at least in the world of BDSM as it relates to a professional career, that you always have agency in that space." Eventually, Peterson left the job, exhausted by the emotional weight. "When you start to get to people's root and they tell you about their own abuse, I couldn't take it on anymore," she explains. "I told myself when I stopped having fun I should stop. But I worked with a lot of women who had no option in that. [Illustrating the book] allowed me to revisit my experience because I am the child of the internet era, and when my kid grows up, they will be able to know that Mommy worked in the sex industry. So I am grateful for the opportunity to help normalize it."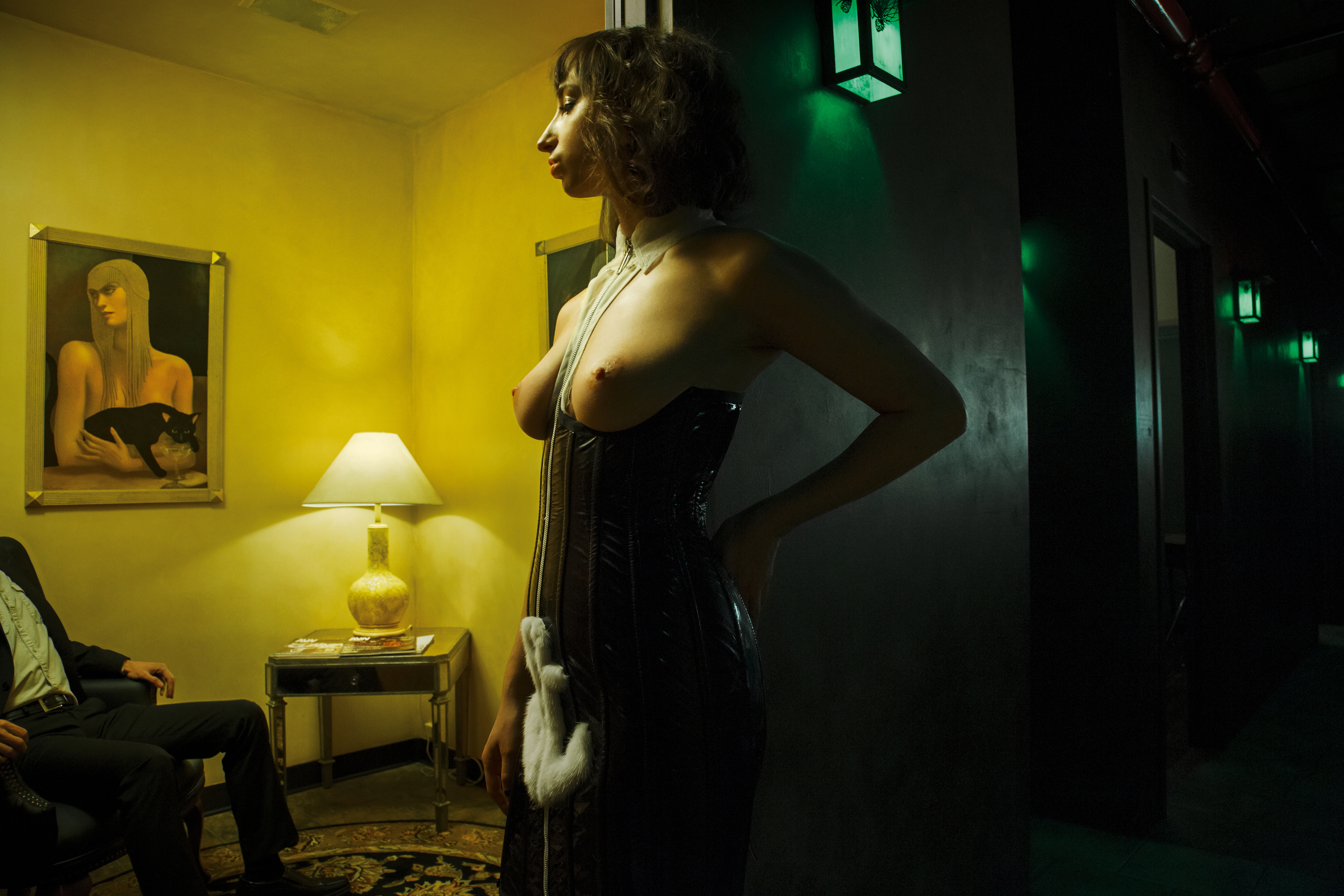 "The conversation has evolved in relationship to women making images of women in compromising positions," says artist Sophia Narrett, whose lush, embroidered textiles explore transportive love states and the emotional billows of erotic interaction. "There is that question of how do power dynamics in consensual, explorative sex relate to the real presence of violence against women in our world and reconciling it with a very real and terrible situation. It's a conversation I'm interested in having."

In one piece, from her series Early in the Game, a woman is tied up, legs spread, seated at the corner of a pool table. She's alone, and the viewer is left wondering whether an erotic encounter is yet to come or if being left as a prop in a game is the fantasy she seeks. The question as to how the interaction will unfold is asked a thousand times, as we imagine Narrett's plan for the image coming through stitch by stitch. The pace of her material is so much slower than today's hectic making and consuming of images, that her graphic pictures feel suspended in time.
"Some people think my work is scary," says photographer Joanne Leah, who makes bondage portraits with surprising colors and textural counterparts, such as pigmented ice moving down a bodily crevasse like a purple glacial flow, Barbie shoes piled on a vulva, or bright red fruit leather strips laid in a restraint design across a torso. She works with people in the BDSM community (and was once bound in cling wrap for 15 minutes to explore the feeling before shooting a subject cocooned in plastic) but feels more like an "observer or researcher almost."
"When I have my subjects come to my studio, I'm asking them to trust me in the way a dominatrix would," Leah says. Though her subjects, who are generally members of the BDSM community, know the nature of her work, consent is central to the creative process.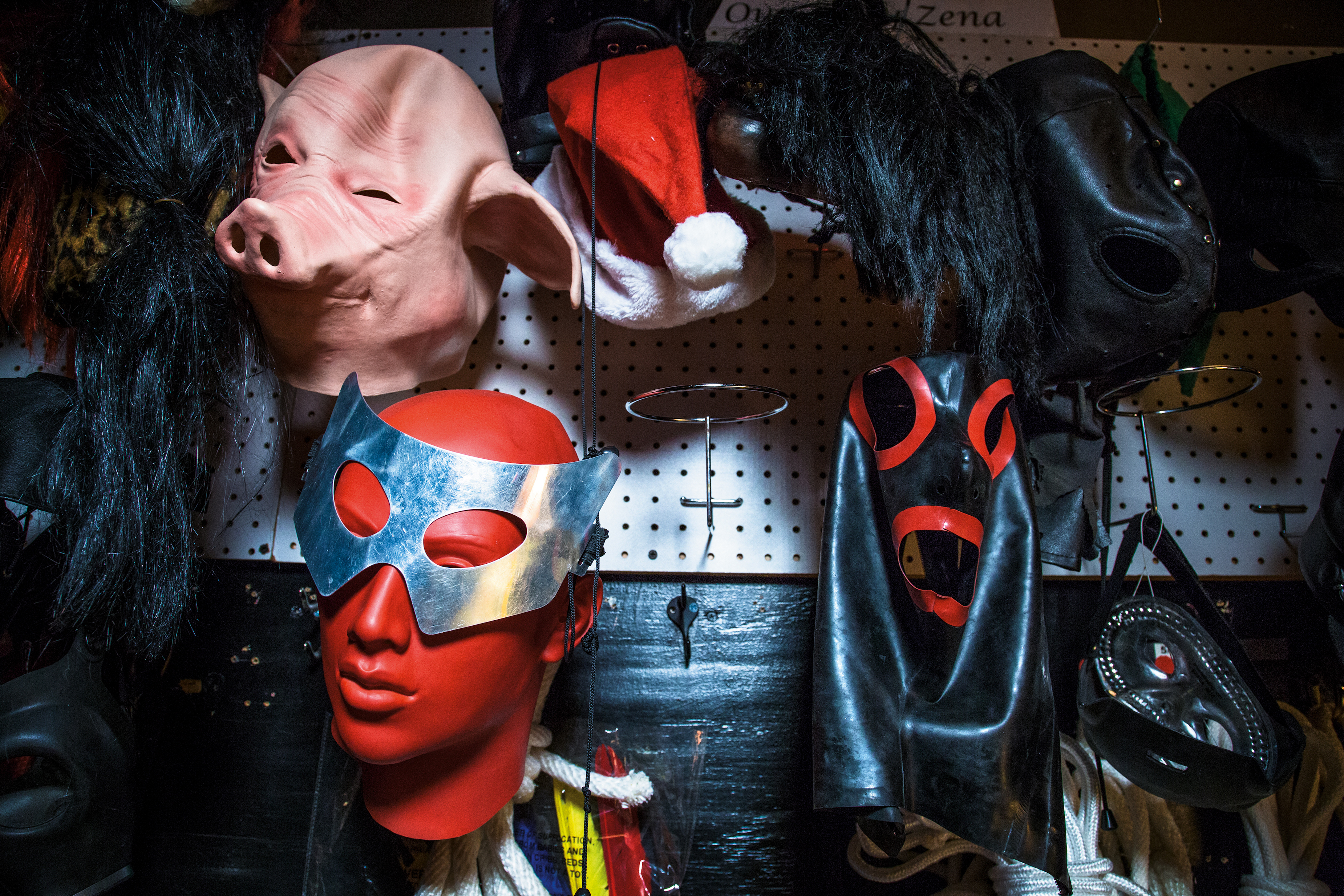 Rivera, who is an artist as well as a curator at the Museum of Sex, recently co-curated an exhibition titled NSFW [Not Safe for Work]: Female Gaze, which included work by herself, Narrett, and Leah as well as 25 other women. "Art has been so removed from the personal in the past," she says. Confessional work hasn't always been valued in an academic setting, but digital communication has made what was historically categorized as female into a new standard of expression.
"Now, you have to share more often and write more often and tap into a certain level of honesty in order to set yourself apart from the generic expression that was the norm in the past, because the media was controlled by a few people," she says. One might say kink is expression at its most honest: in arousal there is narrative, pulse and history. Becoming attuned to it no longer puts artists and practitioners into a box to be closed or opened, but on a plane always there to behold, sublime and inviting as the stars.
A version of this story appeared in GARAGE No. 14, available for purchase here.