Jacquemus Is Launching Menswear Because He Is in Love!
At tonight's Fall 2018 runway show in Paris, the designer announced he'll soon debut a collection of menswear.
Simon Porte Jacquemus, the 28-year-old designer of super sensual clothing and terrifically oversized hats, brought a delightful end to a mystery he's been teasing on his must-follow Instagram recently with the hashtag #newjob. What could #newjob mean? Was he headed to Versace? Céline? At the end of his Fall 2018 Marrakesh-themed runway show in Paris tonight, he jogged out in a beige hoodie printed with the answer: "NEW JOB L'HOMME JACQUEMUS."

Jacquemus menswear: coming to a store near you!

"I did the Jacquemus woman for my mother," he said in an interview after the show. "The man [had to be] something I should feel—it's not like, Oh, we do a brand…and we have to do men's. No: I didn't feel it, I didn't feel it, and then I was like, when I'm going to fall in love, I'm going to do 'this man,' because [he's] going to exist. It's going to be someone I can see, someone I can smell, someone I know what he's eating—someone I know everything about.
"So I [had] this feeling this winter, and I was like, Okay, let's do it!"
(Depending on whom you ask, he's burying the lead: Jacquemus is in love! But he was coy when asked if the man in question was present. "It's too personal," he said, and blushed. Instagram breadcrumbs suggest it's filmmaker Gordon von Steiner, who helmed the designer's joyous La Bomba campaign video.)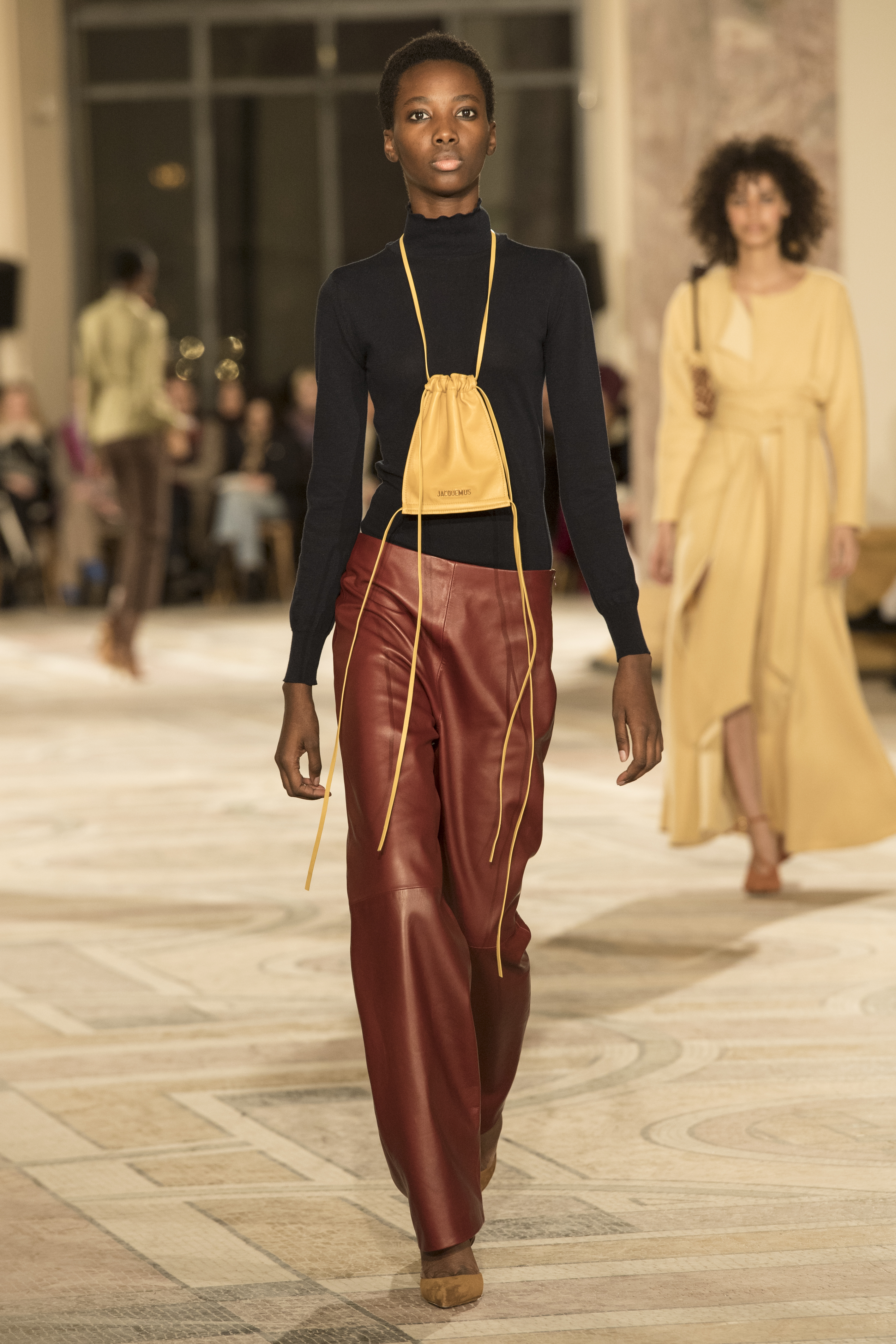 Jacquemus menswear is an intriguing prospect. The brand is known for its minimalist, confidently seductive clothing—high slits, bare shoulders, and clingy, see-through knits, paired with kooky accessories like teeny-tiny handbags, stilettos with heels crafted of stacked balls, asymmetrical earrings, and those outrageous hats. In other words, it's very feminine. It's the kind of clothing that shows off that bod, and as the legions of fans dressed in the designer's clothing at tonight's show demonstrated, it looks great on a range of body types. Part of Jacquemus's purity—there's a certain naiveté to the clothing that gives its minimalism a refreshing, rather than monastic, edge—is that he doesn't come from the church of designer worship. When Rei Kawakubo sent him notes on just his second collection, he had to look up who she was, and tonight's show, inspired by the souks of Marrakesh, carried nary an aesthetic reference to that city's patron fashion saint, Yves Saint Laurent.

Menswear, on the other hand, can be puritanical about its fashion history. How will the designer's aesthetic translate in that world? Jacquemus, whose personality is youthful and buoyant (and thank God—it's great to see someone is happy!), said that while in the past he has often referenced his mother, who died suddenly shortly after he moved to Paris when he was 18, "with the men's coming, I want to speak about the future: full of sun." Notably, many of the models were smiling; "I need you to smile because people need it," the designer said he told them before the show. Anxiety is the mood of the age, and menswear could use more energy outside its hypebeast core (particularly from someone who is so thoughtful about what women want). The world is more than ready for a sensual, confident man. It may be Jacquemus who brings him to us.