A t-shirt by Beth Postle. Photograph courtesy of the London Fashion and Textile Museum.
Is the T-Shirt a Fashion Icon?
A new exhibition in London argues for the humble tee's place in the fashion pantheon.
A t-shirt by Beth Postle. Photograph courtesy of the London Fashion and Textile Museum.
Is it such a conceptual leap to celebrate hackneyed stalwarts like Hard Rock Café t-shirts and varsity 'Property of…' tops as design classics? T-Shirt: Cult, Culture, Subversion—a willful new exhibition at London's Fashion and Textile Museum—argues for their place in the fashion pantheon, alongside studded, ripped, breast-bearing tees from punk-era Vivienne Westwood, and the impassioned political slogans of Katharine Hamnett.

Printed in bold type to deter misappropriation, the 'Property of…' tagline was first slapped on the University of Southern California sports uniform in 1933, a gesture that, in itself, inspired widespread theft. Five years later, Sears started marketing undershirts with the slogan "You don't need to be a soldier to have your own personal t-shirt." The earliest Hard Rock Café t-shirts date back to 1974 as part of a sponsorship deal with a local football team.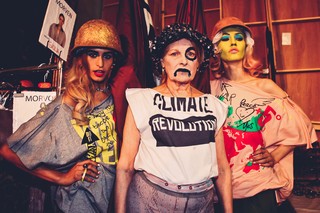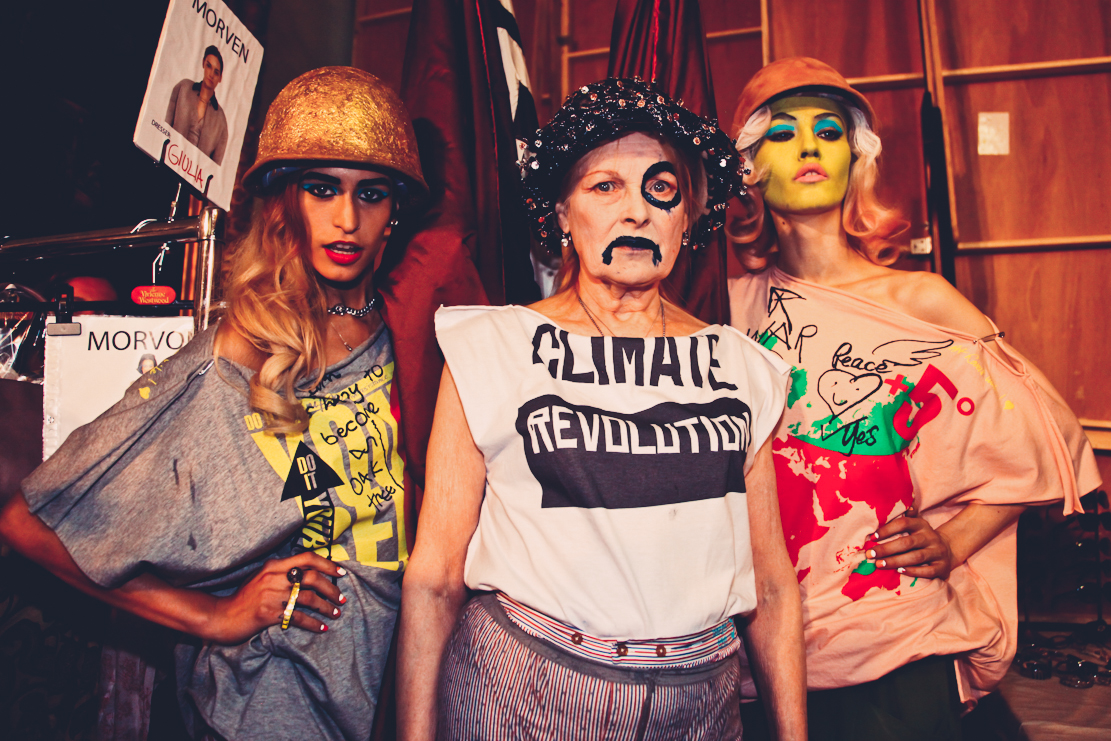 "The t-shirt can signify all sorts of things for different people," says Dennis Nothdruft, one of three curators who worked on the show. "I think it's the ubiquity that gives it its power."

The show evokes the deconstructed DIY atmosphere of London's 20th-century subcultural emporia, such as Hyper Hyper or Kensington Market. Scaffolding poles provide the structure. Within, t-shirts are hung in makeshift store displays, on mannequins and off hooks on the walls.
The curators have raided choice items from friends and families. Disdain for museum convention extends to the condition of the items on display, which in some cases are well-worn, stained and even sweat-marked. Tracking down classic band merchandise, curator Jenna Rossi-Camus borrowed a Grateful Dead shirt from her art teacher, a Wu-Tang Clan shirt from her brother, and a beloved Jane's Addiction shirt from her husband. Here, too, are battle-scarred rarities from band members' own collections, including a pair of Throbbing Gristle tees lent by guitarist and performance artist Cosey Fanni Tutti.
Punk pioneers reconfigured readymade t-shirts as found objects. There was no high-fashion preciousness.
"T-shirts become the most treasured items, because they carry associations with a particular time," says the third curator, David Sinclair. "I have a couple that I'll never throw away because of the way they make me feel."
The show germinated from a collection of enviable Westwood t-shirts gathered over three decades by Westwood team member Lee Price. While the scope of the exhibition now extends far beyond her, Queen Viv is still a heady influence. "I think Westwood and Malcolm McLaren were really the ones who took t-shirts into the political sphere, and even into performance art," says Nothdruft. "Their controversy and desire to shock—alongside deconstructing what a garment is—made them key to understanding what a t-shirt might be."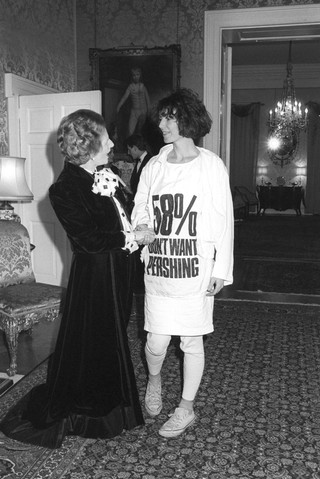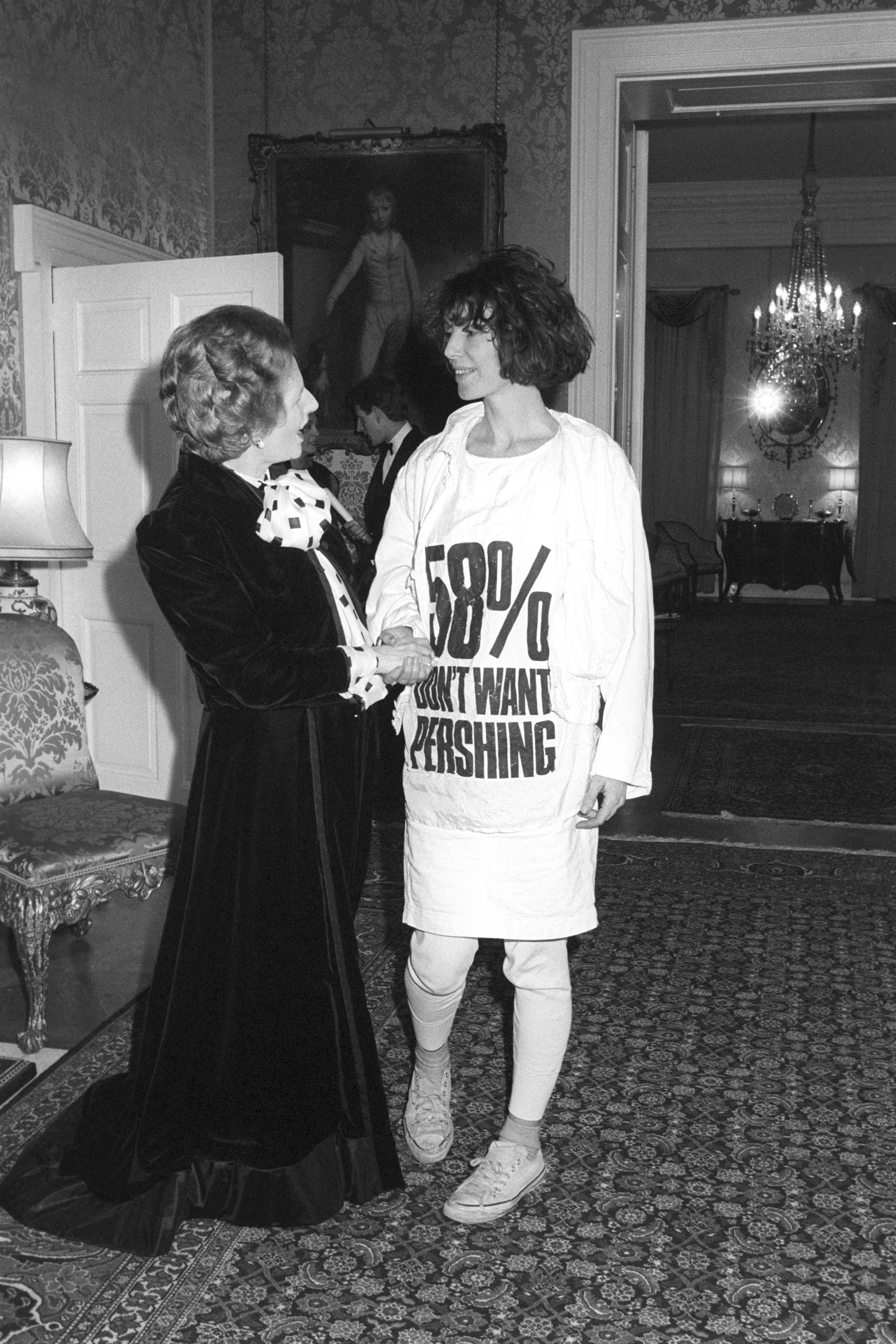 As Rossi-Camus—proudly wearing her own Westwood trompe l'oeil 'Boobs' shirt—points out, these punk pioneers reconfigured readymade t-shirts as found objects. There was no high-fashion preciousness.
In an exhibition of near-identical garments—more or less baggy, short-sleeved, crew-necked cotton jersey undershirts—the question of each item's value feels pointed. The fashion section includes a $590 Gucci logo t-shirt (of which counterfeits are widely available at London's street markets for a twentieth of the price or less), Dior's $710 'We Should All Be Feminists', and a knock-off DHL t-shirt, itself a nod to Vetements' tee tribute to the courier company.
Forget the label: the t-shirt's true value is the blank canvas it offers. "This show is not a history of the t-shirt—it's the start of a conversation," says Nothdruft. "It's about how a t-shirt might be able to challenge perceptions of who and what you can be." From Keith Haring's Silence=Death design for ACT UP, to Jeremy Deller's MY BOOZE HELL made for Sign of the Times; Walter Van Beirendonck's bare-chested bear's chest, to 'This Is What A Feminist Looks Like': cheap to make, adaptable, unisex, and ready for any kind of meaning, they lend themselves to appropriation by artist and activist, pop fan, and provocateur alike.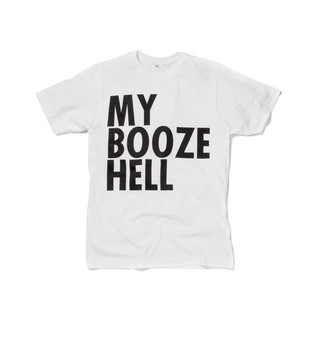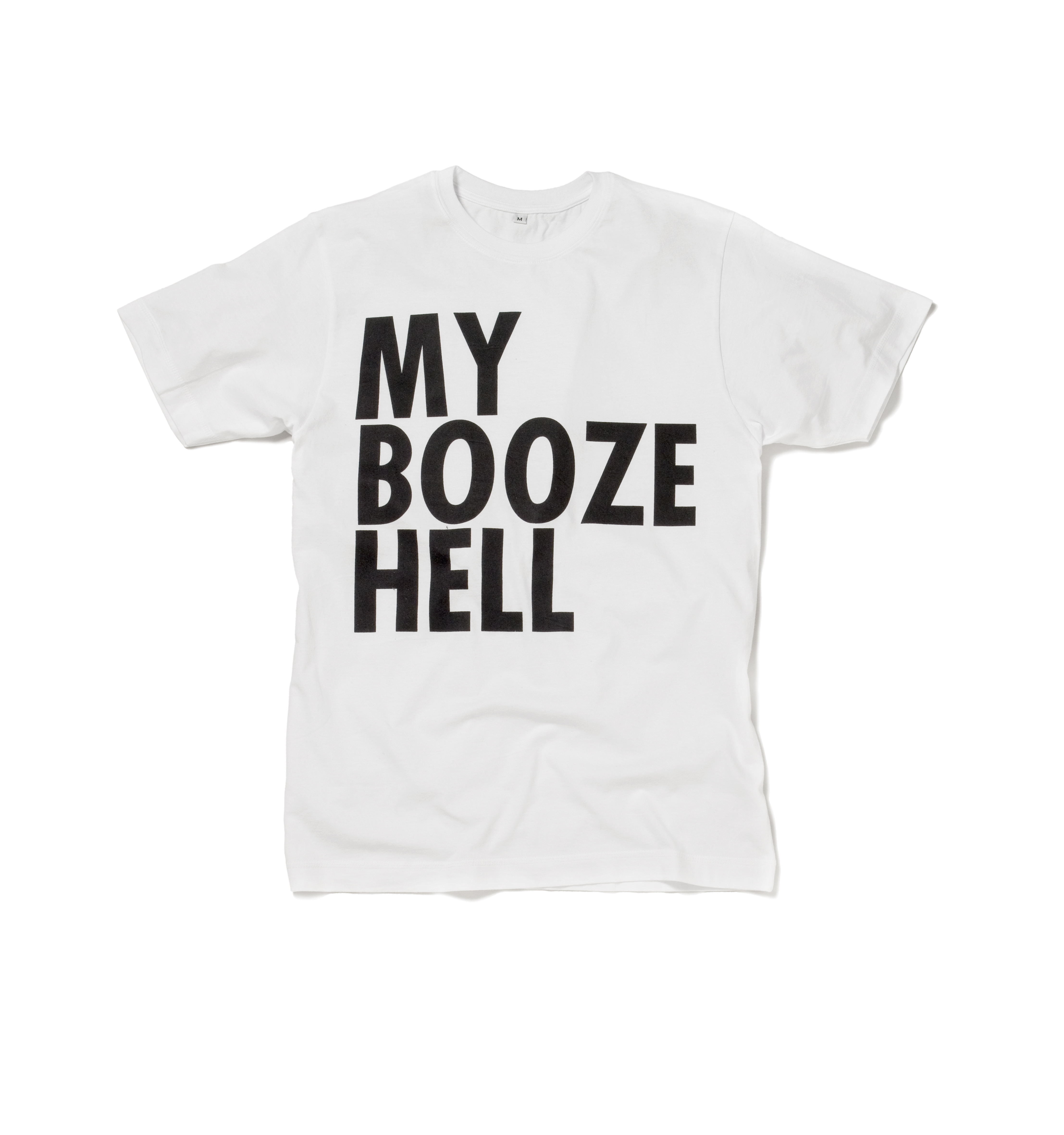 ****
T-Shirt: Cult, Culture, Subversion is at Fashion and Textile Museum, London, February 9—May 6