View of the Mary and Michael Jaharis Galleries for Byzantine Art.

Photo courtesy of the Metropolitan Museum of Art.
I Prayed for Transcendence, But "Heavenly Bodies" Left Me on the Shameful Earth
Chasubles, tiaras, chalices, and mitres—oh my!
View of the Mary and Michael Jaharis Galleries for Byzantine Art. Photo courtesy of the Metropolitan Museum of Art.
Faith is what you used to give to God, among other things, and now it's been funneled into passion; living your dream (the dream used to be the afterlife); ornamenting yourself rather than the shrine. The body is the temple now, and it had better be adorned, such is the imperative of fashion—you better work.
Ostensibly addressing "Fashion and the Catholic Imagination," this year's Costume Institute exhibition is primarily titled "Heavenly Bodies" and includes recent prêt-à-porter or haute couture ensembles from Raf Simons, A.F. Vandevorst, Dolce & Gabbana, and Alexander McQueen, among others, that take cues from the vestments and imagery of the O.G. church of Christianity. At the Fifth Avenue location of the museum, there are looks scattered throughout the Met's permanent collection of Medieval and Byzantine art, and rounded out by a second, more subterranean gallery of real-deal chasubles, tiaras, chalices, and mitres borrowed from the Vatican. It's all very lavish of course, but what might be lost on a secular viewer is that the institutional opulence of Catholicism was designed as a mere semblance of the glory that awaited everyone beyond this life, at least everyone who believed and adhered to their code. Squabble about the differences between art and fashion all you like, they both promise that this life, if beautified enough, is the power and the glory, full stop.

The dust has settled a bit from modernity's whiplashing force, so I suppose there's no real reason now not to suspend Versace mesh evening dresses in the Mary and Michael Jaharis Galleries for Byzantine Art at a terrific height for seeing up the mannequin woman's skirt. I guess it's cheeky to make it look like one left behind a retail display amongst the antiquities and call it exhibition design, but it comes off more like an imitation of the social media feed: A trough of content that flattens context. If a gold and crystal-studded cross appears on a Christian Lacroix jacket, as it does on his "Gold-Gatha" ensemble from a 1988-89 haute couture collection, it certainly does look beautiful, but what are we being asked to worship? (Perhaps its wearer's means and status, if one is so lucky as to ever glimpse an actual person in it.) Catholic churches rack up the spectacles, yes, but last I checked they were also free to enter, free to leave. If you know anyone wearing things like this, chances are good at this point that you work for them.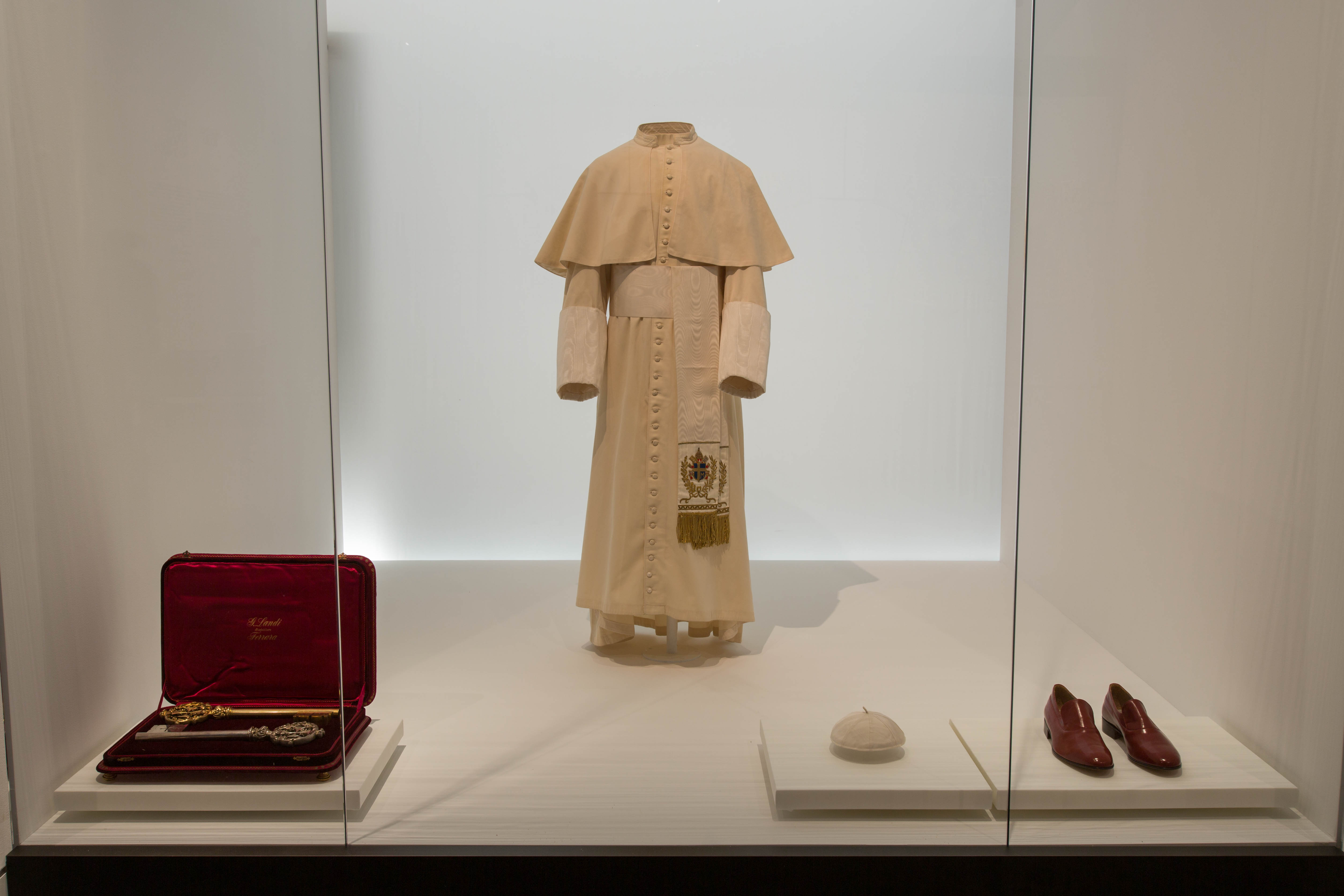 The show functions best when it plays it straight, like the no nonsense cataloguing of a pope's everday wear, in this case that of Pope John Paul II—a Polish fellow, and the reigning pontiff for most of my church-going days. To the right of that familiar white wool twill and silk moiré outfit is a pair of red shoes made by the Italian cobbler Loredano Apollini and worn during the last few years of his tenure, while to the left is a case of large gold and silver keys. One for heaven, one for Earth, so the message is clear: Pope has keys, will travel well shod.
There seem to be a few ideas for just what kind of show could have happened here. In addition to the giddy thrill someone must be deriving from pushing beaded evening jackets and wimple-centric looks out in front of altarpieces and glass-cased, gold-leafed drawings, there's also the impulse, somewhat buried here, to make a historical survey of attire designed expressly to aid the worshipper in their worship, and then another hint of a show about what all artists, good ones at least, are really up to when they make their objects: devotion, even if in offering to the void. Henri Matisse's appliqued chasuble ca. 1950, hung like an afterthought in a stairwell before one dives into the deep end of the Vatican wardrobe, could, and should, be placed in the lineage of artists and designers making things for spaces of contemplation (most of art history), or talismans that create that space in you, since god knows museums have abandoned their post in that arena. Matisse made this piece as part of his design for a chapel in France; Ellsworth Kelly built a secular cathedral recently installed at the University of Texas at Austin, Mark Rothko has his own chapel in Houston—all these might give more room for the imagination, Catholic or otherwise.