The Weirdest Works You Missed at Art Basel
The art fair showed airbag dresses, Mark Zuckerberg as a bodybuilder, and a full-on toilet.
Art Basel isn't always a hotspot for truly edgy art, but that all changed this year. At this top-tier art fair, which is showing 290 art galleries and 4,000 artists, there's the usual panel discussions, film program and public art to be seen across Basel, as well as a section called Unlimited, which attempts to tap into the cutting-edge art. But none of this compares to the weird shit. This year's edition has everything from airbag couture to blackjack tables and toilets. Here are some of the weirdest things you missed this week during Art Basel's VIP preview.
Donald Trump as the Tin Man from the Wizard of Oz
This artwork, made by Coco Fusco, is called "Tin Man of the Twenty-First Century," and is being shown with the Alexander Gray Associates. According to the artist, the Tin Man is a character with no heart or brain. She sees a parallel with the president. "The 2016 election was a watershed moment, I sensed that our country would be changed forever," she said in a statement. "Not every artist wants to respond to what happens in the political arena, but in the course of history many have done so, and I embrace that venerable tradition."
Airbag couture (literally couture dresses made from airbags)
The artist Alicia Framis is showing her "LifeDress" series with Galería Juana de Aizpuru, a total of nine dresses made out of airbags taken from Japanese cars. They're meant for women to wear as dresses, and as soon as a woman experiences harassment of any kind, she can activate the airbag dress to expand, potentially blasting her opponent away. Why hasn't anyone thought of this before? Exactly.
Art fair casino?
Over at the Perrotin gallery booth, the artist Xu Zhen has turned this one corner of the art fair into a mock, conceptual casino (don't expect any chips—or even strip poker). Because let's face it—buying art can be a bit of a gamble, right? Zhen has installed a handful of roulette and baccarat tables, ones you'd find at any run-of-the-mill Las Vegas casino. A few performance artists are mulling around the tables, creating sand mandalas, the kind Tibetan Buddhist monks use to depict processes of creation and destruction. Pretty Zen.
Mark Zuckerberg as a bodybuilder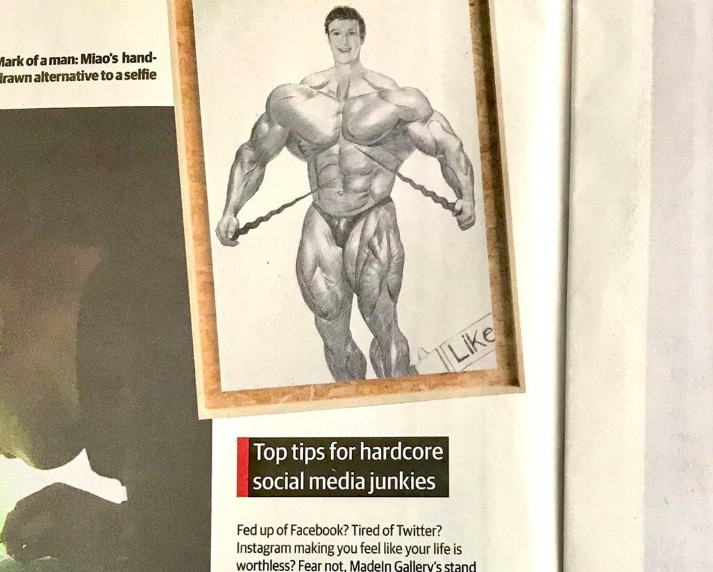 The Shanghai-born artist Miao Ying is showing a series called Hardcore Digital Detox, which looks at the internet through the lens of the "Chinternet," or the Chinese internet. Zuck has the body of an Arnold Schwarzenegger-like bodybuilder. The project leads viewers to a website where the artist is selling to online products that will make you laugh (browser cookies, anyone?). "I think part of the reason why I really want my work to be humorous instead of very serious is because I grew up in a very serious environment," the artist recently said. "With all the limitations in China, it was still giving people in China a chance to create all these things online and communicate in new ways."
A Plexiglas maze with orange juice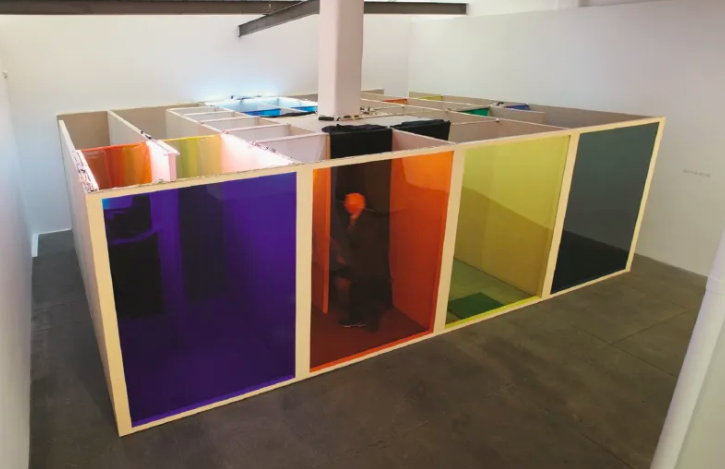 Helio Oiticica has made a colorful maze for art goers in one booth, with one box filled with a gallon of orange juice. The Brazilian artist is showing "Penetrável Filtro," an installation from 1972, which is being shown with Galerie Lelong & Co. It's like a labyrinth with walls made of colored plastic—but others might see it as an experience that's hard to resist for your Instagram story. After corridors of green, blue, yellow and orange, the end of the maze offers viewers a glass of orange juice from a giant tub inside. Skip the VIP lounge and the overpriced art fair café, this is where it's at (at least if you're thirsty).
A low art boutique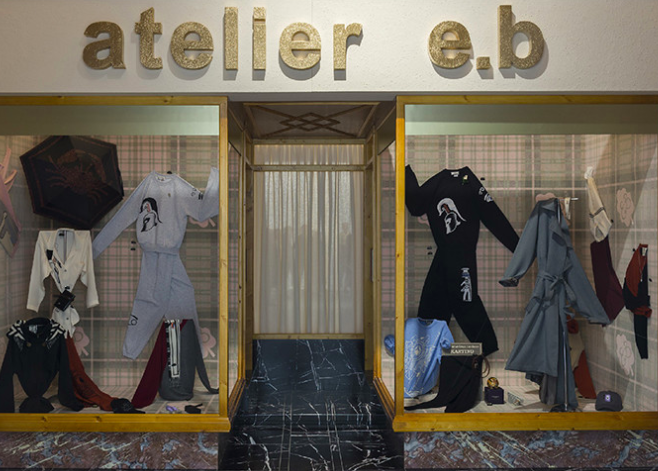 Ever want to learn about the history of the store mannequin? Look no further. This is much more than just a window display. The artist Lucy McKenzie and designer Beca Lipscombe work together under the moniker Atelier E.B., their online shop and here, a pop-up storefront that looks a lot like a secondhand clothing store from the 1990s. It's been called a cult label that's "equal parts local museum display, contemporary art show, and functional salesroom." For their online store, they sell sweatshirts bearing their logo, photo prints of women lounging near sphinx sculptures and badges of femme figures, as well as products that tie into fashion history, architecture and traveling around Europe.
This toilet is the shit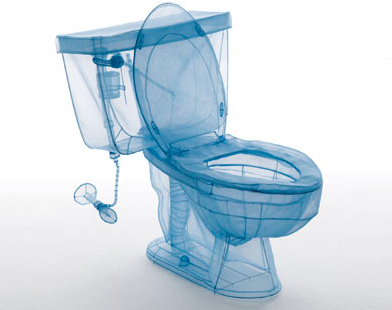 The artist Do Ho Suh has made replicas of household appliances, including a bathtub, a radiator and a stove. But a toilet? Nobody wants to see that, never mind buy that (then again, Maurizio Cattelan's golden toilet is traveling next to England). It's called "Toilet, Apartment A, 348 West 22nd Street, New York, NY 10011, USA," as if we needed the entire address (what do you want, fan mail?) which is being shown at the Lehmann Maupin gallery booth.