Courtesy of Getty Images and Instagarm.
Is @ms.flufflestiltskin Jake Gyllenhaal's Cat? An Investigation.
*An Important Investigation.
Courtesy of Getty Images and Instagarm.
Over the past few weeks a number of questions have tormented my small brain: Will a 25th Democratic candidate announce their bid for Presidency? Will artificial intelligence really help doctors more accurately screen for lung cancer? And is Ms. Fluffle Stilt Skin in fact Jake Gyllenhaal's cat?
Earlier this month, Dilara Elbir, the Editor in Chief of Much Ado About Cinema, tweeted what qualifies for me as breaking news: "So Jake Gyllenhaal has an instagram for his cat Mr. Flufflestiltskin and Mr. Flufflestiltskin only follows, and I cannot stress this enough, Cats The Musical," she wrote. Despite her misgendering of said cat, this felt like a real scoop. Elbir did, after all have some evidence, pointing to an April 10th post in which Gyllenhaal and Skin had a back and forth.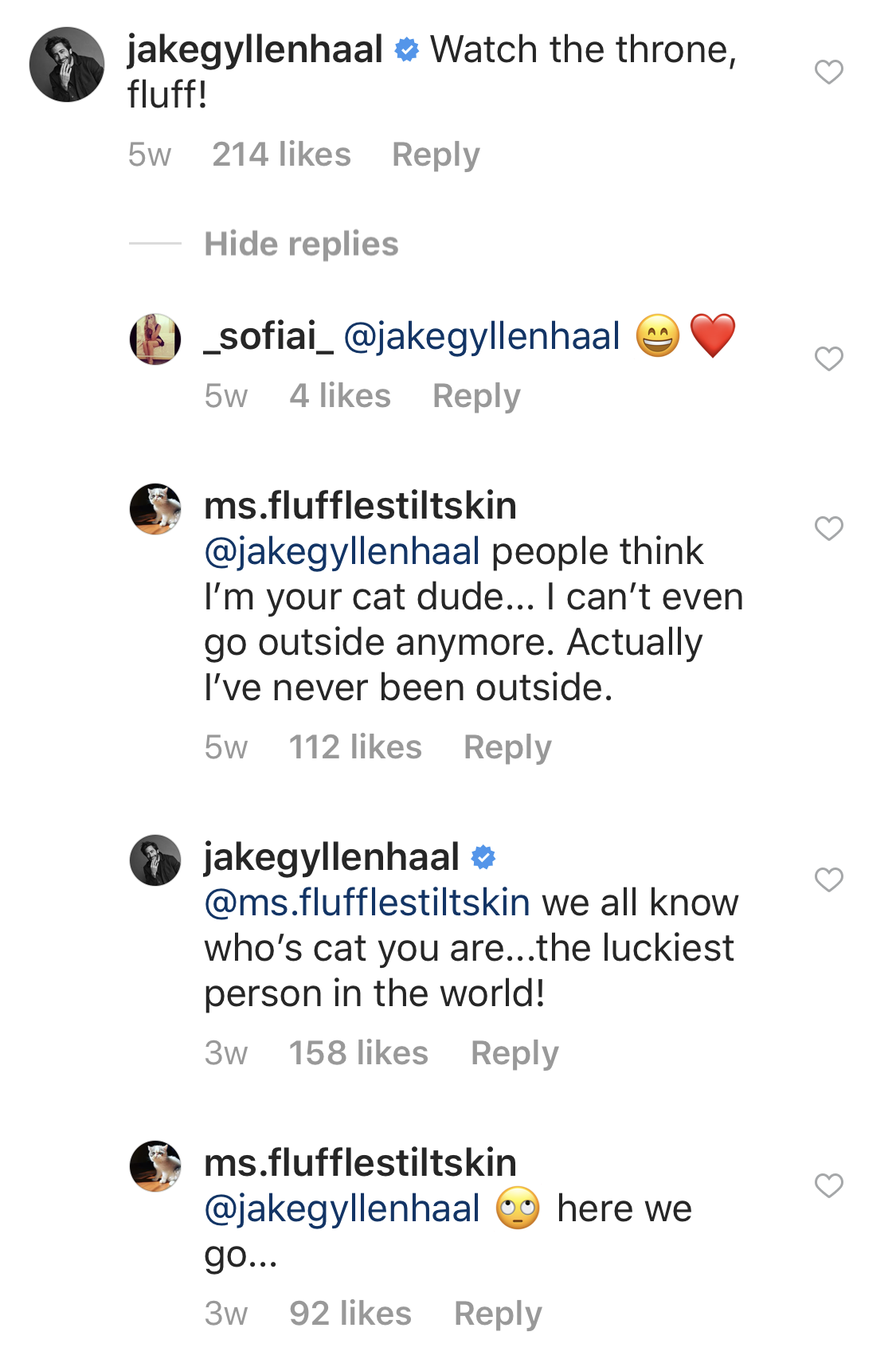 "People think I'm your cat dad... I can't even go outside anymore. Actually I've never been outside," Skin "wrote." "We all know who's cat you are... the luckiest person in the world!" Though a clue, this did not immediately point to the Donnie Darko star as owner.
A day later, on April 11, Skin gave another hint, responding to a fan inquiry.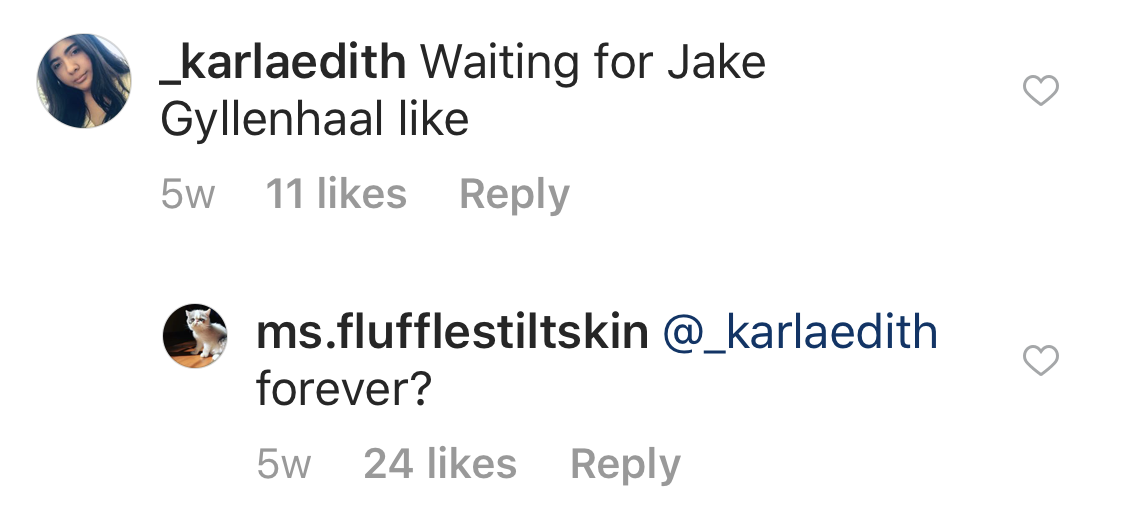 But there's other reasons to believe the feline and the Jarhead star are owner/ownee. Both are relative newbies to the social media platform, with Gyllenhaal joining in December 2019 and Skin rolling up in March. Of Skin's 68 posts as the time of publication, the Prince of Persia: The Sands of Time star has 'liked' 42 of them, almost two/thirds according to my iPhone calculator. And then there's the trail of comments.
Two weeks ago, we got more evidence. On May 4, a fan commented asking if they had heard Gyllenhaal's voice on Skin's IG story. He confirmed.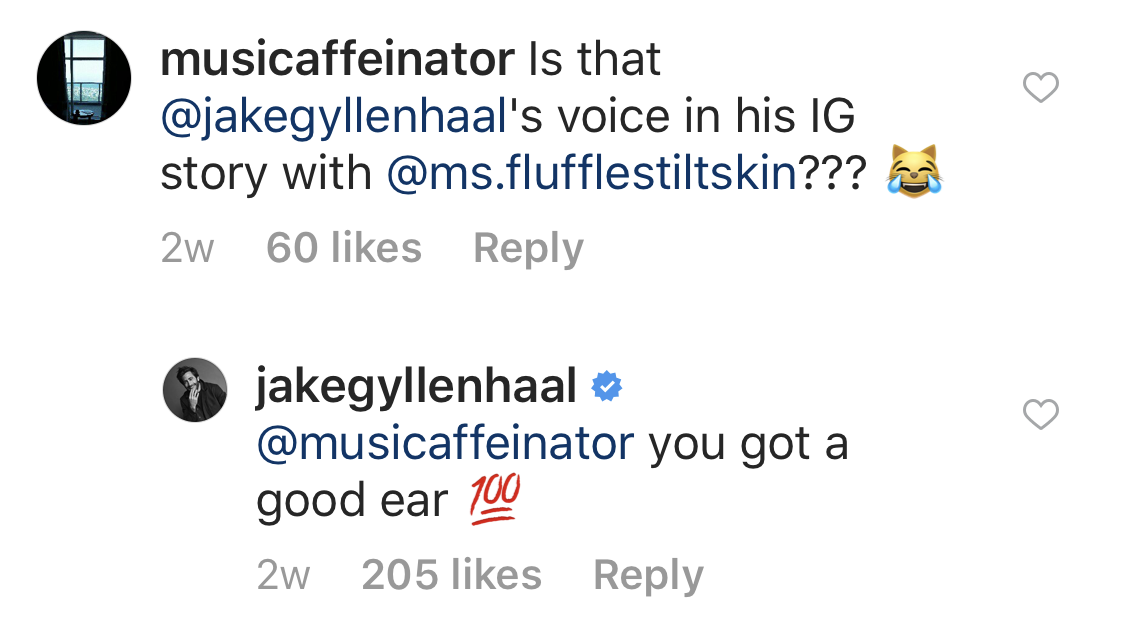 Days later, on May 7, we were treated to more, with Gyllenhaal asking Skin if she'd seen Zendaya's light-up Tommy Hilfiger at the 2019 Met Gala. (Spoiler: she had.)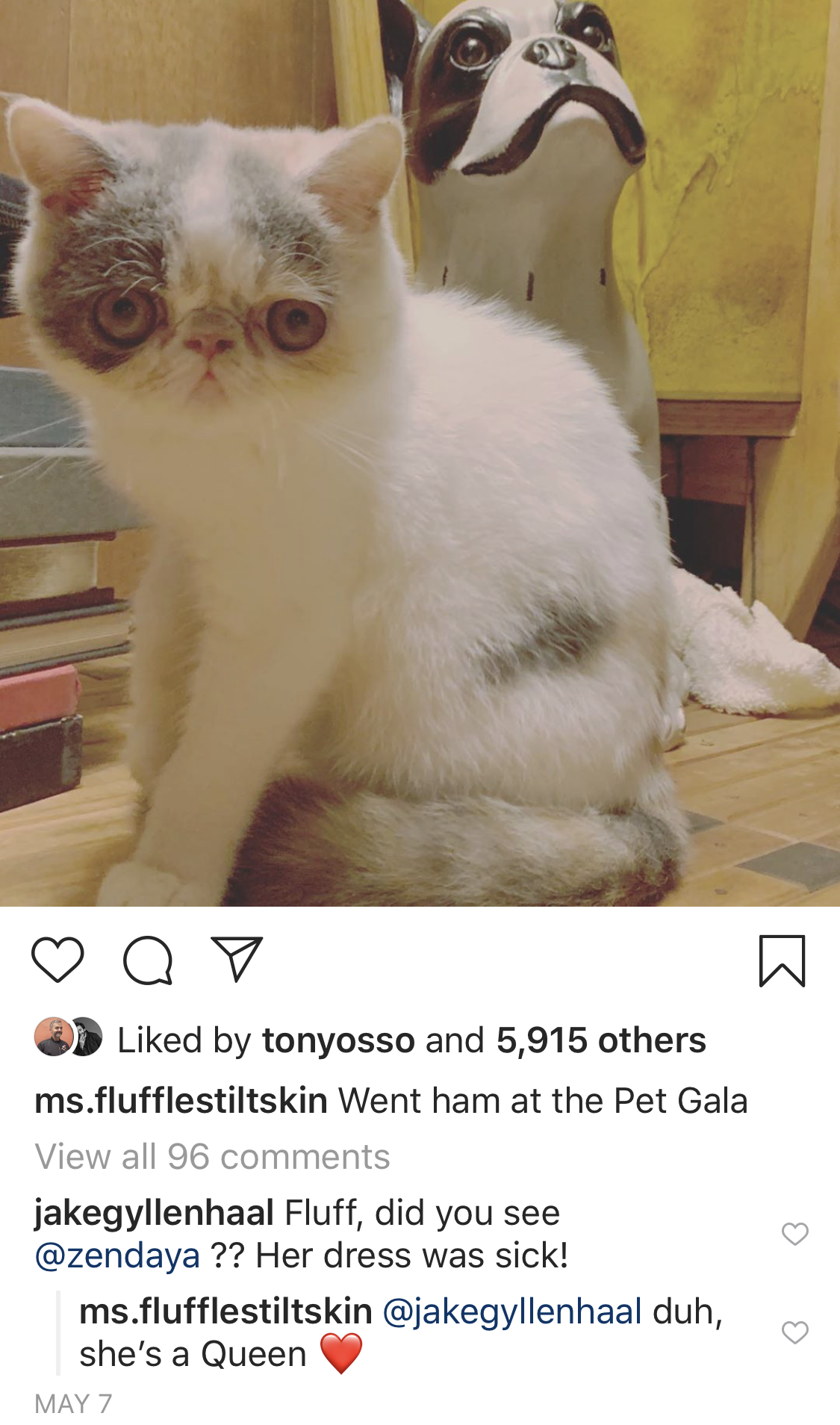 And finally, our most recent evidence, from May 14, with the appearance of an upside down smile emoji on Skin's post courtesy of, who else? Gyllenhaal.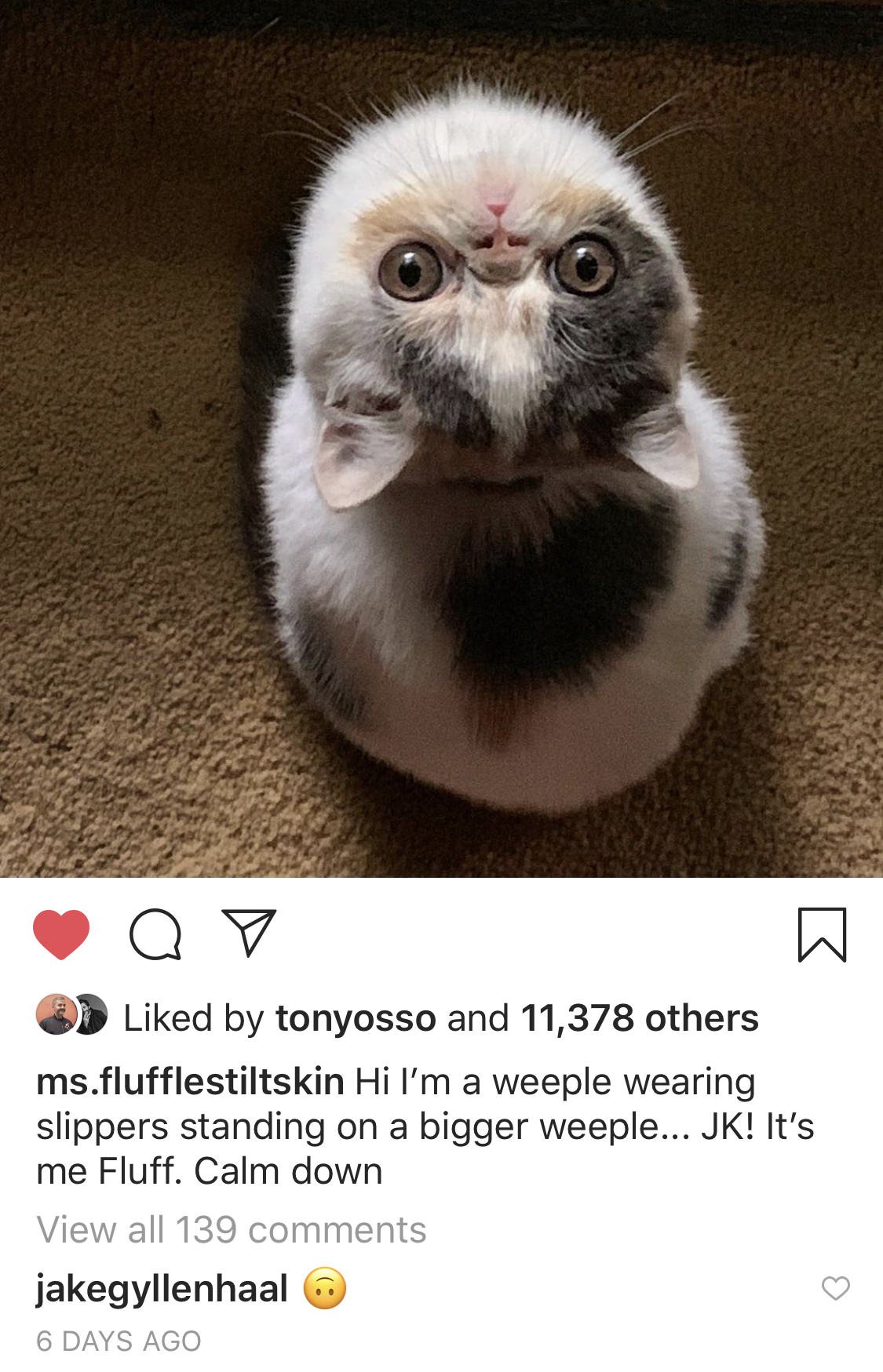 To get to the bottom of this once and for all, I decided to DM a cat.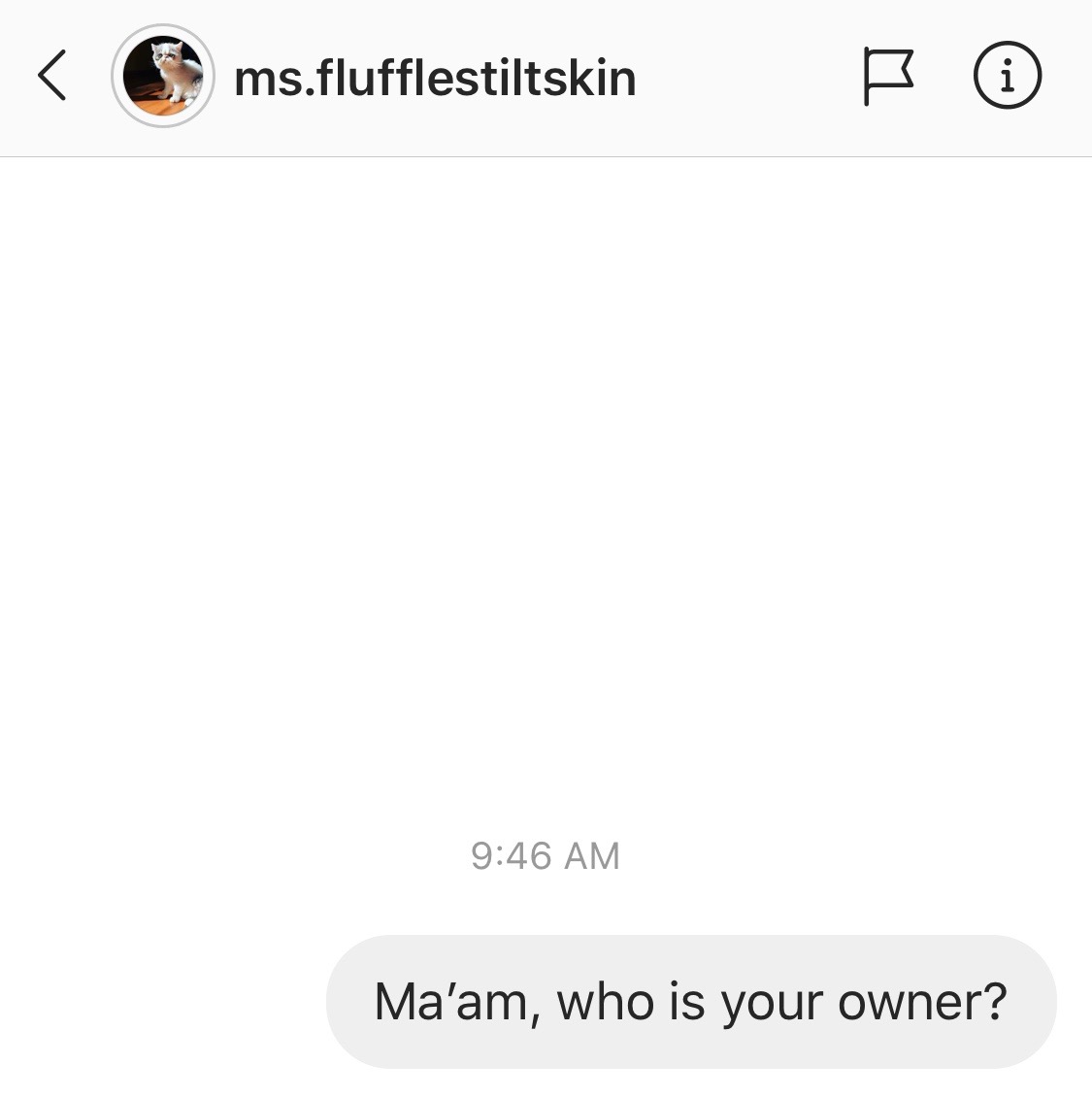 Will update if/when I hear back. But for now, with overwhelming evidence to affirm, I believe Ms. Fluffle Stilt Skin is Jake Gyllenhaal's cat. Case adjourned.
Tagged: