This is The Only Piece of 'Friends' Decor You Need in Your House
Miss me with this 'Friends' collection, Pottery Barn, unless it includes Gladys the haunted painting.
Screengrab via Netflix.
There's been a lot of chatter on the old TV-blog circuit recently about Pottery Barn's new collection of Friends-inspired furniture (in case you don't regularly pop half an Ambien and fall asleep to the soothing sounds of the '90s sitcom, let me catch you up; a Season 6 episode revolved around the protagonists fighting over whether or not Pottery Barn is soulless and devoid of originality. Weird collab, but go off!)
Obviously, any TV/design mashup is enough to spark Internet fervor, but the question lingers; do we really need a line of Friends-inspired furniture? After all, the six titular friends' apartments were the definition of fin de siècle Manhattan "shabby-chic," a decor moment that nobody really needs to revisit. I mean, purple walls? Steinlen posters? A foosball table in the kitchen? A bunch of random dinosaur crap from Pier 1? (Here's looking at you, Ross.) No offense to the set dressers, but it wasn't exactly the stuff of interior-design dreams—although it was at least realistic, unlike, say, Carrie Bradshaw's Manolo-lined West Village castle in the sky.
That said, there is one Friends-era artifact that holds extreme cultural and artistic significance, and any Pottery Barn collab would be a failure without reproducing it. Yes, I'm talking about Gladys, the terrifying three-dimensional painting Phoebe produces in Season 10, Episode 6.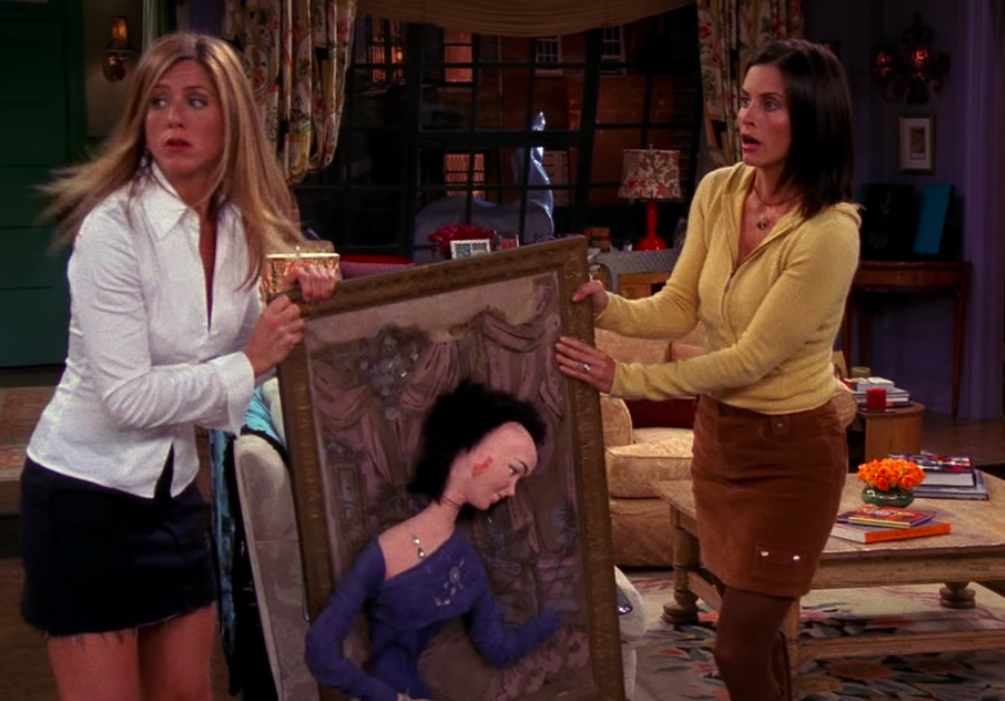 Gladys appears on the show as the epitome of bad art, a piece so hideous that Monica and Rachel actually fight over who has to take possession of it like a couple of parents working out custody arrangements for their crappy kid. Not very sophisticated of them, imo; after all, Gladys's eerie proportions evoke Mannerist portraiture, while her bulbous head and fixed smile are John Currin-esque. The girls should be fighting over who gets to keep Gladys and show her at Gavin Brown's Enterprise!
It might be difficult for Pottery Barn to recreate Gladys's unique countenance at a mass-market price, but hey, it's doable. Remember Glynnis, the even-creepier Gladys clone that Phoebe created?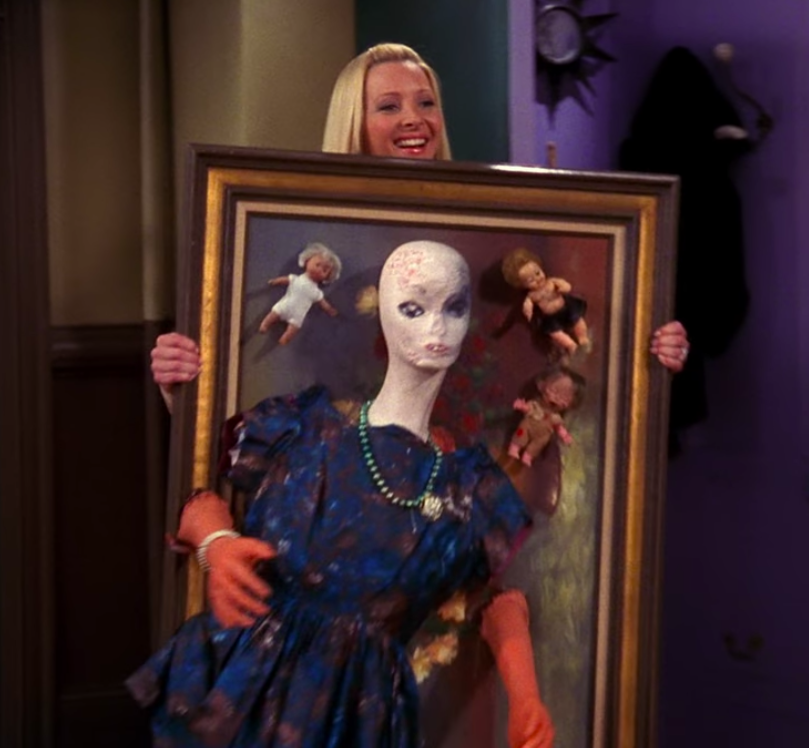 Where Gladys was merely unsettling, Glynnis verges toward the horrific; clad in pearls and cocktail dress, she looks like a scorched Sargent. Orbited by baby dolls, Glynnis serves major Mad Max vibes, fitting neatly into the current apocalyptic narrative put forth everywhere from Ling Ma's novel Severance to the Netflix thriller Bird Box. Even though she was created c. 2003 (medium unknown), Glynnis couldn't be more of the current moment.

I'm not saying the Pottery Barn/Friends collection will be an out-and-out failure if Gladys and Glynnis aren't in the mix, but they certainly would enhance the project. If PB doesn't come through, maybe Supreme will!