Bernini hoodie courtesy of MCA.
Virgil Abloh's Latest Drops Can Only Be Copped Via Museum
Abloh's 'Figures of Speech' retrospective at MCA comes with exclusive monographs, T-shirts, hoodies and more.
Bernini hoodie courtesy of MCA.
Virgil Abloh is arguably the busiest man in fashion—he just teamed up with Nike Lab Chicago to launch a community center for young designers, collaborated with IKEA, oh, and writing the odd New York Times op-ed on the topic of power, too.
Now, everyone is talking about Abloh's forthcoming debut museum retrospective Figures of Speech at the Museum of Contemporary Art opening June 10. "For me, 'Figures of Speech' is an art exhibition rooted in advertising and 'the projected image,'" Abloh said in a statement. "This 20-year survey shows how I am constantly looking for a way to transform myself from consumer to producer, navigating a path between 'Tourist' and 'Purist,' between the literal and the figurative."
From what we see so far, there's a huge mural wall that features the likes of Pharrell alongside the Pieta, among a new pop-up store on-site, too (don't mistake this for the 'museum gift shop,' as this pop-up will be up on the fourth floor). It's called "Church & State" (do we get a whiff of Kanye's Sunday Service here?) and is what Abloh calls "an extension of the exhibition."
Expect to see chromed, stainless-steel shelves alongside PVC curtains for its changing rooms (and photos on the walls by Juergen Teller). There will be 20 items for sale in this exclusive "MCA Retrospective Collection," which recreates the best-selling Off-White™ products that have sold out but are resurrected here—he has selected pieces that reference art history, as some feature famous Leonardo da Vinci and Caravaggio paintings. What makes them different here? Abloh has added "MCA exhibition-related designs."
And just to note: You can't get these online, they're exclusive offline museum drops, including some of his collabs with Simon Brown, Futura, Brendan Fowler and Cali Thornhill DeWitt. We hope it won't be as rammed as a Black Friday sale, but anyway, here's a few items you can get.
"A Team With No Sport" flipbook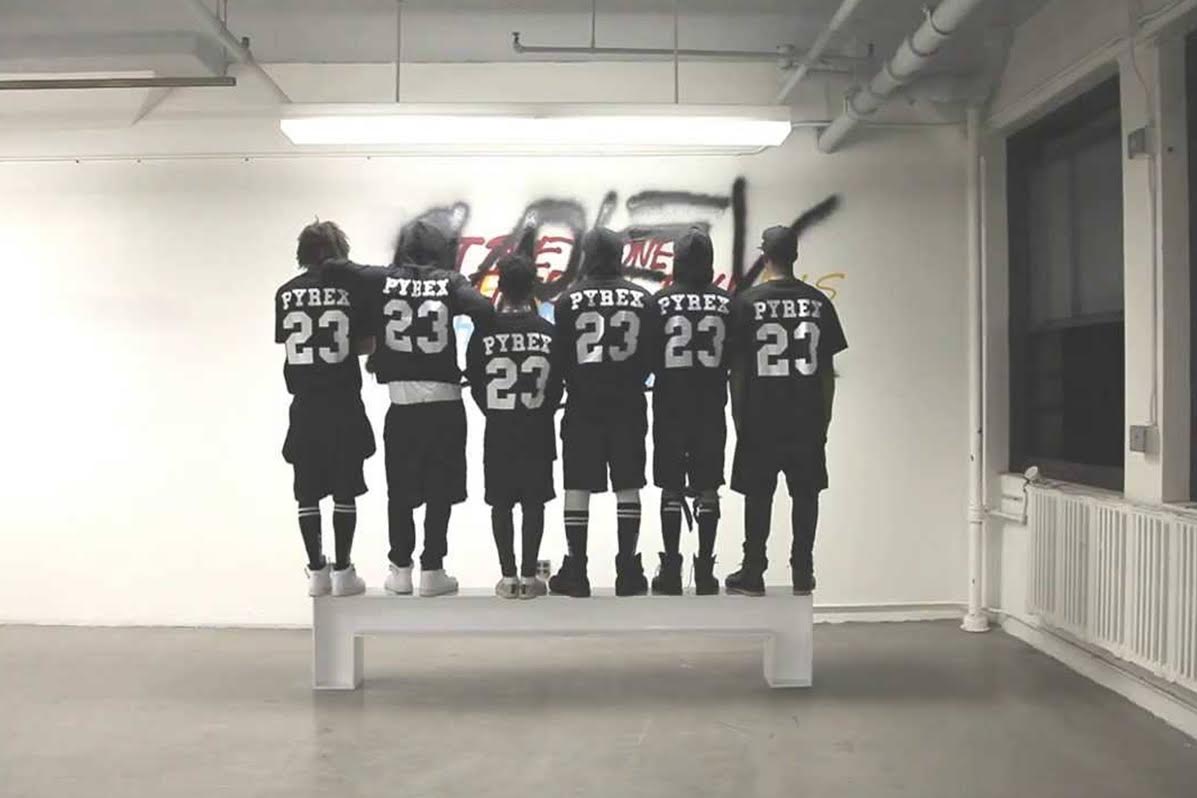 Throwback to the early days of Abloh, this book ties into his early roots in streetwear (traced in the exhibition's 'early work' section), which features the video "A Team with No Sport" from 2012, which helped promote the launch of Pyrex Vision and included members of A$AP Mob. At the pop-up, he'll be selling a flipbook called "A Team With No Sport," which he released with Prestel, which pairs up Caravaggio imagery with stills from his video Youth Always Wins, as part of his first brand, Pyrex Vision's first Spring/Summer 2013 collection.
The 500-page monograph, "ARTWORK"
The catalogue, entitled ARTWORK has a foreword by Michael Darling of the MCA and Rem Koolhaas, and is what Abloh calls: "500 pages of ideas." This publication features 2,000 illustrations of his works and flipping through it (at times) feels like looking through a catalogue of his archive, from Kanye album covers to sneakers and screenshots. There's also written statements from Anna Wintour and George Condo. There's also a vinyl record in the special edition with Playboi Carti—who walked the runway for Abloh in Paris (note there's two separate versions of the book). We sure hope this comes with a canvas tote, it'll feel like lugging around a chemistry textbook. We imagine its at least 10 pounds.
The Off-White™ Diagonal Caravaggio t-shirt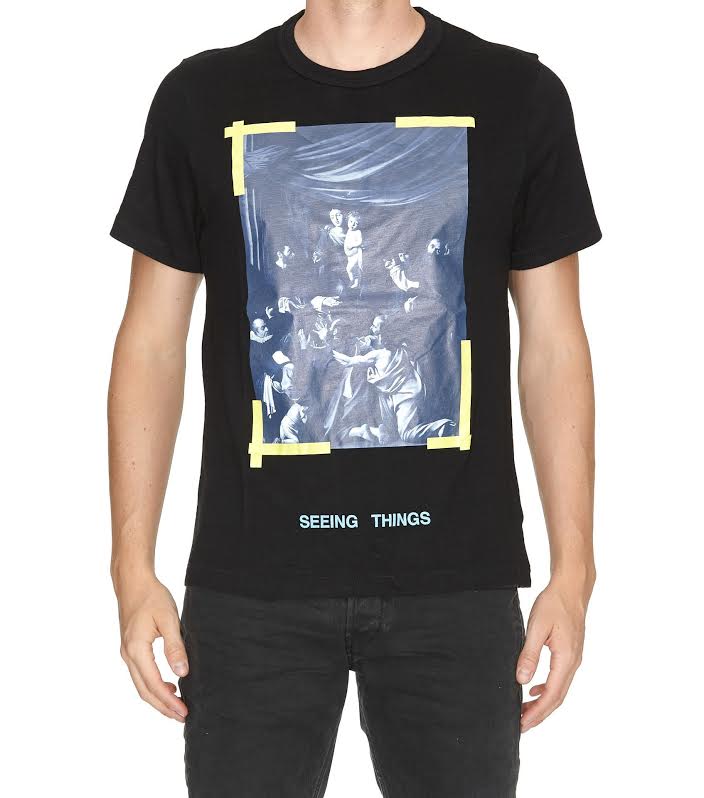 There's two interesting connections here; this t-shirt is part of his "For All" series, which has made relatively affordable prices for high fashion (you'll pay roughly $1,000 for SS2019, right?), but the t-shirts here are at a bargain, dare I say. Secondly, this is in a museum so there's the obvious ironic art world connection, which reminds us of Jeff Koons' art history bags he did with Vuitton, except instead of writing the artist's name in boldface, we're expected to know them.
The Mona Lisa t-shirt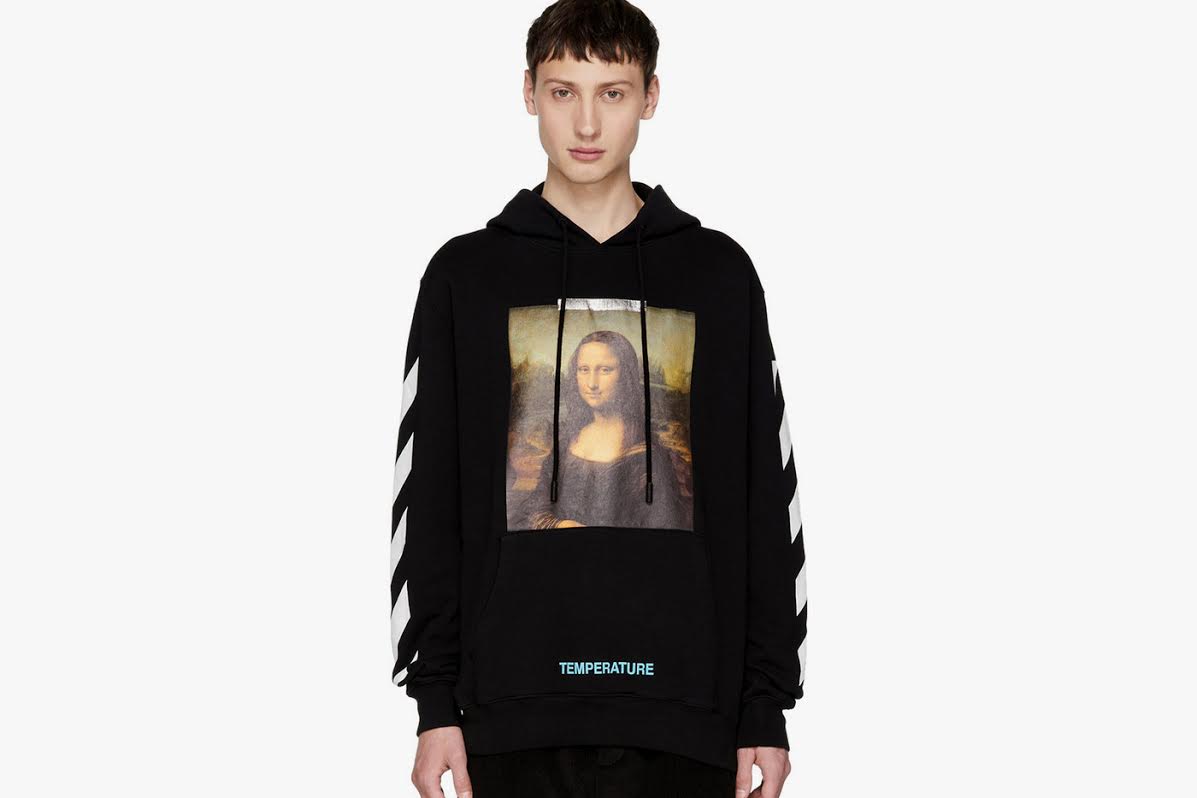 It's fitting since Abloh now resides in Paris as the director of menswear at Louis Vuitton, and sometimes does runway shows at the Louvre, the museum where Mona Lisa calls home (actually, the Louvre had to recently close because that painting drew such overwhelming crowds). The same da Vinci painting of Mona Lisa has made its way into Abloh's recent IKEA collab, where he has put a framed Mona Lisa light box as part of his new collection. His Mona Lisa hoodie is just as popular, naturally.
The Bernini t-shirt
Of course, you can't have art history without Italian painter Gian Lorenzo Bernini, and here, Abloh puts a portrait of the 17 th century artist on a t-shirt. What makes the connection to Bernini interesting is that he was an artist and a designer (an architect, actually), just like Abloh. That multi-disciplinary approach is the crux of this very exhibition. "Any time an idea takes shape on a surface—a photo print, a screen, a billboard, or canvas—it becomes real," says Abloh in a statement. "This exhibition demonstrates how I wrestle with this concept freed from any one medium, looking for personal and specific solutions."
Futura X Virgil Abloh collection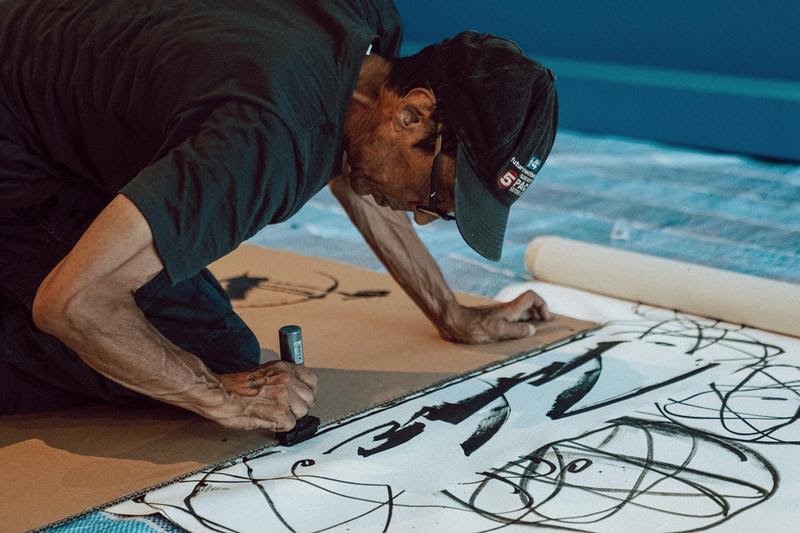 The street artist Futura is known as "the godfather of street art," and is known for working alongside Keith Haring and Jean-Michel Basquait in the 1980s. He recently spray-painted a runway set for Abloh at Vuitton, but now is dropping a series of collabs with Abloh for a MCA selection of t-shirts, as well as pens, postcards and totes (in other words, museum swag).
The Annunciazione Hoodie
For this hoodie, there's an image of the "Annunciation" by Caravaggio from 1608 (to see the real thing, you'll have to travel to the Musée des Beaux-Arts de Nancy in France). Why is this sold out? I guess art history really does have a hold on youth today. We also found wisdom in this quote, as Abloh wrote in his Times op-ed: "Today's internet generations have been graced with equity at birth, in that they have the means to create power for themselves, even if they do not start out with it. In the digital world, the myth of power persists as a construct. To believe that you have power is to have it."
Also: If you can't make it to Chicago for Abloh's exhibition, fear not. It's traveling next to the High Museum of Art this fall in Atlanta, next summer at the Institute of Contemporary Art in Boston and lands at the Brooklyn Museum next winter. That's a long time to wait, but still.