Pete Davidson's New Instagram Feed Is a Stoner Version of 'I Spy'
I spy...a Bic lighter and half a strawberry Pop-Tart!
It's been a big, bumpy year for Pete Davidson, one that—in true 2019 hellscape fashion—has been marked by the many de- and reactivations of his social media accounts.
Earlier this month, Pete returned to Instagram after a five-month hiatus, his old posts wiped and a steady stream of new, highly curated posts taking their place. In content, the new posts are mostly just promoting the comedian's current tour with John Mulaney, but in style, they're putting forth an interesting synthesis of Pete's scumbro persona — an aesthetic treatment reminiscent of a mailed-in stoner parody of the nineties children's book series, I Spy.
The I Spy series, written by Jean Marzollo and photographed by Walter Wick, was first published by Scholastic in 1992 and spawned many, many sequels and related computer games thereafter. The series (popularized by in part by the ubiquitous Scholastic book fairs of the 90s) remains recognizable because of Wick's eye-catching cover photographs: shot-from-above scenes of colorful everyday objects, scattered on a white background.
Pete's feed also comprises presumably quotidian artifacts from the comedian's life set against a white background. However, the account, distinctly stylized and uncharacteristically not-slapdash, is clearly not being run by Pete himself. According to Page Six, he enlisted photographer Marcus Russell Price to manage his account earlier this month. Price — whose Instagram bio lists himself as "Filmmaker + Photographer" for Hannibal Buress and Amy Schumer, in addition to one @petedavidson — has centered Pete's new theme on high-flash, Sharpie-dated Polaroid photos, accented by the aforementioned quotidian objects. Mostly weed stuff.
And so, the question remains: What do I spy?
Well, I spy a Machine Gun Kelly-branded ashtray. Bits of weed. A Bic lighter and a box of matches. A torn-open pack of Gushers spills out across the feed, alongside cigarette butts, sprinkles of ash, various wrappers and rolling papers, and half a strawberry Poptart.
These objects, under Price's art direction, evoke I Spy's iconic visual puzzles that invite the eye to wander (minus any, like, child-appropriate wonder). And, reaching back ever deeper into our visual history, the new theme also recalls the "trompe l'oeil" trend of centuries past, including 17th century painter Edward Collier's hyper-realistic works or even John Haberle's late 19th century painting wildly titled A Bachelor's Drawer, a still life displaying a collection of ticket stubs, a baby name book, and nudie pics (nice). Perhaps this here feed is a peek into the contents of Pete's very own Bachelor's Drawer, except with the more specific overarching theme that, you know, "weed is tight."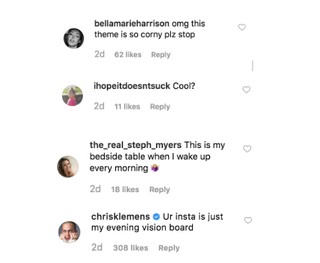 Davidson is now among the many artists and brands on the platform using the "split image" theme, in which a larger image is broken up into smaller, single-post squares, so the full image is only clear when looking at the account's entire feed. Another adopter of the split method is, of course, Ariana Grande, whose Sweetener tour feed also heavily favors Polaroid shots (one of the few industries millennials aren't killing).
This method, which prioritizes the overall look of one's "grid" rather than the quality of each individual post, has been maligned by Instagram higher-ups including Eva Chen, who told Hola! last summer, "I really dislike it when people take one big photo on Instagram and cut it up into a lot of smaller pictures, and sometimes when you're scrolling you see like one elbow, one piece of the nose or one leg." Except, in Davidson's case, instead of elbows and noses, we've got a Gusher here, a cucumber Juul pod there.
After a difficult year, it's entirely reasonable and probably for the best that Davidson take a break from running his own social media. Plus, now we have a fun game to play each time we open this godforsaken app, with each new post like the next piece of the puzzle. Do I spy a corner of Raekwon's highly coveted The Purple Tape? Incredibly tight, dude.