Image courtesy of Louis Vuitton.
Nicolas Ghesquière Goes Back to the Future for Louis Vuitton Cruise 2020
In a Big Bang of nostalgia and Futurism, the TV bag is born.
Image courtesy of Louis Vuitton.
Like so much of midcentury modernist architecture now, the Eero Saarinen-designed TWA Flight Center at John F. Kennedy airport stokes a weird sensational mash up of nostalgia and futuristic wonder. We see a building conceived in 1962, glistening with all of the imagination of what a Space Age future could look like, but we also see a future unfulfilled and ambition eclipsed by the limitations of man. Even still, we wonder when all buildings might looks like this one. There's something so old about it and so new all the same.
It's a mindfuck, really.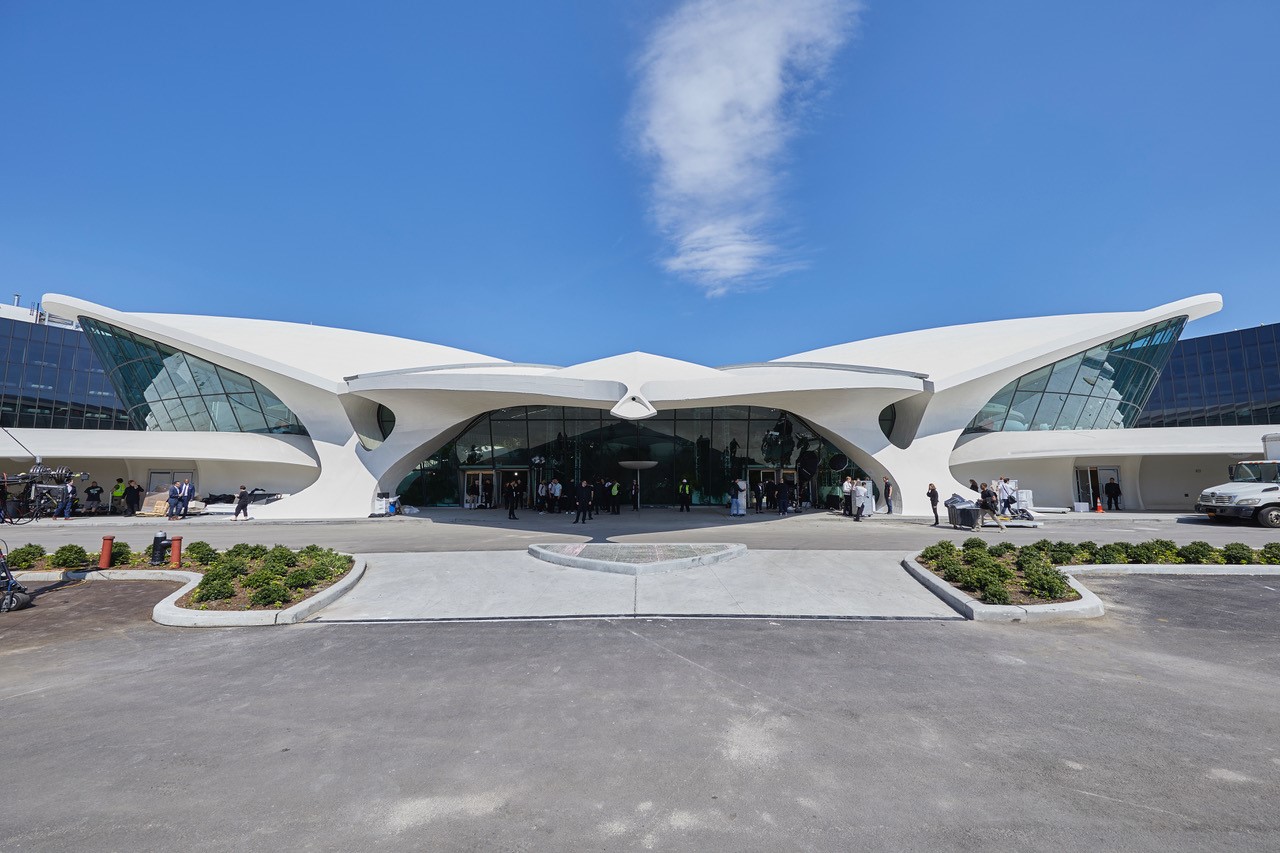 And that's exactly why the newly renovated space was the perfect setting for Nicolas Ghesquière's trippy clash of a Cruise 2020 show for Louis Vuitton.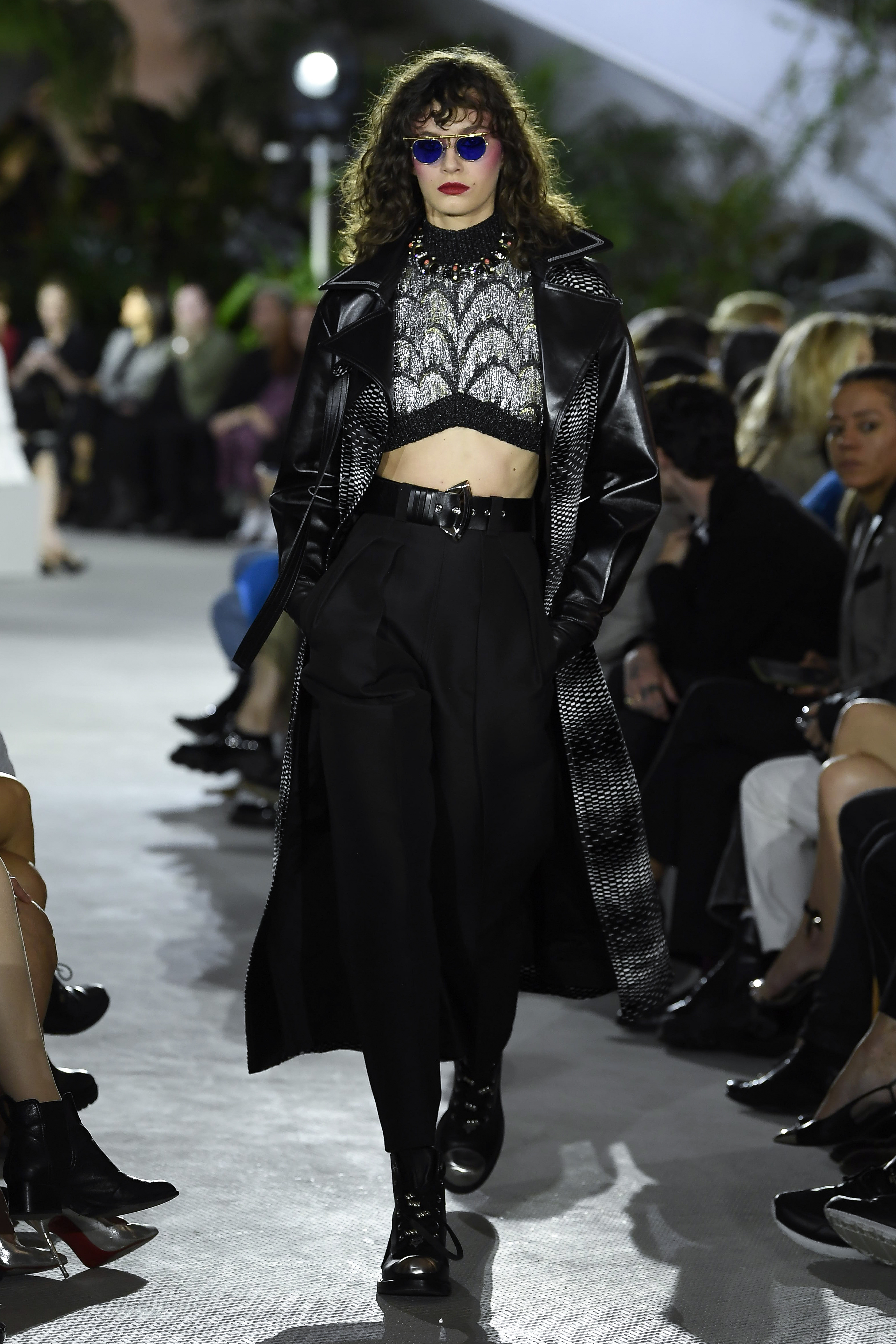 I saw that same conflation of style and times reflected in this collection. Futuristic black leather skullcaps dotted the runway between Blade Runner bouffants perched atop decadently embellished boleros boasting cheeky embellishments that nodded to the golden age of New York Art Deco architecture. One top embroidered with beaded peaks evoking the Chrysler Building glittered and gleamed like the real thing on Lexington Avenue, bearing a striking contrast to the slick interiors of the glossy new terminal in the dead center of Queens. In some looks pinstripe suiting referred to the certain charms of turn of the century Wall Street, but in others, the culotte cut of the old school fabric stirred up the punky feels of St. Marks place.
The collection was a perfect study in temporal and physical contrast, but there was one piece with which my obsession could reach no greater degree: A 2019 reworking of an iconic top handle handbag that displayed two LED screens which Vuitton refers to as the "digital Canvas of the Future" in a post-show press release.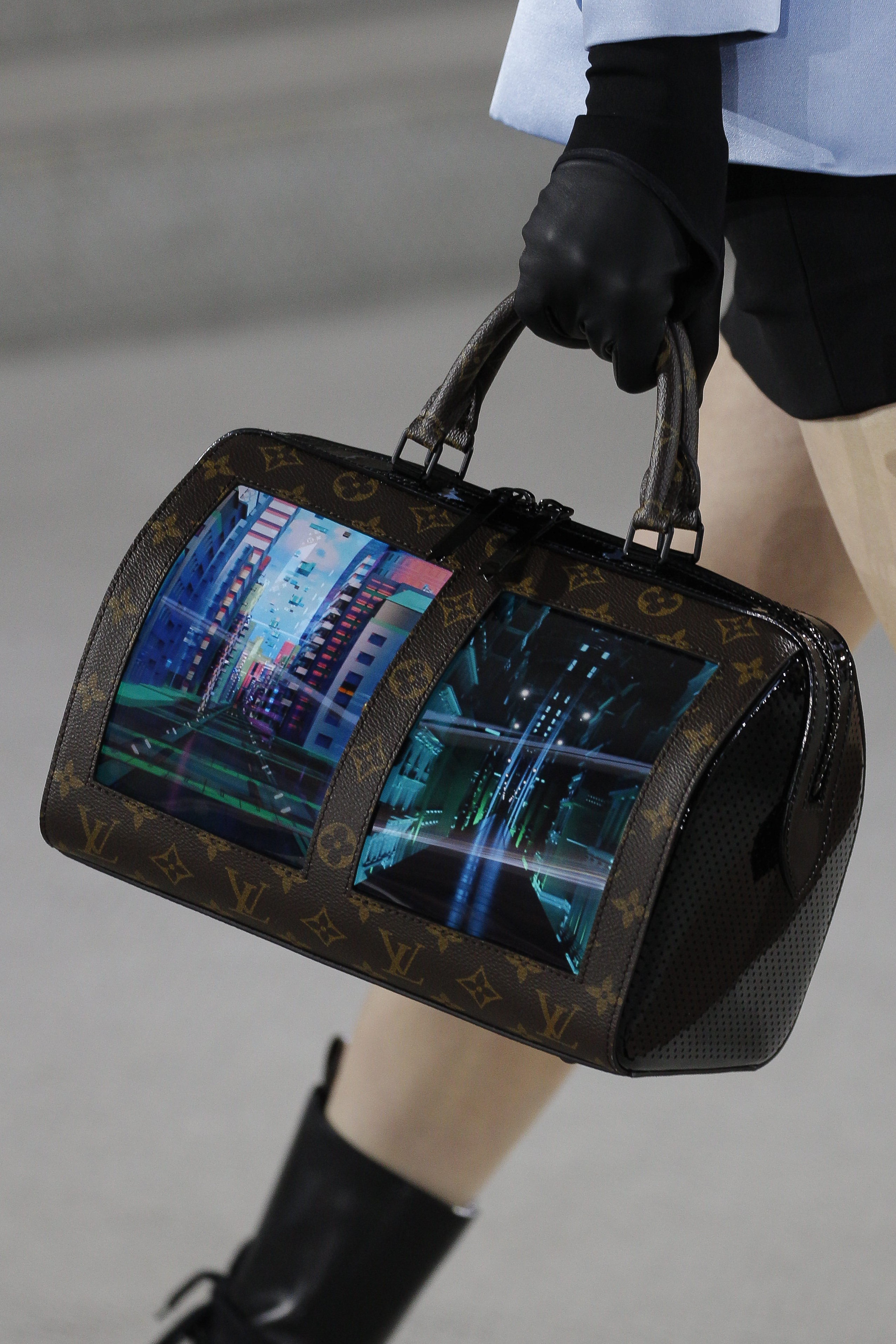 I adored that this bag was the exact inverse of a very mid-century tableau: a scene of people walking and stopping past color television screens on busy city streets, awed by the innovation and possibility that an in-home TV represented.
Now, the screens walk past you.
It's another in between moment in a way. Screens are a part of our everyday life; we scroll and stroll and scroll some more, but never quite in this way. It's reminiscent of a type of technology that could have been made years ago, but that we seemed to lap in imagining the future of visual consumption. Ghesquière is circling back, with an entirely new proposition. As soon as Netflix gets involved, I'll never need another bag again.
Louis Vuitton is boarding a flight back to the future, and you better believe I'm going with it.
Tagged: