All images courtesy of Osman Can Y
Moynihan Train Hall's Uncanny Valley
The new Penn Station hub is currently inhabited by the poetically glitched future customers of its food court.
All images courtesy of Osman Can Y
For the late author Édouard Levé, it was neither the destination nor the journey that mattered, "but the taxi ride in between: you're still traveling, but not really." The periphery of the journey is an odd place, an in-betweenness bookended by the transient grey area of a cab lift, train ride, or even walk back home. The passengers rendered in images that blanket the soon-to-open food court at the new Moynihan Train Hall, located in the historic post office space directly across from New York City's Penn Station, are in fact mesmerizingly odd. Their pixel-washed faces are hypnotized by a zeal for merriness—and are they all laughing at the same inside joke? Even the bartender poses extremely amused while busily fixing drinks.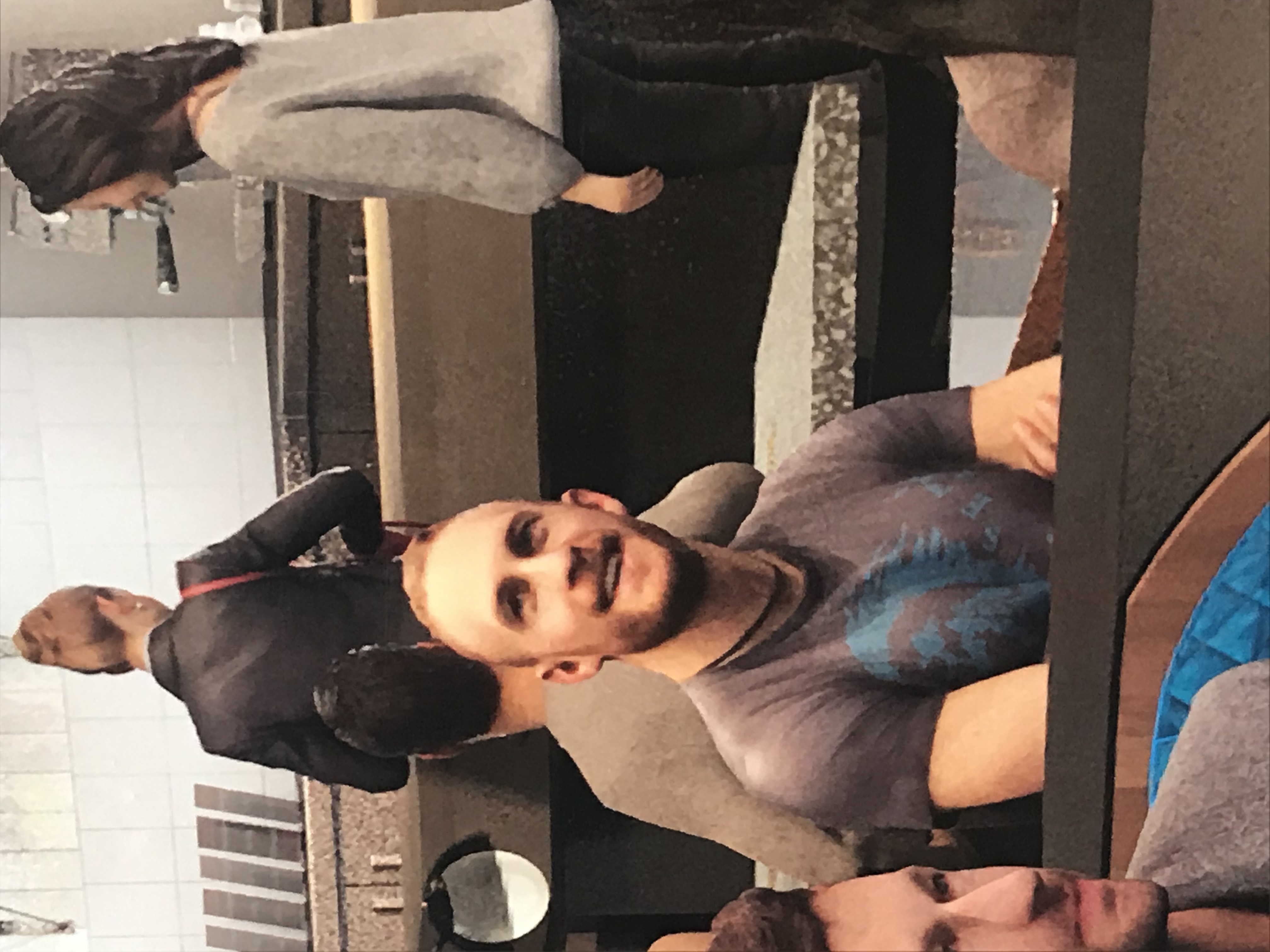 During the 255,000-square-foot glass-domed station's unveiling, I freely approached these people's Photoshopped coziness, unrestrained by rules of social distancing. While they did not need to maintain any distance in their artificial universe, each poser appeared sterilely detached, their deadpan insides dressed by overtly joyful façades. The more salability the graphic designer had strived to infuse, the lesser humanity had left behind their botched guises. They were stand-ins for our now halted modern-day social interactions, marred, not by paranoia, but with abject digital orchestration. I did not resist the urge to fill their narrative gaps. My eyes caught the "masc" jock who would fade away the minute after finishing his business; there was the straight couple on their first Hinge date reinventing rituals of small talk; an aloof woman was killing time on the iPad while her friend would not stop talking on the phone throughout their lunch. A beanie-wearing hipster was starting a chat with the woman before him in line, and surprisingly only one person seemed to actually be traveling somewhere, bringing with them a small carry-on suitcase. The guy with the unforgettable orange pants suddenly appeared in a few different postures, as well as the young business casual (remember business casual?) gentleman having a drink with his friend, while also possibly being on a date a few steps away. Their gestures and engagements varied within a span of generic social exchanges, but their deadly cheerfulness remained. Their frozen stillness fell short for camp, but I could settle for the kitsch.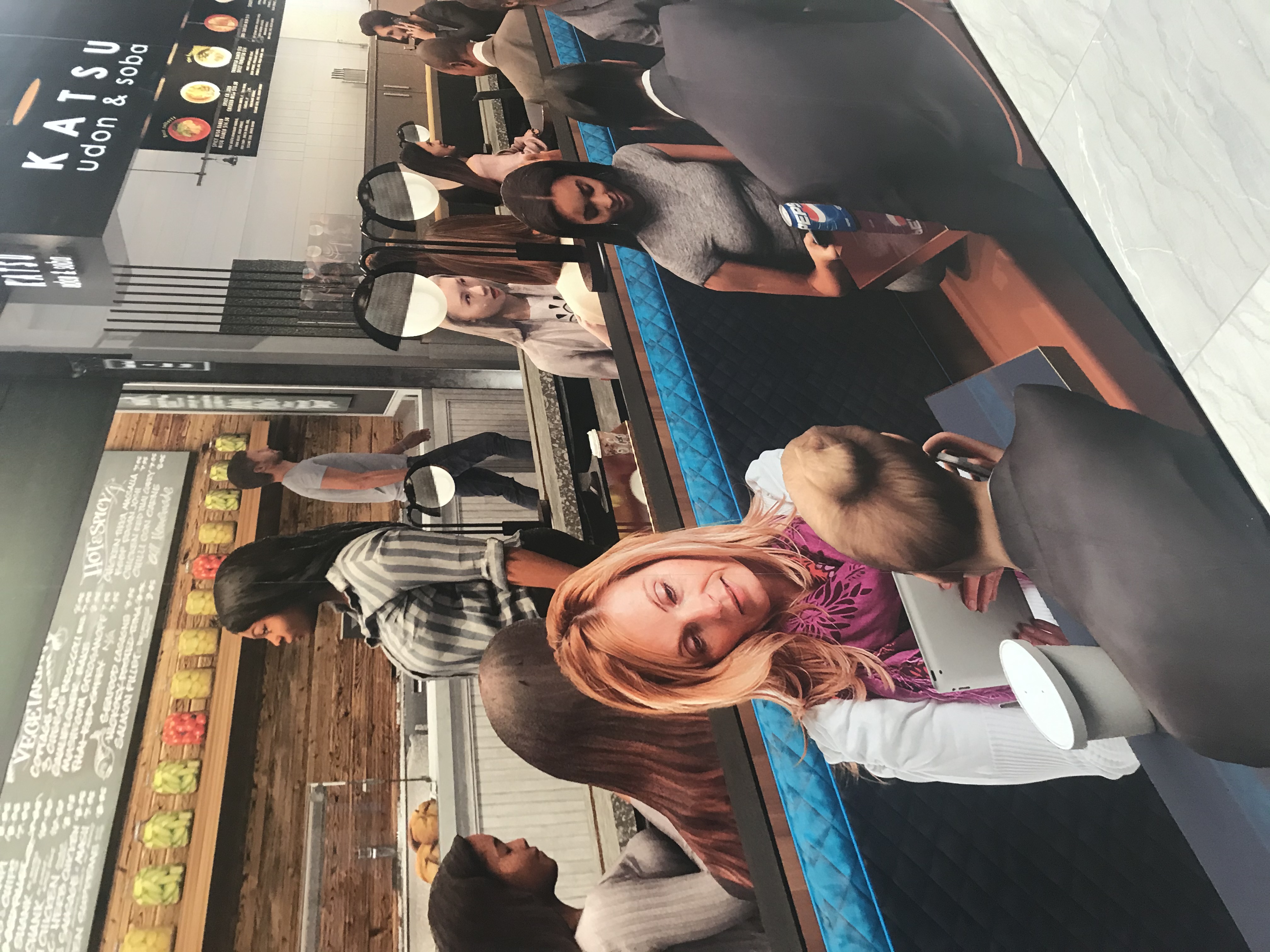 Poor application of Photoshop yielded what I'd call a painterly gesture in a review of a painting exhibition; however, here, a designer's cursor substituted for the painter's swift brushstrokes. Haziness was pixelated rather than coated. Some would call it the millennial revival of Post-Impressionism, or more fittingly, Mannerism. The faces' eerie likeliness grew as the same expression continued to spread—soldiers of a dystopian army or followers of a stock image cult, their strength was in their multitude. In Ottoman-era miniature paintings, subjectivity was not intended and all figures had identical faces in front of a plane perspective without any hierarchy of depth or distance. Here, the background was lifelike with the station's detailed rendition dotted with upcoming food stands and bars, but this could as well be anywhere.
If our reality is physical distance burdened with the constant execution of remaining so, these avatars' was the opposite. Drenched in social compactness and disquieting bliss, they, underneath, wore their crown of thorns, an agony of a lifeless elation and ill-fitting digital execution. Suddenly, among the joy, one girl stood out because she, rather than smile, cringed and stared directly at me. She was The Shining's Jack who was spine-chillingly smiling to the viewer amidst cheerful partygoers in a black and white photograph from the past. He was a ghost; she was painfully low resolution.